"CODA" Wins Best Picture at a Wild Oscars
Well, we'd be living in a better world if the 94th Academy Awards would be remembered for CODA's remarkable Best Picture win. It was five years ago when we wrote about what we believed at the time was the most shocking night in Oscars history. That was when Damien Chazelle's La La Land was announced as the Best Picture winner only for the world to find out, moments later, that actually, the real winner was Barry Jenkins' Moonlight. It was madness—or so we thought. In case you didn't watch last night's Academy Awards (and are only now getting online), here's the big thing everyone is talking about—Chris Rock made a joke about Jada Pinkett Smith, and Will Smith, her husband, walked on stage and slapped him. (After which, Smith sat back down and yelled at Rock. You can find the transcripts of those comments literally everywhere.)
This will be the talk of the town for a long, long time, and you can already find tens of thousands of tweets, hundreds (if not thousands of articles), and celebrities themselves weighing in. Let's refocus on the actual awards, but acknowledge that the above is likely going to overshadow the winners, which is a bummer. That includes Smith himself winning a well-deserved Best Actor Oscar for his sensational performance in King Richard. Smith's slap of Rock also came right before his fellow Philly native, Amir 'Questlove' Thompson, won his first Oscar for directing Summer of Soul, about the 1969 Harlem Cultural Festival. Questlove came on stage more or less right after the incident, and in any other moment, his moving, tear-filled speech would have had the audience rapt.
The aforementioned win for CODA, about Ruby (Emilia Jones), the only hearing child in a deaf family who finds herself having to choose between her dreams and her fears of abandoning her parents in a time of desperation, was nearly as surprising (and satisfying) as Parasite's epic Oscars sweep two years ago. The Apple+ film, from writer/director Siân Heder (who also won for Best Original Screenplay) and starring the iconic Marlee Matlin, was regarded as a longshot at best. Yet a few hopeful signs were there all along, like the film's excellent cast winning best ensemble at the SAG Awards and the fact that it offered a more hopeful, less polarizing alternative to the favorite, Jane Campion's austere, darkly gorgeous The Power of the Dog. To see the hearing audience use the applause that deaf people deploy—waving their fingers in the air—to cheer CODA's Best Picture win was a deeply moving moment after a night that got wildly derailed. They'd learned this technique by the time of CODA's big win thanks to previous wins by writer/director Heder and Troy Kotsur, the first deaf man to win an acting Oscar after he took home Best Supporting Actor.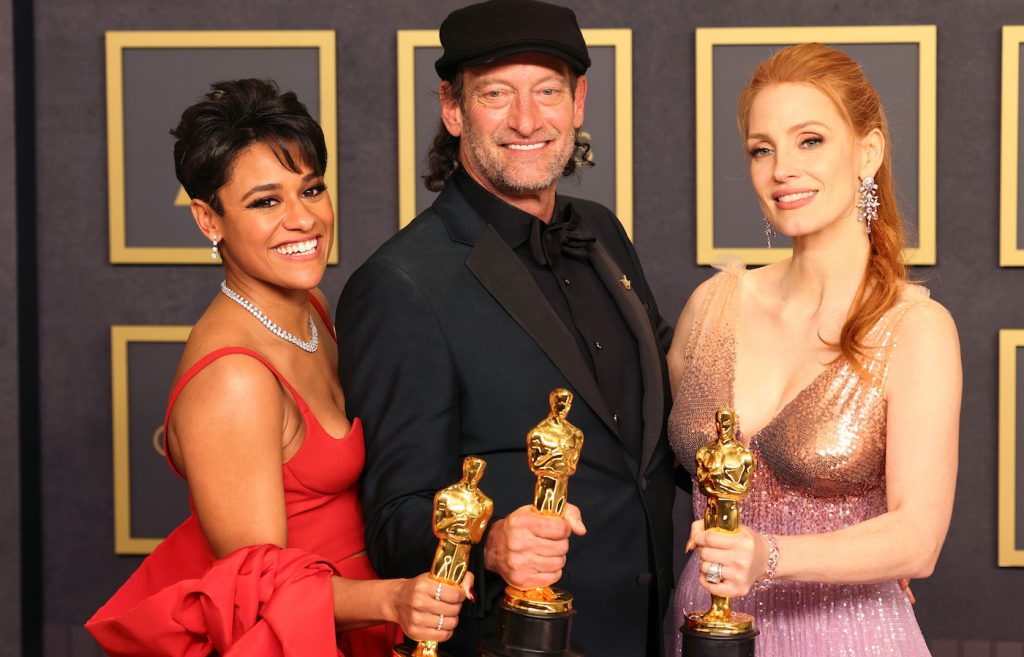 Denis Villeneuve's Dune was the night's most celebrated film, notching six wins, including for cinematographer Greig Fraser and editor Joe Walker. Jane Campion won Best Director for her haunting western The Power of the Dog, marking the first time in Oscars history the category has been won by a woman two years in a row. (Chloé Zhao won last year for Nomadland.) Campion is also the first woman to be nominated for Best Director twice.
Jessica Chastain won Best Actress for her work in The Eyes of Tammy Faye, while Ariana DeBose took home the Best Supporting Actress trophy for her dazzling turn as Anita in Steven Spielberg's West Side Story. DeBose becomes the first openly queer woman of color to win an Oscar in any acting category.
It was a wild night, complete with historic wins, moving acceptance speeches, and nods toward Russia's catastrophic and unprovoked war against Ukraine. It was a night where a beautifully wrought, smaller-scale film focused on a community rarely recognized in film took home the top prize. Careers were defined and changed for the better, but the sound likely ringing in everyone's ears remains Will Smith's shocking slap.
For the full list of winners, click here.
For more on Oscar winners and nominees, check out these interviews:
"Dune" Oscar-Nominated Sound Team on Sandworms, Ornithopters & More
How the Oscar-Nominated "tick, tick…BOOM!" Editors Evoked the Excitement of Live Theatre
Oscar-Nominated "Dune" DP Greig Fraser on Taming an Epic Sci-Fi Beast
Oscar-Nominated "Dune" Screenwriter Jon Spaihts on Decoding Frank Herbert's Tome
Oscar-Nominated Re-Recording Sound Mixer Paul Massey on "No Time To Die"
"Flee" Director Jonas Rasmussen on His Historic Triple Oscar-Nominated Doc
Oscar-Nominated "The Power of the Dog" Editor Peter Sciberras on Building Unbearable Tension
"The Eyes of Tammy Faye" Oscar-Nominated Hair & Makeup Team on Helping Chastain Channel Faye
Featured image: HOLLYWOOD, CALIFORNIA – MARCH 27: (L-R) Patrick Wachsberger, Eugenio Derbez, Sian Heder, Marlee Matlin, Troy Kotsur, Emilia Jones, Daniel Durant, Amy Forsyth, Philippe Rousselet, and Fabrice Gianfermi, winners of the Best Picture award for 'CODA', pose in the press room at the 94th Annual Academy Awards at Hollywood and Highland on March 27, 2022 in Hollywood, California. (Photo by David Livingston/Getty Images)