Oscar-Nominated Re-Recording Sound Mixer Paul Massey on "No Time To Die"
"When I started out, I had no objective whatsoever to become a re-recording mixer," says Paul Massey, who may well be the most accomplished accidental Oscar winner in history. Growing up in London, Massey played trumpet in wedding bands, worked at a recording studio and then, he says, "I made a slow, totally unintentional transition to film post-production."
Like Ridley Scott, one of his most frequent collaborators, Massey, Academy Award winner for Bohemian Rhapsody, moves briskly from project to project. Last year alone he mixed six movies, including Summer of Soul, House of Gucci, and The Last Duel. He's just finished juggling Morbius and The Lost City. Then there's the 2021 blockbuster No Time to Die, which earned Massey his tenth Oscar nomination. Amid all the kudos, this soft-spoken Englishman likes to maintain an even keel and share credit where it's due. "I certainly hope to not bring drama to the sessions," he laughs."There are enough characters in the movie industry that I don't need to be one."
Speaking to The Credits from the Fox studio lot in Los Angeles, Massey de-constructs No Time to Die's opening sequence, explains why he's never met a director quite like Morbius filmmaker Daniel Espinosa and addresses why movie dialogue these days has become increasingly hard to understand.
You're Oscar-nominated for No Time to Die sound along with four other guys — Simon Hayes, Oliver Tarney, James Harrison, and Mark Taylor. Within that division of labor, what exactly do you do in your capacity as a re-recording mixer?
I always work on the music and dialogue side of things while another sound remixer handles sound effects, foley, and background. After everything's been shot, I clean up the dialogue tracks, get rid of background noises, hums, mic bumps. Then I add ADR — automated dialogue replacement — which we record in an isolated studio environment. I then have to make the ADR match the grittier, noisier, more guttural feeling of production dialogue. For a couple of weeks, I go through all of this and prepare what might be hundreds of tracks into a usable group I can then move forward into the final mix with the director and the other sound remixer. That's when we get into the broad strokes and find ways to make these sequences work emotionally for the audience.
No Time to Die features a lot of big action intermingled with dialogue and Hans Zimmer's score. What were your most challenging sequences to mix?
In the opening, Bond goes to a gravesite where a bomb goes off and he suffers a loss of hearing. James Harrison designed this brilliant sequence of sound effects that took the top end off of everything so it sounds like you're underwater. This music cue from Hans [Zimmer] came in very close after the explosion but it didn't feel right to have the music playing in full fidelity, so I had to put that music cue underwater as well.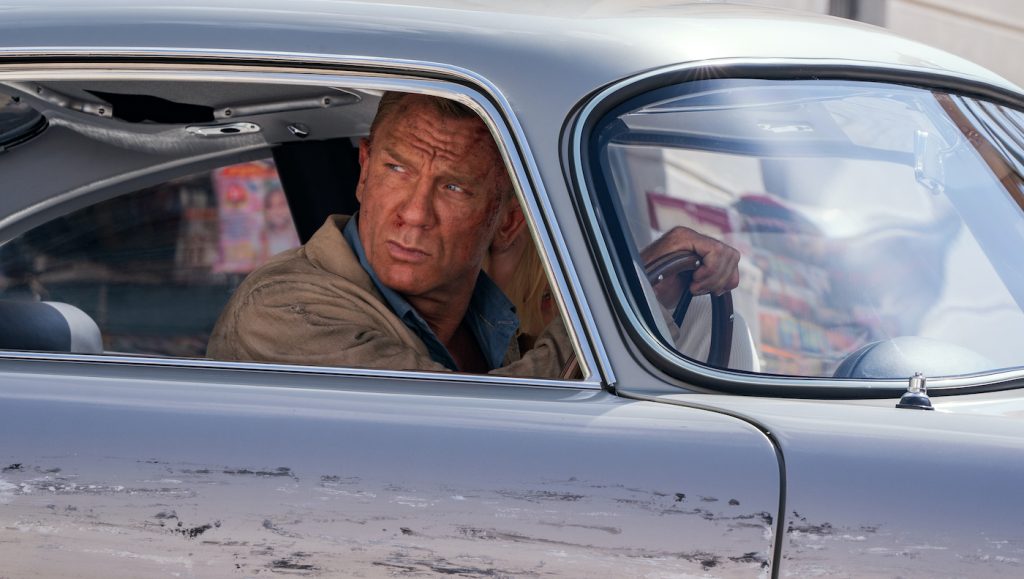 How did you mix the music so it feels "underwater"?
It was mainly EQ [equalization] and compression on certain instruments to keep things initially within a very small dynamic window. Then you [gradually] open up the EQ, hopefully bringing the audience back in tune to the moment where everything's back in full fidelity as it should be. 
That crazy chase in Norway had to be tricky as well?
Mark Taylor did a fabulous job on the sound effects when Bond and Madeleine get chased off-road by helicopters, motorbikes, and cars. It's tremendously exciting but you can't just let it go full bore for five or seven minutes. We carefully picked where sound effects would lead for the first half of the sequence. Then we mixed it so the sound effects diminished and the music took over as Bond got out of that situation.
You just finished mixing Morbius, working for the first time with director Daniel Espinosa,
He has a memory like I couldn't believe.
Memory?
He's the only director I've ever worked with where you'll playback a reel for twenty minutes and Daniel doesn't write a note, not one. Then, purely by memory, Daniel starts giving you notes to address, and he'll give you the time code too! He'll be like "At two point five minutes there's a line of dialogue that's getting lost."
Wow.
You can almost see him playing back the film in his head. I've never met anyone like him. Daniel brought a lot of his personality to the film, which is not a typical action movie. There are a lot of character and dramatic scenes and interest between actors.
In Morbius, a medical experiment goes haywire and Jared Leto's character develops "echolocation" abilities so he can hear like a bat. That superpower must have been interesting to work on?
Allan Holmberg, the sound supervisor, did an amazing job with the echolocation effects so the audience will understand the distances that Morbius can perceive over a city landscape from high atop a skyscraper. You can hear the sirens and cars and other activities of a large city, but what is Morbius actually honing in on?
This month you received a Lifetime Achievement Award from the Cinema Audio Society honoring a career that began in the pre-digital era when everything was done analog, on tape. How has digital impacted your approach?
Digital is much cleaner, no question. And digital programs now have so many plug-ins, you can really put things under a microscope, which can be a massive advantage. However, I think a lot of mixes now suffer from too much of that manipulation. If the director or you as the mixer want to get into the weeds on every little frame, every second of a performance, you can, but in doing so you run the risk of flattening things out. 
If I understand correctly, you take your own digital mixer from job to job?
I own an MPC5 Harrison Console, which is their flagship model. I've also now purchased two smaller versions of that which I keep in flight cases. The consoles have what they call "toys," which I am completely dependent on. Compression, noise reduction, de-essing [to remove sibilance] — everything I do to dialogue goes through my Harrison. I have one rig in a flight case here in L.A. that I move from facility to facility, and I have a smaller one in London when I'm working there.
Having a familiar work environment no matter where you travel must be nice?
The consoles enable me to be consistent in getting as much of a rich full sound as possible, even within a relatively narrow dynamic window so that you don't lose dialogue later. They also have fantastic music plug-ins for Pro Tools that elevate the sound of drums and bass and vocals to a degree I never could have done five years ago. 
You talked earlier about how movie sound sometimes gets flattened, and that raises the issue of inaudible dialogue. Do you think it's been getting harder to understand what actors are saying?
There's a tendency toward dialogue being less understood. Some of it can be attributed to the flattening out of a film. Some of it might be coming from the director. But if we're talking about streaming, there are so many formulae now that we as re-recording mixers often never even listen to [lower-resolution] downmix file conversions. We have to meet LKFS [Loudness, K-weighted, relative to full scale] LKFS standards in terms of how loud a show has to be from beginning to end. It's a narrow window, and sometimes that can lead to a further flattening out of dialogue. I had a film a couple of years back that was completely within spec and played great on Netflix, but when I played it on my Apple TV at a different location, the bandwidth was reduced. It's just another left turn that we don't have control over.
That must be frustrating for filmmakers.
I know that Ridley always wants the dialogue heard very very clearly. And when I worked with [producer] Jerry Bruckheimer in the past, his notes were almost always about dialogue.
Even with all those explosions his movies are famous for?
Yes, and I applaud him for that. If you intentionally have a line of dialogue you don't want the audience to understand, then make that clear. Don't make it so people are going: "What did he say?" That's something you don't want to hear from an audience.
For more on No Time To Die, check out these stories:
"No Time To Die" Editor Tom Cross on Cutting to the Chase
"No Time To Die" Costume Designer Suttirat Anne Larlarb on Building the Apex Tuxedo
"No Time To Die" Costume Designer Suttirat Anne Larlarb on Dressing Bond's Allies & Adversaries