"No Time To Die" Costume Designer Suttirat Anne Larlarb on Building the Apex Tuxedo
"Before Daniel, the Bond style, which was always very definitive, was being worn by someone who was more of a superhero character," says No Time To Die costume designer Suttirat Anne Larlarb about the tall order of outfitting Daniel Craig for his fifth and final assignment as James Bond. "We didn't really get the emotional landscape. We got the look, we got the icon, but we didn't delve that much deeper. Daniel is a consummate actor and I really felt this responsibly to be able to costume him in a way that would live up to that Bond stratosphere, but also give him what he needed to be able to make the character more three-dimensional, more serious, more somber."
Larlarb succeeded in giving Craig's final turn as her Majesty's most moody, haunted double-o agent looks that fit his shifting stations in life, from lovestruck in Italy to a heartbroken retiree in Jamaica, to a be-tuxed and back-in-action Bond in action in Cuba. It was no small task honoring the decades-long career of one of cinema's most iconic characters while simultaneously cementing Craig's iteration of the most thoughtful, most tortured, and inarguably the noblest Bond of them all.
We spoke to Larlarb about the demands of history when designing the costumes for a character that has been as reliable as death and taxes, while making sure to stay true to Craig's vision for the role.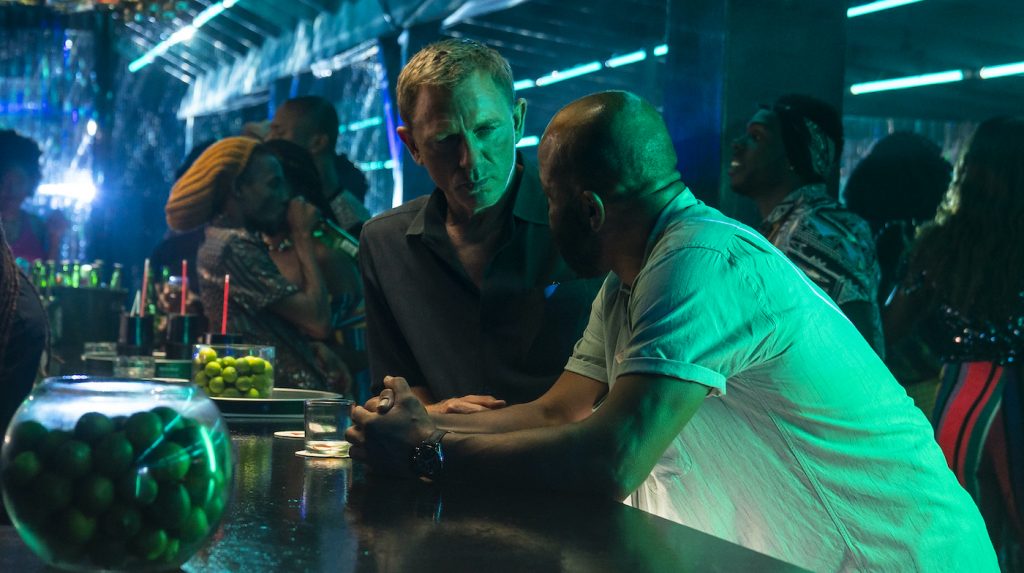 Clothes are as big a part of the Bond mystique. How did you being the process of decoding the costumes for the 25th Bond?
You're right, it comes with a lot of iconic responsibility. As the longest-running character franchise, spanning so many decades in which clothes have been defined in each decade, Bond as a franchise and a character has always been the apex of every stylistic moment that's happening in whatever decade he resides in. It's a lot of responsibility. It felt very important to look back at everything that had been done before and really understand what made something essentially Bond, in terms of a DNA of style or approach. Not so that we merely pay homage or replicate or regurgitate anything, but really to understand the unifying factors that define the design of all the previous films.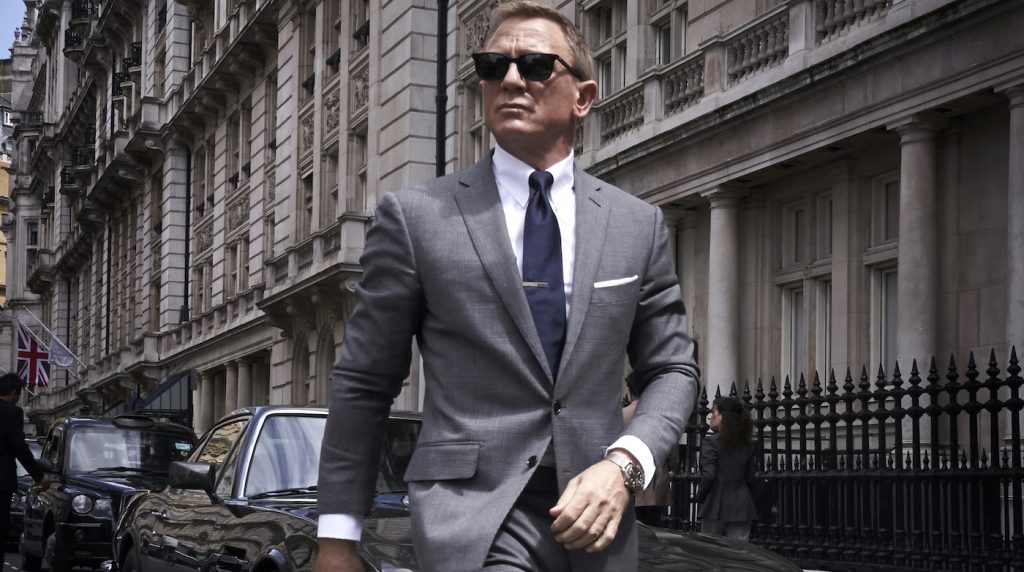 Daniel Craig's iteration of Bond is much more emotionally evolved, and haunted, than any past version of the character. How did that translate into designing the character's looks?
Bond as a character has changed over the course of history, and I felt like Daniel Craig's version is arguably the most vulnerable and emotionally available to the audience. It's interesting because I think there were a lot of choices that we made and clothes that he wore that wouldn't necessarily feel very Bond-esque. But when you break down what the scene is, where he was prior to that scene, what he was going through and the practicalities of getting from point A to point B, it meant we had to make decisions about his clothes that were not going to get in the way of the emotional charge of the scene.
Like when the film opens and he's in love…
Yes, when we first meet him in Italy, it's basically a continuation of what came became before the love story that emerges at the end of Spectre. We are introduced to Bond in love. He's in a romantic place, in a romantic relationship, and he's just going for it. We think he's left the service behind. I think it would have been a disservice to him to look like a Bond you expected because that Bond is the field agent to the max, always ready, always sharp, beautifully styled. But only having him suited and booted perfectly lies in the same parallel as him being emotionally unavailable. He's compartmentalized every other part of his life so he's this perfect icon to be able to do this job at a very high level. But at the beginning of No Time To Die, we see he's softened a bit, his heart is open, he's with the woman he loves, so the clothes are a reflection of that.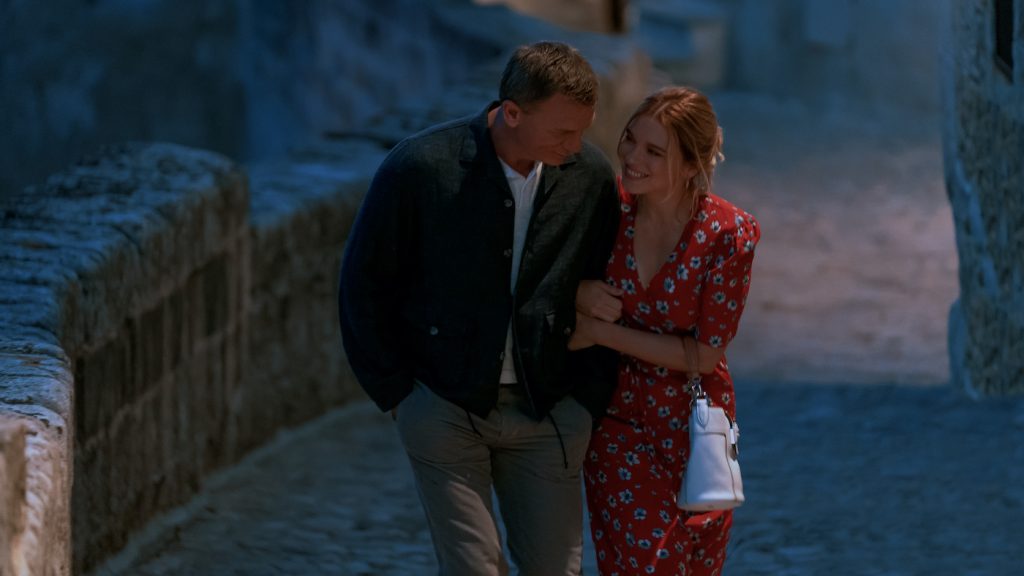 Then Bond's relationship with Madeline Swann literally blows up, and we're in Jamaica. How did you approach his looks there?
When we're in Jamaica, he's really renounced the service. He doesn't think too much about what he wears because he just has instinctually right decisions and looks great in everything. But, the lifestyle is one in which he gets up in the morning, goes fishing, hangs out in his beach hut—not such a hut, but a beautiful beach house—and is part of that locale. He's off the grid. So his clothes need to telegraph that there's no sense of urgency there. He's lived in that tee shirt and shorts for however long he's done that, five, six years. There's no need to be at the apex of style there, although, arguably, anything you put on Daniel Craig just will inevitably look stylish [laughs.]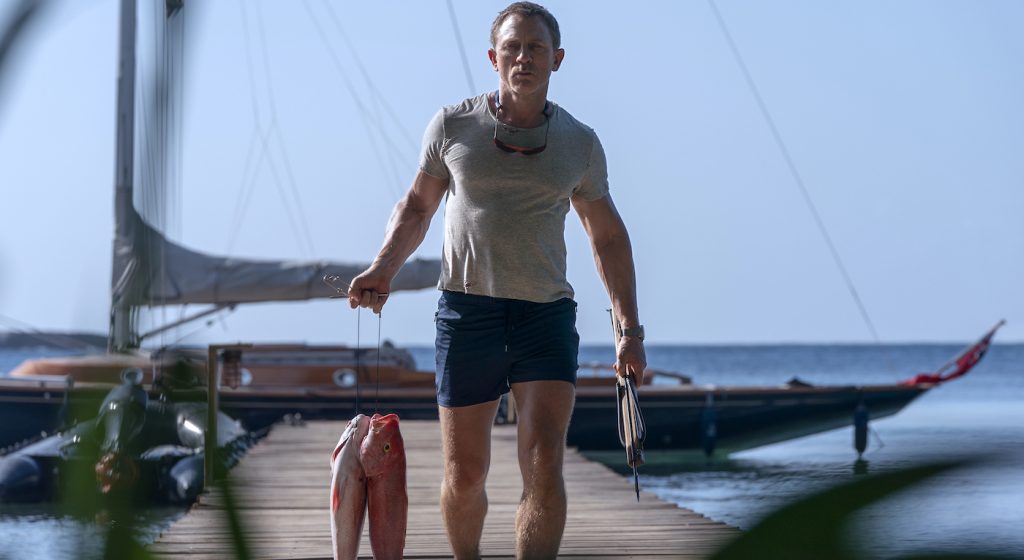 And then, after things in Jamaica go off the rails, Bond's back in action again. How did you approach the more suited and booted looks?
The really fulfilling thing about working on this project was there is so much investment in the character, and so much appreciation and respect for what costumes can do. At some point, we know he's going to show back up at MI6 and he's gotta look the part. The funny thing there, of course, is he's in this beautiful Prince of Wales checked Tom Ford ensemble which we designed together with Tom Ford and Daniel [Craig]'s input. I put forward the Prince of Wales check because it's such a classic suiting material. So in that first meeting when Bond has reentered MI6 but not as a fully-fledged double-O, he doesn't have his status anymore, he even has a visitor's badge. That's one version of the full 360 of Daniel, playing with what he needs to telegraph when he's in the service. And of course, the other moment is the tux moment.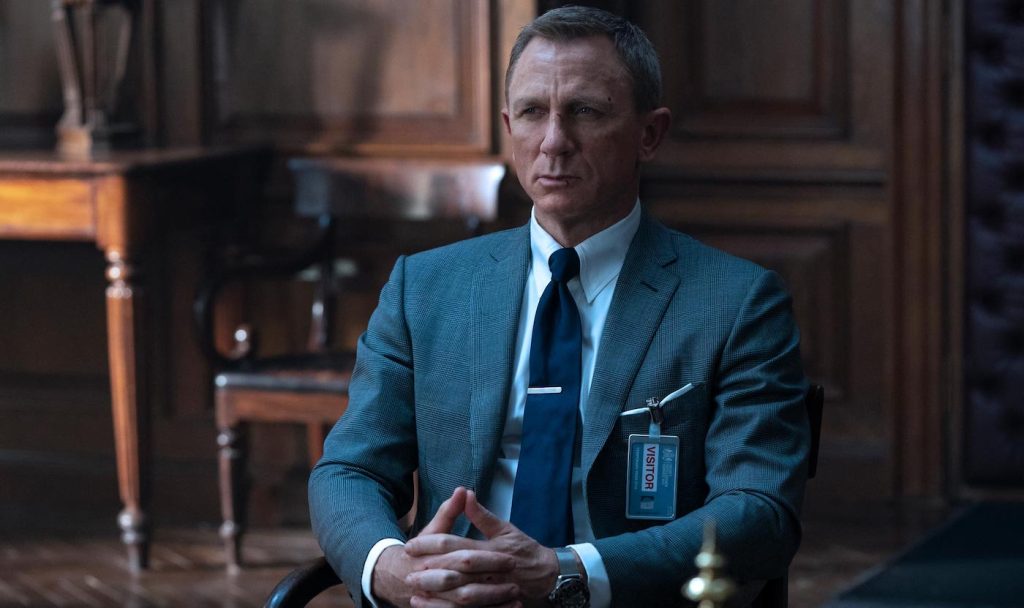 The tux is an iconic part of the Bond mystique. What was special about the one he wears on his mission in Cuba with Ana de Armas's young CIA spy Paloma?
The tux is always going to be an apex for a Bond film. You have to make decisions that allow that apex to be the apex. If you're at that level the whole film, in these sharply tailored suits, you're robbing the emotional complexity that Daniel does so beautifully. So I really felt like it was an amazing opportunity to give a fuller picture of a man in various levels of crisis [laughs].
I'm going to go ahead and assume this tux doesn't come from Men's Warehouse?
The tux is another Tom Ford collaboration. It's specifically made for this film. David Bamber, who was my contact at Tom Ford, and Tom Ford himself, were very generous to have provided the opportunity for us to get these important, iconic looks for Daniel in the time that we had. We didn't have as much time as we normally would. Tom Ford's line is operating with factory schedules and mills in Europe, so they're not going to be able to just clear out everything so that they can squeeze out 33 bespoke tuxedos for you. So we really worked very closely together on all the decisions to make it right for Daniel. We had multiple fittings together in New York and then in the U.K. We didn't have the tux in our hands until probably about 24 hours before filming. You want to give a designer and a design house like Tom Ford as much time as they need to get the suit right. It's gotta look perfect, it is so scrutinized, Daniel's very exacting, and it's the tux. So we had to give them as much time as they needed to get all the details right.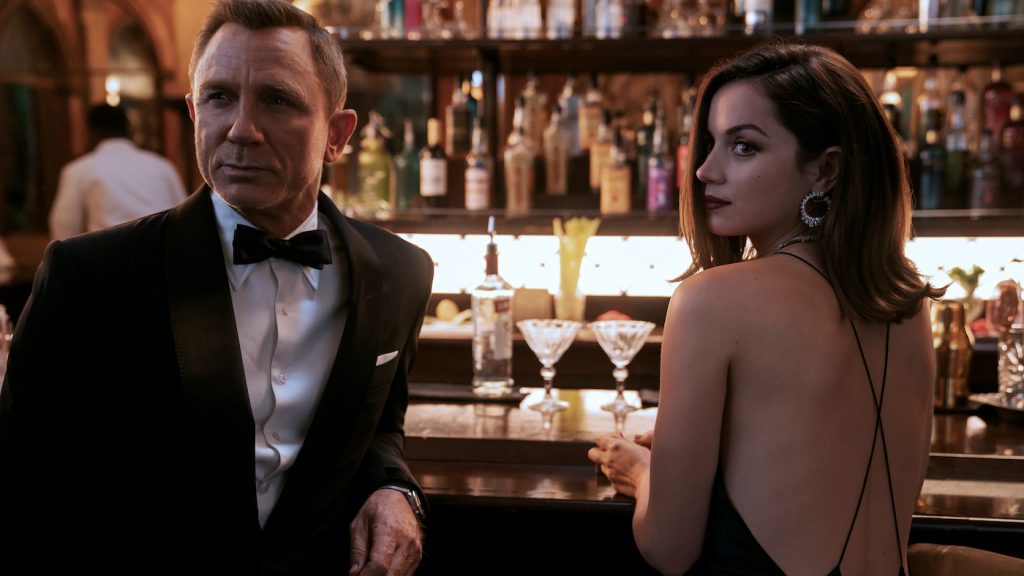 What materials were used? 
We used a stretch, silk-wool blend fabric which was great for all the stunts. We'd learned the fabric that I wanted, this stretch black, was manufactured in Italy, and there was only enough in the world to make a certain number of tuxes, and we had to have fewer tuxes than we needed. You have to split them up between the beautiful picture version for Daniel Craig, the stunt versions for Daniel Craig, the versions for the stunt double, the photo double, and each performer needed a battery of tuxes to be able to be fit stunt padding or harnesses, so they're all slightly different sizes to accommodate those technical requirements, imperceptible to the eye but necessary for the look. Then, on top of that, you have all the layers of distress and aging. So we're seeing Bond after he's gone through an immense firefight in the streets of Cuba, so he'll be wet, shot at, so the first time we see the tux it's stage three distress, so, within each person's lists of available tuxes, you have the perfect picture one, then you have stages of distress. And then you need spare ones because what if something happens on the day? So we worked out that we could have 33 tuxes, and how to distribute them to all the performers. I have a binder about three inches thick of all the emails going back and forth about just the tux.
For more on No Time To Die, check out these stories:
"No Time to Die" DP Linus Sandgren on Daniel Craig's Epic Sendoff as James Bond
"No Time To Die" Has Record-Breaking International Opening
"No Time To Die" Gets the Widest U.K. Theatrical Release Ever
"No Time To Die" Review Roundup: A Thrilling, Emotional Conclusion to the Daniel Craig Era
Featured image: Daniel Craig stars as James Bond in NO TIME TO DIE. Credit: Nicola Dove. © 2021 DANJAQ, LLC AND MGM. ALL RIGHTS RESERVED.