Oscar-Nominated "Dune" Screenwriter Jon Spaihts on Decoding Frank Herbert's Tome
For Dune's Oscar-nominated screenwriter Jon Spaihts, the opportunity to help Denis Villeneuve find a way to crack the elusive code to adapting Frank Herbert's magisterial, meaty sci-fi tome came at a funny time. "I'd decided I wanted to focus on a personal project that I'd direct myself, so I told my reps, 'No new jobs,'" Spaiths says. "Then my agent called and said Denis Villeneuve is doing Dune, and I said, 'Get me in a room as fast as possible.'"
Spaihts's agent delivered, and within the blink of an ornithopter's blade, he was discussing Herbert's iconic novel with Villeneuve. "I was saddled up within a week," Spaihts says. "Eric Roth had already come on board, and he'd done a couple of drafts, then Denis, who is a fine writer in his own right, had done a pass on that and created a hybrid draft, and that's what I was shown. It had a clear directorial vision and was full of great stuff."
The interstellar narrative sweep of Herbert's "Dune" is contained within a classic coming-of-age tale, albeit one set on distant planets and amidst an ongoing power struggle between the warring Houses at the top of the cosmic pecking order. Yet fans of Herbert's "Dune" know that nested within that coming-of-age story is a vast universe of political intrigue, a saga that leaps through space-time and concerns itself with, among other things, environmental destruction, totalitarianism, colonization, cognition, fate versus free will, and a whole lot more besides—plus sandworms.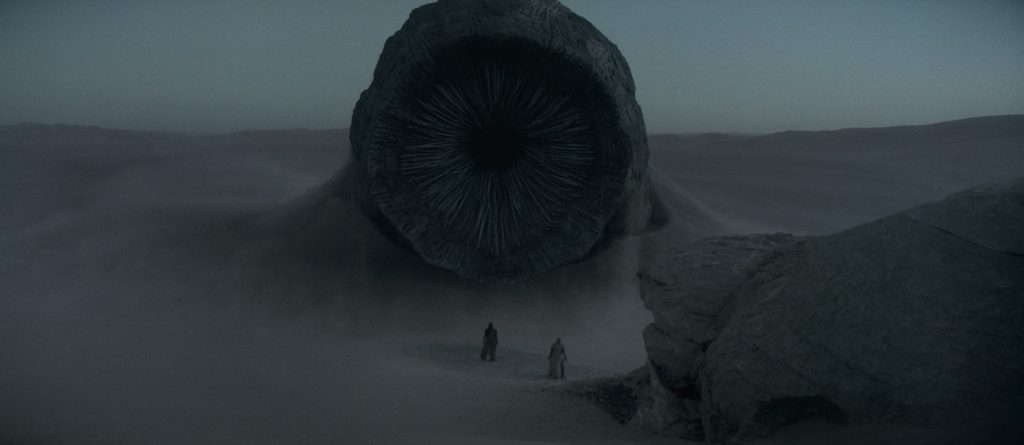 "I went back to the novel and tore it apart. I  underlined, I filled the book with post-it notes until it looked like a pom-pom, then I did a clean adaptation straight from the novel of the first half," says Spaihts. "Then, I sat that down side by side with the Roth/Villeneuve draft and imported all the big inventions from there, especially any time Denis's muse was in full effect with visual storytelling, and created a composite draft from that."
After that, Spaihts went on the road with Villeneuve to keep working—and working—until their draft was airtight. He calls this process, which took place first in Montreal and then in Budapest as Villeneuve and his Dune team were deep in pre-production, their "intense collage period."
"I checked in a hotel near him, then we'd talk story in the morning, then again at lunch, then at 2 or 3 he'd go to prep on directing, and I'd keep writing until midnight or so," Spaiths says. "Then we'd start it all over again, for a week or ten days. By that point, we could think as one mind because we were in constant contact, so I never had to guess at what he was thinking. We were, therefore, able to turn around an approved draft in the space of a week or 10 days, and we did that four or five times."
One of the key early decisions that helped solve a major riddle for adapting Herbert's tome was not attempting to stuff the entirety of the intergalactic machinations into a single feature-length screenplay. In fact, it might have been the key decision. Yet it was hardly as simple as cutting the book in half.
"That was a bit of a high wire act," Spaihts says of breaking the story into two parts. "Everyone's adaptation will require streamlining, but stuffing something as big as Dune into a single feature, you'd have to cut so much that the essence would be harmed. But, at the outset, I did not see with certainty how'd we get two satisfying arcs out of those two parts. That decision in our case had two components. One was there's a big villain storyline that fans of the book will know, that we shoved into part two." (Austin Butler is currently high on the list to play that villain, Feyd-Rauth Harkonnen.) "The point at which Dune: Part One ends, with Lady Jessica (Rebecca Ferguson) and Paul Atreides (Timothée Chalamet) off into the desert, fans of the book would know we'd already have met Feyd in a bravura scene in a fighting arena. But that would have felt extraneous in the movie we were writing, so we shoved that into the future to make that character essential to part two. That makes Part One more cleanly the Greek tragedy of House Atreides, their hubris, their earnestness, and the betrayal that brings them down."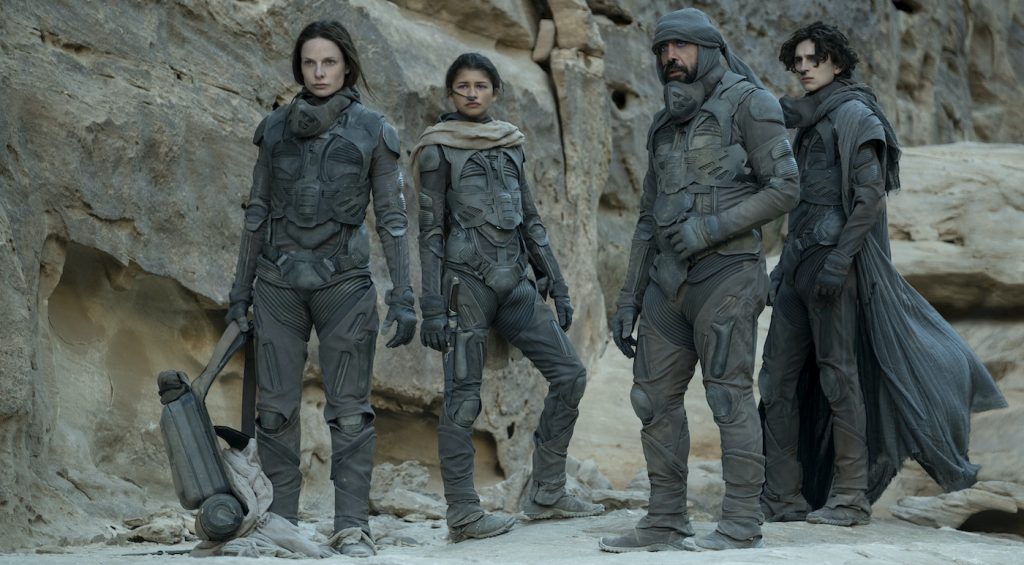 The main thrust of Part One is that House Atreides, led by the honorable if hubristic Duke Leto Atreides (Oscar Isaac), is summoned by the Emperor to take up residency on the dangerous, resource-rich desert planet Arrakis to manage the crucial Spice trade. The entire Atreides clan, including the princeling Paul and his mother Lady Jessica (a member of the powerful Bene Gesserit sect), arrive on Arrakis, but it's a set-up. They've displaced House Harkonnen, the brutal plunderers who had been running Arrakis and menacing and murdering the native Fremen. House Harkonnen then starts a war with House Atreides. Duke Leto is assassinated, Paul and Lady Jessica go on the run, and it's the Fremen (and their connection to the planet's colossal sandworms) who Paul and Jessica turn for help.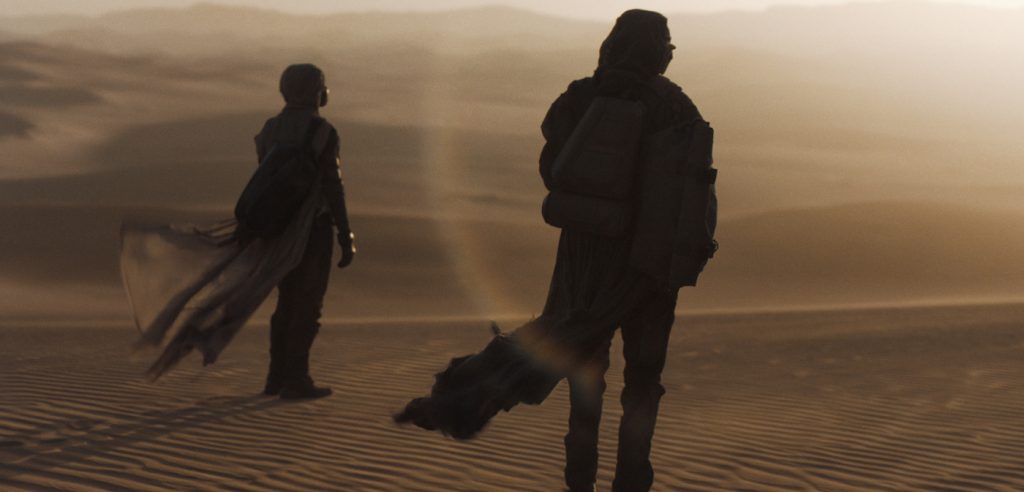 "There's a very tempting breakpoint in the novel where a lapse of several years go by, and that would have been perfect to be our end of Part One, but in practice that would have meant Paul and Jessica meeting the Fremen and of starting a new life," Spaihts says. "In the end, it felt better to break our story off at the moment where Paul is leaving the world of Great Houses and entering the world of the Fremen and the great desert."
One potential trap that exists in the kind of intense writing process Spaihts and Villeneuve engaged in is that you might lose an early ah-ha moment in all that relentless re-writing. Spaihts was on guard for that.
"One of the prime perils is that the first drafts often have a magic to them because they're created in isolation by a writer chasing an emotional rush, chasing a feeling, and even if they have clunky flaws, there's a magic or music. It's very easy to hammer that music out as you try to fix the things that are less than perfect," he says. "The way you keep the music alive is by a difficult or essential exercise, which is exerting ownership over any changes that you have to make before you make them. Because if you're told to do things to do the script you don't agree with or understand, you'll be hammering the life and passion out of the draft. You have to sit with the things you've been asked to do and internalize them and find a way to make them yours as if you had these ideas yourself. Then, you can pursue them with the same sense of music and thrill-seeking that drove you through the first draft. If you can do that, your work will stay good."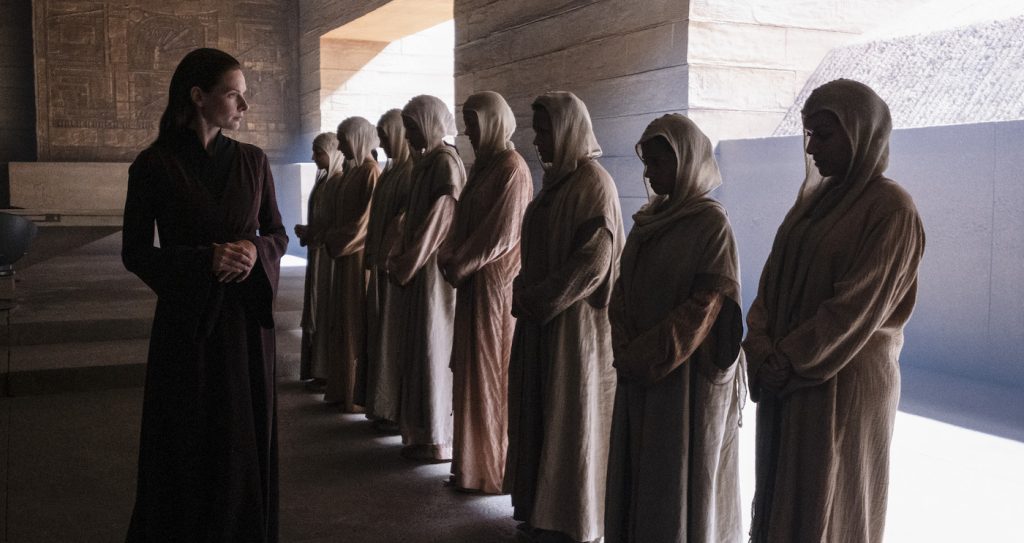 Another challenge was figuring out which pieces of Herbert's highly-detailed universe needed to be in the film, which could be abandoned, and how to know the difference between the two.
"There is so much world-building to be done, you could spend your entire film just doing that," Spaihts says. "We knew we had to be economical with the lore of the world and its rules. When we felt like some scenes could feel a little bit like schoolwork, we cut. The guiding compass was the personal experience of Paul Atreides and his mother and father. It's the heart of the book and the movie, the motor that carries this film. We could explain the guild and the monopoly on international travel and the Emperor and the Imperium and the swordmasters and on and on, but most of it isn't essential to following the story. What we did was touch upon the mystical elements to ensure fans knew we knew, and build the movie on those bones without encumbering newcomers with all that myth."
For those of us who haven't read Herbert's "Dune," you might assume some of the most striking visual moments in the film are pulled directly from its pages, but that's not the case. There were plenty of inspired, deliciously weird touches that were Villeneuve's invention. One such moment is when Duke Leto, in his dying breath, bites down on a poisonous capsule in an attempt to kill the evil Baron Vladimir Harkonnen (Stellan Skarsgård). The Baron survives, barely, and we next finding him "clinging to the ceiling like some creepy spider," as Spaiths describes. "That's all Denis. Likewise, when the Baron in that decontamination chamber recuperating, that's Denis inventing, those bare his distinctive visual touches."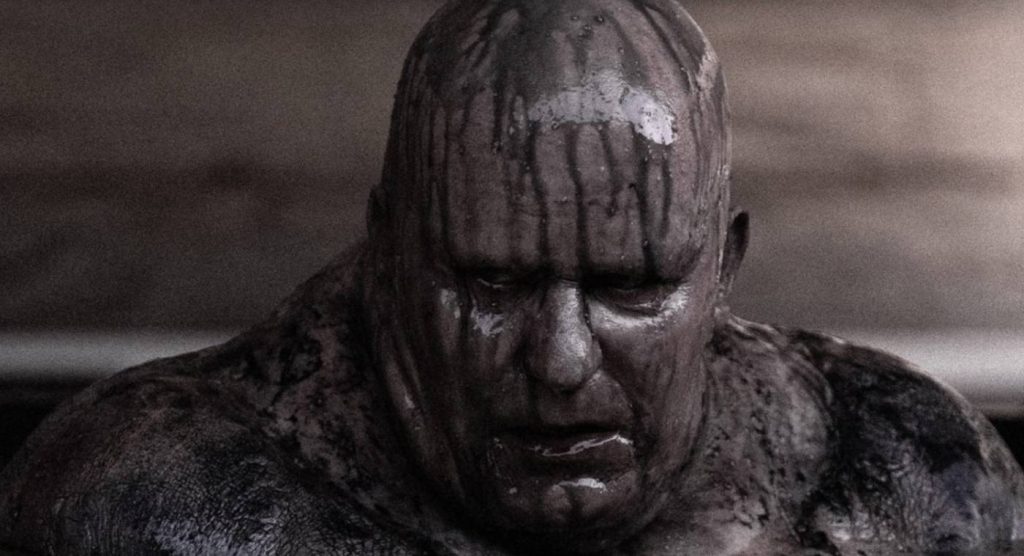 Perhaps the greatest example of Spaihts' work is that he was able to take a novel that is filled to the gills with internal monologues and make it visual.
"In many of the great crises of the book, the hero is very still, doing nothing," Spaiths says. "For example, when Paul's hand in the Pain Box, he does nothing, or when the hunter-seeker comes into his room, he can't move or speak. In the novel, it's an opera of interior monologues, which is impossible in cinema. We had to craft the scenes before that do the work of the interior monologues."
In the end, Spaihts was able to help to visualize the monologues and break the novel's many-tentacled narrative into two clean parts. The result is the rare sci-fi epic that's both majestic and deeply personal, sweeping and yet spare.
"We were breaking off when the novel was in mid-stride, so teasing out the strands of the character journeys and defining the arc of Part One so it felt like it arrived at a conclusive moment, but still beckoned to one exciting future yet to come, was the biggest challenge," he says.
Challenge met. Dune: Part Two begins production this summer.
For more on Dune, check out these stories:
"Dune" Oscar-Nominated Sound Team on Sandworms, Ornithopters & More
Oscar-Nominated "Dune" DP Greig Fraser on Taming an Epic Sci-Fi Beast
Oscar-Nominated "Dune" Editor Joe Walker on Finding Intimacy in a Sci-Fi Epic
"Dune" Hair & Makeup Department Head Donald Mowat's Delightful & Disturbing Designs
Featured image: Caption: (L-r) TIMOTHÉE CHALAMET as Paul Atreides and OSCAR ISAAC as Duke Leto Atreides in Warner Bros. Pictures' and Legendary Pictures' action adventure "DUNE," a Warner Bros. Pictures release. Photo Credit: Courtesy of Warner Bros. Pictures and Legendary Pictures