"Dune" Oscar-Nominated Sound Team on Sandworms, Ornithopters & More
The experience of seeing writer/director Denis Villeneuve's Oscar-nominated epic Dune was, for this viewer, as much an auditory experience as it was a visual one. The sounds of the alien world depicted in part one of Villeneuve's two-part adaptation of Frank Herbert's 1965 novel are mesmerizing, from the whispering sands shifting across the desert planet of Arrakis to the oddly soothing purr of the dragon fly-winged aircraft, the ornithopter. For supervising sound editor Mark Mangini and supervising sound editor and sound designer Theo Green, two of the four members of the Oscar-nominated Dune sound team (the others are Doug Hemphill and Ron Bartlett), the soundscape of Dune demanded these ace technicians find the alien in the familiar, and the familiar in the alien.
"The misconception is that when you go to the cinema and you take in a film, it's as if everything you're hearing was captured while the movie was filmed," says Mangini. "Like somebody was there with a microphone and captured all of it. Yet that's so far afield from the way it actually works, especially in science fiction, which is populated by things that we see that don't exist in reality. Visual effects, especially in a movie like Dune, take years to create from whole cloth. So, too, do we have to invent a universe of sound for things we've never seen or heard before."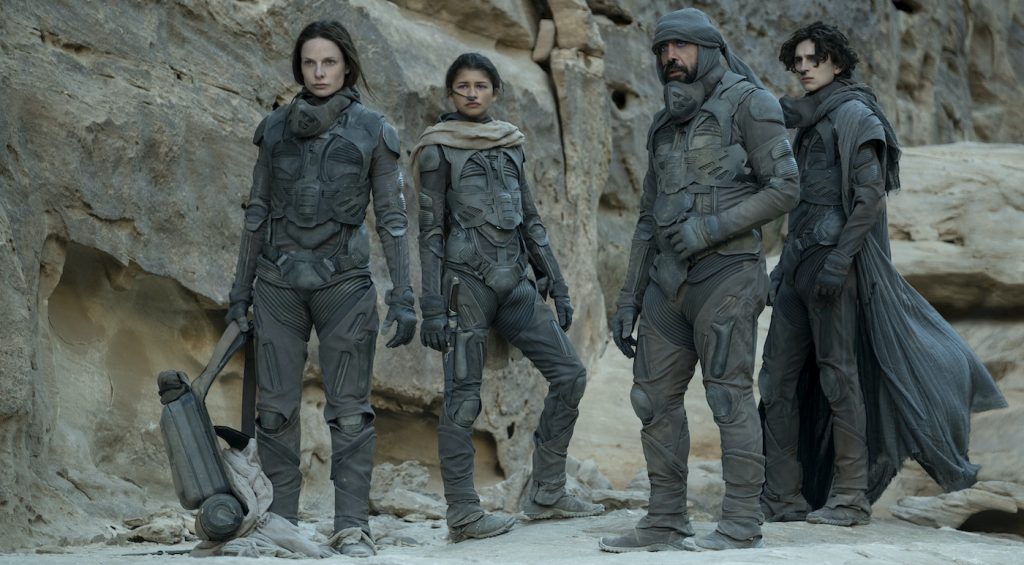 This misconception—that a film's sound is largely captured during principal photography—is probably easier to dispel on a movie like Dune, yet it's still revelatory to find out just how much of a movie like this is stitched together, one sound at a time, in post-production. "We're given a movie that's only populated by the dialogue, but everything else that you hear, even the atmospheric sounds in the desert, the sounds of the characters walking on spice, the sounds of a sword hitting a shield, all of that has to be invented," Mangini says. "Then when the visual effects are completed, we synchronize them to the image."
Those visual effects, which were also nominated for one of Dune's ten Oscars, include the aforementioned dragonfly-like ornithopters that the film's central clan, the Atreides, use to move about the resource-rich, highly dangerous planet Arrakis. Then there are Dune's alpha predators, the sandworms, which tunnel beneath the planet's vast desert like subterranean gods. To the planet's native inhabitants, the Fremen, they are gods. Yet for Mangini and Green, the key to creating a soundscape that immersed the viewer in the world of Dune was by creating an almost eerie sense of sonic familiarity with these alien creatures, vehicles, and landscapes.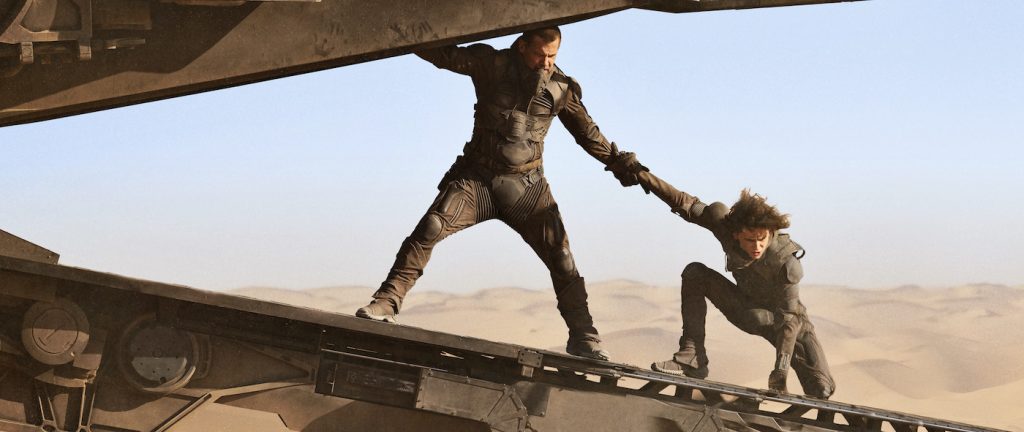 "One of the things Theo and I wanted to do is rethink the sound of science fiction," Mangini says. "Arguably the joy is in seeing things you've never seen before, a Wookie or a special spaceship, and the temptation is to make fantastical sounds to go along with those fantastical images, and to achieve that through the use of electronic equipment. We wanted to avoid that trope by having everything sound as though it was in a grounded acoustic reality. We developed 3,200 individual, bespoke sounds for this film, and 99% of them are made from things you could hear around the house. I think that's counter-intuitive. I think the average moviegoer would assume we used complex computer algorithms to create these sounds, but far from it, we want out with microphones and captured everyday items. The sound of the sandworms, ornithopters and the shields had to sound believable enough so it doesn't take you out of the movie," Mangini says. "We have to make these sounds feel as though you've heard them before."
So how do you make a helicopter with dragonfly wings and a 1,300-foot-long alien sandworm sound like something you've heard before? "It's kind of dark art," Mangini says.
Designing the Ornithopter Sound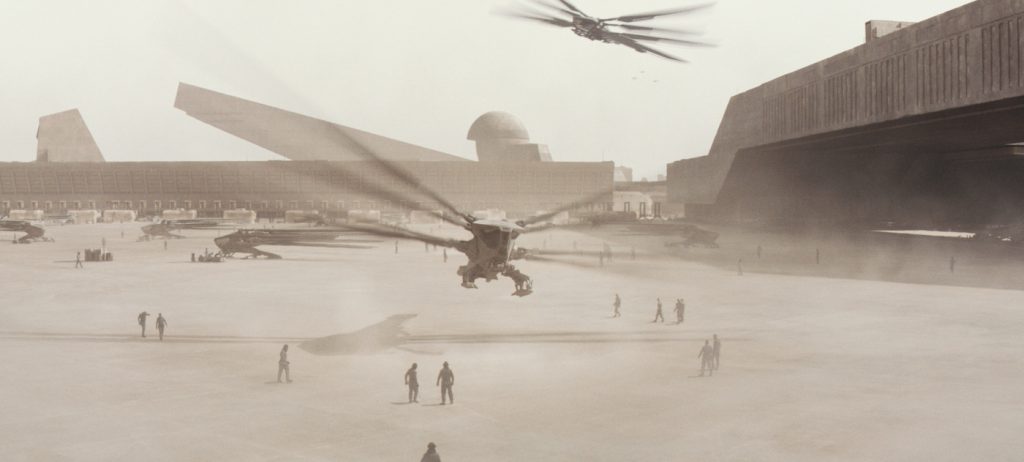 In designing the crucial transport vehicles that play such a vital role in the film, Mangini and Green looked first to the natural world.
"We knew visually that the ornithopters are patterned after dragonflies, and we had a desire for them to feel insect-like," Mangini says. "We also didn't want them to sound like helicopters. Helicopter's blades spin and an ornithopter's blades flutter. We wanted to make sure we weren't accused of simply taking the sound of a helicopter's blades."
Green bought a large species of beetle online and had it shipped to him in dry ice. Once it arrived safely and woke from its sleep state, Green recorded the sound of it's wings fluttering. It sounded great and was a good start, but the job was only beginning.
"So now we have this lovely insect-fluttering sound, but it didn't have the size or girth that we wanted," Mangini says. "We knew that the fluttering itself reminded us of another organic sound—a cat purring. So we married beetle wings with a cat purring. We wanted that deep fluttering sound you get from a cat that would also give it a more animal, organic component."
Once they created this hybrid animal sound, they still weren't done. Sound designer David Whitehead recorded a canvass strap strung out in a 65 mile-per-hour windstorm, which mimicked the violence of the vibrations a metal dragonfly wing would make. Those three elements were combined, but the work on this one piece of the vast sonic puzzle was still not done. They needed to figure out how to create the sounds of the ornithopter moving through space, starting and stopping, drawing near or flying away. "We had to process the sounds to add doppler shift and distance damping to make them sound like they were moving," Mangini says.
Then there were the sounds the ornithopter makes that we hear from inside the cockpit. Mangini found a solution close to home—his electric Chevy Volt, which he says makes a "wonderful powering-up sound" when he turns it on. These sounds were manipulated and slotted in for the ornithopter's landing gear.
"All of these sounds are organic, acoustic sounds," Mangini says. "You might recognize them if you heard them divorced from the imagery, but combined they blend into a whole that becomes the ornithopter."
The Sound of Sandworms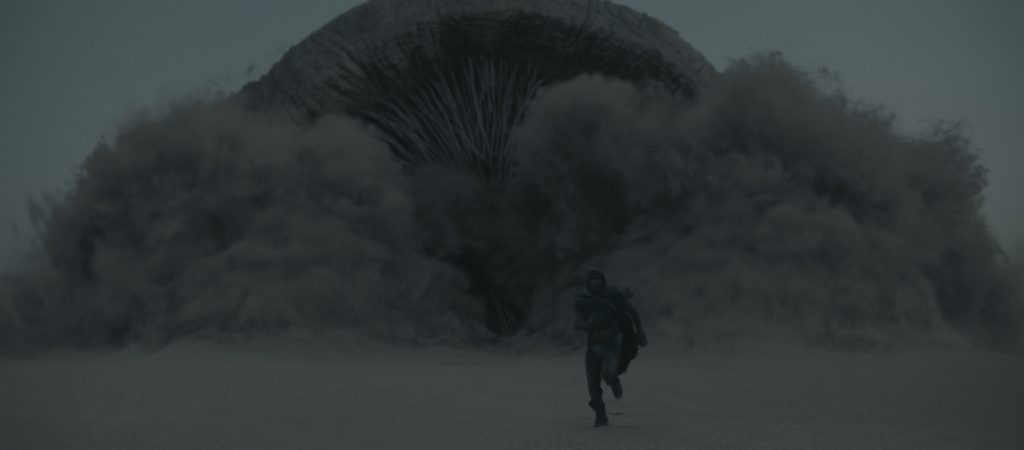 While the movie's central battle is between House Atreides, led by Oscar Isaac's Duke Atreides and his son, Paul (Timothée Chalamet), and House Harkonnen, led by Stellan Skarsgård's Baron Harkonnen, there is no greater power on Arrakis than the sandworms. To create the sounds of these 1,300-foot-long alien beasts, Mangini and Green understandably first went big. It didn't work for Villeneuve, however.
"Our first attempt, especially for the money shot when it rises out of the desert to confront Paul and Jessica and shows its maw, was to overwhelm the audience with the Godzilla roar," Mangini says. "We wanted to blast the audience with a huge, terrifying, feral voice."
"Something like this," Green adds, then roars (convincingly, too.)
"What we discovered is from a narrative standpoint is that this was an improper approach," Mangini says. The worm is a revered being, a god of the desert, and we wanted to inspire not fear but awe on the part of Paul and Jessica. We went in a very different direction. Denis described the worm as this 400-meter-long hollow tube that has to have the driest sounding utterances because it spends its life under the sand in a water-depleted environment. We ended up with what we called the gunk gunk sound, which was derived from whale songs."
In the film, as in the books, mechanical devices called "thumpers" are used to summon sandworms by creating the vibrations they're attracted to. The sounds of a thumper and a sandworm are very similar—Maginini likened the device to a futuristic duck call—and helped the sound team hone the sound the colossal beasts would make.
"How does a gigantic worm get through the sand?" Green asks. "One of the things we thought about, after seeing the sand melting like quicksand, was that it's clear the sandworm moves through vibrations, so that gave us the idea that vibration is a very important thing in this movie. The shields can't be used in the desert because they attract the worms, and then for the worm, the way it displaces all this sand is through vibration. Denis picked up on what's described in the book as 'worm sign,' the inkling a worm is on its way."
The paradoxical approach to the sandworm's sound design is how delicate it is. "It's described as being like a little fluttering insect," Green says of the sound of an approaching sandworm. "Mark and I had always imagined the incoming worm would be a huge thunderous roar, and it was Denis who wanted to go after a paradoxically smaller sound, like a tiny insect beating its wing, and it confuses you because the scale is so different from what's actually coming. As the worm gets closer, we started to combine the sound of sand moving with [re-recording mixer] Doug Henphill's recordings he made 30 years ago of his assistant sliding down a sand dune that he'd buried microphones in. They're hugely resonant, it makes this deep groaning song. So we recorded our own, we used Doug's recordings, and that strange groaning of the sand dunes is something you hear."
There are two really epic sandworm moments in the film, each that comes with a "worm sign." The first occurs early on when House Atreides has just arrived on Arrakis and Duke, Paul, Duncan Idaho (Jason Mamoa) and others are out in an ornithopter surveying one of the spice crawlers at work in the desert. That's until a sandworm, drawn by the vibrations the extractor is making, barrels underneath it and swallows it whole.
"When that worm finally arrives to suck the spice crawler down, we had to devise the sound of a giant suction," Mangini says. "Short of finding actual 400-meter-long worms to record, I had to do it myself. I took a microscope and put it down my throat and made the giant suction sound the worm might make. Then that sound went into the studio to give it the size and depth and bass frequencies to give us some of the sand worm's sound."
The second sound is a more nuanced, mysterious vocalization that one sandworm, in particular, makes when it comes in direct contact with Paul and his mother Jessica (Rebecca Ferguson). The sandworm rises up above them and looks ready to devour them whole, but it stops short and seems to almost talk to them.
"There's a particular moment when Paul and Jessica are stranded in the desert and you hear these strange sounds and you realize the desert is alive. The obvious is always to think a massive creature needs massive sounds, but like its vocalizations, the beauty is to go the other way."
Dune is now streaming on HBO Max.
For more on Dune, check out these stories:
Oscar-Nominated "Dune" DP Greig Fraser on Taming an Epic Sci-Fi Beast
Oscar-Nominated "Dune" Editor Joe Walker on Finding Intimacy in a Sci-Fi Epic
"Dune" Hair & Makeup Department Head Donald Mowat's Delightful & Disturbing Designs
Featured image: Caption: TIMOTHÉE CHALAMET as Paul Atreides in Warner Bros. Pictures' and Legendary Pictures' action adventure "DUNE," a Warner Bros. Pictures and Legendary release. Photo Credit: Courtesy of Warner Bros. Pictures and Legendary Pictures