Oscar-Nominated "Dune" DP Greig Fraser on Taming an Epic Sci-Fi Beast
Denis Villeneuve is the director to finally tame a film version of Dune, Frank Herbert's 1965 sci-fi novel that, over the decades, accidentally spawned a cottage industry of unsuccessful visual projects (see: David Lynch's 1984 Dune, the SyFy channel's attempt in 2000, and Alejandro Jodorowsky's Dune, which never saw the light of day). Casting Timothée Chalamet as young prince Paul Atreides and Zendaya as Chani of the Fremen, the original native inhabitants of Arrakis, the center of a lucrative interstellar spice trade, Villeneuve reined in the first half of Herbert's sprawling story through a grand yet visually minimalist epic anchored on the Atreides compound, their new home on Arrakis, and the surrounding desert from whence spice is mined. 
Both audiences and critics agreed this is the Dune that finally works, and the Academy nominated Dune for 10 Oscars, including Best Picture, and alongside Villeneuve and producers Mary Parent and Cale Boyter, there are Villeneuve's immensely talented, Oscar-nominated crew: Patrice Vermette and Zsuzsanna Sipos for production design and set decoration, Joe Walker for editing, the visual effects team led by Paul Lambert, and Greig Fraser for his cinematography. 
Fraser, whose background includes The Batman, The Mandalorian, and Rogue One, gave Dune an immediate visual appeal that reeled in audiences by helping them quickly make sense of this complicated story. The spaces Paul and his family occupy are moody, beautiful, and above all, realistic: a dimly lit, grim palace, a bleak and dangerous desert under a killer sun. To get a better handle on this visually clutter-free film, we spoke with Fraser about his extensive experience shooting in Jordan's Wadi Rum, why one film set in the desert is hardly the same as all the ones that came before, and the visual effects-cinematography synchronicity that made this Dune such an aesthetic success.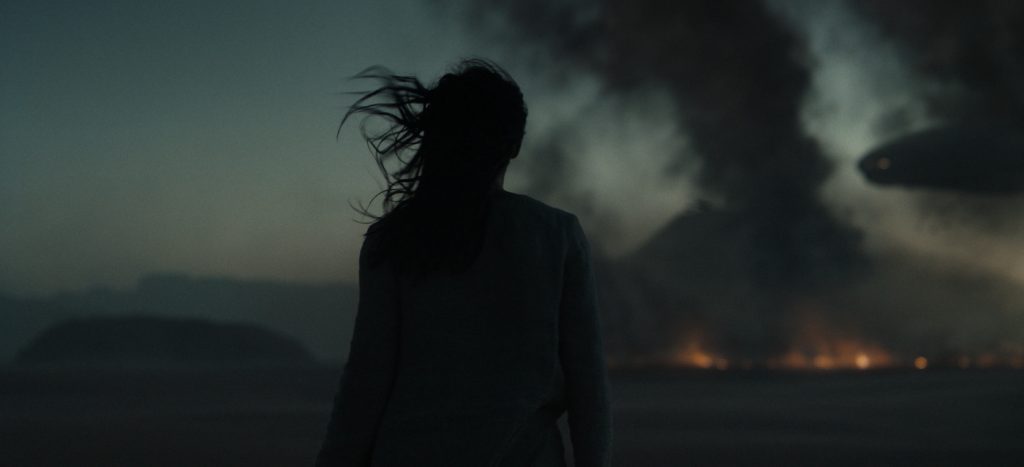 How was your approach with Dune different from traditional big-budget sci-fi films?
It's funny because when you enter any film, there's always the shadow of the budget that sticks over you. I don't actually approach a film and say, there are going to be this many theaters showing it, so I'll do this. But one thing really early on that Denis and I spoke about was that we wanted people to see this film. Denis loved this story when he first read it when he was a youngster. So when I read the [script] and heard about Denis's passion for it, I was like yeah, people need to see this, people need to understand what this is, and they need to have the same love. So I wanted to make sure that it wasn't a film that was so left-of-center visually that it burned people's appeal. It had to be interesting enough but simple enough to appeal to a large audience. There are a few films that have done that in the past. The elephant in the room is Star Wars because Star Wars has a similar concept but it appealed to a large audience. Dune up until this point hadn't done that, because it had been an art film and art book. So my approach to it was kind of to keep it simple. I wanted it to have everything I'd learned about making images over the last twenty-plus years come to the fore, where I wasn't going to over-light or over-complicate or over-theorize my work, but I was also going to come up with the right amount of soul, the right amount of heart. It was kind of complicated, it wasn't the simplest approach, but I wanted to simplify and appeal to a larger audience.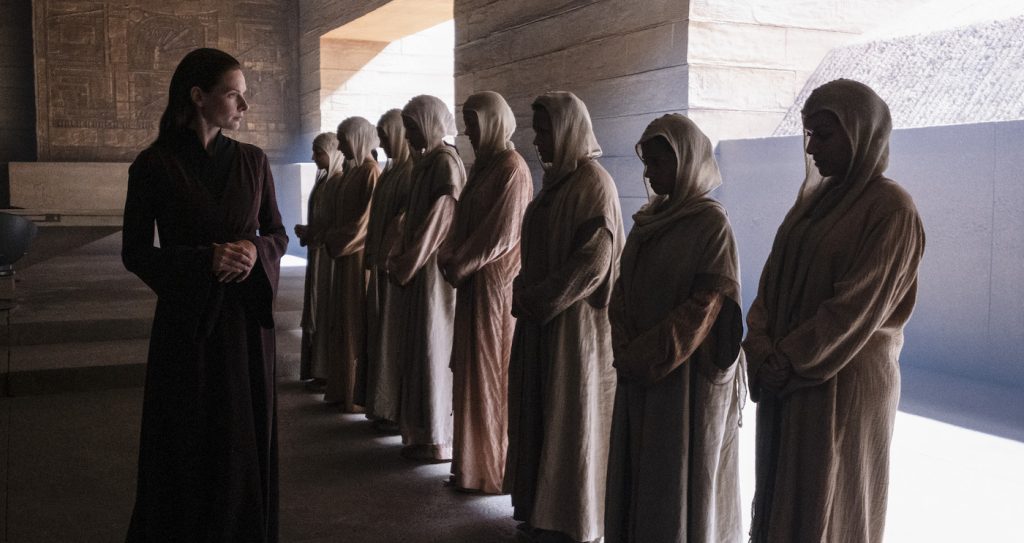 In terms of working in the desert, how did your approach here differ from, say, your work on The Mandalorian?
Well, technically you could say it's similar, yes: to put a camera and a person in the sand, with wind, it's technically very similar. But aesthetically it was like night and day. Without undermining any process or dismissing either process, it was very different, because you come from a different point in the story, so you end up in a different place. Aesthetically you might be standing on sand that in theory could be over a number of different films, it could be Mission Impossible, it could be Star Wars, because frankly, there aren't many locations left in the world. There are forests, there are deserts, there are cities. So many different films are going to shoot in the desert. It's kind of about coming to it from a different place. The desert is a character unto itself, but to put it in the same simple box saying that we're in the desert, therefore it must be the same, is like saying that Tom Hanks or Marlon Brando only played one character, because they're one human. So it's [about] trying to suck the best out of those locations from a character perspective.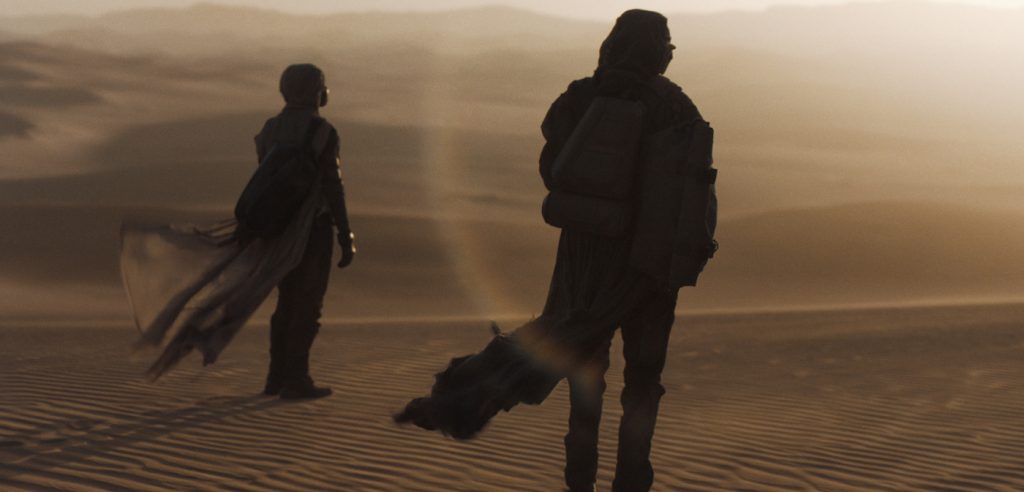 And how about shooting in Wadi Rum, specifically?
I've been fortunate to have been there a number of times. We've shot Zero Dark Thirty in Jordan, and whilst we didn't shoot in Wadi Rum, I visited. We shot some of Rogue One in Wadi Rum. We shot Dune in Wadi Rum. So I now feel like I'm a bit of a local — I kind of know my way around Wadi Rum. But one thing, when you go to Wadi Rum and you see the incredible mountain ranges and the soil, you start to understand the spirituality of human beings and how early on in humanity's history, we started to develop a spirituality that could come out in many different ways, be it religious or internal, or whatever that might be. But the spirituality that occurs in that place is very impactful. When you see a sunrise in Wadi Rum, you really understand how an earlier civilization could have taken something from that and understood something very deeply and profoundly about our planet, about our existence. So to take a film like Dune, which is a deep film written with the best intentions, to a place like Wadi Rum, it's an amazing opportunity for us to put those two pieces of the puzzle together and see what the planet has in store for us.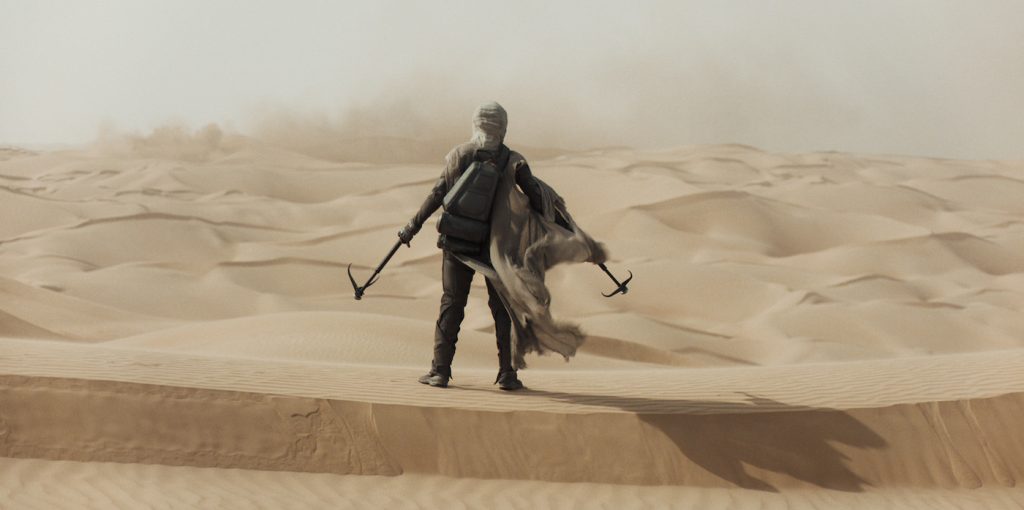 How did you approach blending practical and visual effects in Dune?
I've been very fortunate in my career to have the ear of some amazing VFX supervisors. VFX supervisors often come from being compositors or being in the VFX world. They don't get out into the world, they don't make images. The good thing about Paul [Lambert], who was nominated this year for visual effects and is an incredible VFX supervisor, is that he understands that the right lighting is as important as anything because if you don't get the right feel and the right lighting for a scene, there's no way in post you can make it look great. So he was very much an advocate for making sure the lighting was accurate, which meant that on the set, I wasn't having to make up lighting rules because of things we couldn't see. It was a very enjoyable experience from my perspective. We're four to seven brains all combining to create one product, which is what you see, and everybody was aligned, which is a very important thing which you'd think would be common in the film business, but it's not. Often minds are not aligned in the way they see a film. In this case, we were fully aligned behind Denis's vision and able to fulfill it.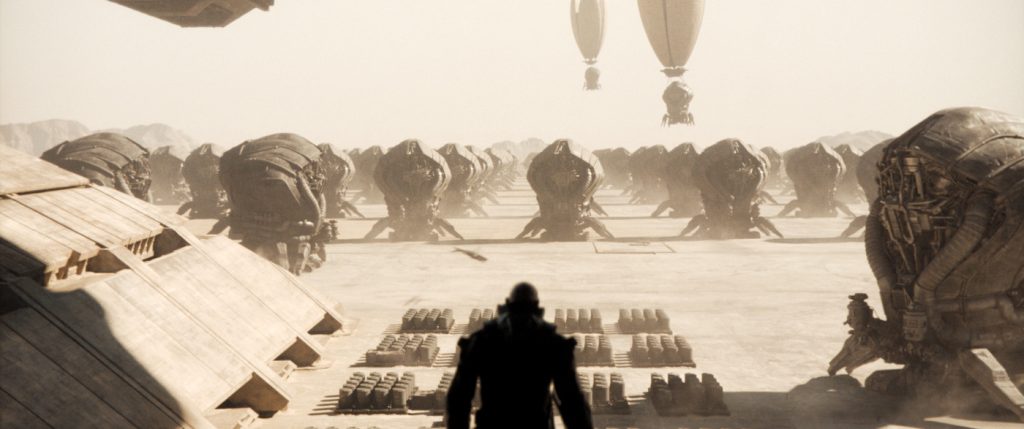 Were you a Dune fan going in? Had you read the book, watched the earlier film?
I hadn't read the book. I wasn't a fan per se. I knew the story and I was a fan of the story. But it wasn't something where Denis called me about it and I said you're doing Dune? Awesome. What I did say was great, tell me about Dune, and he told me, and I said, I'm going to do this film because I could see the passion the filmmaker had for the story. It wasn't one of those things where it was a story that I had to tell. But when Denis spoke to me about the story that he wanted to tell, I absolutely had to be involved. He's an incredible director. We know that. But on this film he took what was an out-of-control, unruly story that was written by Frank Herbert, the story is about how unwieldy the story is, and he made it into a cinematic film. He deserves massive kudos for that because he's just tamed the unimaginable. 
For more on Dune, check out these stories:
"Dune" Oscar-Nominated Sound Team on Sandworms, Ornithopters & More
Oscar-Nominated "Dune" Editor Joe Walker on Finding Intimacy in a Sci-Fi Epic
"Dune" Hair & Makeup Department Head Donald Mowat's Delightful & Disturbing Designs
 Featured image: Caption: TIMOTHÉE CHALAMET as Paul Atreides in Warner Bros. Pictures' and Legendary Pictures' action adventure "DUNE," a Warner Bros. Pictures release. Photo Credit: Courtesy of Warner Bros. Pictures and Legendary Pictures