How "Dune" Editor Joe Walker Utilized Artificial Intelligence, Hans Zimmer, & Human Vulnerability to Shape Film
For Joe Walker, editing Dune was finding a resonating balance between the epic nature of the story and the intimacy of the characters' journey.
In director Denis Villeneuve's adaption of the iconic science-fiction novel by Frank Herbert, viewers are taken on a coming of age story set thousands of years in the future where a natural resource called "Spice" is currency and those who oversee its production own the keys to space travel and commerce. When House Atreides is appointed to take over harvesting duties on the desert-like remote planet of Arrakis, House Harkonnen, who has been in control for generations, goes to war. It's here our young protagonist Paul Atreides (Timothée Chalamet) realizes he's destined for something greater and embarks on a mission to fight back.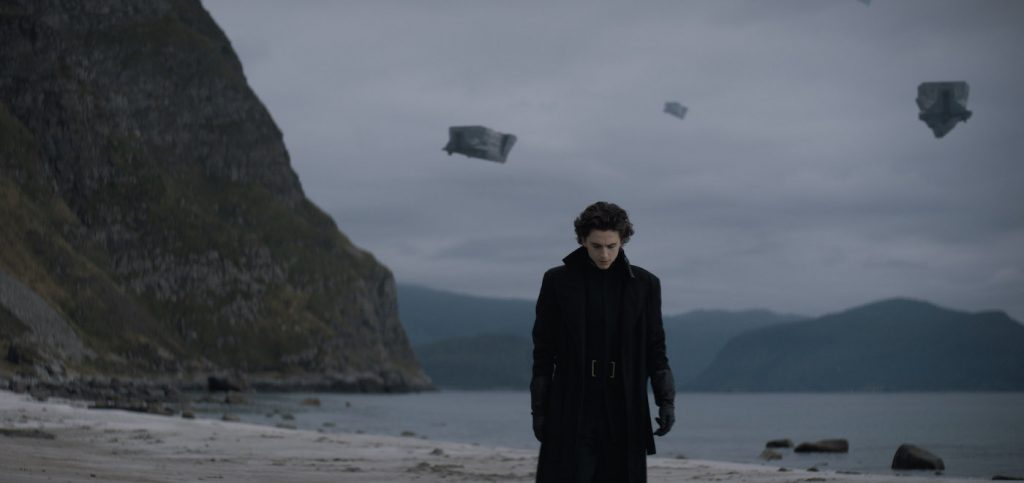 On the sandy surface Dune is a classic tale of good versus evil where evil is a malevolent monster named Baron Vladimir Harkonnen (Stellan Skarsgård) and hope lies within the hands of Paul. Underneath, Villeneuve layers a complex allegory of oppression and greed wrapped in the emotional underbelly of a child becoming a man. It was up to Walker to thread the needle of each story arc in a clear and compelling way.
"Denis approached me about Dune in the middle of Blade Runner 2049, and he really wanted to do right by the book. It's amazingly loyal. There are things the author writes about that may not be necessary to go deep into, like how wearing Stillsuits in the desert retain water, but Denis was always insistent, especially the environmental message which was really important as the book was so ahead of its time," says Walker, who's worked on four films with the director.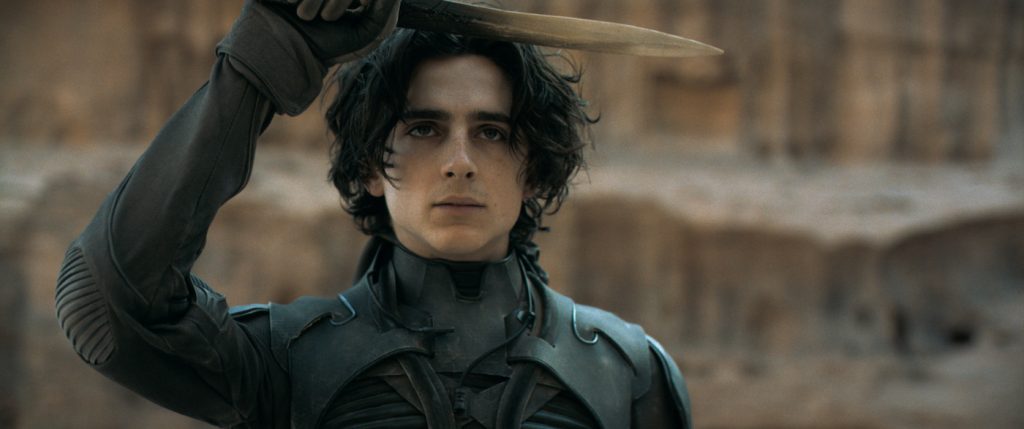 Unpacking the story started in prep with storyboards and previs work. The latter was further groomed by Walker adding in dialog using voice-overs made from artificial intelligence which provided a realistic way to time scenes, especially larger set pieces.
In a sequence where Paul and his father Duke (Oscar Isaac) fly out to the desert to watch a spice harvester mine the coveted grain, it turns into a fight for survival as a looming sandworm threatens their livelihood. Before principal photography, previs for the scene was brought into the cutting room. "With previs, it normally doesn't have a relationship with the finished duration, so you have to get that right to shoot the correct visual effects plates," says Walker. "It's also massively important to get the timing right and adding in everyone's dialog helped Denis a lot. We were able to cut some dialog and order the shots to really finesse the scene. This way when they shoot principal photography they only go to what they need and we know it works."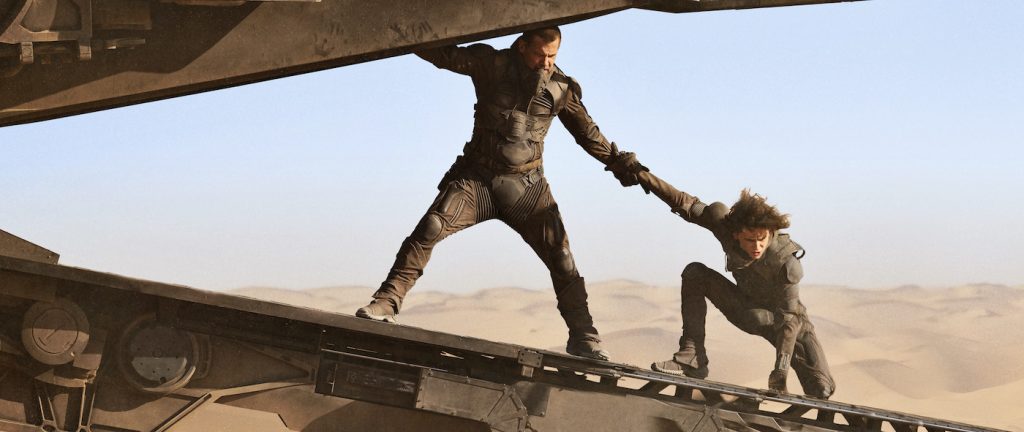 Though complex action scenes benefited from well-executed plans in prep, others developed in the cutting room. One scene, in particular, was between Paul and his mother Lady Jessica (Rebecca Ferguson) who sit inside a tent in the desert as Paul discovers something his father has left him. "That scene was critical to get the emotion right," says Walker. "We did some intercutting that wasn't planned initially and found the scene by fiddling with different takes or cutting away from the scene. It took us a long time to figure it out."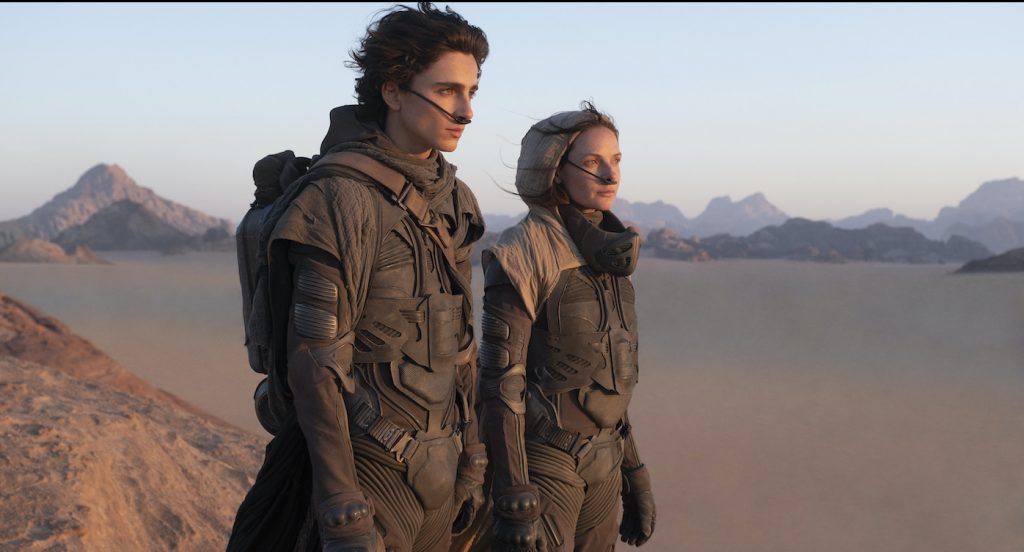 Another story device that took effort creating was the Voice, a powerful weapon used by the Sisterhood known as the Bene Gesserit that allows them to command others through speech. Paul's mother, who is part of the Sisterhood, has been teaching him to find the power since he was a boy. Bringing it to life was a combination of picture and sound techniques through collaboration with supervising sound editors Mark Mangini and Theo Green.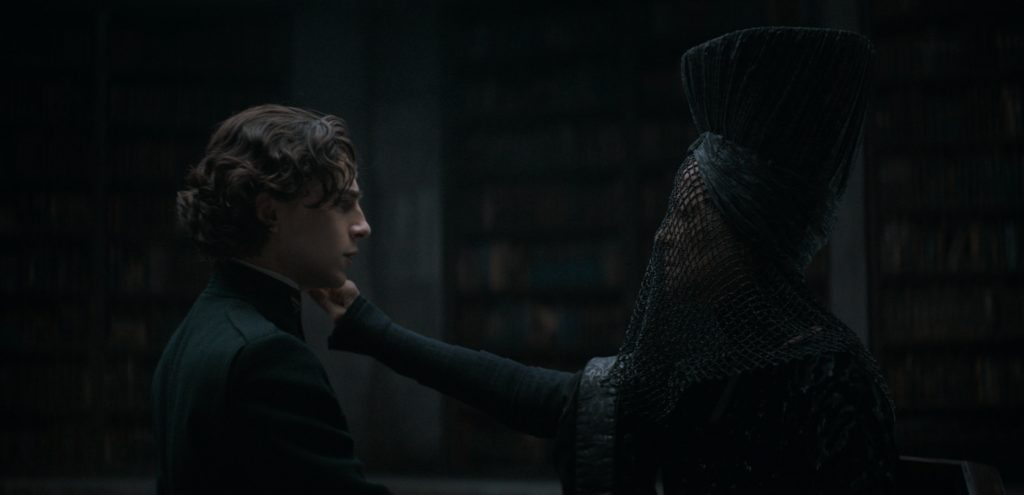 "In discussing it with Denis, the people using the Voice would mine their ancestry so Theo recorded all this amazing stuff with Jean Gilpin, Ellen Dubin, and Maryanne Faithful. It was a scattergun of these witchy voices. We could have left it at that but we experimented with it by putting it slightly out of sync," explains Walker. "The idea makes it become super-hypnotic. It conveys the world in which the Voice is working and allows the viewer to be hypnotized in a strange trance while they hear it."  Adding to the sonic treatment Walker visually manipulated the images on screen with a subtle shake which added to the veracity of the moment.
In finding the pace, the editor leaned into the rhythmic nature of each scene and embraced the depth of Hans Zimmer's score. "We work with temp tracks to get us through the timing of scenes but Hans will take what we have and go in his own direction. His instinct is so strong," says Walker. "In the scene with the spice harvester, he wrote this kind of meeting with God. It was so different from what we planned but I got to say it's amazingly strong. I love the score so much. It's so bombastic and so individual. It can go from the smallest intimate thing to something massive."
Asking what makes working with Villeneuve so inimitable, Walker says, "For me, something worth talking about Denis's films is how there's a base emotion that's simulated in his films. I can remember on Sicario, it was the use of the shot from behind when you're looking at the vulnerability of someone's neck. We dwell on it a little longer and make you feel that massive vulnerability. It's something that's deeply charged in Denis's imagery. With Dune, there are a lot of hands. It works on a majestic level that stimulates something inside us that's purely cinematic. There's a hallucinogenic quality to his films that's in the design. It's one of the very special qualities he brings to moviemaking."
Dune is in theaters and on HBO Max now.
For more on Dune, check out these stories:
"Dune" Hair & Makeup Department Head Donald Mowat's Delightful & Disturbing Designs
"Dune" Editor Joe Walker on Cutting Denis Villeneuve's Sweeping Epic
"Dune" Review Roundup: A Majestic, Astonishingly Vivid Epic Made for the Big Screen
New "Dune" Images Reveal One of the Year's Most Anticipated Films
Denis Villeneuve Writing Script For "Dune 2" & Zendaya Will Star
Chloé Zhao Has Seen "Dune" And Was "Blown Away"
The Official "Dune" Trailer is Here (And It's Stunning)
Featured image: Caption: (L-r) TIMOTHÉE CHALAMET as Paul Atreides and CHARLOTTE RAMPLING as Reverend Mother Mohiam in Warner Bros. Pictures' and Legendary Pictures' action adventure "DUNE," a Warner Bros. Pictures and Legendary release. Photo Credit: Chiabella James