"Dune" Dominates Box Office as Desert Power Proves Real
With Dune 2 now official, desert power continues exerting itself over our cinematic landscape. Dune gobbled up another strong week and weekend at the box office, adding $15.5 million domestically, and another $21 million overseas, bringing its global total to a sturdy $292.1 million.
Writer/director Denis Villeneuve's emphatic adaptation of Frank Herbert's 1965 sci-fi doorstopper has been a big hit for Warner Bros. in this pandemic-stricken era, becoming their most successful release under their temporary theater-and-HBO Max-simultaneously plan. Not only have plenty of people seen Villeneuve's vision on the big screen, but IMAX ticket sales in particular have been robust. This makes sense considering Dune is a sweeping cinematic experience in which location filming in places like Jordan's Wadi Rum desert make for a mind-blowing treat when seen on a big screen, especially IMAX. Villeneuve once compared watching Dune at home to trying to drive a "speedboat in your bathtub." Plenty of people did drive their speedboat in their bathtubs, but many more chose to see the film in the theater.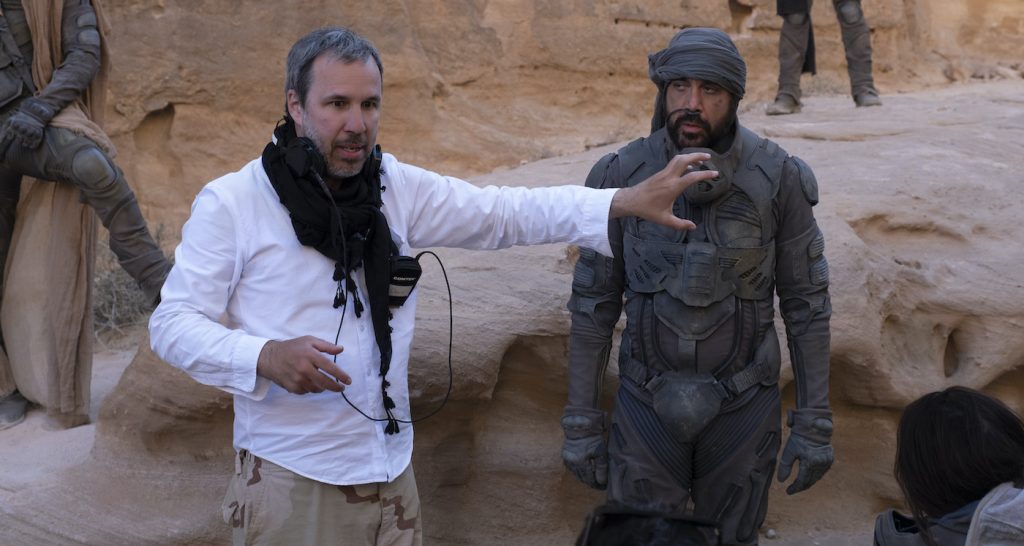 We'll be returning to the desert planet of Arrakis with Paul Atreides (Timothée Chalamet), Chani ( Zendaya), Lady Jessica (Rebecca Ferguson), Stilgar (Javier Bardem) and more in Dune 2, which is slated for an October 20, 2023 release.
For more on Dune, check out these stories:
"Dune 2" is Officially Greenlit
Christopher Nolan Calls Denis Villeneuve's "Dune" a "Gift To Film Fans Everywhere"
"Dune" is Denis Villeneuve's Best Opening & Best IMAX Opening of Pandemic Era
How "Dune" Editor Joe Walker Utilized Artificial Intelligence, Hans Zimmer, & Human Vulnerability to Shape Film
"Dune" Hair & Makeup Department Head Donald Mowat's Delightful & Disturbing Designs
"Dune" Editor Joe Walker on Cutting Denis Villeneuve's Sweeping Epic
"Dune" Review Roundup: A Majestic, Astonishingly Vivid Epic Made for the Big Screen
Featured image: Dune theatrical poster. Warner Bros. Pictures' and Legendary Pictures' action adventure "DUNE," a Warner Bros. Pictures and Legendary release. Photo: Chiabella James