Christopher Nolan Calls Denis Villeneuve's "Dune" a "Gift To Film Fans Everywhere"
Writer/director Denis Villeneuve's Dune was one of the most eagerly-anticipated films of the year and for good reason. Villeneuve's adaptation of Frank Herbert's legendary 1965 sci-fi novel was always going to be a big swing from one of our most ambitious filmmakers, and arguably one of the greatest living directors of sci-fi. Villeneuve had proven with Blade Runner: 2049 and Arrival that he had the chops to take on Herbert's notoriously dense, detailed source material. The results spoke for themselves this past weekend. In Villeneuve's hands, Dune became a sweeping, sumptuous epic that is also that rare thing—a massive tentpole movie that also feels like the singular work of an auteur.
So who better to discuss what Villeneuve accomplished than Christopher Nolan, another filmmaker who is no stranger to turning huge sci-fi epics into deeply personal, irrefutably personal films. Nolan and Villeneuve sat down over the weekend to discuss their craft for an episode of the Director's Cut Podcast, which was recorded after a screening of Dune at the DGA Theater in Los Angeles.
Nolan, the man behind Tenet, The Dark Knight trilogy, Interstellar, and Inception knows a thing or two about blending CGI and practical effects, about marrying spectacle to human drama. "It's one of the most seamless marriages of live-action photography and computer-generated visual effects that I've seen," Nolan said of Dune. "It's very, very compelling at every turn. I think this film is going to introduce a whole new generation of fans to Dune who have never read the book and perhaps will go and read it now. I think it's an extraordinary piece of work. I've had the luxury of seeing it a couple of times now, and each time I watch it I discover new things, new details to the world. The way in which it's made is absolutely for the big screen. It's a real pleasure and a real gift to film fans everywhere — and thank you very much for that, Denis."
When Nolan asked Villeneuve how he tackled blending the necessary computer effects with cinematographer Greig Fraser's work, Villeneuve said "The same way that you do it, I think." He went on: "I think you shoot as much as possible in real locations and you try to embrace reality. There are some shots in truth that are pure CGI, but I tried to avoid those as much as possible."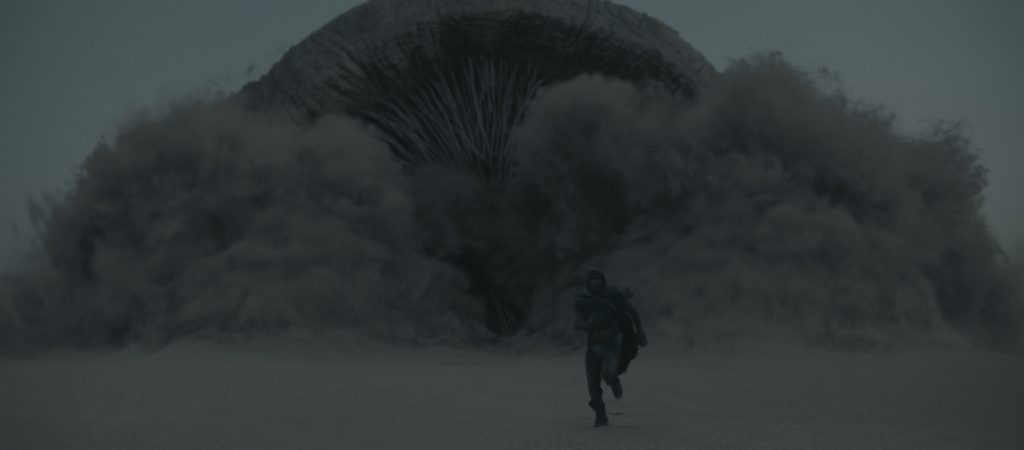 Villeneuve explained that much of Dune was filmed in real environments. "It's all about light at the end of the day. I had a masterclass on how to light a shot on doing Blade Runner with Roger Deakins. Because Roger supervised all of the VFX with me, so I spent a year listening to him on every shot. I learned so much on how to work with VFX with Roger, and that helped me tremendously on how to direct the team here."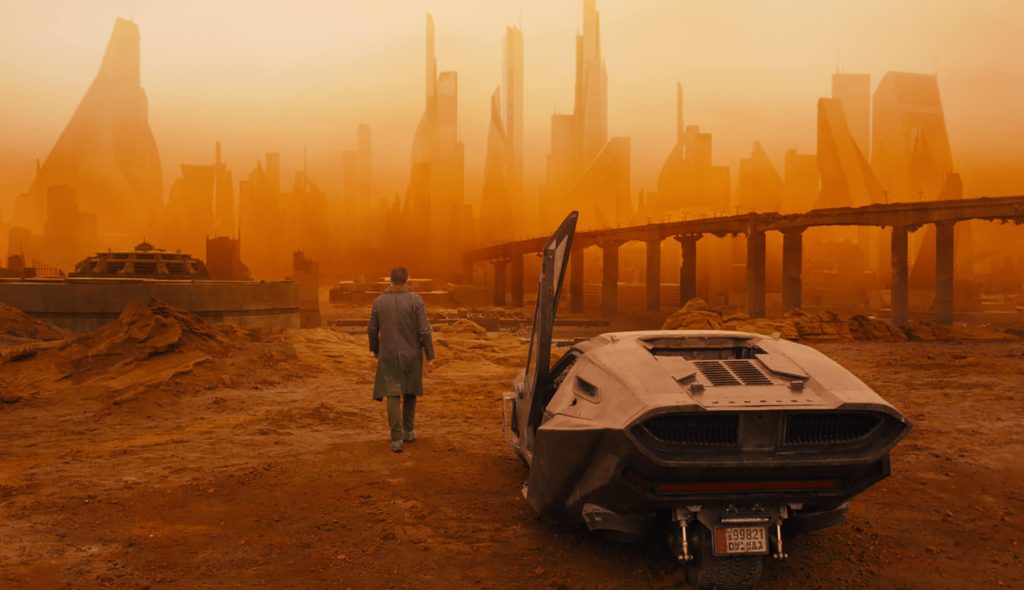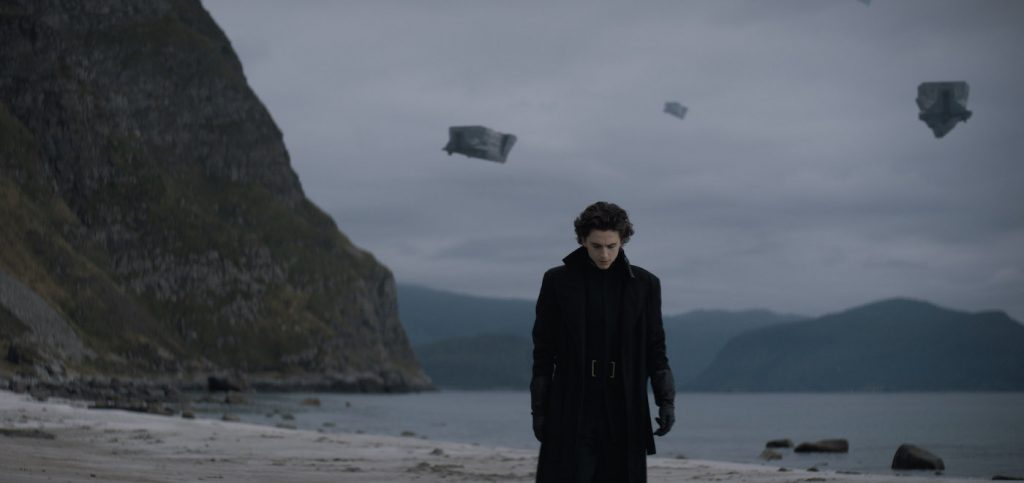 Nolan recognized one of Dune's primary locations, the desert that represents the arid, spice-rich planet Arrakis in the film. "One of the most spectacular locations you used in the film is Wadi Rum in Jordan, which some of you may know from Lawrence of Arabia. A lot of films have been shot in Wadi Rum since Lawrence, but for my money, this is the first time I've seen it used in as expressive a way. The sense of place is extraordinary."
Villeneuve said that filming in the Wadi Rum was, as Nolan had alluded to earlier, something he and cinematographer Greig Fraser had discussed as almost a gift for lovers of the big screen.
"When [my DP] Greig Fraser and I were brainstorming the film, for us it was like a kind of love letter to the big screen theatrical experience," Villeneuve said. "The book was calling for that — the landscape and the story of a boy who will slowly remove the burden of all his heritage and make peace with a side of his identity as he goes deeper and deeper into the landscape."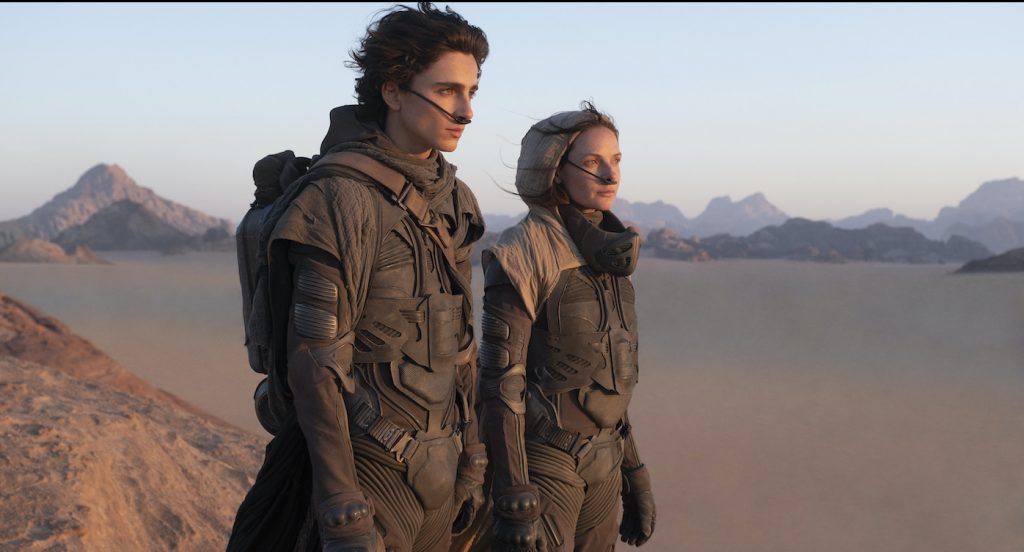 You can listen to their full chat here.
For more on Dune, check out these stories:
How "Dune" Editor Joe Walker Utilized Artificial Intelligence, Hans Zimmer, & Human Vulnerability to Shape Film
"Dune" Hair & Makeup Department Head Donald Mowat's Delightful & Disturbing Designs
"Dune" Editor Joe Walker on Cutting Denis Villeneuve's Sweeping Epic
"Dune" Review Roundup: A Majestic, Astonishingly Vivid Epic Made for the Big Screen
New "Dune" Images Reveal One of the Year's Most Anticipated Films
Denis Villeneuve Writing Script For "Dune 2" & Zendaya Will Star
Chloé Zhao Has Seen "Dune" And Was "Blown Away"
The Official "Dune" Trailer is Here (And It's Stunning)
Featured image: Caption: (L-r) ZENDAYA as Chani and TIMOTHÉE CHALAMET as Paul Atreides in Warner Bros. Pictures' and Legendary Pictures' action adventure "DUNE," a Warner Bros. Pictures and Legendary release. Photo Credit: Courtesy of Warner Bros. Pictures and Legendary Pictures