"The Batman" Cinematographer Greig Fraser on Finding Light in the Darkness
At a gripping three hours, The Batman isn't so much an endurance test as it is a lengthy visual puzzle, one that takes place primarily after hours. Director Matt Reeves's take on Batman (Robert Pattinson) may be the franchise's most disaffected nocturnal not-so-superhero yet. Working, brooding, and convening with Alfred (Andy Serkis) from dusk 'til dawn, this Bruce Wayne is consumed by trying to undo a complex web of official corruption hidden by Gotham City's entrenched crop of violent mafiosos.
Batman's also working against the Riddler (Paul Dano), an incel type serial killer who, thinking himself more clever than his ploys would otherwise suggest, has deluded himself into believing he is simultaneously working with Batman to bring Gotham into the light while dragging Bruce Wayne's late parents into the city's eternal muck. But Batman works alone and besides, if ever he were to be tempted to take on an associate, it would be Selina (Zoë Kravitz), an employee at the Iceberg Lounge (which manages to be a credible techno club, mafioso-run den of iniquity, and crooked bureaucrat hangout zone in one.) Selina, a devoted Catwoman to both her feline and human friends, is working on what Gotham really needs: seeking clarity and vengeance for her missing colleague Annika, just one of many women harmed by Gotham's politician-criminal partnership from hell. 
Among the film's many plaudits is the fact that you can actually see it: despite everyone's favorite masked vigilante's predilection for darkness, we can always tell where Batman is and what he's doing. The Batman's moody and effective low-light cinematography comes courtesy of Greig Fraser, of Dune, Rogue One, and Zero Dark Thirty. We had the chance to sit down with Fraser and talk about the 1970s films that influenced today's Batman, where and how he scrupulously plugged in flashes of light, and the process behind orchestrating seamless action sequences.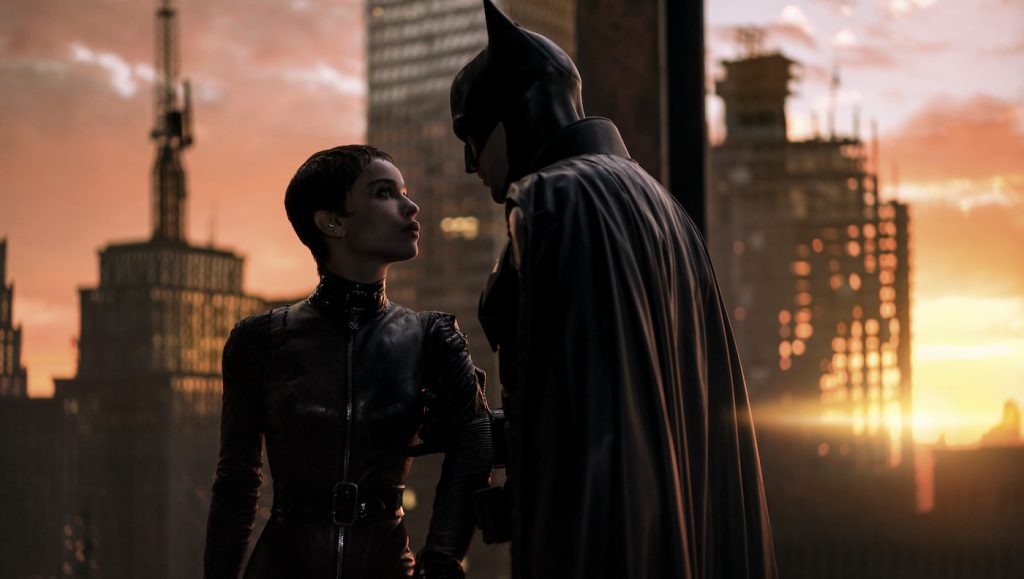 You and Matt Reeves have worked together before. How did you get started on The Batman and develop a language for its distinct aesthetic?
I've known Matt for a long time now. We stayed very close after we finished Let Me In. We're two peas in a pod when it comes to our visual language and our aesthetics. Even before Matt's first meeting, we started talking. As a DP, it doesn't always happen like that. You're not always at the beginning of the journey. Often it's that the director's been through the meetings, they've got the job, they then have to look for a DP. Or, if it's a director you've worked with in the past, they normally don't engage with the DP until they've got the job. So to be engaged before the job was got was fantastic because it just meant that from that day, we were constantly riffing action sequences, set pieces, and coming up with what this Gotham should look and feel like.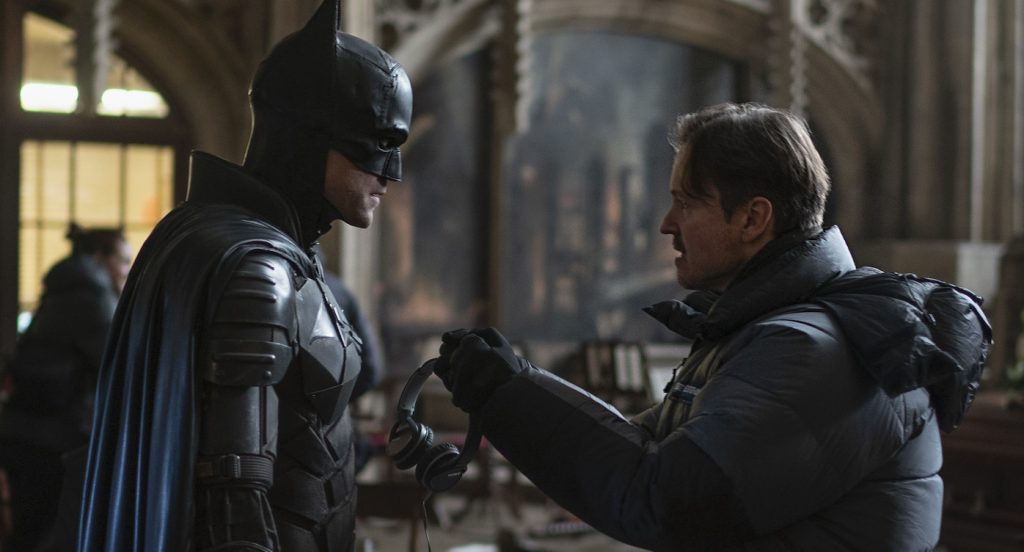 What were some of the references you looked at together?
I can't specify directly that there was this shot by this photographer. But there are a number of photographers that do some work in that dark environment, and there are a number of films. We're both very big fans of noir 70s cinema — you know, Chinatown, All the Presidents Men, Heat, The Godfather. Obviously, some of those are set in downtown, some of them are not. We looked at a number of photographers — not necessarily name photographers, some hobbyists doing shots of urban landscapes. I can't name who they were. If I was scrolling Instagram or researching urban landscapes, I might have come across something that had just the right amount of rain, just the right amount of mist, just that kind of feel that felt cinematic and didn't feel like it was contrived or controlled.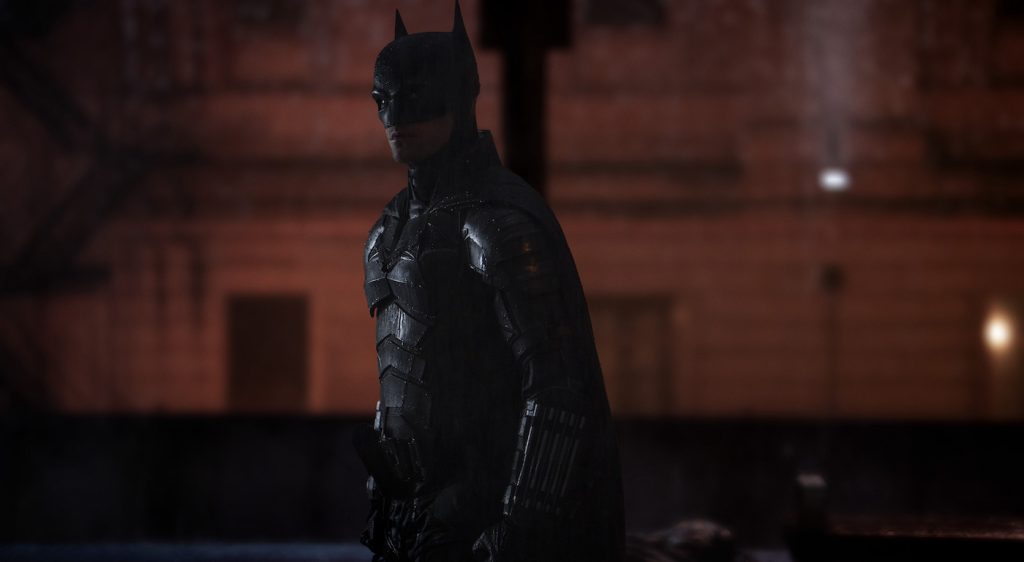 We have to talk about how on earth you did your job given that Batman is nocturnal to the extreme this time around.
You're right, that was a talking point early on. Because the Batman is a dark guy, isn't he? He comes out late at night. So one would assume he's not walking around often in the morning, in the cold light of day. We were all very careful. We knew this could potentially be so dark it becomes unwatchable. So part of the job that I had, along with Matt, we went, 'all right, it's got to be bright enough that we can see but not dark enough that we lose the mood.' So that was the biggest challenge that we had. We tried to walk that tight rope, where every scene we did had pockets of bright light. The diner scene, for example — a diner is what you would call bright. In our movie, it's bright but not garishly bright. But Batman doesn't ever come into the diner. Batman stays outside in the shadows, in the darkness. So that's how we staged a scene like that, knowing that if Batman walked into that diner, that might not really be his character, that he wants to stay in the background. Whenever we were thinking about staging scenes, we had to think about what Batman was going to be seen in. For example, inside the Iceberg Lounge, we had to make sure it was suitably down in tone that he would not feel out of place in that environment.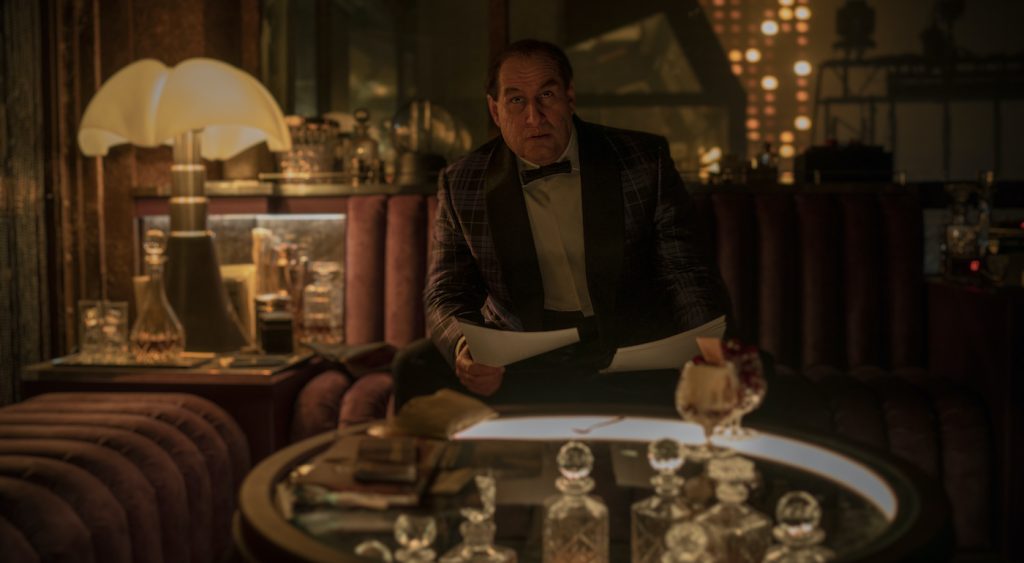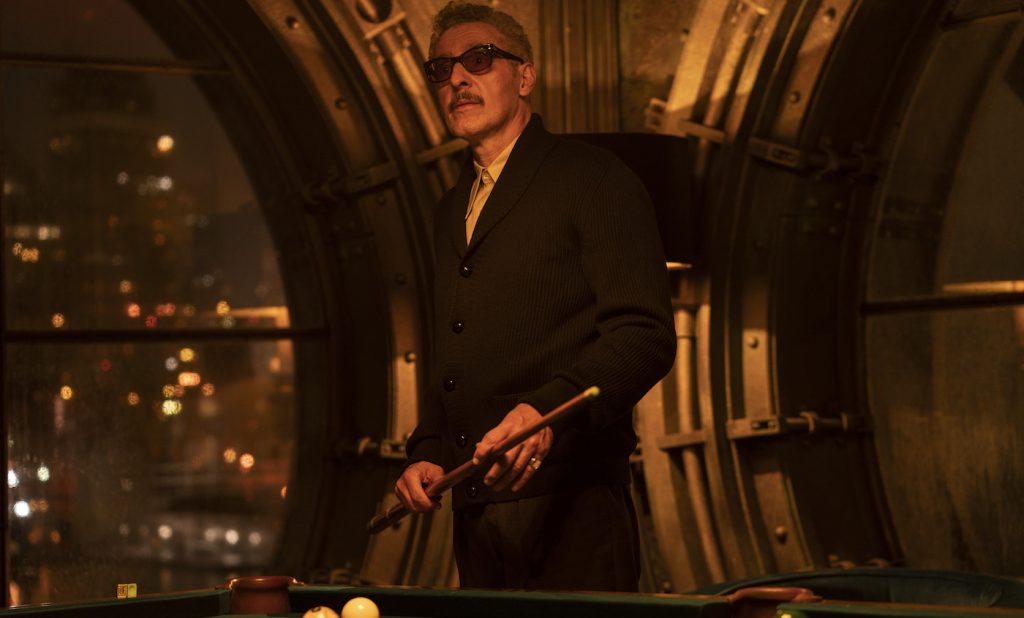 In addition, the club seemed to be going for real nightlife bona fides.

We set up a real club, effectively. In London there's a place called Printworks, which, funny enough, I'd been there a few times when it was an event venue. We worked with an events company and our gaffer to light it. We wanted to make a really interesting lighting environment that we could control. As Batman comes down the stairs the lights flash brightly, and again, that goes back to making sure the whole thing wasn't one tone of darkness. At the bottom of the stairs, as he lands or receives the first hit, we deliberately flashed the blinders in the back so that the whole place lights up. In that scene, even though it was dark up to that point, you get these flashes of brightness, so hopefully, your eyes don't become exhausted by watching too much darkness. 
That said, the action sequences don't feel overly jumpy or flashy. We particularly liked the moment Selina confronts Carmine Falcone.
One of the things that we tried to make sure we did was that we didn't cut too many times. Matt's very economical when it comes to the shots he wants to get. He knows the shots he needs. He doesn't shoot coverage for the sake of shooting coverage. He knows what her close-up is. He knows the shot where she's going to fire the gun. We shoot coverage before and after that moment, obviously, but he knows that's the moment he's there to get. He's very efficient when it comes to shot structure, and it means that we can work really hard at getting that shot right: getting the timing right, getting the flash right, getting the sync right. It's quite fun doing those scenes because it involves a lot of timing and performance beats.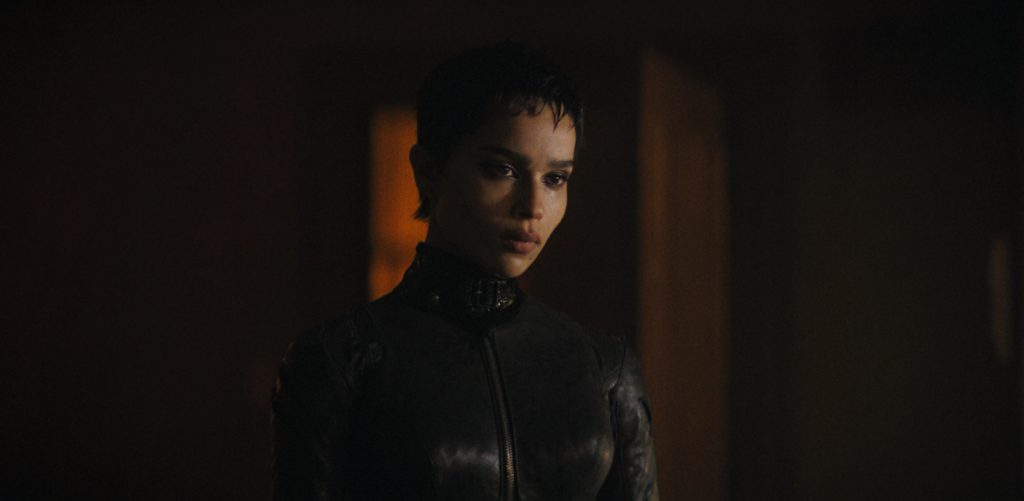 The big car chase scene also seemed like it required intense planning.
The car chase was a pretty interesting process. Matt's very involved with every frame of this film and the car chase was one of those. We luckily had a couple of units going at once at that time. So my second unit DP, Danny Vilar, took the reins on that. He did all the preliminary testing, mounting to motorbikes, mounting to cars, crash tests, and we took a bit of a different approach where, as you saw, we strapped cameras to the motor vehicles. It may seem easy to do but it was actually quite hard to get the angles we wanted. It took a lot of R&D, it took a lot of takes, and we bought ourselves some older Arri Alexas to use as crash cameras. It meant that we were able to bring cameras closer to the point of destruction, knowing that if we did break them, it would be a write-off anyway. We had lenses rehoused by a company called Iron Glass, and they made these smaller lenses that were a bit more nimble and could be easily mounted to these cars. Danny Vilar and Iron Glass and our grip, Guy Micheletti, put that together.
You stay aware of the characters in those moments — they don't get lost in a blur of action.
Everything has a purpose in this film. Every shot, every pan, every motion, there's very much a reason to exist and there's no filler, in the sense that there are no shots that you could do without. This is very much a well-orchestrated machine. The way I see it, it's like a Rolex watch. If you take the back off a Rolex watch, every single piece in that Rolex watch has a really important purpose. That's the same with this film. It's a very complicated machine that has lots of cogs, lots of turning wheels, lots of minuscule movement, and all of it is essential to each other. If you take out one of those cogs in that Rolex, for example, the whole thing doesn't work. It's the same with us. And I think with our movie, what was great was refining every single one of those cogs to help make the final piece come to life. 
This film feels like a real departure from other Batman movies. What were some aspects you wanted to keep or leave behind?
Batman's an iconic character. Most of the world knows what that symbol is. So from my perspective, we are batting with heavyweights of the industry. Some of those Batman films are some of the best films made, historically. What was honest about this was we didn't tackle it and look at any other Batman film and go, okay, he does that, so we'll do this, or we'll be the same as what they do. We did not do that. We looked at other films to look at what we wanted to do. It just so happens instead of Marlon Brando onscreen we've got Robert Pattinson or the Penguin in all his glory. We didn't look at the previous Batman films to reference, and that wasn't out of disrespect for them. It was probably more out of respect for them that we didn't feel set in those worlds. We didn't want to make a part four. That wasn't even a conversation. There was no ego involved, which is the thing that I love about Matt. It's not about being better. Although I will say this: there wouldn't have been a pressure to be better than any of the other Batman films, but if we do get a chance to do something else, of course there's going to be a big pressure on ourselves to further explore this world, which is really rich. I think we touched upon some things in this film we can grow upon. Regardless of whether I'm involved in it or not, that's something I'm really interested in seeing.
For more on The Batman, check out these stories:
"The Batman" Prepared to Join "Spider-Man: No Way Home" With an Epic Opening
How "The Batman" Writer/Director Matt Reeves Embraced Fear
The Best Batman Of Them All? "The Batman" vs "The Dark Knight"
"The Batman" Early Reactions: A Gripping, Glorious Street-Level Detective Story
Featured image: Caption: ROBERT PATTINSON as Batman in Warner Bros. Pictures' action adventure "THE BATMAN," a Warner Bros. Pictures release. Photo Credit: Courtesy of Warner Bros. Pictures/ ™ & © DC Comics