The Most Shocking Moment in Oscars History
It will be remembered as the most shocking moment in Oscars history. Before last night, you could credibly argue over which Oscars moment was the craziest. Was it the when Adrien Brody accepted his award for Best Actor by kissing presenter Halle Berry? Or how about when Marlon Brando sent Native American civil rights activist Sacheen Littlefeather to the podium to reject the award on his behalf in 1973. No, the most stunning moment had to be when artist and gay rights activist Robert Opel burst onto the stage in 1974, completely nude, leaving David Niven to issue one of the most brutal, off the cuff bon mots in Oscars history. These were all great. They are also all now vying for second place. Last night's Best Picture snafu is clearly the wildest thing to ever happen at the Oscars.
It all began so normally. Warren Beatty and Faye Dunaway took the stage to announce the winner for best picture. After a little banter, Beatty tore open the envelope and immediately began messing around. It seemed as if he was purposefully torturing the nominees, delaying announcing the winner because, hey, he's Warren Beatty and he can do pretty much whatever he wants. I didn't love it (mugging at that point seems like an attempt to steal a little of the attention for yourself), but, whatever. In reality, however, Beatty wasn't mugging—he was stalling. He was holding in his hand an enevelope that didn't make any sense at all. He looked to Dunaway for support. She obviously thought he was having some fun at the expense of the nominees, too, told him he was impossible, and urged him to carry on with it. Beatty simply handed her the offending envelope.
Dunaway looked at it, looked up, smiled, and announced that La La Land had won best picture.
As the filmmakers took the stage in a giddy rush, you could see and hear Beatty saying something to Dunaway about how the card read Emma Stone. Dunaway replied, "What?" They were quickly surrounded by La La Land's people, who were all in the midst of experiencing, in real time and on live TV, their lifelong dreams come true. Beatty appeared a little green. Dunaway backed away. The La La Land producers Jordan Horowitz and Marc Platt delivered their speeches, offering heartfelt thoughts about inclusion and love, about their passion for the project and their many thanks to all those who had helped them get there.
The confusion backstage became visible onstage. Some guy with a headset started huddling with several people, while Martha Ruiz, a Pricewaterhouse Cooper (PWC) accountant who will become a major player in this ordeal, and one of only two people charged with counting the Oscar ballots, was brought in to consult as well.
A sense of the uncanny began to settle on the delirium onstage.
The surreal atmosphere peaked when La La Land producer Fred Berger took to the microphone after a whole bunch of whispering and confused grimacing and thanked his family and director Damien Chazelle, then he turned, gave a final glance to his fellow La La Land-ers, and then faced the audience and said: "We lost, by the way — but, you know." Then he shrugged. Emma Stone, directly behind him, could be seen saying, "Oh my god."
Unfortunately god hadn't been retained to manage the envelopes—that was PWC's gig.
Producer Jordan Horowitz did his best to take control. Knowing exactly how confused and stunned everyone in the audience and at home was, he grabbed the microphone and tried to inject some clarity into the situation. "Guys, guys, I'm sorry. No. There's a mistake," he said. "'Moonlight,' you guys won best picture."
Producer Marc Platt added, "This is not joke. I'm afraid they read the wrong thing."
Horowitz, just to make sure this was all penetrating the thick miasma of disbelief, repeated himself: "This is not a joke. 'Moonlight' has won best picture." Then he held up the proper Best Picture card, the one that read Moonlight. This entire, confusing, shocking sequence was historic, but if you had to pick out a single moment for the time capsule, it was this moment: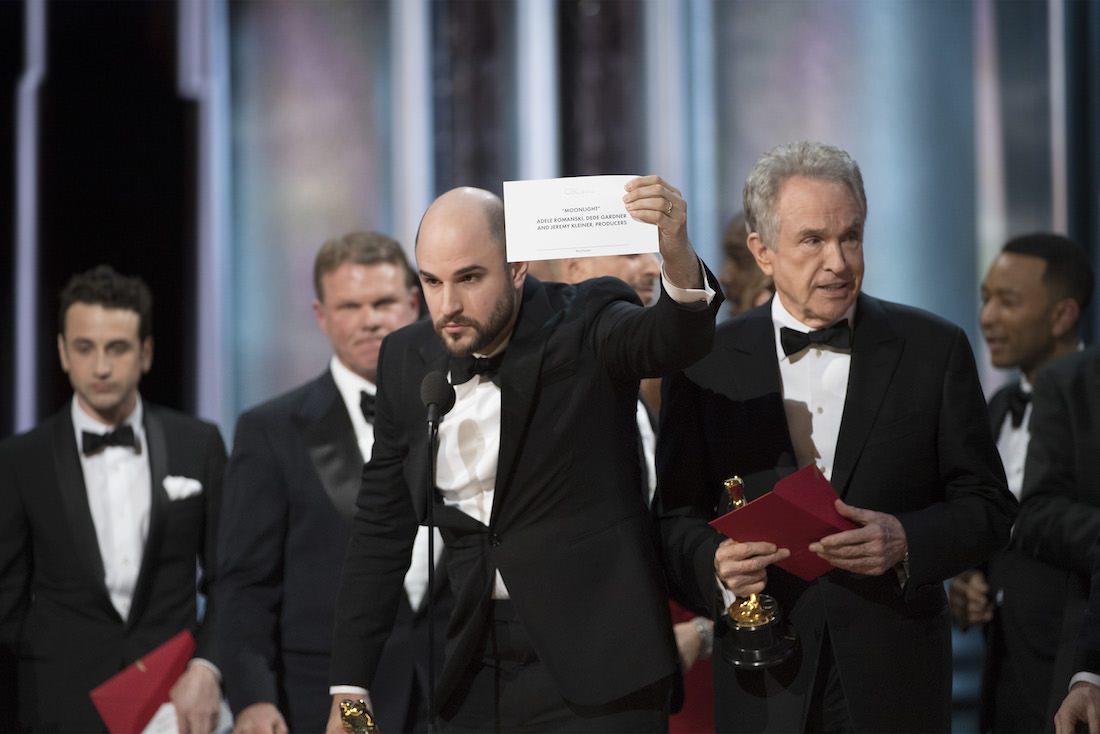 La La Land producer Jordan Horowitz showing the proper Best Picture Card. Courtesy ABC.
It goes without saying that all of this unfolded on live TV, in front of millions of people, in the biggest moment on the biggest night of the year for Hollywood. Officials with PWC, the Oscars accounting firm who may find themselves on the business end of some memes this week, made it onto the stage and apologized for the mix up. 2017, folks. Anything that can take a swerve into the surreal, will. Any piece of reality that can become just a little bit unstitched, shall. When our number crunchers and envelope keepers can't keep from injecting paranoia and confusion into our lives, who can we trust?
This is when the cameras found the Moonlight folks in the audience, standing, hugging, and looking a little concussed. Host Jimmy Kimmel worked himself back into the fray, seizing on a historic opportunity for some bonus round quipping. "Guys, this is very unfortunate what happened. Personally, I blame Steve Harvey for this."
Steve Harvey crowned the wrong Miss Universe last year—we're going to go out on a limb and say this is a slightly bigger screwup. The joke was funny, yet the atmosphere was too thick with bewilderment for it to really land. Short of a flamethrower, Kimmel was going to have a tough time drawing attention away from, well, whatever the hell was unfolding on stage.
When Kimmel told Horowitz he'd like to see him get an Oscar, too, Horowitz said, "I'm going to be really proud to hand this to my friends from 'Moonlight."
"That's nice of you," Kimmel said. It was. Everyone looked unsteady, like they'd just stepped off a boat.
Then poor Warren Beatty (something that perhaps no one, ever, has said about him) got back on the microphone again to try and clear things up, while Kimmel yelled at him, "Warren, what did you do?"
Beatty's inability to not find it all just a little bit mortifyingly hysterical was evident in the smirk on his face. Yes, he seemed geuinely concerned, but also, he must have known he'd just become a part of Oscars history.
"I want to tell you what happened," he said. "I opened the envelope and it said, Emma Stone, 'La La Land.'" It was only moments ago that Stone had won Best Actress.
"That's why I took such a long look at Faye, and at you. I wasn't trying to be funny," Beatty said, if not tossing Dunaway under the bus, then at least sort of nudging her towards its side-view mirror.
Finally the cast of Moonlight was able to take the stage and deliver their speeches amid a still undiminished cloud of confusion. If you were going to consciously gaslight a bunch of Oscar winners into thinking they might not have actually won, you couldn't have done a better job of it. Yet the Moonlight folks were impressively composed and thoughtful. Writer/director Barry Jenkins said of the La La Land filmmakers: "I have to say, and it is true, it's not fake. We've been on the road with these guys for so long, and that was so gracious, and so generous of them. My love to 'La La Land,' my love to everybody."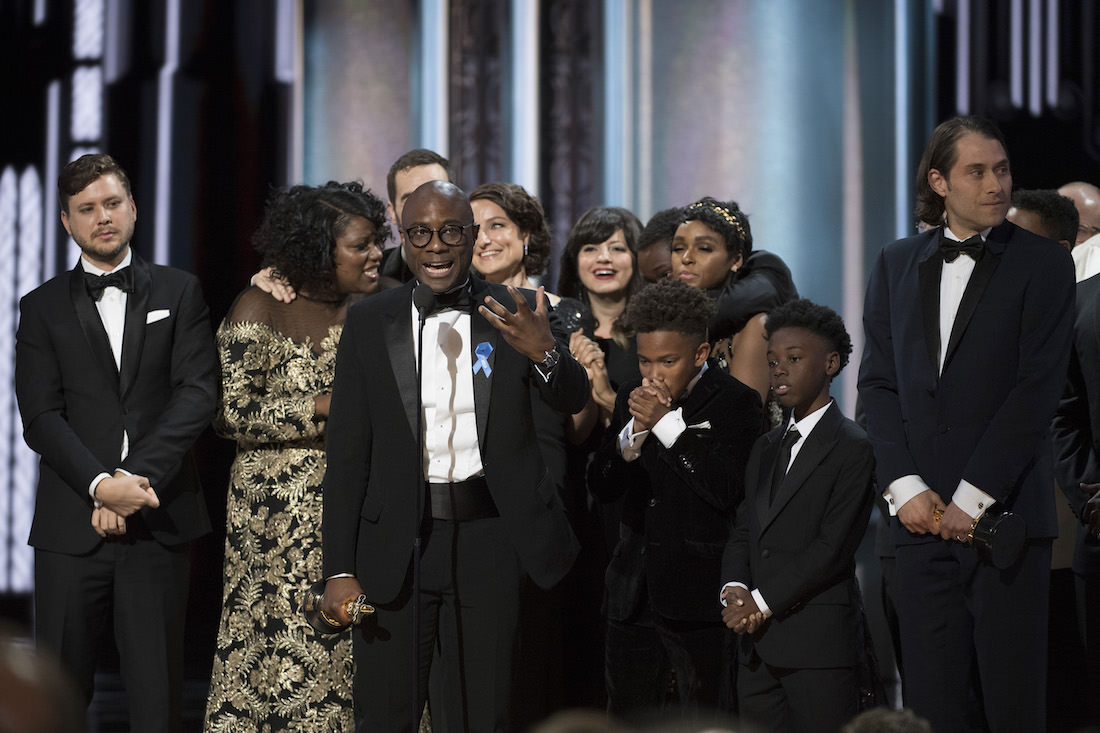 Barry Jenkins and the Moonlight filmmakers. Courtesy ABC
Producer Adele Romanski, who had delivered a funny, slightly sassy speech at the Globes, was once again standing in front of a microphone trying to make sense of things. "Um, thank you? To the Academy? I don't know what to say. I'm still not sure this is real," she said. "It is so humbling to be standing up here with hopefully still the 'La La' crew? No, okay, they're gone." She finished her speech, touching upon the importance of making films that focus on little black and brown boys and girls, about the importance of telling their stories, while all around her the unreality of the situation had barely diminished.
Tweets were flying hard and fast. You can go and read Michael Moore's tweet for yourself, for example, for just one snapshot into how weird this all was.
Kimmel eventually had the microphone a final time to try and close out the show.
"Well, I don't know what happened; I blame myself for this. Let's remember, it's just an awards show. I mean, we hate to see people disappointed, but the good news is we got to see some extra speeches. We had some great movies. I knew I would screw this show up, I really did. Thank you for watching. I'm back to work tomorrow night at my regular show. I promise I'll never come back. Good night."
The thing is this—Emma Stone had her Best Actress card in her hand.
"Of course it was an amazing thing to hear 'La La Land,'" Stone said. "We would have loved to have won best picture. But we are so excited for 'Moonlight.' I think it's one of the best films of all time. I was also holding my 'best actress in a leading role' card that entire time. So whatever story, I don't mean to start stuff, but whatever story that was, I had that card."
The Washington Post points out that PWC partners Brian Cullinan and Martha Ruiz told Medium a few weeks ago that there are actually two envelopes for each category.
"We each have a full set," Cullinan said. "I have all 24 envelopes in my briefcase; Martha has all 24 in hers. We stand on opposite sides of the stage, right off-screen, for the entire evening, and we each hand the respective envelope to the presenter."
The USA Today had reporter Bryan Alexander back stage. Alexander said that when Beatty had taken the wrong envelope, one of the PWC accountants knew immediately that a major mistake had been made. "Oh, my God. 'Moonlight' won. 'Moonlight' won," Alexander reports a stagehand shouting. Yet it would be several minutes before all of this could be sorted, more than enough time for the La La Land crew to take the stage, make some speeches, and live in a world where they had just won Best Picture.
Of course they hadn't won. But they delivered their speeches unaware.
PricewaterhouseCooper has issued an apology.