How the Oscar-Nominated "tick, tick…BOOM!" Editors Evoked the Excitement of Live Theatre
The magic of live theatre is a precious element that is often elusive to the lens. Countless legendary Broadway performances have sparkled and faded in a night, rarely ever recorded. Even a long run of a popular musical will never see the exact same show cross the stage twice.
Many movie adaptations of musicals are enormous affairs with extravagant sets, costumes, and visual details that fill in the gaps that exist only in the imagination of a live audience. The transition isn't always a smooth one. It is rare to capture that electric exchange between audience and performer that tick, tick…BOOM! carefully contains. The project, directed by Lin-Manuel Miranda, is both a mythic and factual look at the struggle and legacy of Rent creator Jonathan Larson's career. 
Oscar nominated editors Myron Kerstein and Andrew Weisblum were tasked with untangling the many pieces that tell Larson's story. The movie tick, tick…BOOM! hosts a musical – Superbia – couched in a musical – tick, tick…BOOM! – that acknowledges the cultural touchstone of a musical yet to come – Rent. That's a lot to pack in a runtime just shy of two hours. 
"I kept pushing, once I started working on the film, to screen it for other people because I wanted to know where people were confused and what music are we focusing on," Kerstein explained. "Is it tick, tick…BOOM!? Is it Superbia? Is this about Rent? There were just a lot of questions that I wanted answers to."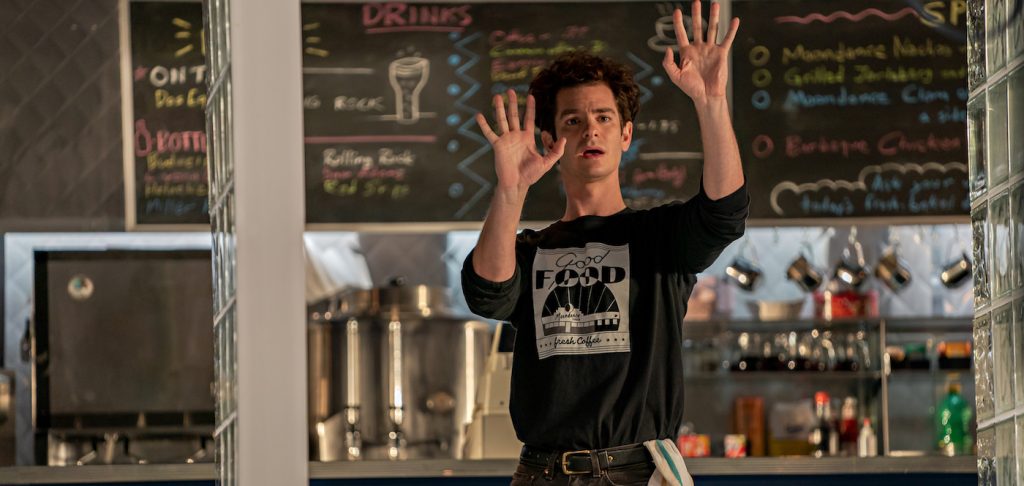 The film flows through fantasy and reality, past and present, lonely preparation, and public performance. In the space of a single song, Jonathan (Andrew Garfield) can bounce between wiping tables at a diner, dancing on his apartment furniture, browsing library shelves, and leading a live rendition of the number. The editing required precision to define each of the elements. 
"There's a constant back and forth between your music editors and director and your VFX department," Kerstein explained. "It gets very complex. I think that we made it feel very organic and simple like you were sitting in that audience and just seeing a performance as if you were there when Jonathan Larson did it."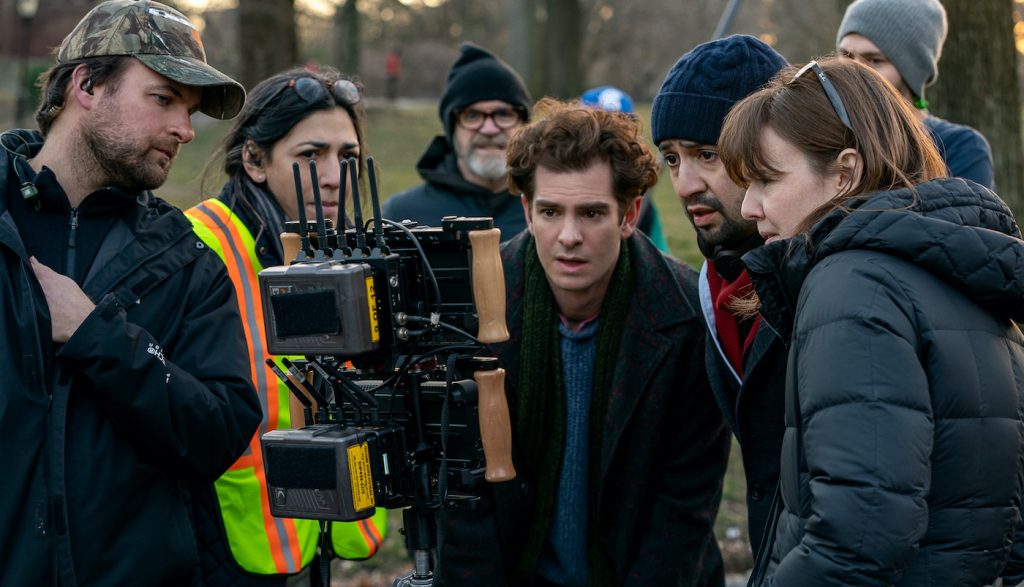 tick, tick…BOOM! has both starkly pragmatic and romantically dreamy sides that can alternate by the second. Kerstein and Weisblum were careful to ground the song and dance breaks as much as possible. When a character breaks into a musical number, the plot advances. 
"My philosophy has always been that lyrics and dialogue are the same thing," Kerstein said. "There's no difference in the movie. You don't ever want to take the audience out of the film and say, 'The song is starting! We're not storytellers anymore.' We're treating it as storytelling no different than any other scene. We're still painting a conflict and action in our own way. There's just no difference with what we're doing than any other film we work on."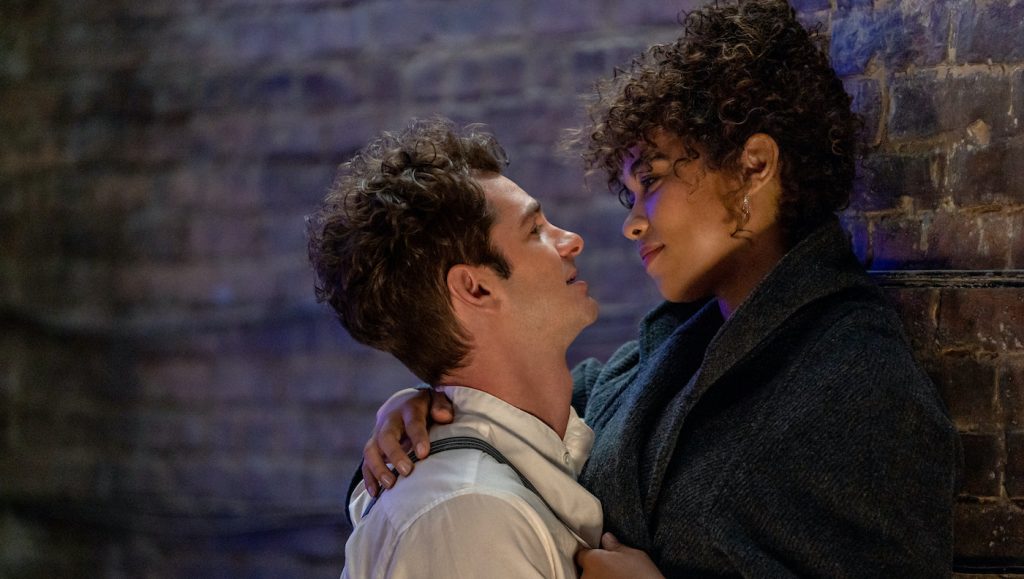 What the audience sees and hears must work in harmony. That proved to be a real challenge when songs ping pong through several different settings and tones. "In general on films, I'm pretty focused on sound because I think it's half the battle," Weisblum said. "I mean, I want to get the picture right first, but then sound can really influence and redirect the pace and the story and a whole lot of other things. You can do a lot of subliminal highlighting with the right sound job. But on a film that's a musical, there are some other rules that come into play."
Instruments, lyrics, sound effects, and dialogue could easily clash, but the editors were careful to strive for clarity. tick, tick…BOOM! is such a personal piece to Jonathan. The audience is invited inside the composer's creative mind, which can be an unpredictable place. "There's a funny thing that happens with musical numbers and sound effects is that if they start to pop out or get too specific, the music becomes less internal in a way," Weisblum said. "If someone is singing, they're not thinking about the close-ups and all these other details. Those are the things that sell it for us." 
Throughout the film, Jonathan scrambles to add a song that will anchor his musical Superbia before a scheduled workshop. Hours and days tick by until he is finally struck by inspiration during his routine swim. Sometimes artistic genius can be represented in highly visual ways, but other times it is more abstract. "How are we going to keep this visually dynamic and interesting watching this guy swim laps?" Weisblum wondered. "There's nothing else that's going on. It's just the song, but it has to build to a climax." 
Weisblum discussed the problem with Miranda and cinematographer Alice Brooks. Brainstorm sessions included a concept in which Jonathan finds inspiration through a woman on the sidelines who reminds him of his girlfriend, Susan (Alexandra Shipp). "We played around with a lot of ideas for that. But ultimately, simple was better."
Lines in the tiling on the bottom of the pool evoked music staffs and inspired a concept for music notes to appear as Jonathan was struck by inspiration. "The whole idea of the musical number appearing on the ground, that was an idea that was there," Weisblum recounted. "But the thing that wasn't there was the idea of the lyrics. That tied together one day in my mind. We had these pauses in the action where he gets these song inspirations and he's writing in his pad, which is not particularly visually interesting as a movie moment, but we decided to use text on the screen, and we can bring that back underwater. That brings the whole idea of lyrics on the screen, lyrics in his head, lyrics on the pad and just heightened the whole motif together, which was found in editing and not really a design thing at first."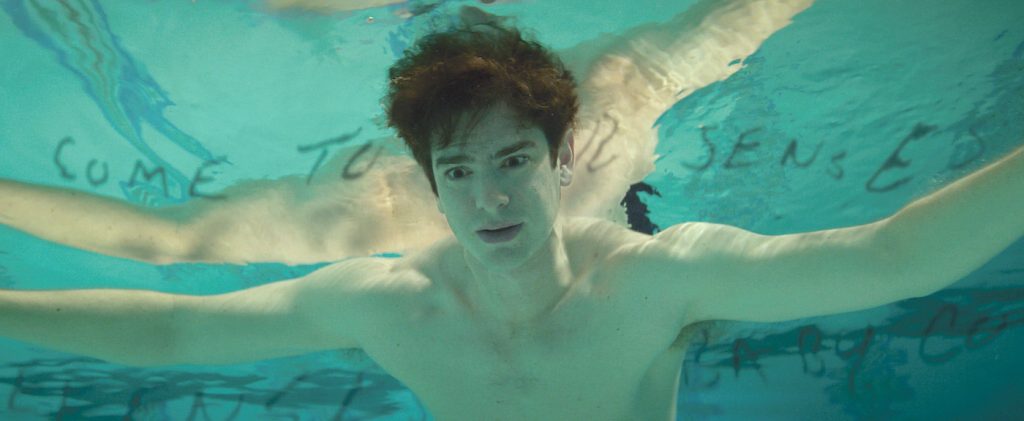 The song that finally propels Jonathan across the finish line to complete Superbia is the powerful duet ballad Come to Your Senses. His personal and professional planes sync at this moment with Susan and Karessa (Vanessa Hudgens) sharing the spotlight. "I think that Andy had put a great version together and my task was two things," Kerstein recalled. "One was to recut it again because Andy had combined verses and did speed changes. I had to unravel it all and put it back together. But also, try to give a little more balance to Susan. We give Susan the first chorus, versus originally both Susan and Karessa would share the first chorus, so we would do really subtle things to balance it out, and then they could join in together and try to make everything on the roof side somewhat Jonathan's point of view."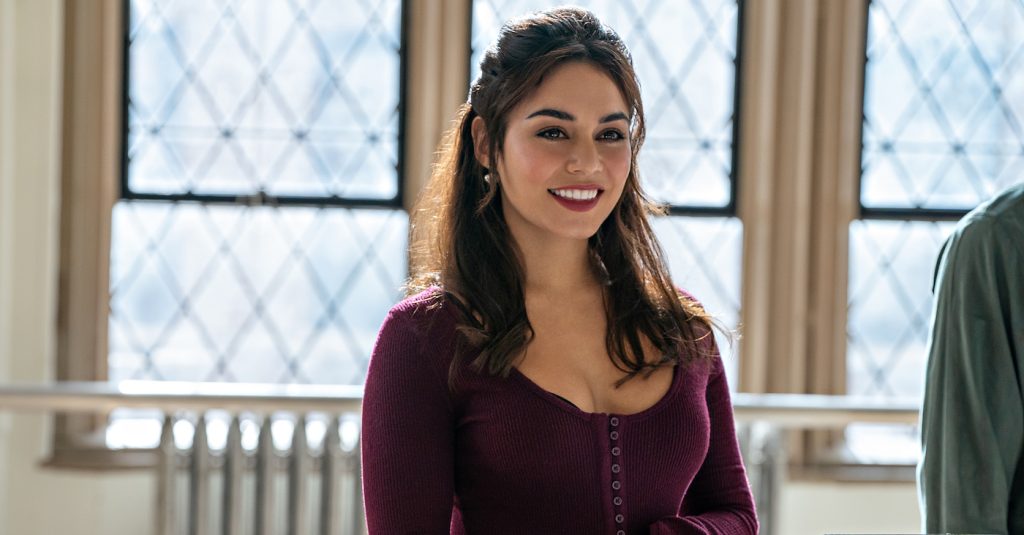 Prior to filming, Weisblum and Brooks discussed options for transitioning between Karessa in the workshop and Susan on the roof. Several of the ideas were filmed to give the editors options in the cutting room. "Before the singing actually starts, Jonathan used to close his eyes and open them and the workshop room was empty and it's just him and Karessa alone," Weisblum revealed. "There were two problems with it. One, it was kind of a hallucination on top of a hallucination. That put him in a fantasy in the room and a fantasy in his head on the roof. The second thing is it made this private moment between Jonathan and Karessa, which was a dangerous thing in terms of suggesting that there is a romance or something going on there, which is not what's happening at all. Myron spotted right away that that could be a problem. There was a lot of simplification that I think made it click ultimately."
Larson's songs lend themselves to grand artistic fantasies, but tick, tick…BOOM! still feels as close to a live performance as a film can. "I think the most difficult thing I've ever cut is musicals," Kerstein admitted. "Both In the Heights and tick, tick…BOOM! You may have three, four, eight takes just per angle. Then you have multiple cameras and then you're trying to make it all feel grounded and real and, in our case, make it feel half the time like it's a live performance."
The only thing missing from the film version is a curtain call. Perhaps Kerstein and Weisblum will be taking their bows soon at the Academy Awards. 
tick,tick…BOOM! is available to stream on Netflix. 
Featured image: tick, tick…BOOM! (L-R) ANDREW GARFIELD as JONATHAN LARSON in tick, tick…BOOM!. Cr. COURTESY OF NETFLIX