Cinematographer Alice Brooks Makes "tick, tick…BOOM!" Sing With Personal Memories
tick, tick…Boom! may not have the name recognition of Jonathan Larson's most famous production, Rent, but it is a theater kid's dream for Broadway royalty to bring this story to the screen. The film interpretation of his unfinished work captures the heart and hustle of 1990s New York through Larson's eyes. Although Larson passed away in 1996, the project was lovingly researched and reconstructed by director Lin-Manuel Miranda and screenwriter Steven Levenson. The project may closely realize Larson's original vision thanks to cinematographer Alice Brooks, ASC who lends her own magical memories of late 20th century NYC.
Brooks spent her early childhood in New York City with her playwright father and dancer mother. She was just ten years old in January of 1990 when tick, tick…BOOM! takes place. "I started reading the script and page by page as I turned it, I thought this could be scenes from my childhood. Our apartment – we had a bathtub in the kitchen, which is exactly like Jonathan," Brooks recalled. "We lived in 300 square feet, but it was always filled with all these wonderful artist friends of my father. They were our community. They were really our family."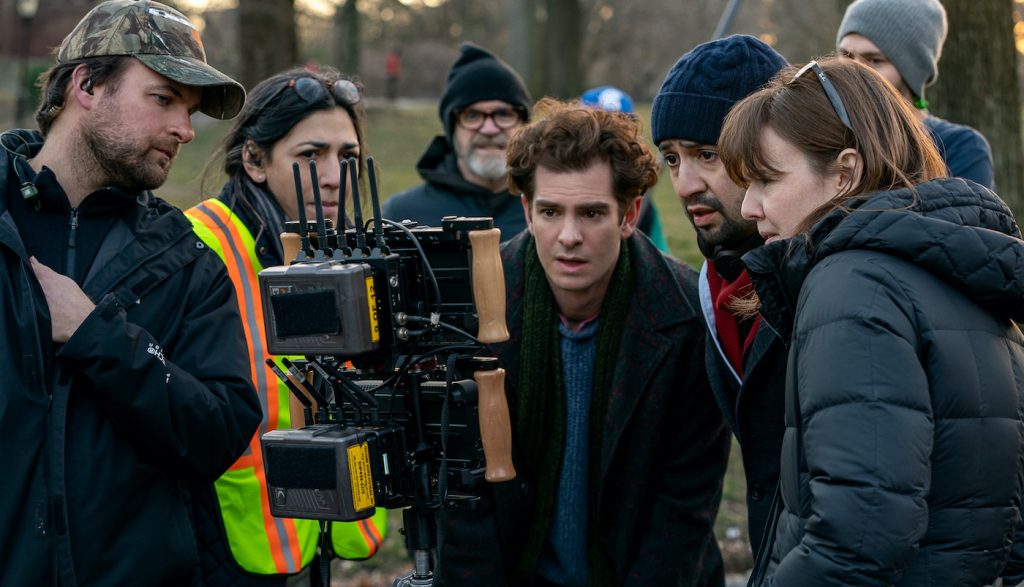 After her electric work on In the Heights, Miranda tapped Brooks for his movie directorial debut. She presented a lookbook with her vision for the film. One page resembling a family photo album drew the connection that made it obvious she was the person for the job. "The first page of my lookbook is just my childhood photos. Five minutes into the meeting Lin said, 'Wait a minute. These are actually your pictures?' I said, 'Yes.' He said, "Well it can't get any more personal than that.'"
Jonathan, played by Andrew Garfield, was turning 30 in 1990 while Brooks was 10, but they had a youthful perspective in common. "Since Lin and I were both 10 in this era, we both have the same memories of what New York City was. It's a childlike memory of a 10-year-old where color and light and emotions are all heightened," Brooks explained.
Jonathan is nearing a milestone age but is growing discouraged by his art. The musical number "30/90" captures his anxiety over the passing of time while the creativity he harbors inside is still searching for a way into the world. "Jonathan Larson had this incredible childlike quality to him where he didn't want to grow up. He didn't want to sell out. He wanted to hold onto his dream," Brooks said. "It's that childlike memory where sometimes the lines between dreams and reality are blurred. That became the place where Lin and I started creating from. It didn't suddenly feel like we were breaking into song and dance, but rather it felt like it was coming from Jonathan Larson's mind."
Larson eventually secured his revered place in musical theatre history with Broadway smash Rent, but his tragic and sudden death fell on the eve of the show's premiere for audiences. His autobiographical musical tick, tick…BOOM! was performed in various states throughout his lifetime, but there is no official edition. "This was never a final produced play. There's not a script. There's a lot of different iterations of tick, tick…BOOM! ," Brooks noted. "Lin and Steven went to the Library of Congress and started going through all of Jonathan Larson's material and finding different versions of tick, tick…BOOM! because there's not a definitive version of it."
Miranda and Levenson scoured Larson's entire creative catalogue, including iterations of the play-within-a-play Superbia and jingles Larson wrote when he flirted with pursuing a more commercial career. The result is a true homage to the artist and his process. "Every piece of music except in the apartment where there's some 90s pop songs playing during a party are songs Jonathan Larson wrote," Brooks revealed. "There's a car scene where they're driving and there's a little jingle playing on the radio. I mean every single piece of music is something that they found while they were in the Library of Congress."
Determining the visual language for the story was crucial to bring tick, tick…BOOM!  to movie audiences. Despite being created for the largest scale that the show had ever been performed, Brooks aimed to keep the story intimate. "Lin and I were designing all these really smooth, beautiful, flowing, complicated shots for the New York theatre workshop portion of the film and then we realized that was the wrong choice," she admitted. "We actually needed to be handheld on stage and the sweeping fluid shots were actually the musical numbers that were coming in Jonathan Larson's life vs. the stage. So the stage has this really raw, intimate quality."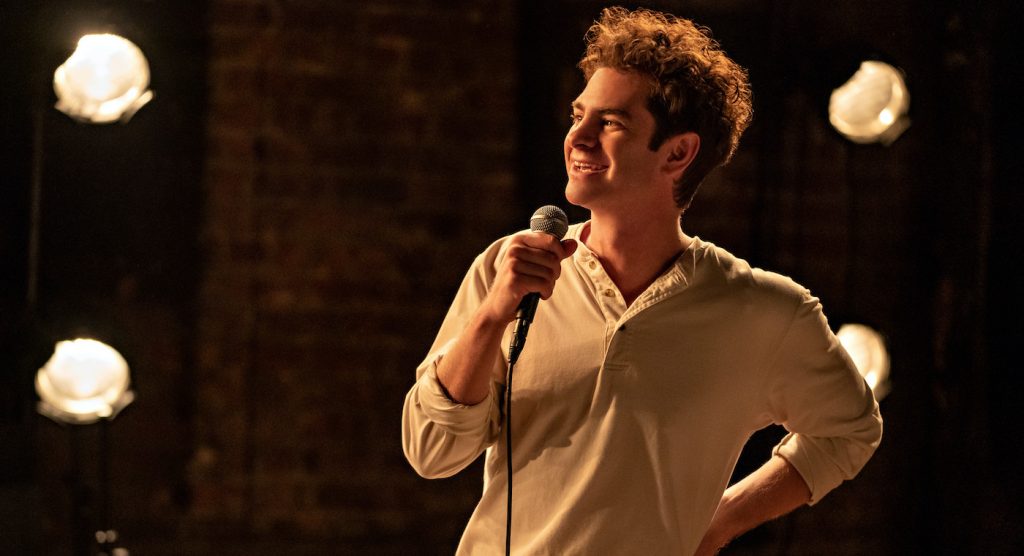 Larson's life was also extraordinarily well documented before the era of self-broadcasting our every move online. His friend was the daughter of a documentarian who picked up the habit of carrying a camera. "We got all these amazing details that were recorded. Like, the Moondance Diner no longer exists, but we have all this video of Jonathan in the Moondance Diner."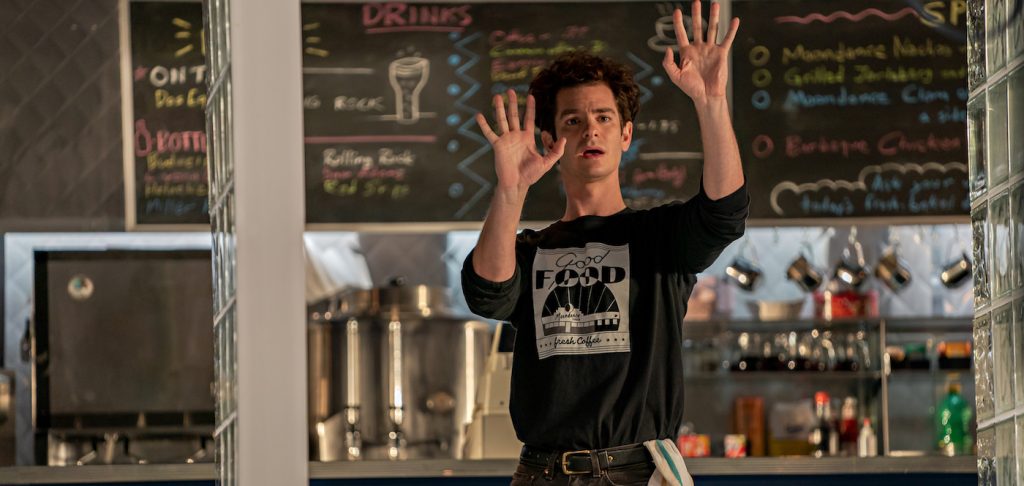 Incredibly, Larson also photographed and described every item in his apartment just one week before his death for insurance purposes in case of fire. These reference materials were of particular interest to Brooks' work behind the lens. "You could see the way the apartment was lit," she said. "All of us making this movie wanted to honor Jonathan in every possible way. We always felt like he was with us. He was whispering in our ear making the magic happen."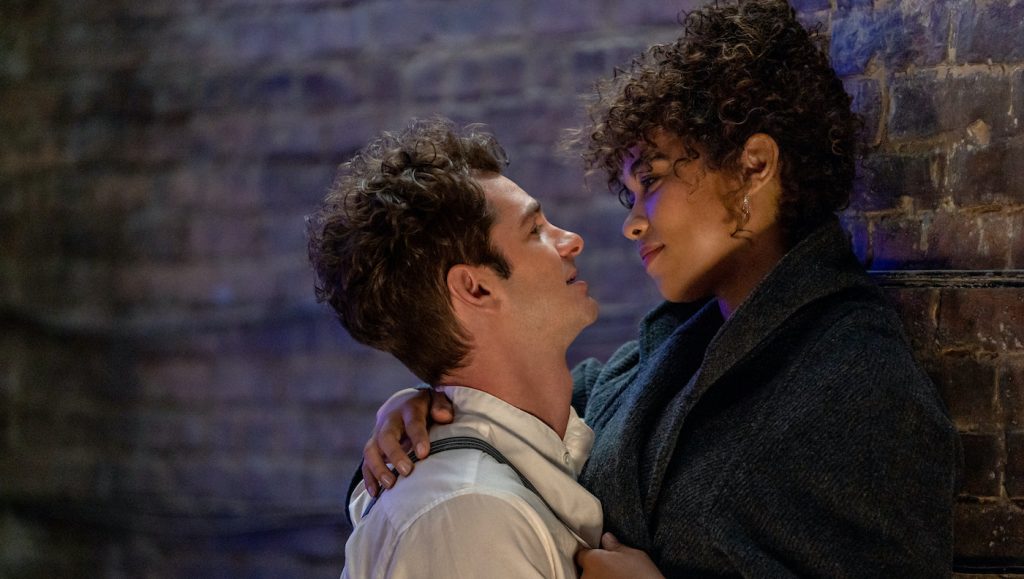 A moment of serendipity hinted that Larson's spirit was infusing the project. The crew scouted pools for the musical number "Swimming," eventually agreeing to a picturesque location with gorgeous tiling resembling lines on a music staff. "The first time we were there, I took my iPhone and I sat on the edge of the pool and started putting it underwater," Brooks recalled. "These tiles were beautifully, beautifully aged and had these very specific numbers – '30', '40', '50'. And these red and green stripes. But this '30' was dead center in the middle of the pool."
That's when inspiration struck for the director that seemed to be a sign from Larson himself. "Lin was looking at the footage and looking at the pool. He said to all of us, 'What if Jonathan puts his hands on the 30, which is the age he's so terrified of turning, and it becomes a treble clef?" That is how 'Swimming' evolved into this visual demonstration of a singular moment of genius for Jonathan."
Unbeknownst to the crew, they were bringing audiences into Larson's world in a literal way. "It was only later on that we discovered that this was the swimming pool that Jonathan swam in every day of his life. So, when he wrote the lyrics for 'Swimming', he was writing specifically about details in that swimming pool."
Constructing the scene was a logistical puzzle, but Brooks knew it would be worth the effort. "There was very narrow space on either side of the pool. So, to get our crane shots, we needed to build a deck on one side of the pool, but it takes three days for divers to do that. We shot all our crane shots and then they pulled it out. The divers had to go underwater and unhook everything and then we did all our other underwater shots with an underwater diver separately."
Brooks says she has never let fear of the unknown control her on set. She began her career as a child actor, but she knew by age 15 she belonged behind the camera. When she lost out on a role in While You Were Sleeping after seven rigorous auditions, she announced to her mother that her true passion was cinematography. Nearly thirty years later, she's still rising in the field. "Being a woman in this business has not been easy. It's not easy. It's encouraging because it's getting better, but it was me having to stick to my dreams all the time and not give up on that dream that I've had for so long."
Brooks recalls times when her artistic career goals seemed out of reach, which makes her and Larson kindred spirits once again. "I think people really, really relate to this movie because we all have a dream. There is always a moment where we can either give up on our dream or continue on and get up every day and dust ourselves off and pick ourselves up and start all over again."
tick, tick…BOOM! is in theatres and available for streaming on Netflix now.
Featured image: Key art from "tick, tick…BOOM." Courtesy Netflix.