Cinematographer Alice Brooks on Lighting the Real Heights of "In the Heights"
In the Heights, Lin-Manuel Miranda's pre-Hamilton musical transformed into a film by screenwriter Quiara Alegría Hudes and director Jon M. Chu (Crazy Rich Asians) is set over a handful of days at the height of summer in Washington Heights. The action is centered on two would-be couples, Usnavi (Anthony Ramos) and Vanessa (Melissa Barrera), and Benny (Corey Hawkins) and Nina (Leslie Grace). Usnavi, an orphan and bodega owner who dreams of life in the Dominican Republic, is too bashful to pursue Vanessa, who's concerned with leaving the salon where she works for a career in fashion design and an apartment downtown. Nina is the pride of the neighborhood, but after a harrowing first year at Stanford, she's struggling to reveal that she may be returning to 175th St. for good. Benny, her ex, is still smitten, but Kevin (Jimmy Smits), Nina's father and Benny's boss at the local taxi service, doesn't approve. At the center of the community is Abuela Claudia (Olga Merediz), an elderly Cuban matriarch universally beloved by all. On the comedic side, Miranda makes periodic appearances as a disgruntled piragua seller in an ongoing feud with the local Mr. Softee, while far more seriously, Usnavi's young employee, Sonny (Gregory Diaz IV), grapples with the personal implications of the politics swirling around DACA.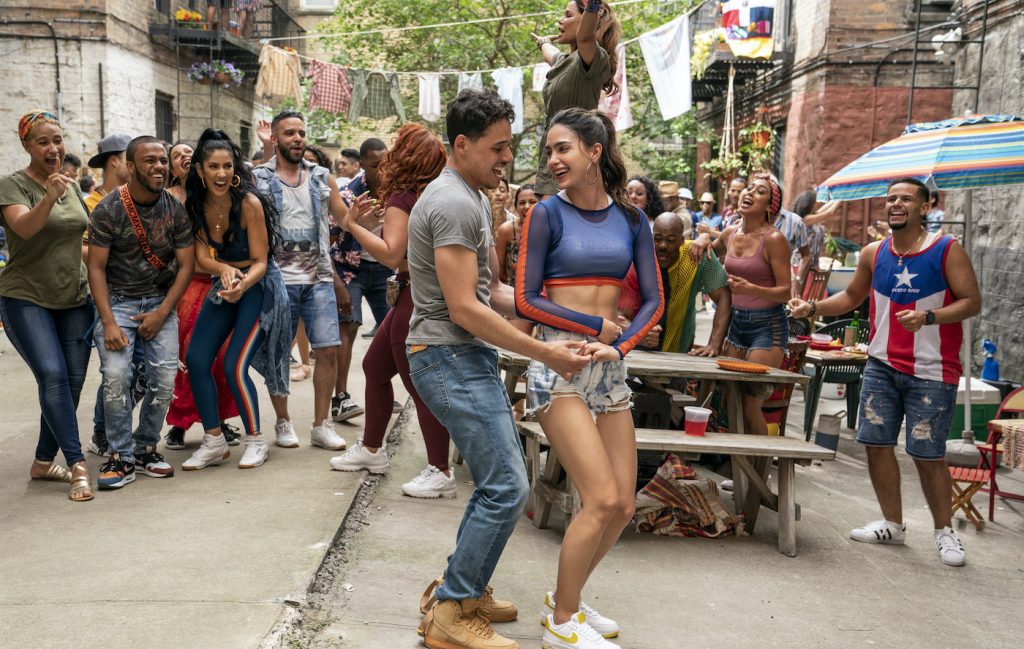 The action, whether it's a piece of the twin unfolding love stories or a major dance number, takes place across sets at the heart of a few blocks in Washington Heights: Usnavi's bodega, Abuela Claudia's cozy apartment, Kevin's dispatch office, the public pool. Aside from Usnavi's narration, which takes place on an intentionally overly picture-perfect beach in the DR, and ten shooting days on a soundstage, In the Heights was in fact largely shot in the Heights. The film opens with a major number at 175th Street, and throughout the film, some of the biggest set pieces take place in a public pool, a courtyard, and a club that pulses with energy right up until the lights go out in a major blackout. For cinematographer Alice Brooks (Home Before Dark, The Walking Dead), this meant ensuring getting Washington Heights' unique sunlight right just as much as it meant highlighting the dance numbers to the fullest possible effect. We had the chance to speak with Brooks about these aspects of the film, along with how she used practical effects during the blackout, hit the perfect golden light in Usnavi's bodega, and the unexpected coincidence that helped achieve the special lighting in Abuela Claudia's apartment.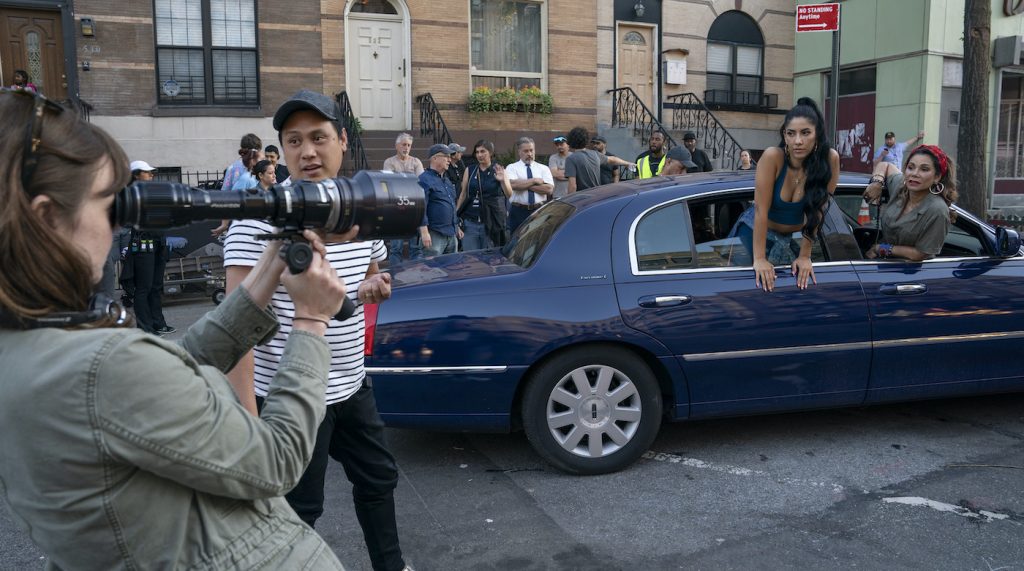 You're not just lighting and shooting a movie, but a musical with huge dance numbers. How does that work?
I've known Jon Chu for around 20 years. We went to USC to film school together, and I shot his short musical, When the Kids Are Away, when we were in college. We bonded over our love of musicals at a time when very few features were being made into musicals anymore. We've done a lot of music-driven projects together, including The Legion of Extraordinary Dancers, which is when we started working with Chris Scott as a choreographer. The three of us have a very close relationship in terms of figuring out dance. We learned so much about how to capture dance and how to light dance and how to use it as a storytelling method. So Jon and I, after we looked at locations in Washington Heights in the morning, we'd spend the afternoon at the dance rehearsal space. When Chris wanted us to see stuff, we'd come and start to work out the little details. We each would take an iPhone and film the dance rehearsal. We had these anamorphic adapters for our cameras, for our iPhones — we shot anamorphic lenses on the movie — and the three of us would shoot from different angles. On the weekends, we would get together and AirDrop the videos to each other, and Jon would start to edit things together. We'd start to figure out oh, this would be a great crane move here, or let's do something low here, or can we make this a really long shot? Our process is very fluid and connected, and we all have a similar work ethic and style, so it's a great collaboration.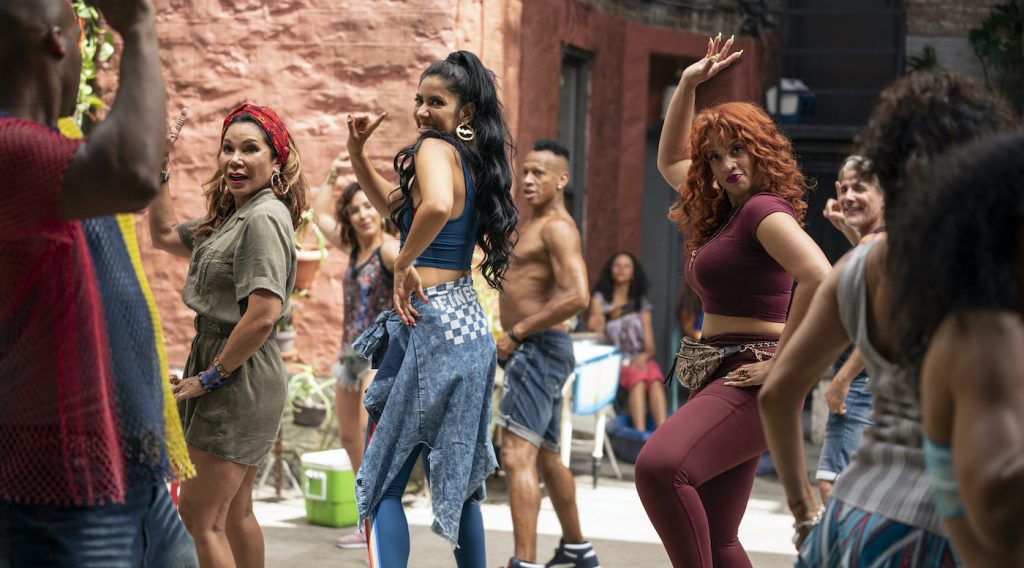 The quality of light in Washington Heights is often described as being unique within the city. How did that play into your process?
I got to Washington Heights in March 2019. It was freezing cold, we were bundled up in coats standing in the middle of empty swimming pools or on rooftops, looking at the George Washington Bridge, and we had to imagine what summer would look like. Day after day as I spent time there, I noticed that the light there is different than anywhere else I've been in the world. And summer in Washington Heights is really different. While we were making the movie, I called it an urban summer, but it's more specific than that — it's a Washington Heights summer. It's not even a Manhattan summer. I have theories about why. The buildings are lower, there's less red brick than in the rest of Manhattan, and there are these beautifully silvery-gray buildings that are perfectly patinaed. When the sun hits it in the summer, it creates these cool shadows and this very warm sunlight. When we were filming, we were there at the time of year when the sun path lines up directly with the streets, and with 175th Street specifically, where we filmed. So in shots of Nina walking down the street and the opening and final numbers, the sun lined up perfectly where we wanted it to be. The color is so different. Someone also said to me maybe it's because it's a very narrow point of Manhattan — you can walk back and forth from the Hudson River on one side and the East River on the other, so you also have the sun hitting these huge reflecting pools.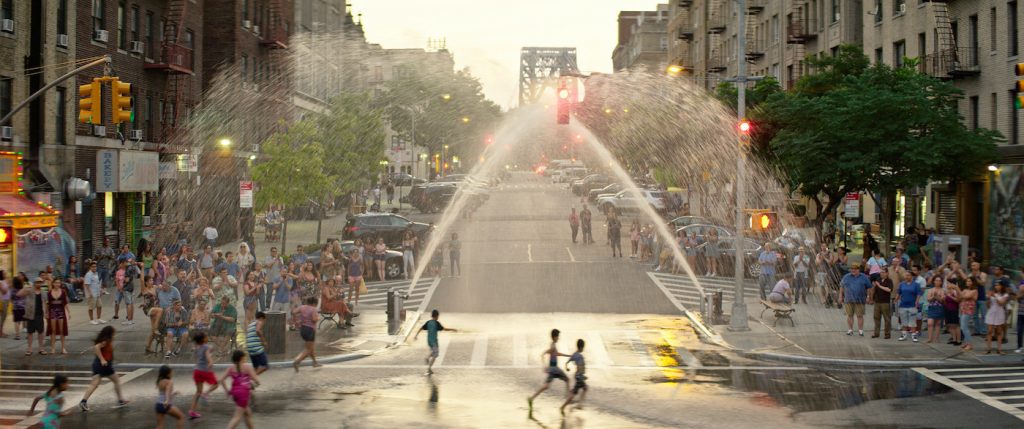 Did you film any exteriors outside Washington Heights. If so, how did you make it look like that neighborhood?
We shot the downtown stuff downtown. We shot a little bit in Inwood for the outside of the Floradita restaurant. We shot in, I think Harlem, for the exterior of the club night. But that was night and you can get away with a lot more. It was also a blackout, so all we lit that with was car headlights and one ambient source. All our street scenes were right [in Washington Heights], though, or on the surrounding blocks.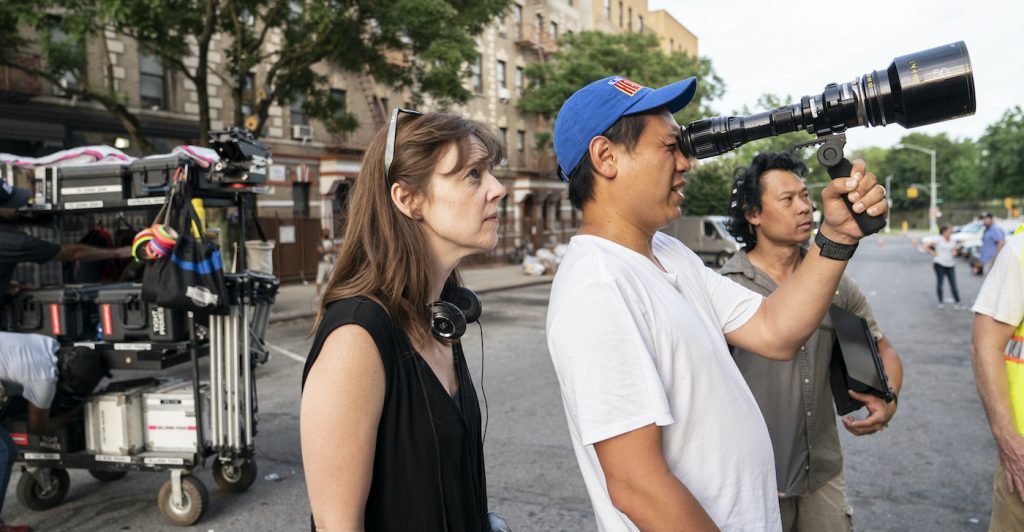 The film counts down to the big blackout, which is a turning point for most of the main characters. How did you approach this section?
I love "Blackout." It's one of my favorite numbers. It was a huge challenge. We had to work with all the people in the neighborhood to try to get everyone to turn off their lights, first. We also needed access to all the rooftops for our fireworks effects. We put what's called SkyPanel S360s on all the roofs. Those created our fireworks display, so the light hitting the buildings would be red, purple, then blue pops, then white pops. But "Blackout" starts in the club, where there are these ambers, reds, and rust colors. Then the light goes out and the first thing you see is a very cool cell phone light. You start to see different people emerging into the light with their camera phone flashlights. Everyone piles into the street and there are car headlights that light up the environment. Then we get back to our main intersection and we've got the fireworks display lighting everything up. We framed glass into things. When Daniela and the salon ladies are walking past the salon, we left extra room so that you could see the glass, and visual effects could put fireworks in its reflection. There's a great shot I love in "Blackout" where we've got people singing, there's a high angle crane shot of a car, and you see the reflection of a firework in the windshield. All the fireworks were shot practically, but we couldn't do it in Washington Heights. I mean, you can't have a fireworks display in New York City.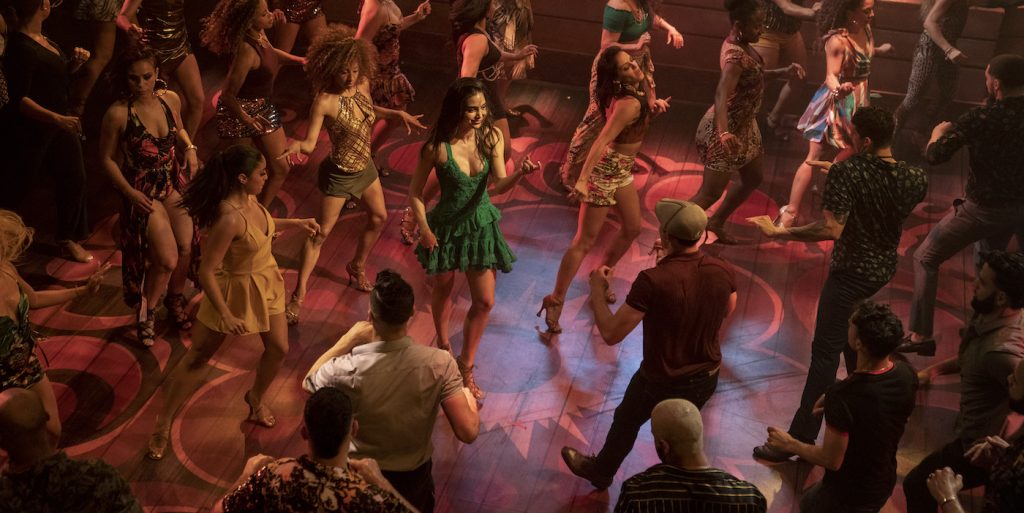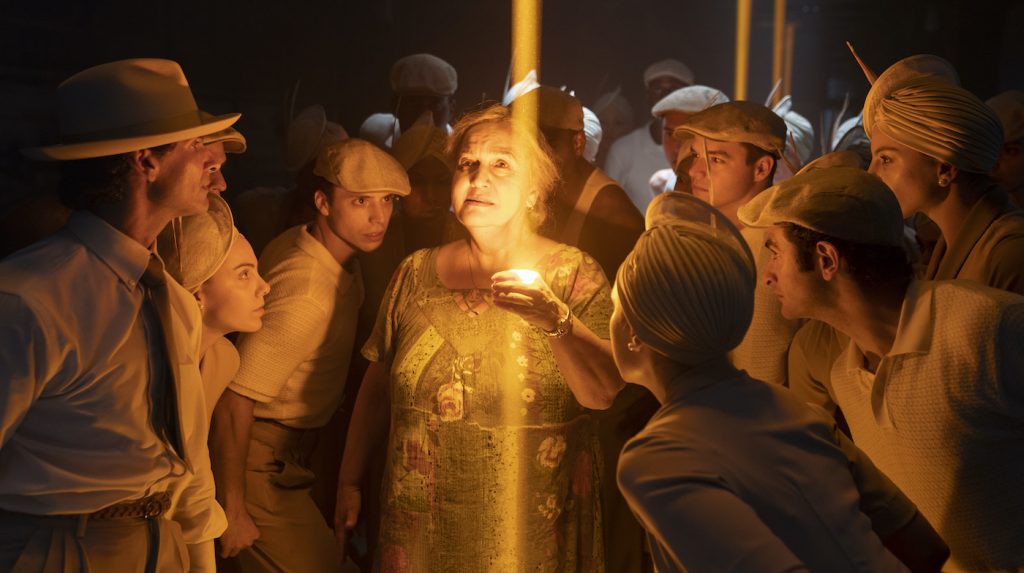 And then the action moves inside, to Abuela Claudia's home.
At Abuela's, she starts to light candles. That scene is lit mainly by candlelight and that is a real location. It was right there in our intersection, which is amazing. The salon ladies come in and start turning their cell phones on and putting little pieces of glass on top of the lights. One day a couple weeks before we shot "Blackout," there was a big thunderstorm, and the AD team needed everyone to get into a safe place. Jon Chu, Lynn, Quiara, the set photographer, and I all got put into Abuela's house, and it was completely dark because our generator was off. We had this idea to start turning on our phone flashlights. Jon and I wandered around Abuela's house and found beautiful pieces of glass from set dressing and put them on top of the cell phones and it created this beautiful light in the apartment. That was the inspiration for us shooting "Blackout" in her apartment.
In The Heights is in theaters and on HBO Max now.
Featured image: Caption: (L-r) LESLIE GRACE as Nina Rosario and COREY HAWKINS as Benny in Warner Bros. Pictures' "IN THE HEIGHTS," a Warner Bros. Pictures release. Photo Credit: Courtesy of Warner Bros. Pictures