From Hell to Space to Atlantis: Highlights From New York Comic Con
This was the 13th year that the Javits Center hosted New York Comic Con (NYCC), and it was massive. CNBC reports that this year's NYCC was the biggest in its history, with more than 250,000 tickets sold (in NYCC's first year, in 2006, they sold a bit more than 12,000 tickets.) This year NYCC also expanded to six other locations (The Credits hosted three panels at one of those locations), with more than 420 panel discussions ranging from our chats with Hellboy creator Mike Mignola and Outlander novelist Diana Gabaldon to our panel with stunt performers and coordinators like Jahnel Curfman and Hiro Koda.
Then there were the big studio productions, which took advantage of NYCC's growing prestige and reach to deliver the goods on their projects. Here's a brief list of some of NYCC's highlights.
Aquaman releases an epic 5-minute long trailer
James Wan's hotly anticipated Aquaman was one of the big films at this year's NYCC, and Warner Bros. made sure to give fans the longest glimpse yet Jason Momoa's Atlantian superhero. In the 5-minute long trailer, we got to see just how Arthury Curry is pulled into a battle for both sea and land to take up the mantle of Aquaman. With the help of Mera (Amber Heard), Arthur embarks on a journey to save his mother's (Nicole Kidman) homeland—the kingdom of Atlantis. The trailer was packed with action, from a wild rooftop chase to those weaponized great white sharks, showcasing Wan's grandly ambitious take on Aquaman's first stand-alone feature film. Aquaman hits theaters on December 21, 2018.
Dark Phoenix unveils footage of the X-Men in space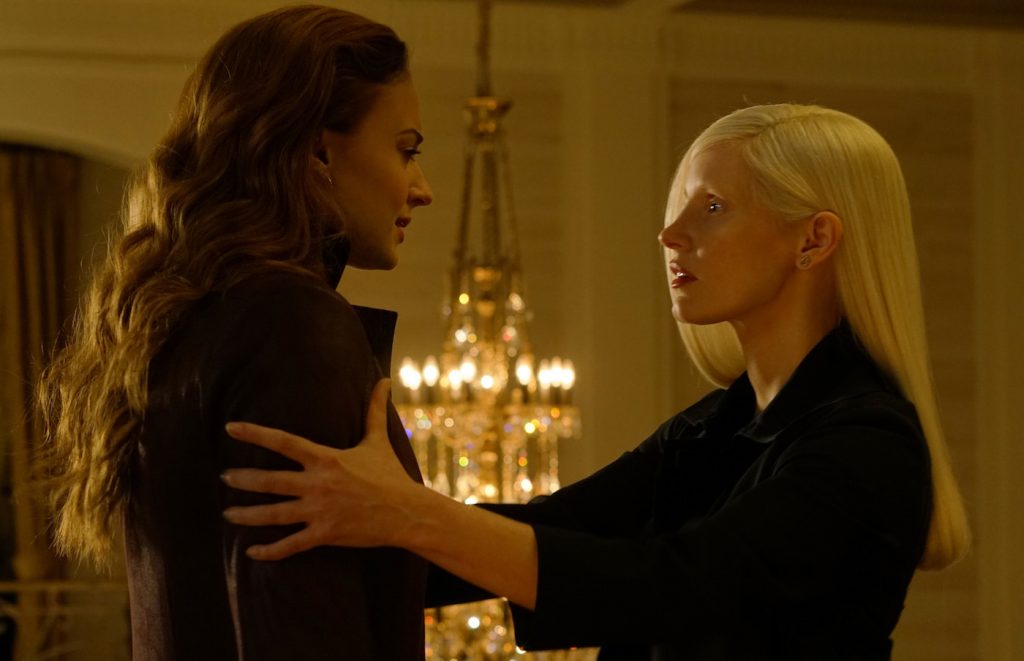 Sophie Turner was on hand on to discuss not only saying goodbye to Sansa Stark, the Game of Thrones character that made her famous, but also her work as Jean Grey in the upcoming Dark Phoenix. This included a 13-minute clip that began with a NASA shuttle launch going awry shortly after take-off. Charles Xavier (James McAvoy) assembles the X-Men to respond to the crisis and they launch into planning mode. Mystique (Jennifer Lawrence) takes charge explaining it should be a smooth rescue. Jean Grey, Quicksilver (Evan Peters), Cyclops (Tye Sheridan), Nightcrawler (Kodi Smit-McPhee), and Storm (Alexandra Shipp) are leery about the X-Jet surviving a trip into space, but they determine it's a mitigated risk.
"I felt a lot of pressure," Turner told NYCC fans during her panel. "I knew Simon [Kinberg] was taking me out to lunch and I wondered what this is about. He sits me down and says it's 'Dark Phoenix,' no 'X-Men.' Just Dark Phoenix. It's such an honor. I know it's one of the most loved stories in all of the X-Men universe. For Simon to trust me enough to take on that responsibility, I wanted to do the fans of the comics justice."
Dark Phoenix debuts on June 7, 2019.
Hellboy unveils the first footage from the film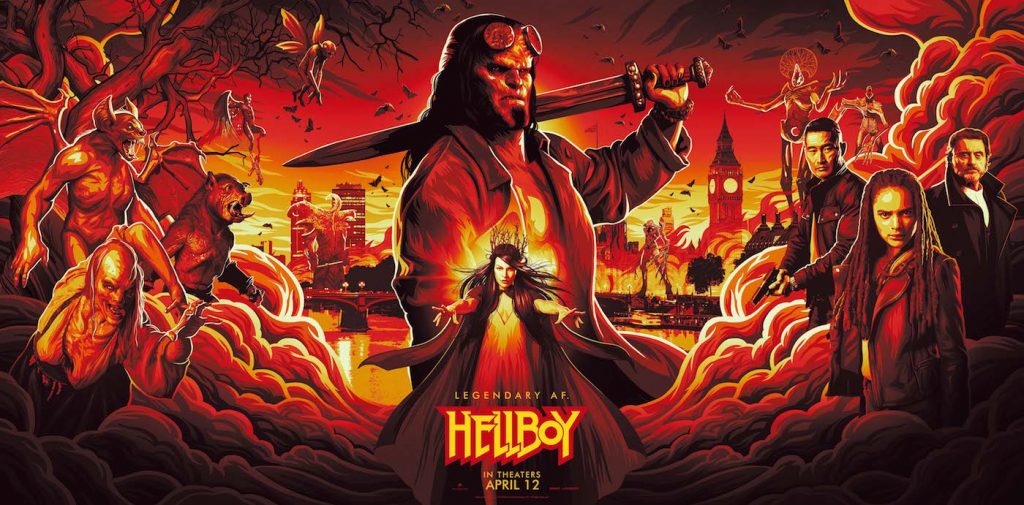 Any concerns over Neil Marshall's Hellboy reboot starring Stranger Things' David Harbour in the title role were slain during NYCC. The first footage from the film was shown to an increasingly enthusiastic crowd, which began with Hellboy walking towards Excalibur in a dark cavern. Harbour's Hellboy seems a touch younger and more impetuous than Ron Perlman's now iconic turn, but a lot of what we loved from Guillermo del Toro and Perlman's vision for the character has remained, only the reboot seems closer in tone and spirit to creator Mike Mignola's comics. We got a chance to see Hellboy take on his role as a new member of the B.P.R.D. (Bureau for Paranormal Research and Defense), joining Alice Monaghan (Sasha Lane) and Ben Daimio (Daniel Dae Kim). We also got a peek at Milla Jovovich's Nimue the Blood Queen (sporting a nice, nasty set of black branches as a crown). The Hellboy sizzle reel was as hot as you'd want it to be. The film opens on April 12, 2019.
Spider-Man: Into the Spider-Verse reveals 35-minutes of footage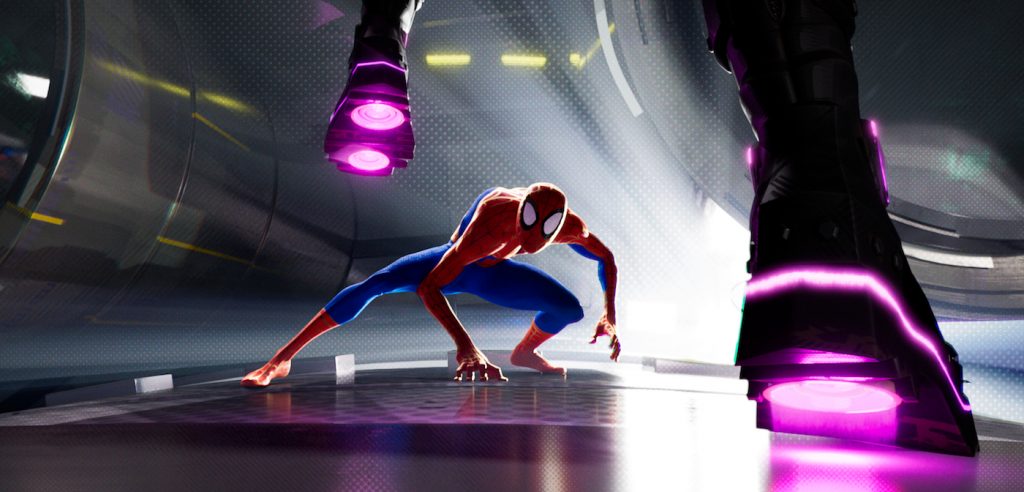 There's so much to be excited about here. First, the fact that the film centers on Miles Morales (voiced by The Get Down's Shameik Moore) who ultimately becomes Spider-Man and then finds himself in a multiverse of Spider-Men (and women), including Spider-Ham (voiced by John Mulaney). Everything surrounding this film suggests it's going to be a game-changer for Sony, and that was before the Into Spider-Verse team dropped a surprise look at 35-minutes from the film. This showed Miles' origin, his bond with his parents, and a gorgeously rendered New York City in the animated film's richly colored, impressionistic style. Producers Phil Lord and Chris Miller spoke at NYCC and said that they were only interested in doing the film if it was Miles Morales story, which gives us an Afro-Latino Spider-Man with a vastly different background than Peter Parker's (for starters, he's from Brooklyn, not Queens). The footage showed us how serious directors Bob Persichetti, Peter Ramsey, and Rodney Rothman were about showing Miles life in Brooklyn and the realities of a teenager living an authentic existence in New York, albeit one that opens out into one of the wildest Spider-Man stories in recent memory. Spider-Man: Into the Spider-Verse opens on December 14, 2018.
L-r: David Harbour in 'Hellboy'/Courtesy Lionsgate. Sophie Turner in 'Dark Phoenix'/Courtesy 20th Century Fox, Jason Momoa in 'Aquaman'/Courtesy Warner Bros.