This new Spider-Man: Into the Spider-Verse Trailer is Stunning
If you aren't up to speed on Sony Pictures' animated feature Spider-Man: Into the Spider-Verse, this brand new trailer should set you straight. The film centers on Miles Morales (voiced by The Get Down's Shameik Moore) who ultimately becomes Spider-Man. As the film's title indicates, however, this isn't your usual origin story; Morales discovers a multiverse that's home to multiple Spider-Men, which gives this film its surreal and gorgeous visual style, as well as these other web-slingers (including Peter Parker himself, voiced by Jake Johnson, and a Spider-Man Noir, voiced by Nicolas Cage) as well as a slew of other intriguing characters.
This new trailer highlights just how fluid the animation is. The film eschews the digital perfection of other CG animated films for a more impressionistic look, which also helps to root Into the Spider-Verse in the exuberantly colorful comics world it came from. Then there's the wonderfully oddball narrative, which introduces us to worlds-within-worlds in which Spider-Man isn't a single superhero, but a persona inhabited and shaped by the people who take on the mantle. Directed by Peter Ramsey (Rise of the Guardians), Bob Perschietti (writer of The Little Prince), and Rodney Rothman (writer of 22 Jump Street), and written by The Lego Movie's Phil Lord and produced by his filmmaking partner Chris Miller, this is a Spider-Man adaptation that manages to be entirely new and utterly bold.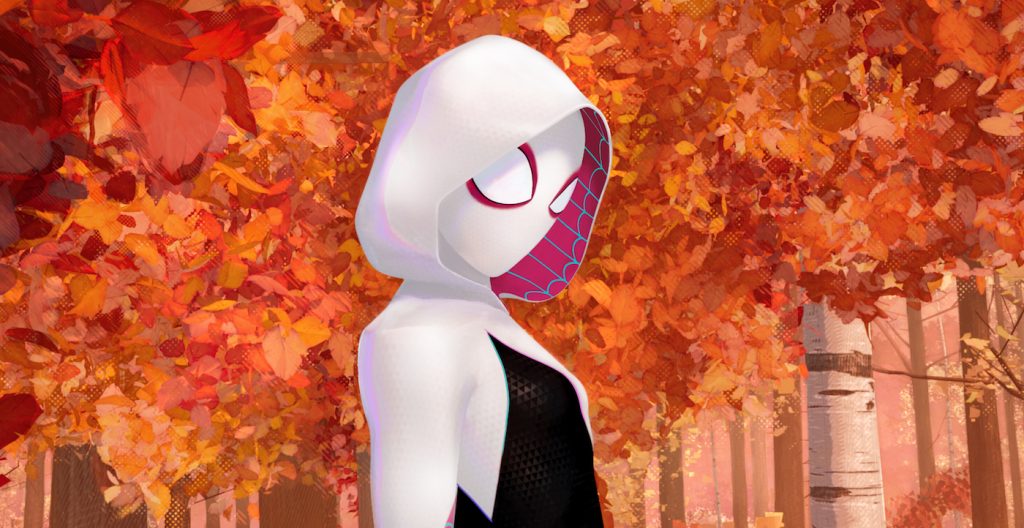 The film's cast is excellent. Joining Moore, Johnson and Cage are Mahershala Ali and Brian Tyree Henry as Aaron and Jefferson Davis, Miles' uncle and father, Liev Schreiber as the villain Kingpin, Hailee Steinfeld as Spider-Gwen, John Mulaney as Spider-Pig, Luna Lauren-Valez as Miles' mother Rio, and Lily Tomlin as Aunt May.
Spider-Man: Into the Spider-Verse opens in theaters on December 14th.
Check out the new trailer below:
Featured image: Miles Morales (Shameik Moore) in Sony Pictures Animation's SPIDER-MAN: INTO THE SPIDER-VERSE. Photo by Sony Pictures Animation