The Get Down's Costume Designer on Hitting the Perfect 70's Notes
Part two of Baz Luhrmann's musical melodrama The Get Down was released earlier this month on Netflix, jumping forward from 1977 to 1978. The South Bronx tale of love and the pursuit of fame saw its religious and criminal secondary plot lines toned down, ever so slightly, to let the show focus on hero Ezekiel (Justice Smith), his girlfriend Mylene (Herizen F. Guardiola), her burgeoning disco stardom, and the divergent paths taken by Zeke and his childhood best friend, Shaolin Fantastic (Shameik Moore).
Though Luhrmann didn't direct part two, his cacaphonous-everything-and-anything ethos remains. And it looks its best in the show's club scenes and hip hop battles, particularly when what feels like the 2,835,406 (a conservative estimate) extras are all individually clad in a scrupulous mimicry of the highlights of late 70's fashion. Costume designer Jeriana San Juan, who cut her teeth as an assistant on Gossip Girl (another series known for foisting a rich vocabulary of look after look upon its viewers) has worked on the show throughout, having collaborated with Luhrmann's wife Catherine Martin on episode one, and taken the reins from there. We caught up with her about pleasing sneaker heads, consulting with Grandmaster Flash, and the small army it takes to dress a disco full of extras.
Though part two is part of the same season as part one, the two feel distinct from one another. How was your experience, progressing into the second half?
Basically, moving into the second half of the series was a bit of a challenge because we were really trying to grow the story lines of the different characters, and really trying to tell a larger story of how they were developing. There's a bit of a time jump between part one and two, and that time jump allowed us to show a visual change, in how they were dressing, what they looked like, and how they each grew from 1977 to 1978. That allowed me to really tell a story of a fashion transition and a modernization of the clothes. Basically it was a very significant change in fashion from 1977 to 1978, so it was a secondary story to tell.
For the first half of the season, you pulled everything together in three months. What was your timing like for part two?
I don't even remember the timeline because it's all a blur, in retrospect! It was fast and furious. Designing for television is very different than designing for film. For television, it's a bit of a runaway train, because as you're designing one story, you start working on the second. You're essentially designing thirteen one-hour movies, back to back. It takes a large team to do the endeavor, and the show is told so visually, and the elements are so important, it was no easy task, that's for sure.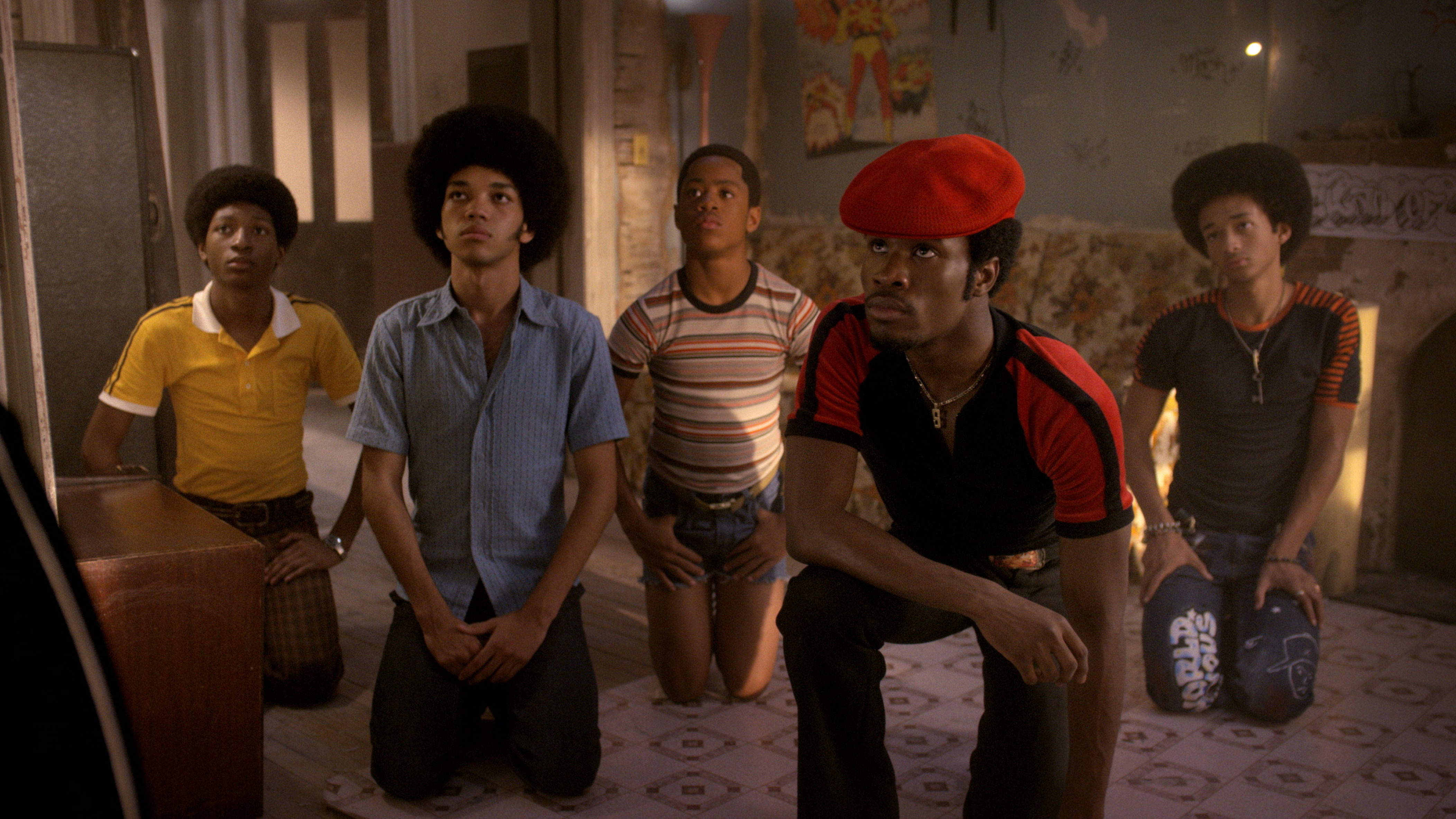 Can you tell us about working with Grandmaster Flash?
You're talking about research. Having Grandmaster Flash as an ally was the greatest form of research. I was able to call him at any point and ask him directly about a brand of jean, a hemline, a type of pant. And he'd really be able to tell me firsthand if it was cool or not, if it was the type of knit shirt a kid that age would have worn. Hip hop was all about inventing this style that brought this art form to a new level. It was all resourced from things that were out there in the marketplace. It was a specific difference whether you had Lee or Levi's jeans [for instance]. He was able to guide me through what labels were cool and what weren't.
It was a pretty amazing friendship to have built through the series. He had a great part in it, walking through the racks and making sure what I was doing was authentically serious.
What about the club scenes? That point in time in New York is legendary. Did you consult with anyone in drag?
There were actually a good amount of dancers [on the show] who are actually voguers in the voguing community who talked to me. I talked to each one about their style and designed them a costume based on that. I just amped up the volume of what they do. A lot of that scene, that episode, was a huge endeavor. There were 150 extras and each one was dressed to the nines. Each costume I pulled together based on research. Every time I see something I love, [I save it]. I've been gathering this research since I was 10 years old. I keep files on a skirt I love, a pattern I love, silhouettes that inspire me. I dug through those files and included new research from voguers from the 60s, 70s, and 80s, and built on the research. I would find something like a gold dress and build a new sleeve for it. I would just find a person who would fit the idea and build a new costume for them.
Speaking of building, how do you balance custom-made versus sourced clothes?
My motive is always to get the most spectacular costume. It's never really a matter to me, how I get there, it's what I need to get to. It depends on time limitations. If I don't have much time, I'll have to source something that's store bought and manipulate it a bit. For jumping ahead to a scene that was unscheduled or something, I'll have to be resourceful and find a good blouse, for Yolanda, for example, and recut a new collar for it so it looks more 70s. However, in building our story, its period costume. 1970's clothes haven't necessarily held up that well, especially some of the sportswear. I found myself needing to make a majority of the costumes in order to get a vibrant, graphic look to the clothes, which is what Baz really wanted. In order to to do that, I found myself having to make a majority of the costumes from scratch.
To accomplish that, what high fashion and mainstream archives did you work with? Anything new for part two?
In part two, the characters really start to acquire more resources in order to achieve their look. It allowed me to move from research and resources that were a little more ready-to-wear to things that were more heightened, custom-made, designer. I was very lucky to work with Halston, who lent me pieces from the archive, and Diane von Furstenberg, who opened her archive for the show. There were many sneaker brands that were very friendly to the series. All the sneakers are authentic styles and colors to the period. We worked with Puma, Converse, and Pro-Keds to make sure we were being authentic. There were other companies, like Kangol, that were really excited to work with the series and loaned us the exact hat that Grandmaster Flash used to wear, things like that.
How big is your team? You've got scenes with dozens of extras in them, all dressed to the nines.
It takes an army to dress that many extras. My team really consists of people who help on the design side of things, and then there's another team that helps dress and prepare costumes for the actors. It takes a village. It was incredible what we were able to pull off. At the end of the day when I see it on screen it creates magic. The clothes are big part of telling that story.
A big thing I always tell people is that hip hop consists of the elements of breakdancing, graffiti art, and of course, the music. But another important element is the style. It's now a multi-billion dollar industry, but it started with kids who wanted to elevate how they represented themselves to the world, and wanted to equate themselves to kings, wearing their hats to the side, dressed in bright colors. All that started with kids who really knew how to style clothes a certain way. It was a good time to be candid. I worked really hard to [represent] it in the best way, with the most honor.