Hellboy's Illustrated Poster for New York Comic Con is Glorious
Hellboy made a big, red firey splash at this year's New York Comic Con. While the demon with the heart of gold was up against major franchises and fan favorites, including that 5-minute Aquaman trailer and the new footage from the upcoming X-Men epic Dark Phoenix, David Harbour's turn as the newest member of the B.P.R.D. (Bureau of Paranormal Research and Defense) was a hit. Fans got to see the first footage from Neil Marshall's reboot, which gave us a younger-seeming Hellboy with a touch more pep in his step than the iconic turn by Ron Perlman in Guillermo del Toro's two Hellboy films. Lionsgate also shared an illustrated Hellboy poster, which gives us a look at not only the big galoot but the supporting players in the film. This includes fellow B.P.R.D. members Alice Monaghan (Sasha Lane) and Ben Daimio (Daniel Dae Kim), the film's villain Nimue the Blood Queen (Milla Jovovich), Professor Bruttenholm (Ian McShane) and enough monsters to keep Hellboy and his partners busy for the foreseeable future.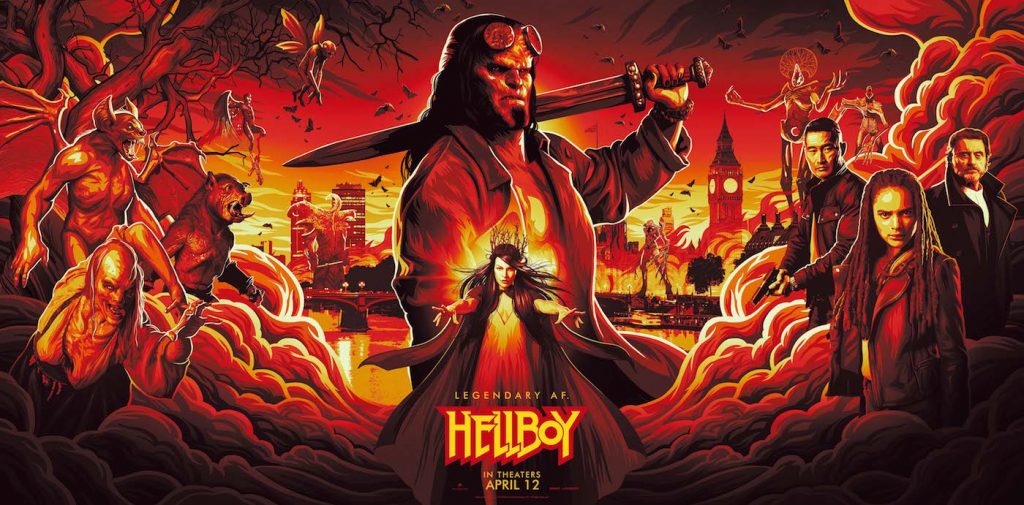 Hellboy creator Mike Mignola was all over NYCC this year, sitting down to speak with us (alongside The Passage author Justin Cronin and Outlander author Diana Gabaldon), as well as with his star David Harbour, co-stars Sasha Lane and Daniel Dae Kim, and a video appearance from Milla Jovovich. During that panel, the creator and stars confirmed that this Hellboy will depart from the Guillermo del Toro and Ron Perlman version in tone and tenor. Harbour explained that their film will be closer to Mignola's more horror-focused comics than the more fantasy-leaning Hellboy films of the past:
"And I want to get to the score of Mike's stuff, which is horror in a certain way, even existential horror. To me, it has more of a Mignola feel than a Guillermo del Toro feel. And both are great, but this is what me and Neil wanted to do."
Like the sizzle reel itself, this illustrated poster highlights Hellboy's horror bonafides, yet from what we saw, you can also count on the humor and hi-jinx from the first two films to carry over into the reboot. Hellboy likes to have fun as he kicks paranormal butt, regardless of whether the tone is more terror than fantasy.
Hellboy blazes into theaters on April 12, 2019.
Featured image: Hellboy's Illustrated poster for New York Comic Con. Courtesy Lionsgate.