The First Hellboy Teaser Slays the Crowd at New York Comic Con
The first glimpse of David Harbour as Hellboy brought out the happy demons in a packed crowd at New York Comic Con. We got our very first glimpse of the new iteration of the big red guy during a panel with Hellboy creator Mike Mignola, star David Harbour, co-stars Sasha Lane and Daniel Dae Kim, and a video appearance from Milla Jovovich. The two-minute sizzle reel absolutely slew the crowd, which appreciated the fact that the footage wasn't being released online—it gave the mini screening an air of exclusivity.
The reaction must have been a Hellboy-sized relief to Harbour, Mignola and the rest of the creative team who are rebooting a character made famous (on the big screen, anyway) by writer/director Guillermo del Toro and star Ron Perlman. Marshall and Harbour's Hellboy seems a touch younger and more firey than Perlman's more stoic, gruff, grizzled version, but Hellboy is Hellboy, which means he's a wise-cracking, butt-kicking force of demonic nature who luckily is on the good guy's side.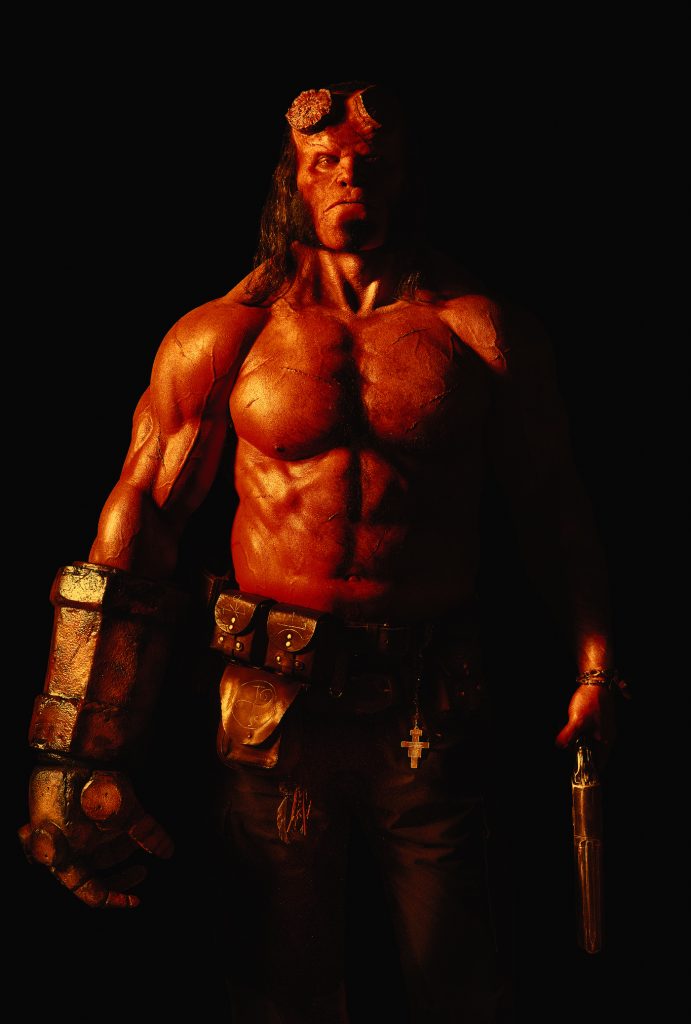 The footage opened with a shot of Hellboy walking towards Excalibur in a dark cavern (a significant part of the storyline). We see him have a pointed interaction with a cop after the cop has accidentally shot him, although Hellboy is a new member of the B.P.R.D. (Bureau for Paranormal Research and Defense), joining Alice Monaghan (Sasha Lane) and Ben Daimio (Daniel Dae Kim). While we don't yet know what Hellboy will be rated, this sizzle reel was plenty bloody, with Hellboy not only taking out some bad guys with his shotgun but also eating the shotgun shells. We also got a peek at Milla Jovovich's Nimue the Blood Queen (sporting a nice, nasty set of black branches as a crown) in what will likely be the film's major struggle between good and evil.
The teaser ended with Hellboy rising from a burning hole in the ground with the flaming sword we see in the film's official poster, a crown of fire on his head. The crowd went nuts.
The panel confirmed that this Hellboy will depart from the Guillermo del Toro and Ron Perlman version in tone and tenor. Harbour explained that their film will be closer to Mignola's more horror-focused comics than the more fantasy-leaning Hellboy films of the past:
"And I want to get to the score of Mike's stuff, which is horror in a certain way, even existential horror. To me, it has more of a Mignola feel than a Guillermo del Toro feel. And both are great, but this is what me and Neil wanted to do."
As for stepping into Perlman's large shoes in a role he made famous, Harbour admitted he was nervous, but also ready to take the role in his own direction:
"Even approaching the character I was nervous because Ron's iconic and he's a great Hellboy. So I was like, I'm not going to imitate that. I'm going to do my own thing because I do not do what he does. My approach was a little bit more down and dirty. My Hellboy feels a little younger. He's got hair, which is a big thing. He's got a lot more inner turmoil, he's a little more lost in the universe. He's got more what I bring."
From what we saw of the crowd reaction, Harbour's Hellboy already feels like a part of the family.
Hellboy blazes into theaters on April 12, 2019.
Featured image: Hellboy poster. Courtesy Lionsgate.