Seeing Double: Meet Jumanji's Real Ruby Roundhouse—Stunt Performer Jahnel Curfman
The second Jumanji: Welcome to the Jungle trailer dropped around a month ago, showcasing an action-packed sequel to the beloved 1995 original. From what we can tell, audiences can expect crazy chases, fight scenes, and impressive visual effects. Jumanji: Welcome to the Jungle sees four teenagers discover an old video game console (much like how the kids in the original found an old board game) and are literally drawn into the game's jungle setting becoming the adult avatars they choose.The use of video game avatar characters amplifies the intensity of the action this time around, giving this Jumanji a lot of room to put these characters through their paces in increasingly dangerous ways. One avatar that grabbed our attention is Ruby Roundhouse. With a name like that, you know she's got some seriously impressive fighting skills, and played by Guardians of the Galaxy's Karen Gillan, who in that franchise embodies the lethal android Nebula, you can bet Ruby Roundhouse is going to give Dwayne Johnson's Dr. Smolder Bravestone (yup, that's his name) a run for his money for this film's fiercest character. Yet it's not just Karen Gillan who imbues Ruby with her trademark roundhouse and other skills, it's her stunt double, Jahnel Curfman, who was very much in on the action has some stories to share.
We spoke with Curfman about what makes this Jumanji so special, her favorite stunt performances, and what it was like working with Karen Gillan.
Jumanji is without a doubt a classic story and an incredible film, this remake has all audiences excited. What makes this version of the story different from the famous 1990s creation?
This reboot of Jumanji is different in that the characters go into the world of Jumanji as a video game rather than a board game. Also, computer graphics and visual effects have come a long way since the original film was released, which allows the world of Jumanji to be much more fantastical in this version.
Without giving away any major spoilers, what has been the most exciting thing about working on this film?
The most exciting thing was a scene we shot on The Big Island in Hawaii, involving a 120 ft. waterfall. I can't give away too many details, but it was a lot of fun and beautiful location to shoot in.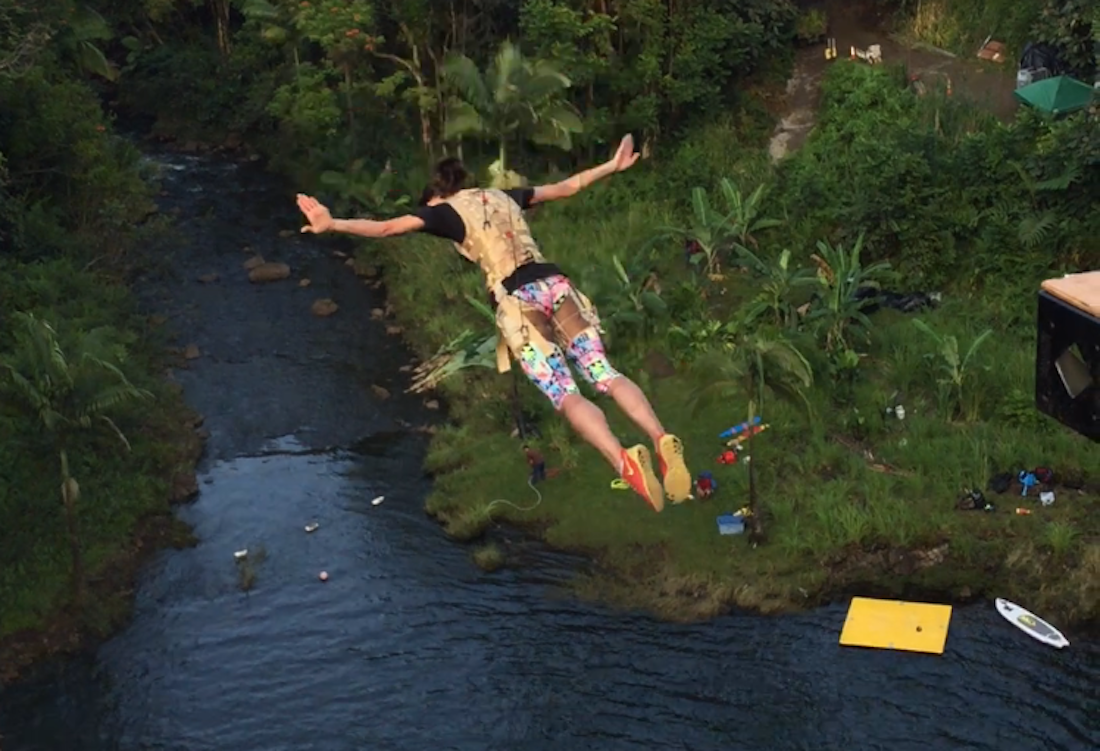 Another day at the office for Curfman. Courtesy Jahnel Curfman/Sony Pictures
The cast for this film is pretty impressive. Any favorites you had the chance to work with?
Karen Gillan, the actress I was doubling, was an absolute dream to work with. She is such a hard worker and really pushed herself physically to make Martha (her character) a complete bad ass. She really held her own with the boys.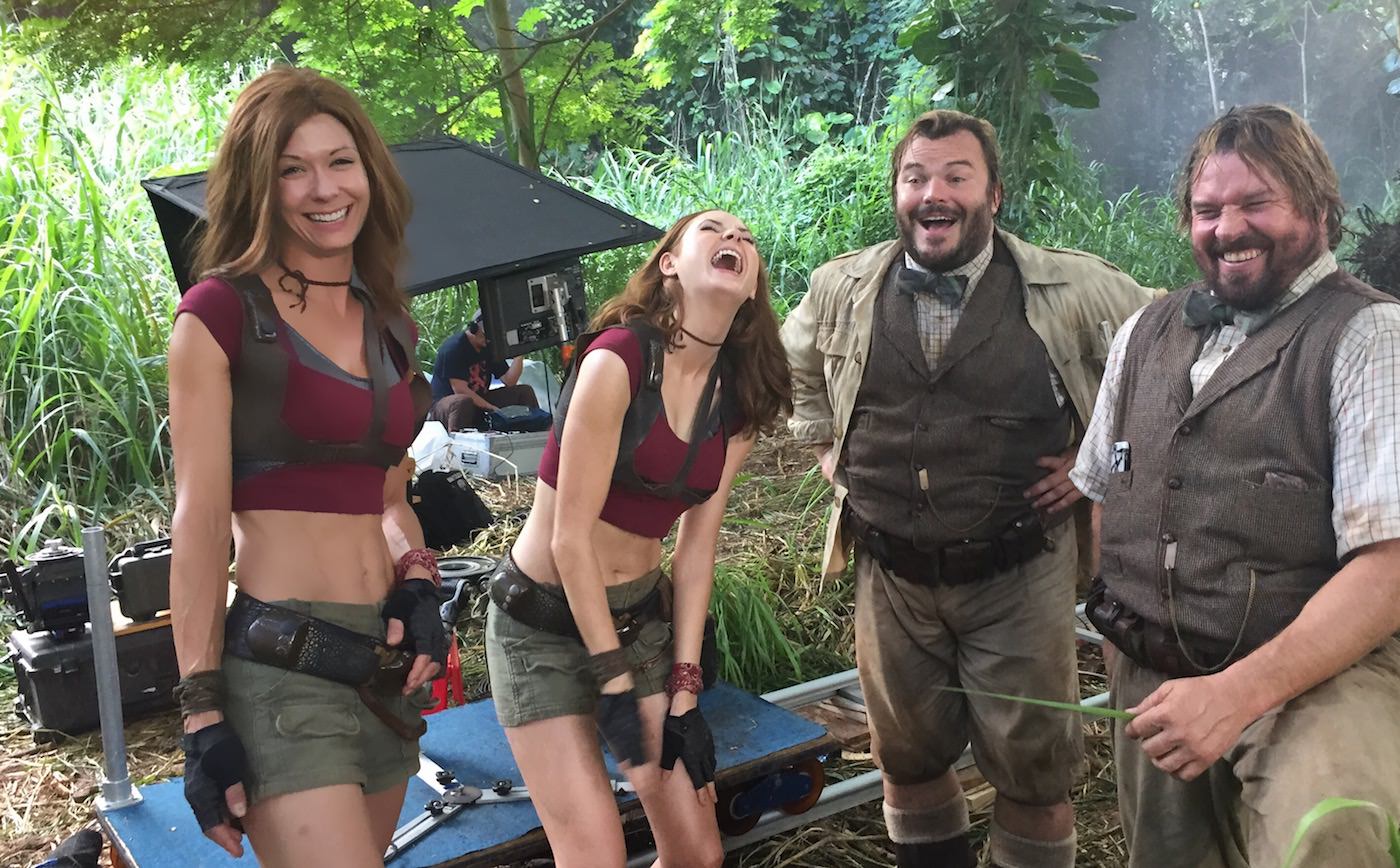 L-r: Curfman, Karen Gillan, Jack Black and his stunt double, Jimmy Waitman Courtesy Sony Pictures.
Complete bad ass – it takes one to know one! Your career as a stunt woman is pretty cool and I'm sure you've done many incredible stunts – what was your favorite thus far?
My favorite stunt that I've done so far was when I was doubling Angie Harmon on Rizzoli and Isles. We did a jump off of a bridge in San Pedro harbor into the water. It was one of the bigger stunts we did on that show. I had never done a jump that high before so, I spent a month training with an incredible team.
How do you train and stay in shape for all this taxing work?
As a stunt woman, training is an ongoing thing. I train martial arts a few times a week and also do a lot of yoga and strength training. When I'm working on a film, I don't workout. Our work is so physically demanding that rest becomes really important, as well as, massage and stretching.
How did you train specifically for the stunt work in Jumanji?
For the sequences in Jumanji, we did a lot of wire work and fight choreography. We also did a lot of running from the bad guys. My background in dance, gymnastics, and martial arts was my biggest asset when we were shooting.
What made you want to become a stunt performer?
I was dancing professionally in Los Angeles, when I got the opportunity to audition for Avatar. I worked on the film as a motion capture performer, which was extremely physical. We worked closely with the stunt team and that was my first introduction to the world of stunts. I knew right away that it was something that I wanted to pursue.
Catch Jahnel, doubling as Ruby Roundhouse, in Jumanji this December 20!
Featured image: Jahenl Curfman, Kevin Hart's stunt double Samuel J. Paul, Jack Black's stunt double Jimmy Waitman, and the Rock's stunt double Tanoia Reed. Courtesy Sony Pictures.