The Full "Obi-Wan Kenobi" Cast Revealed
The full cast of Disney+'s upcoming Obi-Wan Kenobi has been revealed, and it boasts some well-known stars and some up-and-coming talent. The long-gestating series is really ramping up, which will catch up with the Jedi master 10 years after he bested Annakin Skywalker in a lightsaber duel in Star Wars: Revenge of the Sith. 
We've known for a while now that Hayden Christensen would be reprising his role of Annakin Skywalker, who ultimately became Darth Vader at the very end of Revenge of the Sith. We also recently learned that Game of Thrones alum Indira Varma had joined the cast. Now, Disney has revealed the impressive list of performers who will populate the series, including a few more faces from the prequels—Joel Edgerton and Bonnie Piesse, returning as Uncle Owen and Aunt Beru, respectively. Newcomers to the Star Wars world include Kumail Nanjiani, Moses Ingram, O'Shea Jackson Jr., Rupert Friend, Simone Kessell, Sung Kang, and Benny Safdie (of the Safdie Brothers, the filmmaking duo behind Uncut Gems).
Deborah Chow is directing Obi-Wan Kenobi, coming off her work directing two episodes of Disney+'s critical and commercial hit The Mandalorian. Chow directs from Joby Harold's scripts. The series is due to begin filming in April.
Disney shared the below image, celebrating what's a very exciting cast announcement.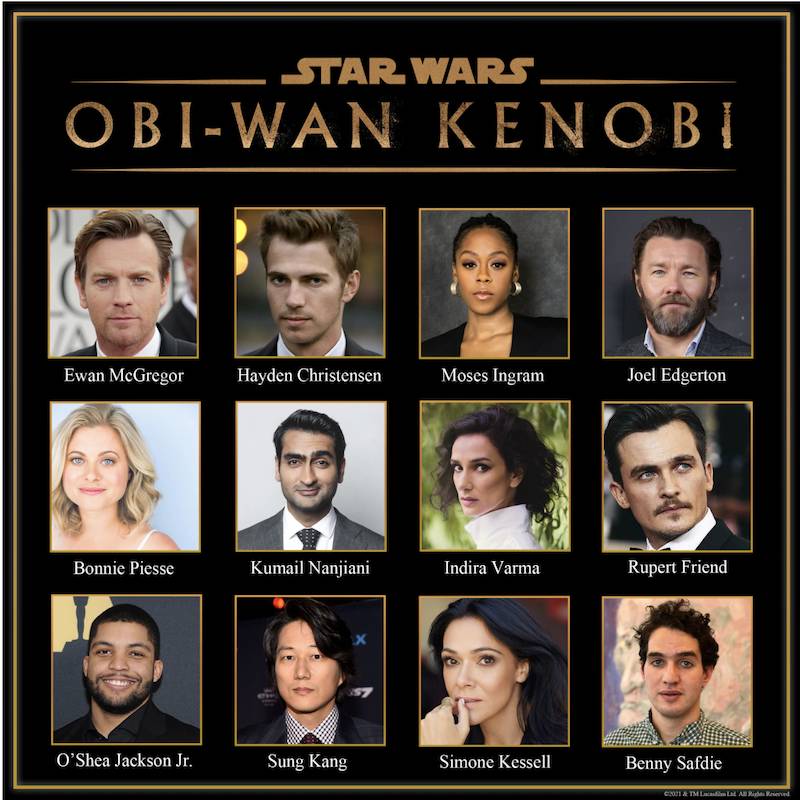 For more stories on what's streaming or coming to Disney+, check these out:
"Black Widow" Will Premiere in Theaters & on Disney+ Premiere Access Simultaneously
Watch Oscar Isaac's Stunt Training For Marvel's "Moon Knight" Series
An Update on How "Black Widow" Will Be Released
Here's When "The Falcon and the Winter Soldier" is Set
Tracking Falcon Throughout the Marvel Cinematic Universe
"WandaVision" Finale Caps Marvel's Remarkable First Disney+ Series
Anthony Mackie is Ready to Soar in "The Falcon and the Winter Soldier"
"Game of Thrones" Actress Indira Varma Joins "Obi-Wan Kenobi" Disney+ Series
Featured image: TOKYO, JAPAN – SEPTEMBER 05: Ewan McGregor attends the premiere of 'Christopher Robin' on September 5, 2018 in Tokyo, Japan. (Photo by Keith Tsuji/Getty Images for Disney)