Here's When "The Falcon and the Winter Soldier" is Set
We know that the Sam Wilson/Falcon (Anthony Mackie) and Bucky Barnes/the Winter Soldier (Sebastian Stan) haven't always gotten along (they were straight-up enemies in Captain America: The Winter Soldier), but when they team up for Marvel's The Falcon and the Winter Soldier, their partnership will be taking place at a time when the world will really need them to put past differences aside. Granted, Sam and Bucky have been on the same side since Captain America: Civil War, but they've always had Captain America (Chris Evans) as their common and trusted link. This won't be the case when the series starts, of course. Cap was an old man by the time Avengers: Endgame finished, having handed over the shield to Sam. And while we always knew The Falcon and the Winter Soldier would be set after Endgame, we finally know just when—roughly six months after Iron Man (Robert Downey Jr.), Cap, and the rest defeated Thanos and brought back everyone he snapped out of existence.
The specificity of six months is important. When director Kari Skogland spoke with Collider, she said, "Everything narratively was informed by that event for us. It meant that we're just past the shock of it. We're just past the joy of it — because we're imagining that there would be a lot of joy, in people returning. Now we're into the reality of it, which is complicated." It's an intriguing premise, setting the series essentially during a global hangover, after celebrating the return of loved ones must turn into figuring out how to piece the world back together. It's also a very weird time for the MCU writ large—Iron Man and Cap and Black Widow and Vision are all gone (despite the upcoming Black Widow and the recently concluded WandaVision), and The Falcon and the Winter Soldier will give us our first proper glimpse at what the MCU will look like going forward.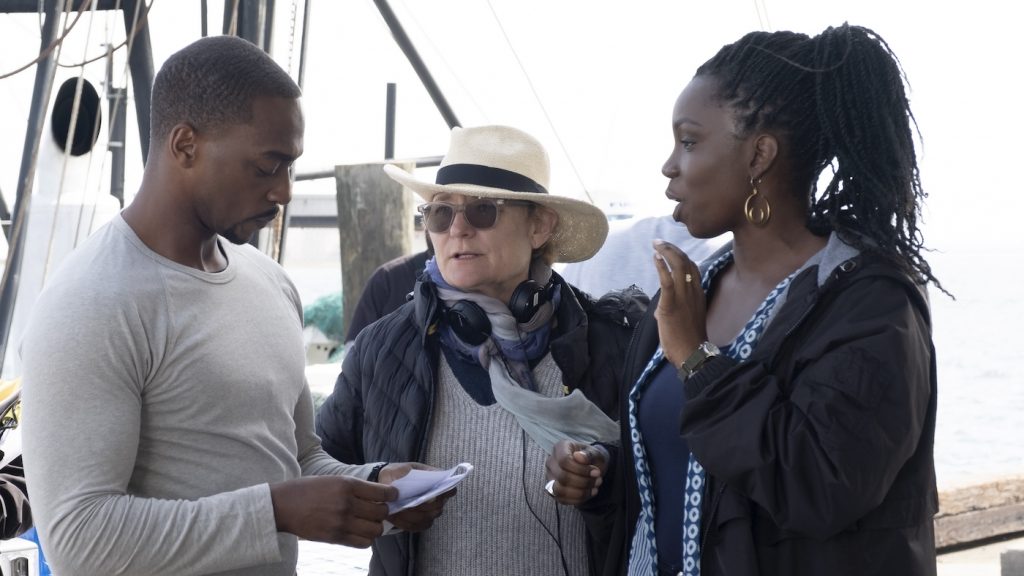 How complicated is the world in which Sam and Bucky are trying to operate in and protect? Arguably even more complicated than when half the population had been erased. Here's Skogland to Collider on some of their challenges: "With half the population Blipped away, you've got different economic circumstances, different border circumstances. Different countries were cooperative, that weren't before. Neighbors are cooperating, who weren't necessarily getting along before. People moved into houses that they didn't own before. Everything changed. Now we're into that moment. We're past the surprise of it and now we're into the realities of it. I think that makes for a very different place in the story, because we can get not only grounded about it, but we can drill into how people respond to that. Some of it's good and some of it's not so good."
This is potent territory for the series to explore. It also helps explain why The Falcon and the Winter Soldier consists of hour-long, action-packed episodes—there's going to be a lot for our begrudging partners to take on. We don't have to wait long to see how these two capable, if very different, heroes face the challenge–The Falcon and the Winter Soldier premieres on Disney+ on march 19.
And in case you missed it, here's the final trailer.
For more stories on what's streaming or coming to Disney+, check these out:
Tracking Falcon Throughout the Marvel Cinematic Universe
"WandaVision" Finale Caps Marvel's Remarkable First Disney+ Series
Anthony Mackie is Ready to Soar in "The Falcon and the Winter Soldier"
"Game of Thrones" Actress Indira Varma Joins "Obi-Wan Kenobi" Disney+ Series
New "The Falcon and the Winter Soldier" Teaser & Images Hype Marvel's Next Series
Featured image: Anthony Mackie and Sebastian Stan in "The Falcon and The Winter Soldier." Courtesy Marvel Studios