"Black Widow" Will Premiere in Theaters & on Disney+ Premiere Access Simultaneously
We now have a clear picture of how Disney will be approaching their release schedule this year. The headline news is that Disney has decided to release Marvel Studios hotly anticipated Black Widow in theaters and on Disney+ Premiere Access simultaneously. If you opt to watch director Cate Shortland's film about Scarlett Johansson's super-spy and former Avenger Natasha Romanoff at home, you'll have to part with $30 to do so, the same price point for its recent releases Mulan and Raya and the Last Dragon. Black Widow is now premiering on July 9, a two-month delay from its previous May 7 release date.
Disney is also taking the same approach to their live-action film Cruella, starring Emma Stone in an origin story about the 101 Dalmations villain, from director Craig Gillespie. Cruella will now bow in theaters and on Disney+ Premiere Access on May 28. Meanwhile, Pixar's upcoming film Luca will forgo a theatrical release entirely and land on Disney+ on June 18.
If it hadn't already been clear by Disney's ever-growing slate of offerings on Disney+, the studio is firmly committed to growing its streaming and premium VOD business.
"Today's announcement reflects our focus on providing consumer choice and serving the evolving preferences of audiences," said Kareem Daniel, Disney Media & Entertainment Distribution Chairman in a statement. "By leveraging a flexible distribution strategy in a dynamic marketplace that is beginning to recover from the global pandemic, we will continue to employ the best options to deliver The Walt Disney Company's unparalleled storytelling to fans and families around the world."
Disney also revealed that director Destin Daniel Cretton's upcoming Marvel film Shang-Chi and the Legend of the Ten Rings will now be opening on September 3 (moved back from its previous July 9 date). More moves revealed include Ryan Reynolds' Free Guy (moved back to August 13), Matthew Vaughn's The King's Man (moved back to December 22), and Kenneth Branagh's Death on the Nile (moved back to February 11, 2022).
Black Widow will bow at a time when just about every American who wanted the vaccine will have already gotten their shot, and there's good reason to imagine a scenario where folks flood to the theaters to see it. While Marvel's series releases on Disney+, WandaVision and The Falcon and the Winter Soldier, have been qualified successes, there's still no better place to see a Marvel movie than the theater. Now that we're blissfully approaching the moment where it will be entirely safe to return to theaters, Black Widow could be landing at the perfect moment to celebrate that fact.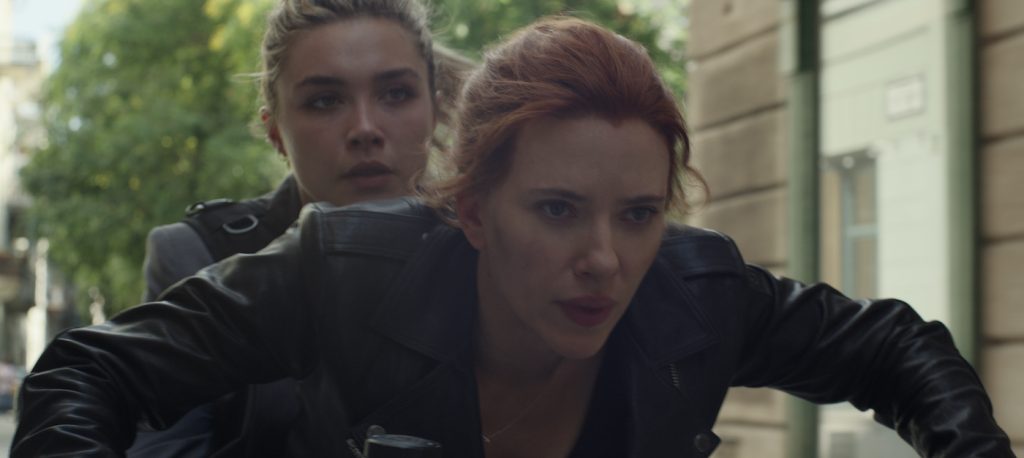 For more stories on what's streaming or coming to Disney+, check these out:
Watch Oscar Isaac's Stunt Training For Marvel's "Moon Knight" Series
An Update on How "Black Widow" Will Be Released
Here's When "The Falcon and the Winter Soldier" is Set
Tracking Falcon Throughout the Marvel Cinematic Universe
"WandaVision" Finale Caps Marvel's Remarkable First Disney+ Series
Anthony Mackie is Ready to Soar in "The Falcon and the Winter Soldier"
Featured image: Scarlett Johansson as Black Widow/Natasha Romanoff and Florence Pugh as Yelena in Marvel Studios' BLACK WIDOW. Photo by Jay Maidment. ©Marvel Studios 2020. All Rights Reserved.