An Update on How "Black Widow" Will Be Released
So the good news is, we are going to see director Cate Shortland's Black Widow, almost certainly in theaters, this year. Let's just take a moment to appreciate this fact. As with all the major, would-be 2020 releases, Black Widow underwent several delays due to Covid-19 and was eventually moved entirely to 2021. As of today, it's slated for a May 7 release.
The question has been exactly how Disney will release Black Widow. Will they follow the pattern they laid out for Soul, Mulan, and Raya and the Last Dragon and release the film on Disney+? Thus far, it looks as if Disney is committed to giving Scarlett Johansson's return an exclusive theatrical run—but this could change.
In an interview with CNBC, Disney CEO Bob Chapek said that Black Widow's release plans will likely be decided at the "last minute," along with the rest of Disney's upcoming film slate. Chapek and the rest of the studios are looking at an ever-evolving situation with movie theaters, one that is, blissfully, trending positive. "Our situation and our conditions change," Chapek told CNBC. "Just a few weeks ago, theaters in New York and Los Angeles weren't even open. Now, all of a sudden they're open, so we're waiting to see how prospective theatergoers respond to these reopenings. We're going to remain flexible. We'll make the call probably at the last minute in terms of how these films come to market, whether it's Black Widow or any other title."
Disney released Soul only on Disney+, while both Mulan and Raya and the Last Dragon received simultaneous releases in theaters and on Disney+ Premier Access. A third option would be a short theatrical release, followed by a much quicker streaming release. Whichever way Disney chooses to go—and it seems highly unlikely Black Widow won't get some kind of theatrical run—the good news in general is we'll finally get to see Johansson, Florence Pugh, Rachel Weisz, and David Harbour in action.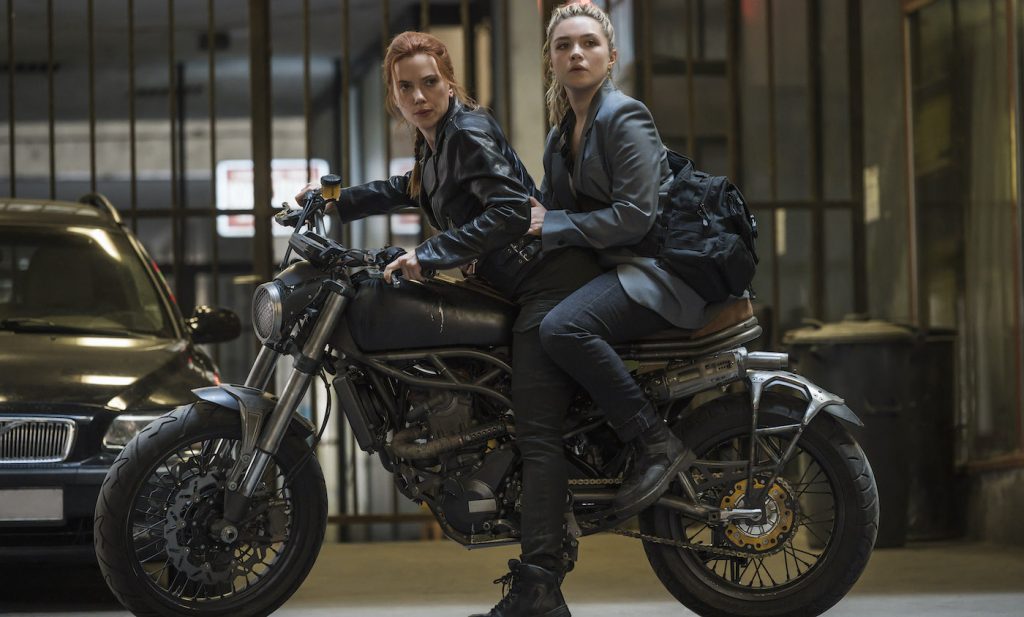 For more on Marvel and the MCU, check out these stories:
Here's When "The Falcon and the Winter Soldier" is Set
Tracking Falcon Throughout the Marvel Cinematic Universe
"WandaVision" Finale Caps Marvel's Remarkable First Disney+ Series
Anthony Mackie is Ready to Soar in "The Falcon and the Winter Soldier"
Your Official "Spider-Man 3" Title is Here
First "Spider-Man 3" Images Revealed—Along With Absurd Titles
Benedict Cumberbatch's Doctor Strange Joining "Spider-Man" 3
Featured image: Scarlett Johansson as Black Widow/Natasha Romanoff and Florence Pugh as Yelena in Marvel Studios' BLACK WIDOW. Photo by Jay Maidment. ©Marvel Studios 2020. All Rights Reserved.