Costume Designer Trish Summerville on Diving Into Hollywood's Past in "Mank"
David Fincher's black and white epic, Mank, revisits the storied Hollywood era of the late 1930s when Orson Welles was writing what would go down in history as one of the best films of all time, Citizen Kane. But did he write it alone or with the help of Herman Mankiewicz, a once sought after screenwriter fallen prey to twin drinking and gambling problems? In Fincher's version of events, based on a screenplay by his father, Jack Fincher, Mank the man (Gary Oldman) may have burned through the industry's goodwill, but he was indubitably a co-writer on the film. However, the question isn't central to Mank the movie.
Instead, the film's focus is a gloves-off look at the gilded lives of Depression-era honchos Louis B. Mayer (Arliss Howard), William Randolph Hearst (Charles Dance), and Irving Thalberg (Ferdinand Kingsley), and the effect their political meddling and pay machinations have on the vast army of writers, grips, costume designers, and makeup artists who work beneath them. For Mank costume designer Trish Summerville (Red Sparrow, The Girl With the Dragon Tattoo), "one of the things I really enjoyed about the film was that we got to dress every walk of life of the 30s and 40s." Though much of the film is set in an out-of-the-way house where Mank has been set up to heal from an injury and dry out, and spends most of his time in bed in a robe, Summerville's work spans ample plebeian daywear to Marion Davies's (Amanda Seyfried) furs (a high-end faux fur hand-painted to mimic silver mink) and gowns and the sharply tailored suits favored by Los Angeles power brokers of the day.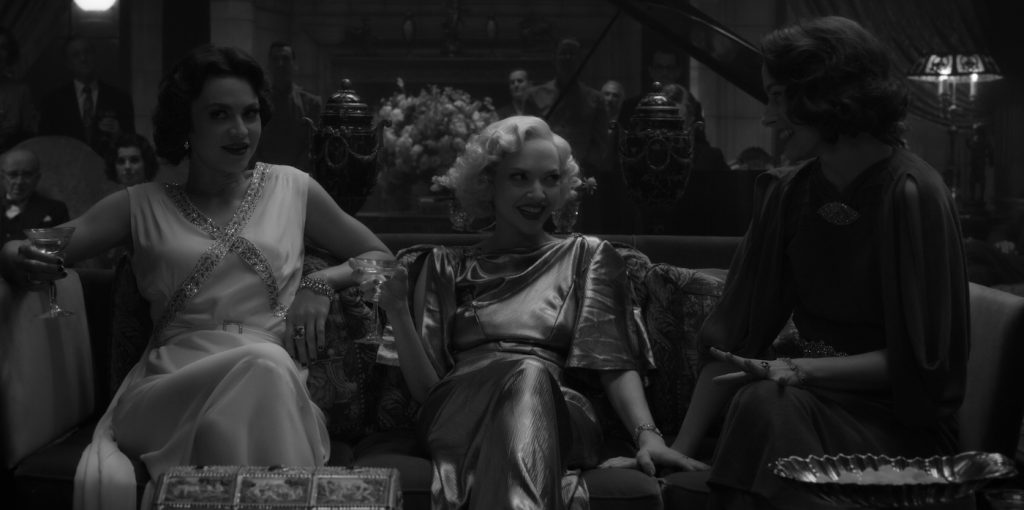 Given the time period, Summerville and her team built rather than bought a slew of the costumes destined for characters at both ends of the socioeconomic spectrum. "A lot of times with period, it's hard to find background things that are in good condition and that are the color palette that we needed," she said. In addition to the grand glamor of a circus-themed costumed dinner party at the Hearst estate, Summerville designed size runs for more modest garb, including four or five women's skirts styles and blouses as well as men's trousers and dress shirts, the collars of which tend to wear out quickly. She was also selective about period headgear, particularly given that "there are a lot of comical, outlandish hats that women of that time would wear." Avoiding what she jokingly referred to as an "elf hat" style of the era, Summerville worked closely with the hair team to get the film's headgear to fit properly over wigs without casting shadows on the actors' faces.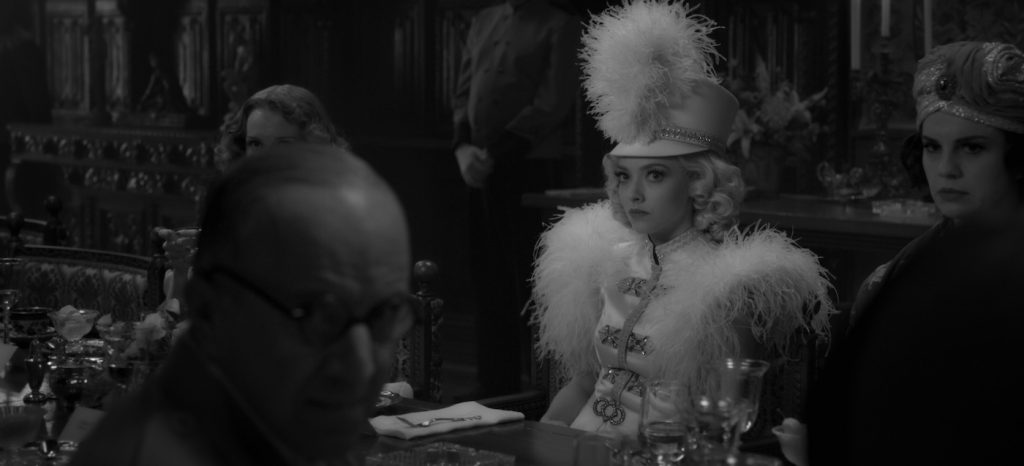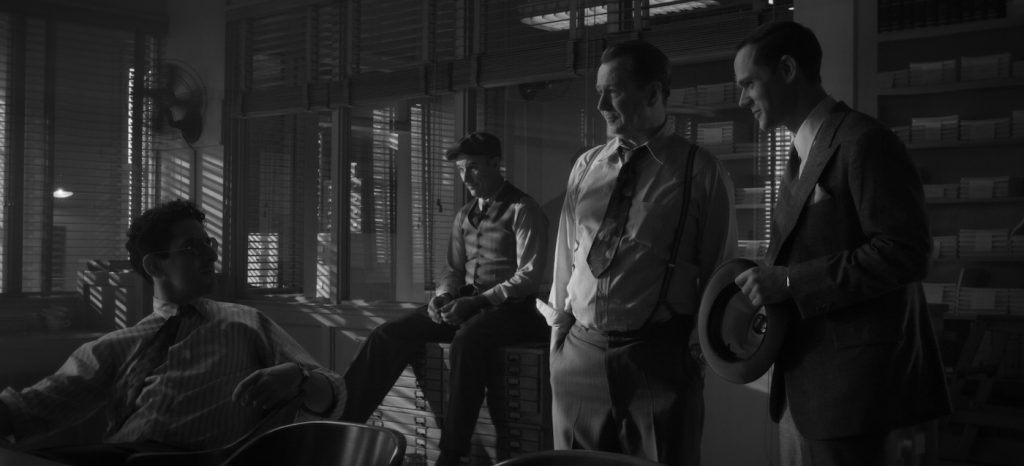 What Summerville's team was able to buy or rent came from a vast array of vendors. "At the time we were doing Mank, there were about nine or ten other productions that were also doing from the 30s to 40s," she said, and a network of costume designers helped each other out, connecting one other with collectors and reproduction specialists. "You end up in the craziest of places because people are also driving from wherever they are to meet you somewhere," said Summerville. "At one point my assistant and I would laugh because we ended up in the back of a U-Haul looking at clothes, we were in storage lockers, one day I was like, I'm going to drop a pin because where we're going, no one may ever find us if this isn't a real vendor."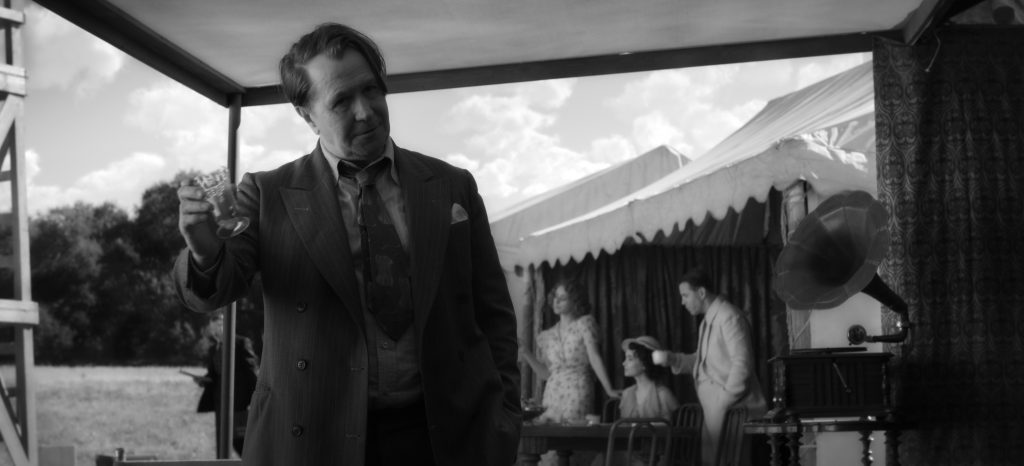 Mank was the first project Summerville worked at length in black and white, and she prepped by designing a color scheme over three different black and white settings on her phone. The palette was key not just in terms of translating well on screen into a range of grays, blacks, and whites that were neither dingy not screamingly bright, but needed to function in a way "that's pleasing and that works to keep everyone in character during shooting," she noted. "Even though we're going to be in black and white, what colors do we want to see with our eyes on set every day? I tended to go to a lot of jewel tones, then took those colors and did pastels and muted versions of those."
On screen, a laid-up Mank meets with Orson Welles (Tom Burke) in the film's present, but in flashbacks we witness him crash and ruin a Hearst estate dinner party, fight the studio cronyism that destroyed Upton Sinclair's (Bill Nye) burgeoning political career, and enjoy a few heart-to-hearts, unexpectedly thoughtful on both sides, with Marion Davies. Though Summerville rewatched Citizen Kane before diving in, the only aspect of the film she referenced was its backstage, drawing from photos of Orson Welles on the film's set. Otherwise, the designer turned to historical resources through the Film Academy in Los Angeles, work by photographers like Hedda Harper, and "even with Mank, there's quite a lot with him on set, there are family photos, I found Bar Mitzvah photos, photos of his kids, there was a lot of daily life photos of him as well." And of course, there is a slew of books afforded by the fame of Mank's main characters. "What was nice was that each of the actors who would come in, if there was a book about their character, they were also reading it," Summerville added.
Finally, the balance of designing in present-day Hollywood for a new take on its well-documented past all came together working with director Fincher, an icon in his own right. "He's already seen the whole film in his head completed start to finish," said Summerville. "So when he's explaining what he wants to you, he's thought about it for so long his comments are very, very clear, and then he just lets you run with that."
Mank is streaming now on Netflix.
For more interviews about Netflix films and series, check these out:
Vanessa Kirby & Ellen Burstyn on Their Poignant New Film "Pieces of a Woman"
Screenwriter Kata Wéber on Grief and Healing in "Pieces of a Woman"
Producer Monica Levinson on "Borat 2" & "The Trial of the Chicago 7"
Translating the Untranslatable: The Impossible Art of Subtitling "Taco Chronicles"
Showrunner Chris Van Dusen on Creating a Modern Regency Romance in "Bridgerton"
David Oyelowo & Demián Bichir on George Clooney's Timely Sci-Fi Film "Midnight Sky"
Production Designer Mark Ricker on Creating the Sumptuous "Ma Rainey's Black Bottom"
Branford Marsalis Gets the Blues For "Ma Rainey's Black Bottom"
Featured image: MANK (2020) Amanda Seyfried as Marion Davies and Gary Oldman as Herman Mankiewicz. Courtesy NETFLIX.