Producer Monica Levinson on "Borat 2" & "The Trial of the Chicago 7"
Producer Monica Levinson might have been able to call 2020 a banner year were not for the fact such a sentiment would be in poor taste considering how atrocious 2020 was. Yet two of her films factored into the larger conversations we were having in ways that would have been unthinkable at the start of the year.
One of those films was Aaron Sorkin's The Trial of the Chicago 7, which premiered on Netflix in mid-October. The film, which is focused on the titular trial of 7 people stemming from charges around the protests at the 1968 Democratic National Convention in Chicago, revealed a country riven by political turmoil, paranoia, police brutality, and government overreach, all unfolding during a presidential election. Sound familiar? Sorkin's long-simmering project (once intended to be a Steven Spielberg movie) came out in the middle of a year that managed to outstrip 1968 in just about every awful way. Sorkin shows us, among other disturbing echoes of 2020, the grotesque brutality of the Chicago Police descending on the protestors, and Judge Julius Hoffman (Frank Langella) literally gagging a black defendant, the Black Panther Bobby Seale (Yahya Abdul-Mateen II).
Levinson's second movie was Borat Subsequent Moviefilm, which miraculously made its release date despite filming much of its (oft dangerous) footage during a pandemic, and became a major political flashpoint in the middle of the presidential election thanks to a cameo by Rudy Guiliani that was, even by his grim standards, breathtakingly embarrassing. And this was before he leaked some kind of brown liquid from his head in front of the now-iconic Four Seasons Total Landscaping in Northeast Philadelphia in a post-election performance baselessly claiming voter fraud.
We spoke to Levinson just as 202o was drawing to a close about her work on these two vastly different, yet equally damning portraits of America—both of which feature her longtime collaborator, Sacha Baron Cohen.
Okay, let's start with your role in Aaron Sorkin's The Trial of the Chicago 7—a film that had nearly been made before but really found its moment in 2020.
I was working with Sacha [Baron Cohen], trying to figure out how he could do both The Trial of Chicago 7 and Borat 2. Back in 2007, we were in between Borat and Bruno, and he was trying to figure out how to do Trial with Spielberg directing, and we were working out his schedule, then the writer's strike hit. So the movie went away. Then, at the beginning of last year, he calls me and says, 'You won't believe this, I'm trying to do The Trial of the Chicago 7 again.
So everything sounds like it's finally going to plan…
Then the funding fell through. I was running a production and finance company for independent films, so I asked how much money they needed. I read the script, which I thought was brilliant, obviously, as Sorkin's an incredible writer. It was just such a powerful story, and I felt it had to have a place. Also, this film had waited so long to get made, and it felt more relevant now than when I first heard about it. So that's how my credit came to be, we worked on that final piece of financing to bring the film across the finish line. I was proud to help to get it to that stage.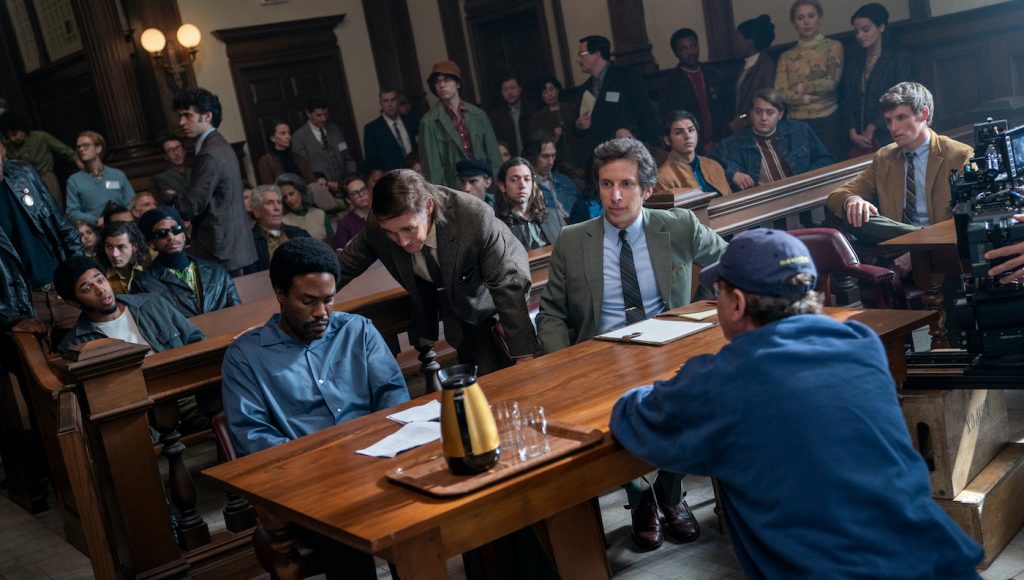 Trial was a relative breeze compared to what you had to do to pull of Borat 2, however…
So, Sacha calls a couple of years ago about finally moving forward on a Borat sequel. I said, I think that's a terrible idea [laughs], but then Sacha pitched me the story of how it would be about Borat and his daughter. This was at a time when women's rights were still being litigated daily—still are—and our elected president had openly talked about grabbing women's vaginas, so I thought, Oh, it is a good time to do this story.
There's a moment in the film (spoiler alert) in which Borat literally collides with the early governmental response to COVID-19 when he shows up at the Conservative Political Action Conference in late February to "give" Vice President Pence his daughter, Tutar (the phenomenal Maria Bakalova). Yet this is also when Pence speaks about the virus—playing it down—what was that like to film?
I was watching the live feed of the Vice President at CPAC and listening to him talking about the coronavirus and how it's under control, and I remember believing what he was saying. We didn't know! None of us knew. I remember thinking we need to hear a little more of that speech, but we had no idea how relevant that portion would be. I almost called the crew to hold Sacha back for another minute so we could get more of the speech. Jason [Woliner] our director had that instinct as well, so we did wait a few more beats into the speech before Borat enters.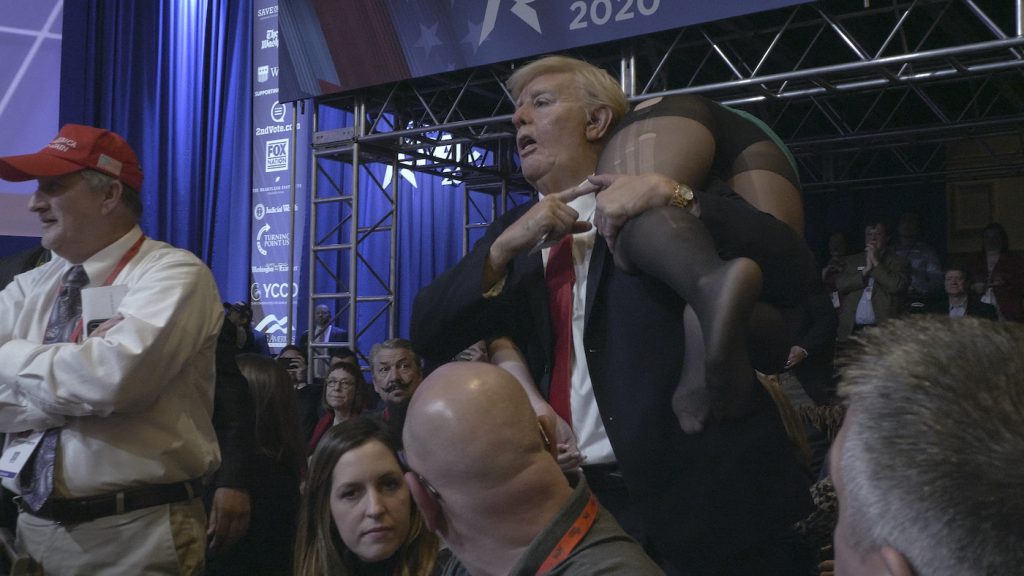 After this, however, your film and the rest of the country run into the reality of the pandemic.
Yeah, we were on a quick hiatus because we film in little chunks, then all of a sudden the pandemic hits and we have to shut down. At that point, we didn't know how we were going to make the movie. Sacha kept asking if we were going to be able to get this out by October. For Borat and Bruno, we had at least 8 months of post, and we were already looking at only 5 months of post for this movie, so I realized we were really at risk of not being able to release the movie.
When did you start shooting again?
On June 15. We spent the two months where we weren't filming learning about the virus, how to be safe, what the protocols would be. I was on every phone call, at seminars, talking to epidemiologists, while Sacha became close with an epidemiologist at John Hopkins, and we ran our protocols by them. There was no way Sacha wanted any of us to go out with it being completely safe. So we took extra precautions, did extra testing, and brought this high-end testing with us on the road.
When did you wrap?
We ended up filming until September 4, and we delivered the movie before October 1st. We had put together all the material we'd already shot, but it still wasn't everything. We shot a ton of stuff in Romania for the beginning and end of the movie, we shot the rally, we shot the lockdown house, all of which was 170 hours of footage on its own. At a certain point, we had 7 editors working on it, and we were screening the film in New Zealand so we could do our usual process and get our edit right. We took the process we usually do over an 8-month process and just did it in five weeks.
Obviously, we can't talk about the film without talking about Rudy Guiliani…
We really couldn't believe it. We always wanted him to be a part of this movie. When he became more prominent in September, we couldn't believe our luck. He was really coming out in full force to the center of the election. I would not be so bold to say that we had anything to do with the outcome of the election, but I do know people seem to claim that Guiliani's October surprise [the Hunter Biden stuff] was overshadowed by his part in our film. I got a text from a friend of a friend who was doing swing state text banking during the election, reaching out to undecided voters, and the person wrote back, Have you seen Borat 2 yet? My friend said, Yes I have, now about who you're voting for? The person replied that they'd seen the movie and it made them decided to vote for Biden.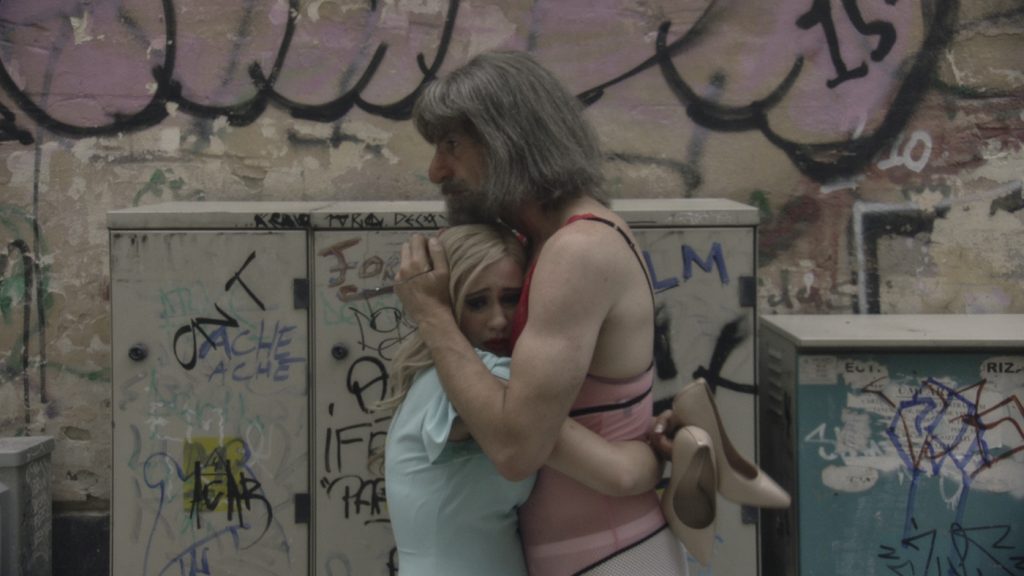 And the Guiliani insanity, and really the entire film, isn't possible without the incredible performance of Maria Bakalova as Tutar.
We saw so many really talented actresses throughout the process, Sacha went out into the real world for his auditions, so we had a full field team to see how people would react to various actresses in the real world, and the people being interviewed often asked if the person claiming to be Tutar was an actress, so that didn't work. We needed somebody who felt more authentic. We hired casting director Nancy Bishop to do a full search in Eastern Europe and the U.K., while Sacha kept traveling to do test shoots in Canada, Los Angeles, and the U.K. Maria was one of these self-tapes that came. I remember seeing it and thinking, this is kooky, she's really going for it. I wondered if Sacha was going to react to this in the same way, and he really did connect with her tape and thought there was something there. He brought Maria to London and had her audition in the real world, and it was the first time people didn't ask if she was an actress because she felt so authentic.
How did you prep her for the madness that was to come once filming began in earnest?
Director Jason Woliner and I did a Skype with her before she flew to Oklahoma to join the team, and we just said, Listen, this is what you're in for. Now that you signed an NDA, we really want you to do it, but let us go through what's going to happen in this movie and the basic scenarios, and a lot of things will come up that we don't know. She kept saying, I'm good. She was super brave and amazing, and we were blessed that she showed up in this self-tape. When we saw the first footage, we knew she was a revelation. Sacha was thrilled to be working with her and showcase her talent.
The Trial of the Chicago 7 is available on Netflix, while Borat Subsequent Moviefilm is available on Amazon Prime.
Featured image: L-r: Sacha Baron Cohen in 'Borat Subsequent Moviefilm.' Courtesy of Amazon Studios and The Trial of the Chicago 7. Aaron Sorkin as Writer / Director, Yahya Abdul-Mateen II as Bobby Seale, Sacha Baron Cohen as Abbie Hoffman, Mark Rylance as William Kunstler in The Trial of the Chicago 7. Cr. Niko Tavernise/NETFLIX © 2020.