Branford Marsalis Gets the Blues For "Ma Rainey's Black Bottom"
"Uh one. Uh two. Uh you know what to do." That's how the band leader cues his musicians in Ma Rainey's Black Bottom. In fact, the actors portraying sidemen to Viola Davis' title character did not really know what to do, musically. But thanks to Branford Marsalis, the actors in director George C. Wolfe's adaptation of the August Wilson play manage to mimic the moves of veteran blues musicians with persuasive panache.
A Grammy-winning saxophonist, bandleader, composer and scholar, Marsalis grew up in New Orleans with his famous jazz-nurturing family including brother Wynton and father Ellis. But he only came to fully appreciate blues singer Ma Rainey after Wolfe invited him to oversee the music for Ma Rainey's Black Bottom situated around a tension-wracked 1927 Chicago recording session disrupted by a hotshot trumpet player (the late Chadwick Boseman). Marsalis says, "I'd always preferred Bessie Smith because her recordings were cleaner, but once I did a deep dive into Ma Rainey, I got it: There would be no Bessie Smith without Ma Rainey."
Once he'd wrapped his head around Ma Rainey's brand of rough and tumble music, Marsalis assembled a crew of ace musicians at the Ellis Marsalis Center for Music. There, he recorded the show's soundtrack that would guide the cast members through their musical paces. Speaking from his home in Durham, North Carolina, Marsalis describes the magic of an out-of-tune piano and explains how he steered Boseman away from Miles Davis and toward Louis Armstrong when he pretended to play the trumpet.
To give credit where its due, who are the actual musicians who play the songs we hear in Ma Rainey's Black Bottom?
The trumpet player for Chadwick Boseman's character Levee is Wendell Brunious, the trombone player is Freddie Lonzo, Sean Mason's on piano and my regular bassist Eric Revis plays bass. We also used a couple of drummers: Herlin Riley and Justin Faulkner, my regular drummer.
What was your approach for making these 21st-century musicians sound like they were banging out old-time blues in 1927?
My whole idea was to go for emotional authenticity. With the exception of Paul Whiteman, Louis Armstrong and Duke Ellington's bands, a lot of musicians back then were not necessarily the best players. If you listen to music, there's a lot of raggedy playing, but the whole is greater than the sum of the parts. the music sounds and feels absolutely superb.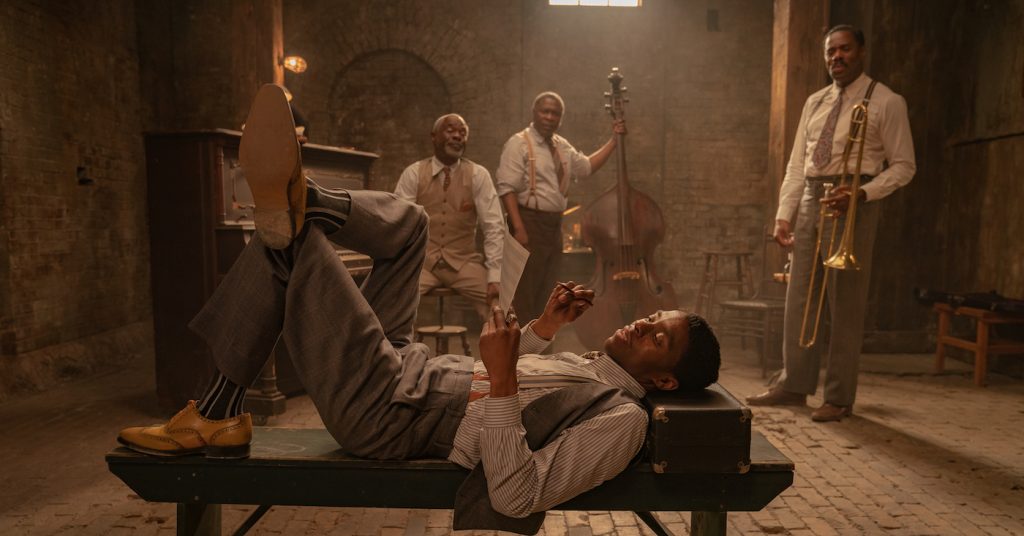 How did you create that authenticity vibe?
"Ma Rainey's Black Bottom" was the first song we recorded. The guys started playing and I stopped 'em. It's not quite right. What's missing? For literally half an hour, over and over and again, we tried to get through the song until I realized why it's wrong: We had a grand piano but it has to be an upright. The stage manager says they have an upright but it hasn't been tuned. "Even better!" They dragged out this upright. Started playing again, I say "Can you get me a piano tuner?" Tuner comes in, says 'What's the problem?' I say, "I need the piano to be out of tune." He laughed, de-tuned it, Shawn started playing and I said, "That's the sound."
Before, the piano sounded too perfect?
That's right. The out-of-tune upright, that's the way I heard it on the records.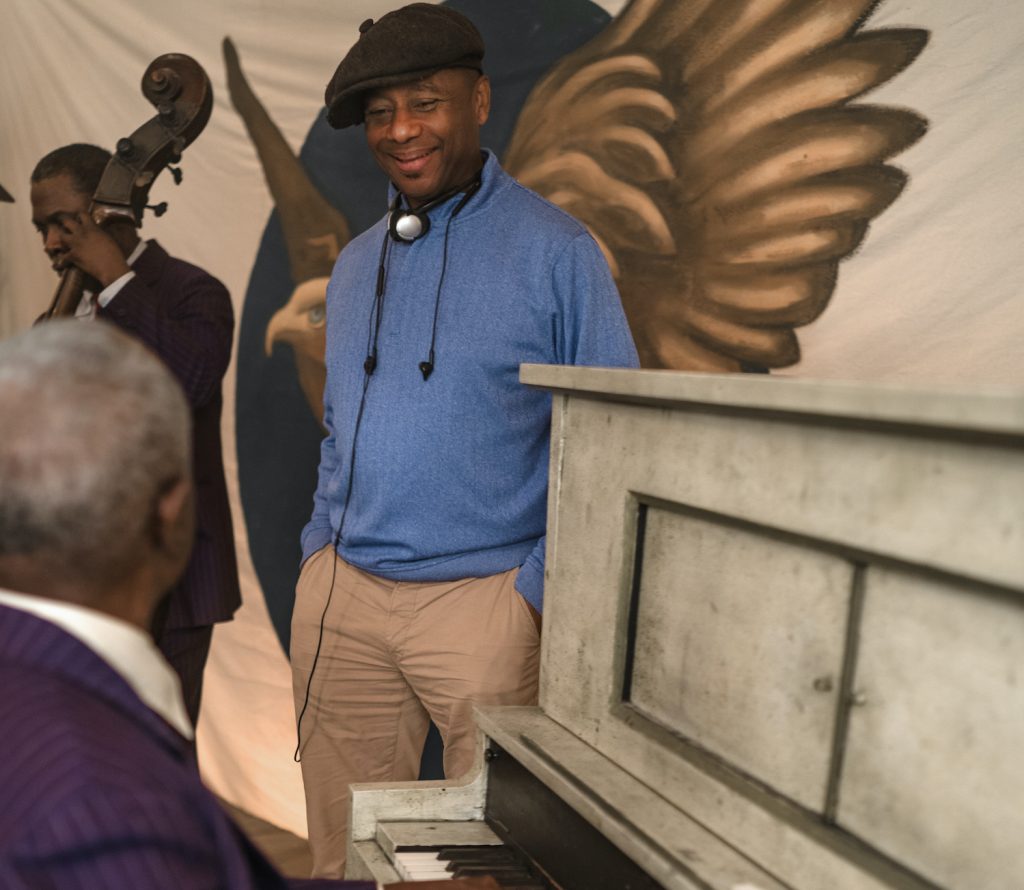 Viola Davis does an incredible job channeling Ma Rainey. Does she do her own singing in this movie?
It was a three-tier process.
How'd that work?
Maxayn Lewis did the singing. Viola was working on another film so she couldn't fly to New Orleans and sing with us so Maxayn gave her the template. When they filmed the movie, Viola sang to Maxayn. It looks like Viola's actually singing because she is. And then when the filming was done, Maxayn had the benefit of watching Viola and sang to what Viola was doing.
Levee the trumpet player, played by the late great Chadwick Boseman, tries to disrupt Ma Rainey's traditional sound.
He calls it jug band music.
Levee represents a different approach, musically?
Like a lot of musicians now who are disdainful of the past, he's playing music to elevate himself. Levee's driven by these painful experiences he had growing up in Mississippi. He wants to create music that can elevate him to a place where he can put away the hurt and shame of his childhood. That's the raison d'etre for Levee. He's carrying around all this anger at the injustice heaped upon black people in the early twentieth century, anger at his station in life. Songwriting was going to be his way out.
Levee wants to kick off "Black Bottom" with this flashy trumpet riff. You came up with that?
Yeah, I sang it to the trumpet player. The second half of that is an old Louis Armstrong riff, bad dee duh duh dee. Same song, played to a New Orleans beat.
Did you get a chance to coach the actors on how to look and act like 1920's blues musicians?
Yes, but they were on a tight timeline. When I said I needed to meet the actors who play the band members for half an hour I was told "We don't have time for that." I said, "Okay, I don't like the way they look. They look like crap. As musicians, they look awful." So they gave me a half-hour and we got a lot of work done.
Specifically?
It's mostly about physical presence. Little things. Visually, Chadwick was doing the famous Miles Davis stance with the arched back, but I don't know if Miles had even been born when this story takes place. So I told Chadwick, "We can't do Miles, you've got to do Louis Armstrong. Go on YouTube, look at those two videos from the thirties, study Louis Armstrong's posture and you're cool." Chadwick came back the next day and he had it.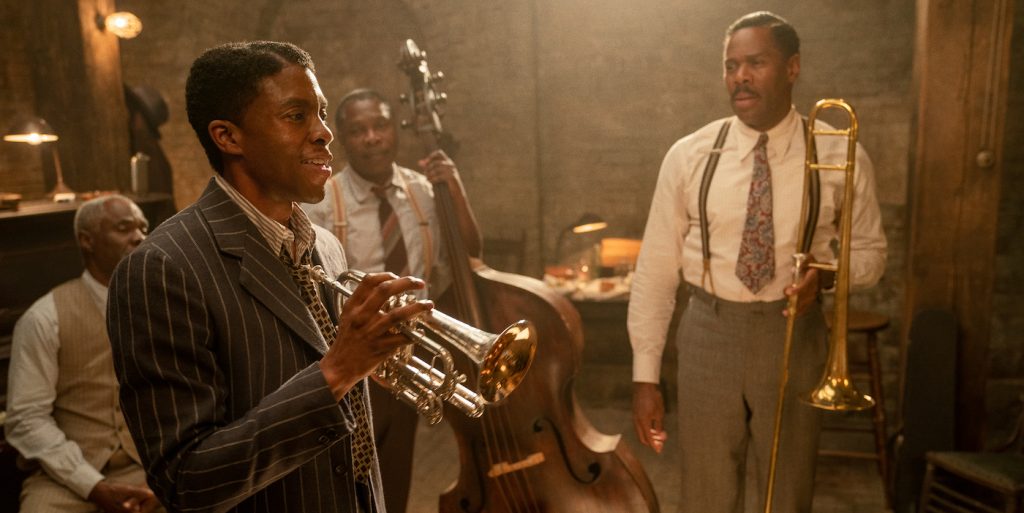 The other sidemen?
Toledo [Glynn Turman] had to get the stride piano thing down. I sang him the rhythm and told him, "This is your rhythm for all the music, just keep your shoulders moving and it'll look right." Coleman Domingo [portraying trombone player Cutler] had this little quirk where he'd move the slide real quick before he played. He asked me "Do trombone players not do that?" I said "Doesn't matter, leave it alone. I think it's great. Michael Potts, the bass player [Slow Drag] learned how to play the damned bass. I don't know how he did it.
Just for this role, Michael Potts taught himself bass?
Walks in, tells me, "I learned how to play the bass." I say, Yeah sure you did." He started playing. "Oh. Okay. Yeah. I don't have anything to say to you. Just do that."
In addition to arranging classic Ma Rainey numbers, you also composed original instrumentals for montage sequences set on the streets of 1927 Chicago.
Toward the start of the movie, the musicians are walking from the el train. They're country boys suddenly in the city, hearing their feet on the cement. When I watched that scene I felt the pulse of them walking. Boom boom boom boom boom. That became a bass line and I wrote everything else from that.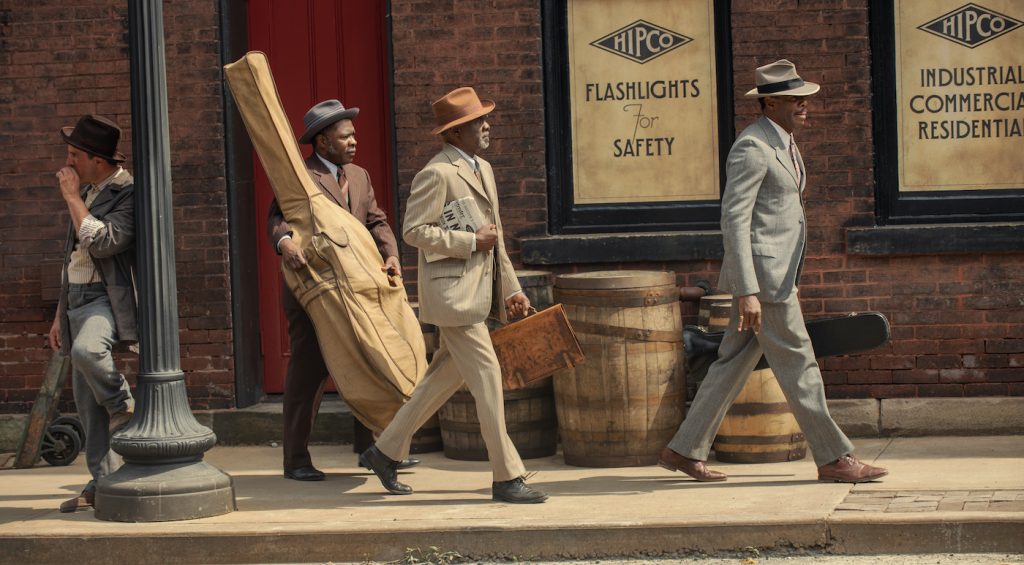 When Viola Davis' Ma Rainey finally gets around to singing in this film, she undergoes a complete transformation. No longer grouchy or weary she suddenly turns into this charming, sexy entertainer full of joy and desire. It seems like Ma Rainey uses music to transcend the woes of her personal life.
I think that's [what happens with] most people who are lucky enough to perform. You take your troubles, you bring them on stage and it transforms you into a different kind of person, takes you to another place. Music can be very therapeutic.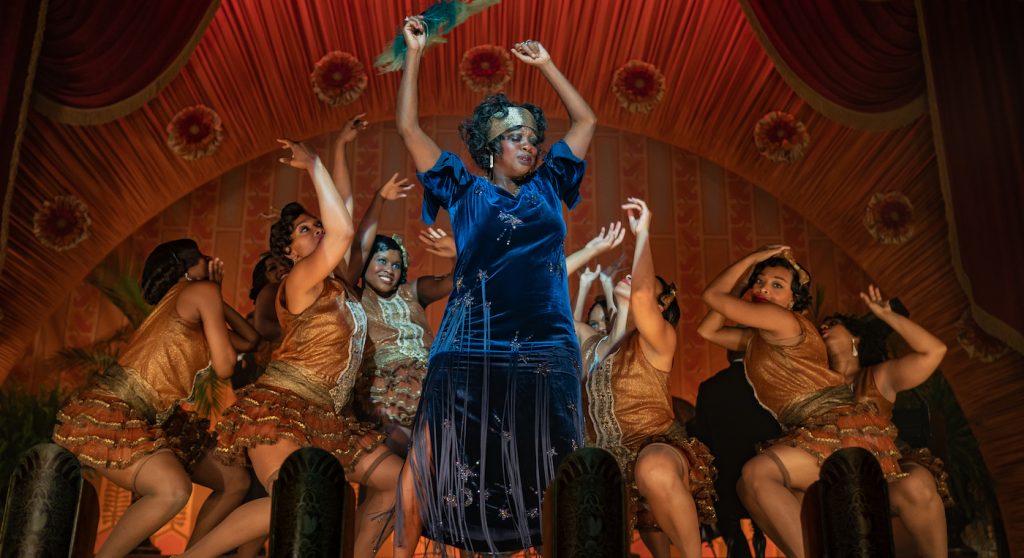 Featured image: MA RAINEY'S BLACK BOTTOM (2020) Branford Marsalis and Glynn Turman. Cr: David Lee/NETFLIX