Showrunner Chris Van Dusen on Creating a Modern Regency Romance in "Bridgerton"
Buckle up for Christmas Day, when Bridgerton, a romance set in England's 19th century Regency era, debuts on Netflix. Shonda Rhimes' first executive-produced series for the streaming service, this bright, sexy show reimagines a casually multiracial society set in a horse-drawn world of candy-colored palaces, sybaritic balls, and aristocracy on display.
Bridgerton was shot on location at storied homes like Lancaster House, where Queen Elizabeth II still holds royal functions, and on soundstages across the UK, where the colors, energies, and social mores of 1813 England are all dialed up to eleven. Based on Julia Quinn's romance novels, the series' first season traces the love story of two young aristocrats, complicated Simon Basset (Regé-Jean Page) and earnest Daphne Bridgerton (Phoebe Dynevor) as they attempt to navigate courtship, court life, and their august families' lofty expectations. A mysterious, gossip newsletter-writing grand dame working under the pen name Lady Featherington (voiced by Julie Andrews) exacerbates their troubles and that of everyone in their social class, reporting on forbidden trysts, gambling addictions, unplanned pregnancies, and other skeletons these wealthy families would rather stay in their grand estates' closets.
The series was created by Chris Van Dusen, a Shondaland veteran who worked as a producer on both Scandal and Grey's Anatomy. We had the chance to speak with the showrunner on his addictive new show, making a period piece relatable for a modern audience, and getting Julie Andrews on board as the anonymous gossip-monger driving all the action.
Did you serendipitously come across the original Bridgerton novels and think, hey, this needs to be a series! Or were you on the lookout for a period work to turn into a show?
As Scandal was coming to an end, I was really thinking about what I wanted to do next, and really, the only thing that I knew was that I wanted to do something completely different than modern-day political intrigue. And so when Shonda told me about these books, I jumped at the opportunity. You clearly couldn't get anything more different than what I'd done before, and it just seemed like such an exciting challenge.
You wanted to reimagine the Regency period in a way it hasn't been seen before. Besides the fact that this is a multiracial society, what were some aspects you jettisoned or added?
Everything on the show has a contemporary sensibility to it, and the first thing you notice is our cast. But just the look of the show is different than your typical period piece, as far as things feeling youthful and joyful. There's a little effervescence to everything. Things sparkle in this world. I think that's true with our costumes, set design, you hear it in the music, you see it with the editing, I feel like the pace of the story is really fast. But as far as when a viewer watches the show, they're going to notice that while things are rooted in the Regency era, it is a reimagining. There is a slightly heightened look to everything. One example is the costumes. Ellen Mirojnick, our costume designer, did such an amazing job. We spoke about ways to turn the volume up on everything, so for example, you won't see a bonnet in the world of Bridgerton. It's a bonnet-free world. The hats that our ladies wear are quite different. It's things like that that make it clear this isn't your typical period piece, and the show is for a modern audience.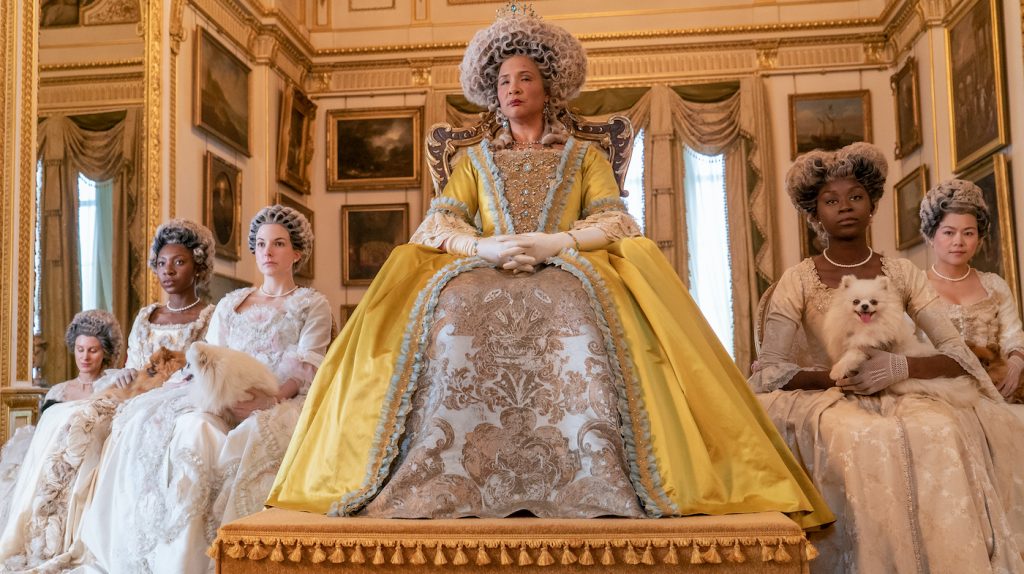 How was working with Shonda Rhimes as an executive producer?
Shonda has been a tremendous resource from the beginning. She told me about the books, she thought I'd connect to the books, and she was absolutely right. She's been a supporter not just of me as a showrunner, but of the show as well. She's been on board with my vision from the beginning, and that was always infusing this beautiful, decadent 19th-century world with a modern sensibility.
The show presents a multiracial society in a natural, low-key way. Was that the plan from the beginning?
We knew that we wanted the show to reflect the world we live in today. Even though we're set in the 19th century, we wanted modern audiences to relate to it, and we wanted viewers to see themselves on screen, no matter who you are. I've worked in Shondaland pretty much my entire career, since Grey's Anatomy, and that's what they do. We cast the best actors for the roles in ways that represent the world today, and we knew from the beginning that we had a similar, really interesting opportunity to do the same with this show.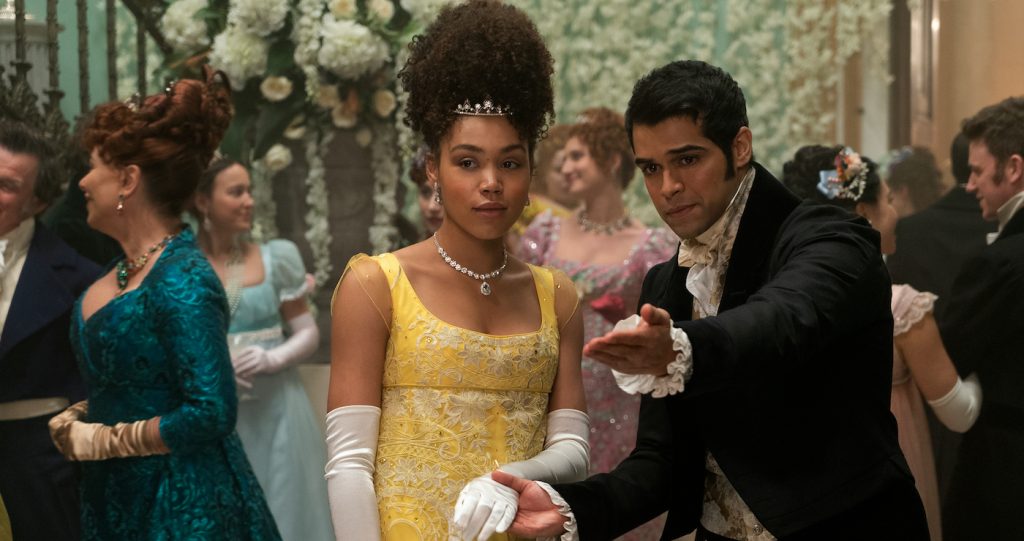 In that case, which was more the overarching concept — the show as a romance, or a period piece for a contemporary audience?
We never shied away from the fact that we're a show based on eight really delicious romance novels. So the romance was always going to be a part of the show, it was always going to be Simon and Daphne's moving, sweeping love story as the bedrock of the first season. But underneath this glamour and escape, I wanted to have this running modern commentary about how, over the past 200 years, everything has changed but nothing has changed, and I think that goes for both women and men.
When did Julie Andrews join the cast as the voice of Lady Whistledown?
Julie Andrews was at the top of our list for Lady Whistledown from the beginning. We sent her the scripts and she ended up loving them, signing on and saying yes. Which totally surprised us, because when you go for someone like Julie Andrews, you never think in a million years it's actually going to happen, but it did. Working with her has been incredible. She is so lovely and so charming. We did all of our sessions virtually. She gets to say the most scathing things as Lady Whistledown, but always in her bright signature Julie Andrews kind of way, which was so much fun to write to.
You've added a few new characters who don't appear in the books. Do you have a favorite?
I think with any adaptation there are going to be differences from the source material. For us, it was important that we captured the spirit of the Bridgerton family and the moving and sweeping love story of Daphne and Simon, but there are new characters as well because we wanted to open up the world and be able to tell different stories. The one new character that I was really excited to add was Queen Charlotte. We are in Buckingham home a lot, we're in palaces, and she just added such an amazingly decadent aspect to the show, it was so fun to write to. For me, the series is not just about the Bridgertons. It's about a world and a society, and I think adding characters like Queen Charlotte helps us tell that story.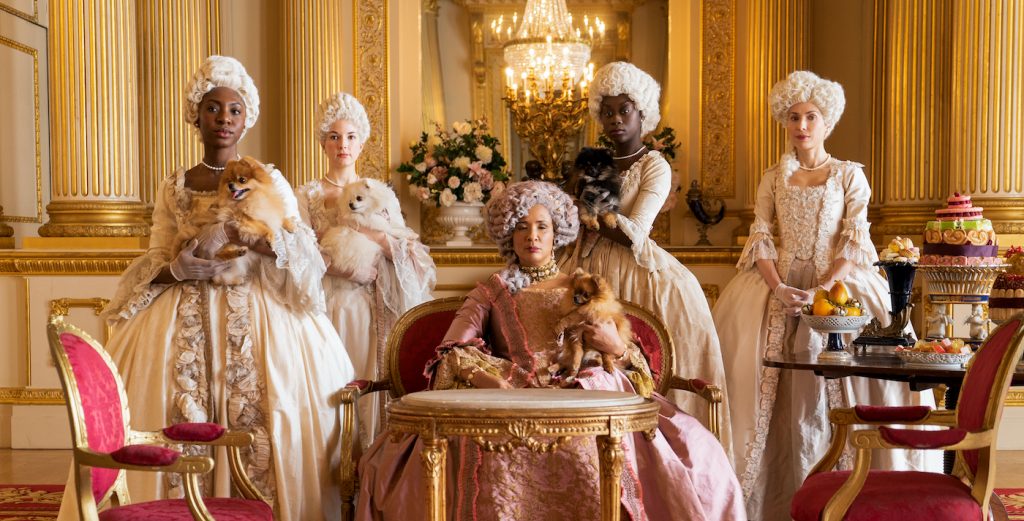 For more on big titles on Netflix, check these out:
David Oyelowo & Demián Bichir on George Clooney's Timely Sci-Fi Film "Midnight Sky"
Production Designer Mark Ricker on Creating the Sumptuous "Ma Rainey's Black Bottom"
Branford Marsalis Gets the Blues For "Ma Rainey's Black Bottom"
Anthony Mackie is an Android on a Mission in "Outside the Wire"
Netflix Reveals Trailer Stanley Nelson's new Doc "Crack: Cocaine, Corruption, & Conspiracy"
Moses Ingram on her Debut role as Jolene in "The Queen's Gambit"
Featured image: BRIDGERTON GOLDA ROSHEUVEL as QUEEN CHARLOTTE in episode 102 of BRIDGERTON Cr. LIAM DANIEL/NETFLIX © 2020