"The Suicide Squad" Production Designer Beth Mickle on Creating Gonzo Sets
James Gunn's The Suicide Squad is a film filled with highly ambitious, no-holds-barred set pieces, nearly all of which are done with practical effects. It's a story that takes the characters into all kinds of physical environments as they work together to achieve their objective without dying in the process. Collaborating with Gunn to help make his vision a reality onscreen is production designer Beth Mickle. The Credits spoke with Mickle about how she got this high-profile gig, the inspiration of 70s war movies, and how she followed Gunn's directive to turn up the volume on color with each successive scene of the film.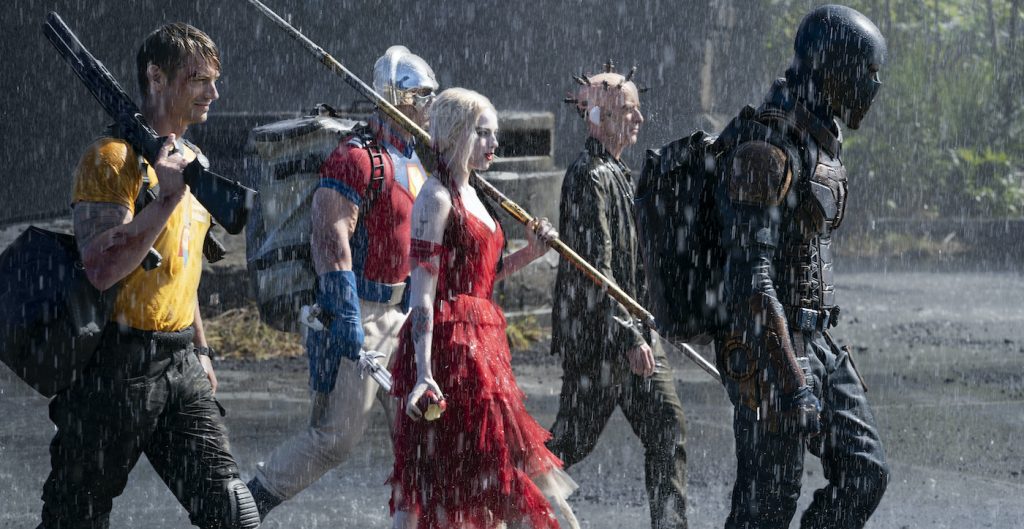 It's clear you and James Gunn work really well together, and the proof is in the finished film. You've also a part of Guardians of the Galaxy 3. How did you first connect? 
I just absolutely owe everything to James being such an open-minded and inclusive director. I had interviewed for one or two Marvel movies over the years, and I just didn't have the big-budget experience. Then James was looking for somebody for Guardians of the Galaxy 3, and I think the usual suspects were all put forward to him. To his credit, he just said, 'No, I want to try somebody out-of-the-box, who's fresh and new. Also, I want to have more representation.' He was aware of the importance of having female department heads and being inclusive. An executive at Marvel suggested me to him as the dark horse, out-of-the-box, indie girl. And man, to his credit, he just took a massive leap of faith on me for Guardians 3 back in 2018 and plucked me out of a hat, and it just changed my life. It's just the kindest, boldest, and most generous decision that a director could make. We were only on that for a few short months, but he and I stayed in touch. I just said, 'I'd just give anything to have the opportunity again,' and he came right back and told me 'We're getting another one lined up soon, so hang tight.' Only a few months later, I was already starting on The Suicide Squad. It was just the best experience ever.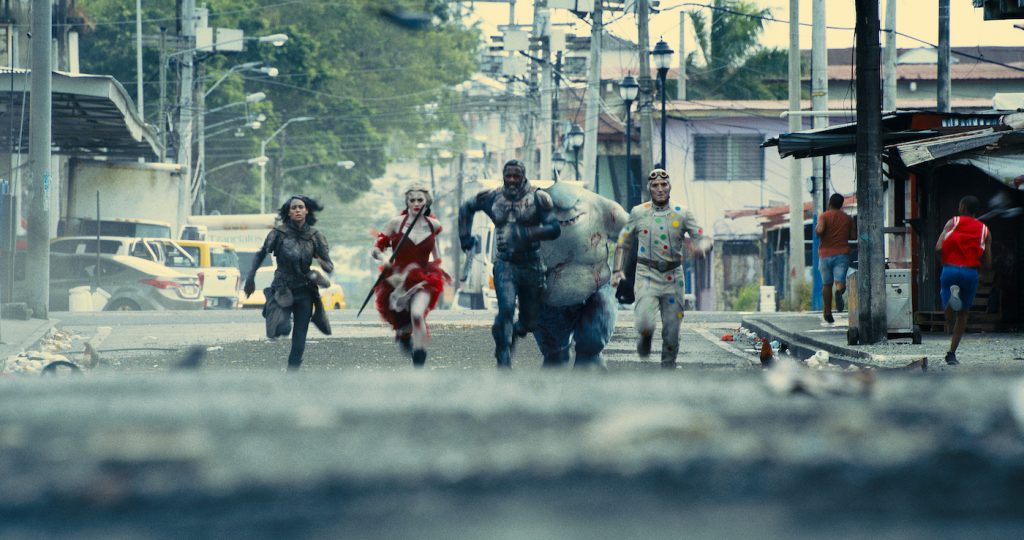 The Suicide Squad is inspired by 70s war films. Lots of practical effects were used, in part to achieve that feel. The movie is also described as having a war-like magical realism. How did that factor into your production design? 
With the war-like aspect, a lot of it was going to be the way that we covered the scenes. We really wanted the camera to be right in there, right next to these warriors or soldiers, going through these battles. Instead of the wide, sweeping scenes where you're not actually in the sand and in the dirt with them, we wanted to avoid that, and really get a bit gritty and down and dirty with each of our heroes. We wanted to make everything feel really grounded and very relatable. A lot of superhero movies go for big and grand, and being relatable isn't always a priority. But on this one, we wanted the jungles to feel real, not the Hollywood version of a jungle or the Disney version of a jungle. We wanted it covered in mud and dust and dirt.
How'd you go about doing that?
We had a bunch of old, dead trees, and dead palms laying on the sides, so it felt like it was raw and untouched. With all of our outdoor builds, the beach build, and the jungle build, we really tried to make sure it did feel like Platoon or Apocalypse Now, and that it felt like we actually went to one of these forgotten islands and shot in their forest just as it was. Now watching it, I'm really happy with the way we did it. The way Henry Braham, our DP, lit it and shot it, I really think it feels like we went into a wild jungle and filmed these crazy actions scenes. Meanwhile, they were all filmed on Stage 17 in Pinewood Studios!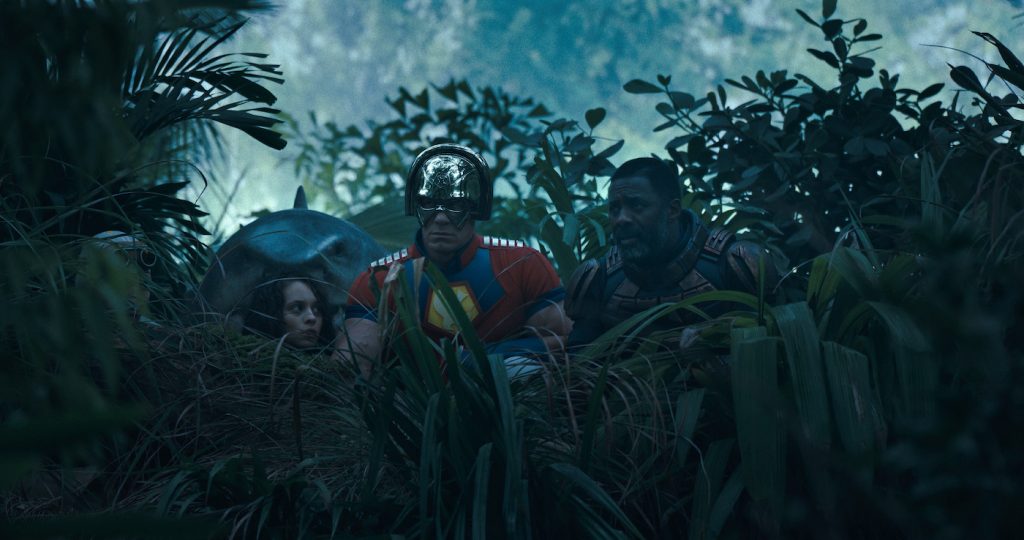 The shifts in color palette really informed the movement of the characters through the story. Can you take us through the way the colors shift and the decisions for the choices in different parts of the movie?
That was one of James's earliest directives, which we really loved and dove right into. We wanted to start with it feeling really gray and monochromatic and drab, while they were in the United States in these familiar places. The idea was start there, and then just keep turning the volume up with every single scene. So we really tried to adhere to it even all the way down to the Osprey aircraft that they're in, on their way to Corto Maltese. Actually, it arrived with a lot of red and yellow paneling on the inside and was really colorful. We went in and covered up a lot of that color with gray panels. They haven't reached Corto Maltese yet, so we only wanted a little bit of color.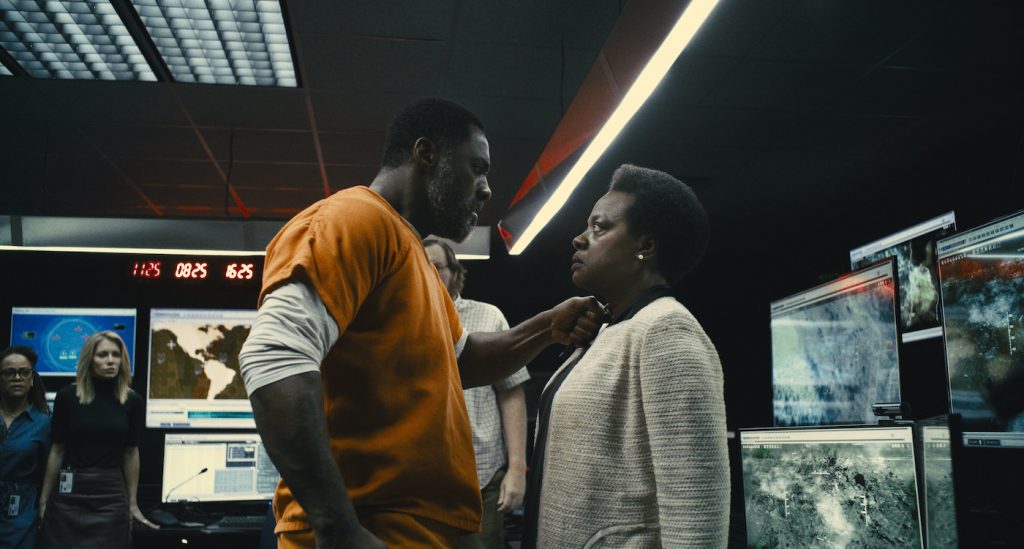 When they actually do land and get into the forest, then the greens start to pop and we have little bits of color starting to come in. On the beach and in the jungle, it turns up a little bit more.  Then at the palace, it becomes fully charged, and we get really vivid, saturated colors. We keep turning up the volume all the way to that last battle scene on this gorgeous, sprawling boulevard in Colón, Panama, which we chose specifically because it was just like a rainbow of colors going up and down the street that just existed there, and it couldn't have been more vivid or more saturated. It felt like to bookend our movie with this opening gray prison, and then this wildly colorful and vivid street scene at the end, it felt like that was exactly the progression we were trying to give the audience.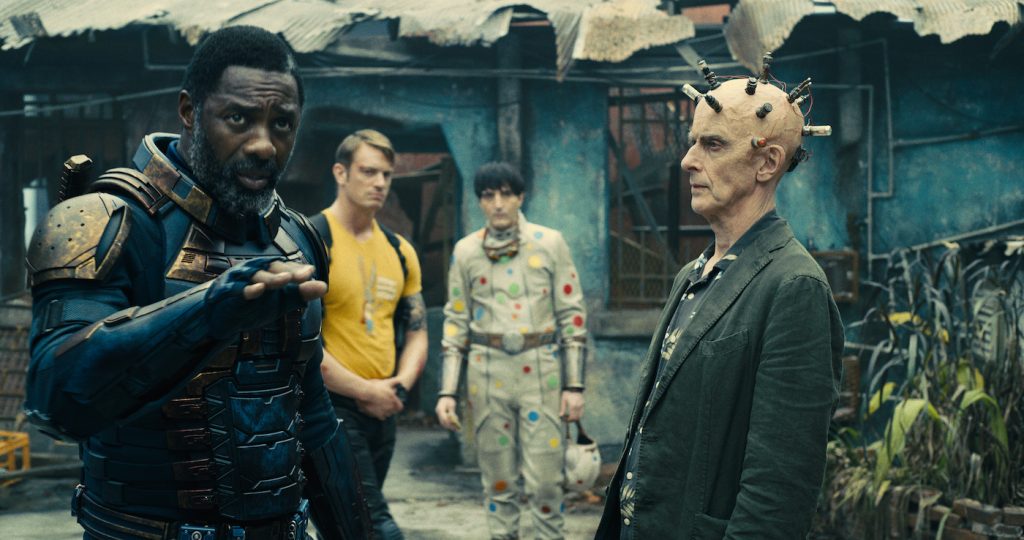 The scenes with Harley in her red dress against the colors of the presidential palace are visually stunning.  What was the process of developing that environment bearing the dress in mind? 
The color of her dress really drove every decision that happened inside of that palace, and I'm so happy and proud of the results. We knew there was going to be this really vivid bright red dress. Before we knew it, I had actually been thinking of the palace being in these red wine and gold tones. When we found that there would be a bright red dress, I went back and started pulling all these great colors that would be a really beautiful backdrop and contrast with the dress. One of my favorite colors on the planet is a really rich turquoise. It was the best and richest tone to really offset the color of the dress. One of my favorite moments I've ever had in my career on a set was watching Harley come in, in that red dress, and do that first take running through the palace, from the green into the blue space. She just stands out like a jewel, which was just our goal from the beginning, so I couldn't be happier.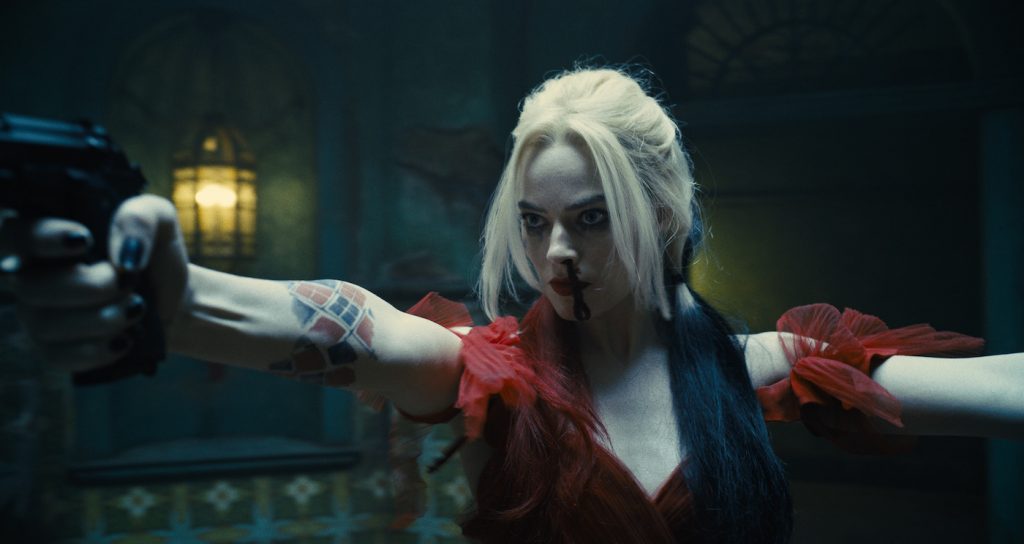 How is The Suicide Squad unique in all your projects as a production designer? What do you take away from it as an artist?
It was by far the biggest film of my career that I've ever been fortunate to do. It's just what happens when you have resources like that, where you're able to design every inch of the movie, and you have amazing concept artists and art directors, and a massive set decoration team to really help make everything just as it should be within the frame, versus pretty much every other movie outside these giant projects, where you're always making concessions. There are compromises and sets that just can't be what you want them to be because you just don't have the money, or you can't travel to that location. The Suicide Squad was so set apart because we really could pull off pretty much everything that we wanted and that we set out to do. The possibilities just become endless in the best way possible.
The Suicide Squad is in theaters and on HBO Max. Streaming through September 5th.
For more on The Suicide Squad, check out these stories:
"The Suicide Squad" Review Round-Up Part 2: A Delightfully Gonzo Epic
Meet The Misfits in Revealing "The Suicide Squad" Featurette
"The Suicide Squad" Gets an Epic RED Camera Video Boasting New Footage
James Gunn Reveals His "The Suicide Squad" Spinoff "Peacemaker" has Wrapped
New Images For "The Suicide Squad" Further Reveal the Misfit Mayhem
A New "The Suicide Squad" Trailer Reveals Who Sent Superman to the Hospital