"His House" Writer/Director Remi Weekes on his Gut Punch Feature Debut
Back another lifetime ago, writer/director Remi Weekes' His House celebrated its premiere at the Sundance Film Festival this past January. Netflix quickly acquired it, and the future was looking bright for the talented filmmaker and his debut feature. You know what happened next.
Yet here we are, months later and living in our nightmarish world, with Weekes' stunning horror film set to debut on October 30. "I'm excited," Weekes said from London when I asked him what it felt like to finally see his film released into the wild, "It's great. During Sundance, my answer was, 'I'm exhausted and I never want to talk about this film again, but with all the time that's passed, and with being at home so long, I'm excited again."
Weekes' film ingeniously takes one of the most problematic aspects of the haunted house genre—why don't the characters just leave?—and makes it one of his story's most heartbreaking elements. His characters, Sudanese refugees seeking asylum in a small English town, cannot leave the house or they risk violating the terms of their asylum seeker's status. Embodied in a pair of phenomenal performances by Wunmi Mosaku (recently stellar in HBO's Lovecraft Country) and Ṣọpẹ Dìrísù (Humans), Rial and Bol's journey to get to England is terrifying and tragic, yet they arrive determined to carve out a life for themselves. Being placed in a beaten-down house in a drab English town is, they hope, the first step on the road to rebuilding their lives. Despite the fact they learn the house is haunted, Rial and Bol are essentially forced to stay by state decree.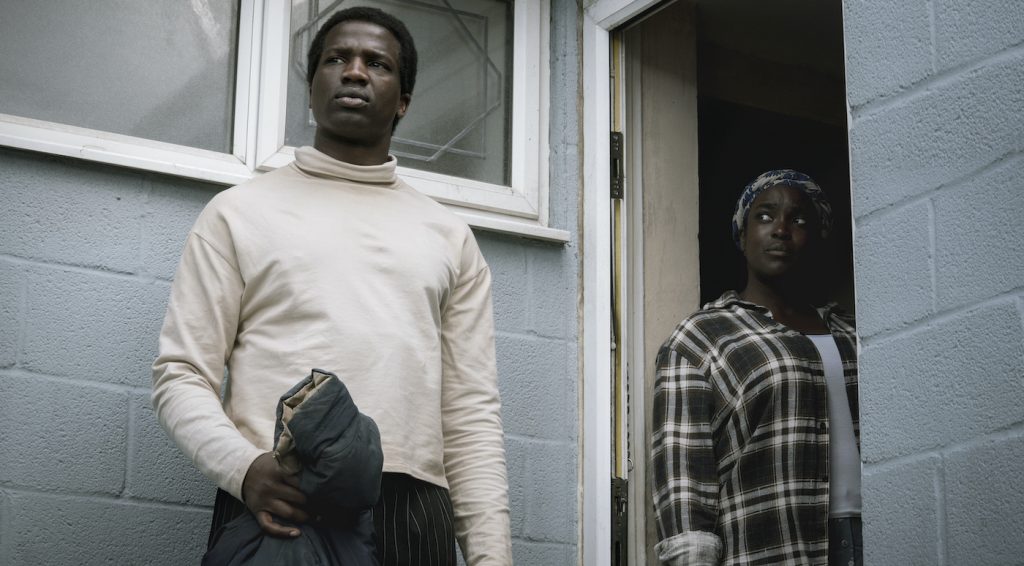 "When we were writing it, through the whole process, we were doing so much research, reading papers about immigration into England," Weekes says. He worked on the story with Felicity Evans and Toby Venables, piecing together the dehumanizing rules of the immigration process into a narrative. "What helped me craft this story was when I read about how, when you're given accommodations, you have to follow these draconian rules. You can't leave the house, you can't get a job, you're given this small amount of money to live on. For asylum seekers, this is a really traumatizing thing, a really cruel punishment to come into a country trying to understand what the next phase in their life is. I found it quite fascinating from a story perspective, because you're forced to live in this house full of your traumas, and that was the moment I found the core of the film."
Weekes not only entrapped his characters in their increasingly deadly house due to the actual rules of asylum-seeking but also through Rial and Bol's heartbreak over what happened during their terrifying journey to England. Spoiler alert. They lost their daughter along the way. This tragedy only increases their determination to make a fresh start in their new home no matter the costs.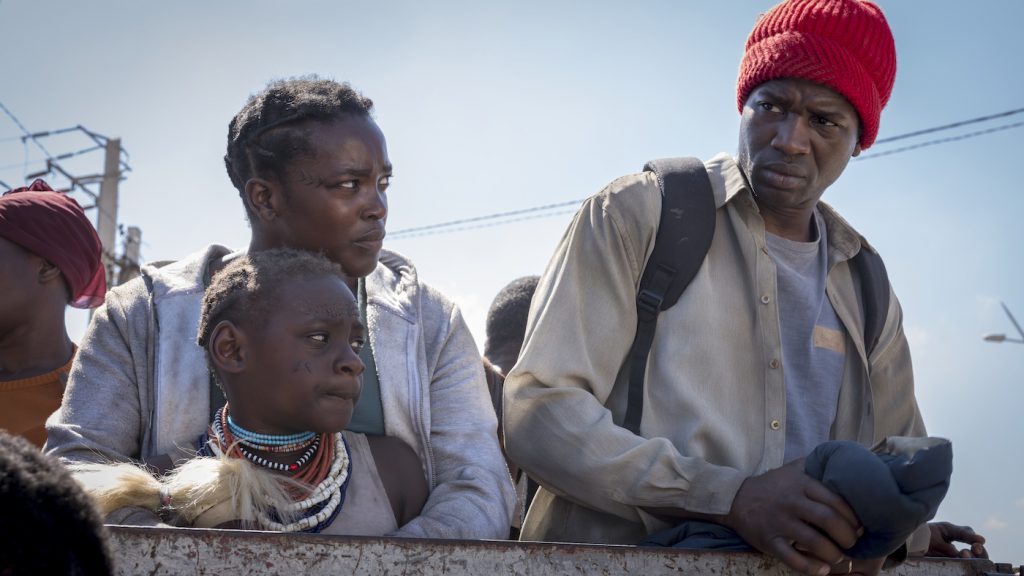 And then there are the terrors beyond their front door. The dreary English town they've been resettled in is a nest of racism, both subtle and overt. From the freezing detention center they're sequestered in upon their arrival to the panicky, suspicious glances of the townspeople, Rial and Bol are constantly being asked to prove their humanity. Their predicament is made clear in every way imaginable; their resettlement in England is provisional, at best.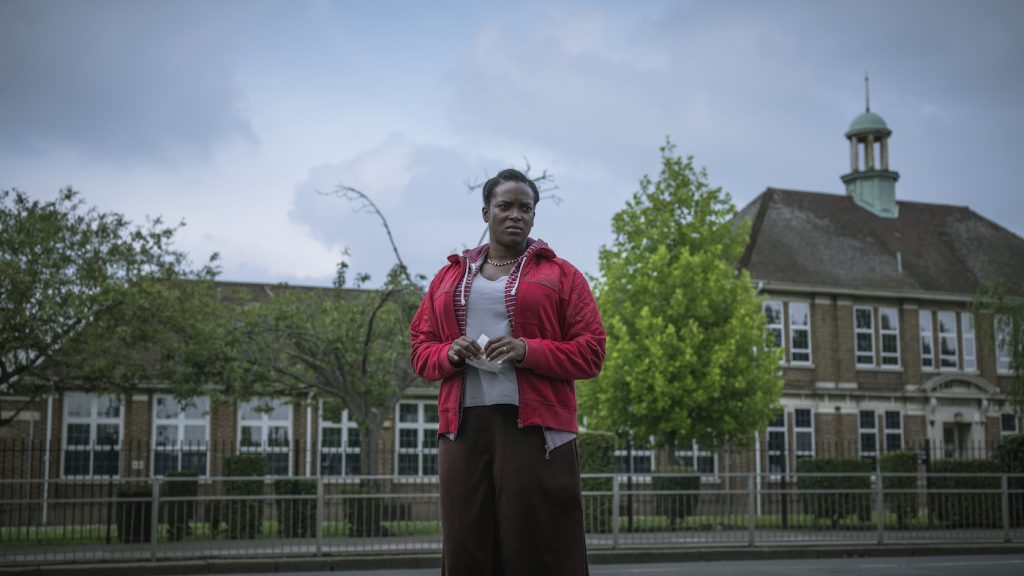 Coming from commercial work, Weekes' feature directorial debut is assured, yet he says he was plenty spooked himself taking on such a meaty, difficult story. "It was a pretty terrifying, pretty surreal experience. I was fortunate that I was surrounded by really talented and experienced people who were really patient with me, and everyone wanted to make the same thing," he says. "It also helped we were all spending time in the same space. It almost felt like summer camp. On set every day, we'd hang out, we all liked each other. That really helped. It just felt like a pleasure to be on set every day."
As the night terrors increase in Rial and Bol's temporary housing—flickering lights, stained walls, strange noises, and, eventually, terrifying visions—they begin to piece together where the source of this anguish might be coming from; a witch from their homeland. Yet knowing their social worker (Matt Smith) will never believe them, Bol claims the house is being pestered by rats and requests a relocation based on that. You can imagine how well this goes over. Bol and Rial should be grateful for their lodging, nothing more. Throughout the film, Dìrísù and Mosaku's performances are a wonder. Switching back and forth between Dinka and English, they vividly conjure an intimate relationship perpetually on the brink. Their ability to toggle back and forth between resilience and terror, calculation and paranoia are astonishing.
"I felt something special was happening," Weekes said of seeing the performances day in and day out. "I joked and said, no matter what, at least I have two amazing performances on screen. The days where the actors are together were my favorite days on set. Seeing them spar was so much fun."
Although never named in the film, Weekes says the town they shot in was actually Tilbury, in Essex. "We shot on location for two weeks in Tilbury. We chose a house we liked then recreated it on the set in a studio in West London, where we shot for another three weeks. Then we did a week in Morocco for the Africa set," he says. Most of the effects were practical, too, and they even shot in a big tank in a studio for the scene where Rial, Bol, and their daughter flee for England.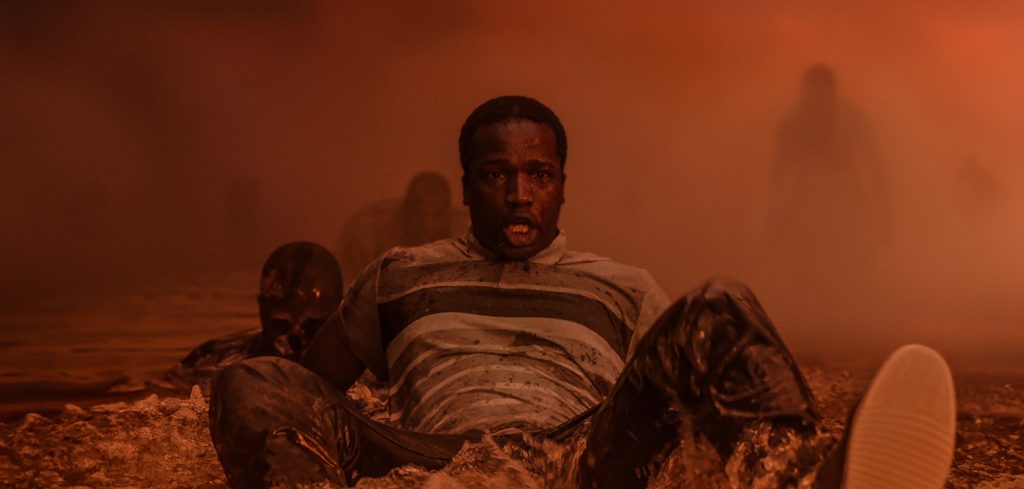 Weekes and his editor Julia Bloch brought the film across the finish line. "It was a really long edit, this was the kind of film where when you're editing, you're just having a conversation throughout about whether a particular moment was too much horror or too much drama," Weekes says.  "It was a pretty constant conversation during post-production working out where the line is."
Ultimately, Weekes managed to draw the line beautifully, one that cut across the classic horror staples of the haunted house story, and the equally ingrained institutional and systemic horrors that are all too real, and far more pervasive than things that go bump in the night.
For more on big titles coming to Netflix, check these out:
"The White Tiger" Trailer Reveals Ramin Bahrani & Priyanka Chopra's Searing Drama
Official Trailer for "Selena: The Series" Reveals Netflix's Look at a Legend
See First Footage From George Clooney's Sci-Fi Film "The Midnight Sky"
"A New York Christmas Wedding" Writer/Director Otoja Abit on His Debut Feature
The Official Trailer for David Fincher's "Mank" is Dazzling
Netflix Reveals Trailer for NYC Set High School Drama "Grand Army"
Featured image: His House: Wunmi Mosaku as Rial Majur, Ṣọpẹ Dìrísù as Bol Majur. Cr. Aidan Monaghan/NETFLIX © 2020