"A New York Christmas Wedding" Writer/Director Otoja Abit on His Debut Feature
When we attended the Savannah Film Festival in 2018, one of the filmmakers we covered was Otoja Abit, an actor who had roles in television series (The Defenders, The Night Of) and film (Stonewall), who was in Savannah to screen his short, Jitters. The 12-minute film centered on Abit's central character, a man undergoing some last-second concerns in the moments before his wedding. "It's hard to get a feature film made unless you have a short film, especially as a first-time filmmaker," Abit told us at the time. So Jitters was that short film, which revolved around a delicious twist. Spoiler alert! The groom (played by Abit) is telling his male best friend about the woman who got away in the back of the Church, while his family and friends gather in the pews to watch him getting married. Once he's told his story and is ready to get married, the viewer finds out that his male best friend is actually his fiancé. In a brief 12-minutes, Abit has told a potent, beautiful story about two men getting married in a church. 
Cut to today—Abit has not only written a new feature film, A New York Christmas Wedding, but he's directed it, produced it, stars in it, and will see it premiere on Netflix this November 5. The film is centered on a proposed Christmas Eve wedding between Jennifer Ortiz (Nia Fairweather) and David Wilks (Abit). Plans change when Jennifer is visited by the Angel of Death (Cooper Koch) and shown the life she could have led had she not denied her true feelings for her childhood friend Gabrielle (Adriana DeMeo).
Before A New York Christmas Wedding found a home at Netflix, Abit relied on festivals to get his film out there. A considerable challenge in a pandemic-stricken country, yet thanks to his tenacity and the flexibility of the festival circuit to adapt to our current world, A New York Christmas Wedding had a great run. "It would have been great to be at festivals to talk to people, but right now we just want the film to get out to as many people out virtually so when we go into distribution, we have that whisper campaign that we do have a built-in audience," Abit told us in the middle of the run.
His campaign worked. His film played at the American Black Film Festival, the New York Latino Film Festival, Urbanworld Film Festival, Martha's Vineyard African American Film Festival, and the Tallgrass Film Festival. For the Martha's Vineyard African American Festival, co-founded by Stephanie and Floyd Rance, the latter of whom worked with Spike Lee, Abit's feature joined a slew of others for Facebook-hosted screenings. In a normal year, the Rance's host the festival in Martha's Vineyard while also having screenings at a theater in Denver for people who can't make the trip East. 
As he'd planned, A New York Christmas Wedding came together on the strength of Abit's short film, Jitters. "So what happened first was our main producer, Kory Apton, works at a company called Conglomerate Media, and she saw Jitters and enjoyed it, and were very surprised by the LGBTQ subtleties," he says. "So Kory asked if we could incorporate that kind of story into a holiday film." Abit mentioned a recent scenario in which The Hallmark Channel aired a same-sex couple kissing in a commercial (for Zola, a wedding company) and there was a backlash, so they pulled it down, stating at the time they do not accept ads "that are deemed controversial." "Then the LGBTQ community responded, and asked them to look at their programming and realize they have no stories representing their community or minorities in the lead," Abit says. "Kory then gave me four points to focus on, Christmas, wedding in a church, New York City, and an LGBTQ couple. I whipped up a treatment, then Kory and I worked out the story for a couple of months, and from there we were shooting a couple of months later. It happened very, very fast."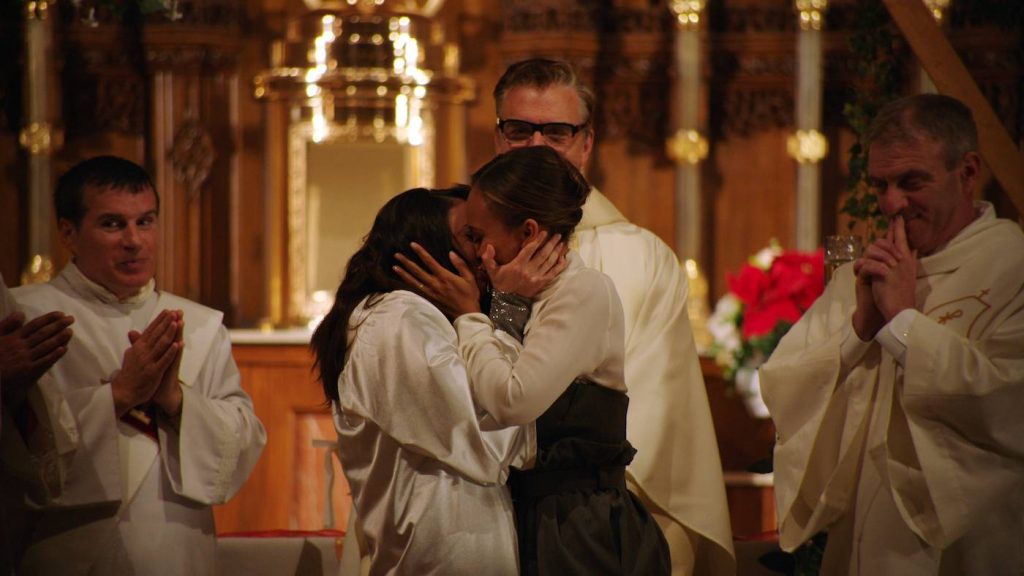 Taking on what should be a mainstream idea but still sadly isn't—a wedding story set around the holidays and featuring LGBTQ+ characters—is in keeping with what Abit did with Jitters. Back in 2018, he told us that having a film centered on a Black man actually emoting and talking through his feelings—let alone a gay Black man—was what surprised and intrigued viewers and future collaborators. Jitters co-starred veteran actor Jason Patric, who Abit met while assistant directing on the Broadway play The Championship Season, where he also worked with Kiefer Sutherland, Chris Noth, Brian Cox, and Jim Gaffigan. Noth has a role in A New York Christmas Wedding. When we spoke to Patric back in 2018, he said that Abit's attention to detail while working on The Championship Season, his learning "every single word of dialogue in the entire three-act play" proved to him that he had what it took to translate that into a modern feature film.
"I was writing about love and the two lead characters happened to be female," Abit says about scripting his feature. "I was focusing on a storyline that normalizes love. With Jitters, people were moved to see two men getting married in a real church and how it looked so normal, so I wanted to keep the same sentiment in this film."
Noth's character, a priest who is progressive about same-sex marriage, is based on a real priest Abit knows. "He actually had notes about Chris's character, and he was very supportive of this same-sex story. Then months later, while we were in post-production, he was removed from the ministry because the higher-ups at the church felt he was too progressive. Like the Pope said a couple of days ago that you should love LGBTQ kids for who they are. Some young LGBTQ people stop going to church because they feel the church is against them, but then there are people like this priest who really do accept people as they are. People have seen Chris's character and think, wow, what a great character—but he's based on a real person."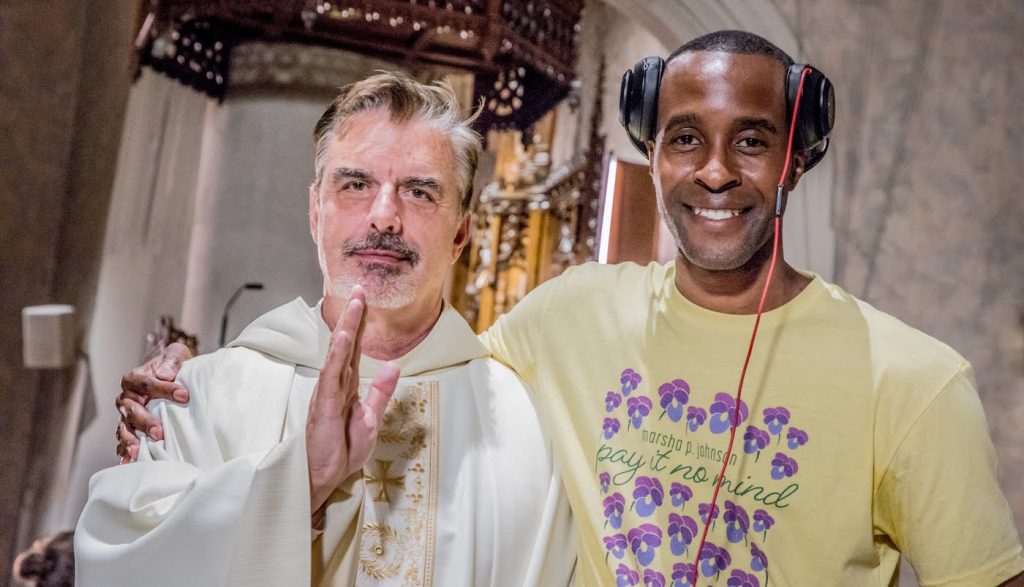 Abit couldn't have known—although he might have predicted—that the Pope would, weeks after we spoke, voice his support for same-sex civil unions. A New York Christmas Wedding will premiere in a changing world (and two days after the presidential election, hopefully, a very changed world), one in which Black and LGBTQ+ creatives are finally getting to tell their own stories, and the head of the Roman Catholic Church is, if incrementally, pushing his followers to see the humanity and love in LGBTQ+ relationships that's so plain to the rest of us.