SCAD Savannah Film Fest: Jitters Writer, Director & Star Otoja Abit
Actor Otoja Abit had an idea for a short. It was a simple idea that concealed a depth of feeling; what if we got to see a young man, moments before his wedding ceremony, question whether or not he was making the right choice. Abit, who has acted on TV (The Defenders, The Night Of), film (Stonewall), and in theater in New York, wanted to take what he'd learned and make something himself. Jitters is the fruit of his labor, a 12-minute short that played in competition at the SCAD Savannah Film Festival, in which Abit's character struggles with his impending (as in minutes away) wedding.
"I wrote a feature film that I wanted to make, and it's hard to get a feature film made unless you have a short film, especially as a first-time filmmaker," Abit says. He found his idea by taking a look at what was going on in his own world. "I'm at the point of my life where I'm seeing a lot of people getting married, and I have my own…not even doubts, but the idea of this big moment, and I wanted to explore that."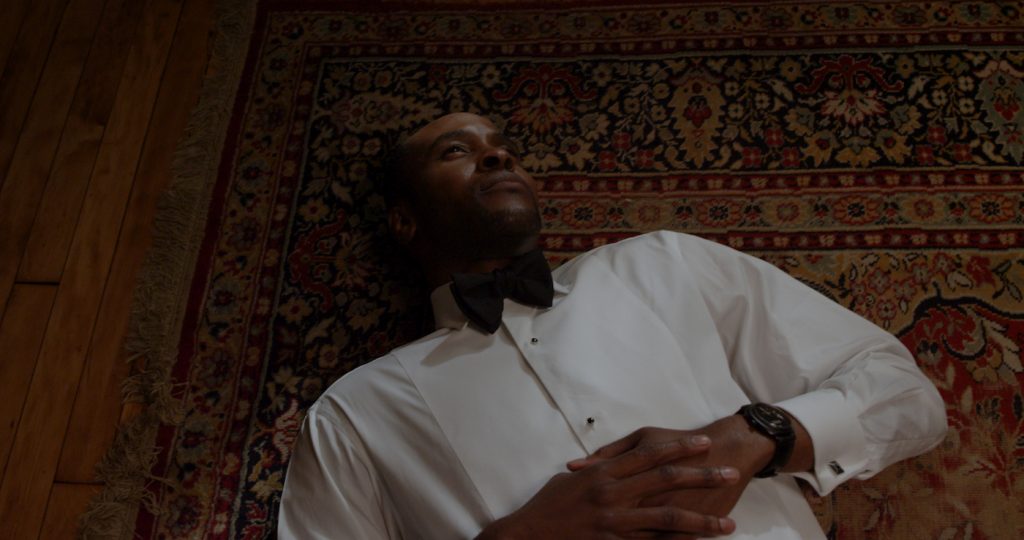 A short film is a great way for a young writer/director to hone their craft and see how their idea plays. I mentioned to Abit about the moments after seeing a short film at the 51st Annual New York Film Festival and thinking to myself that the director was going to be a star. The short was called Whiplash, and the director, Damien Chazelle, is now a star.
"I'm totally inspired by that," Abit says.  "When you see something like that, you're thinking, 'I want to see more, and there's so much more where this can go.'"
Abit says he was inspired to make Jitters because he's interested in what people really say in private conversations. He wanted to explore a moment between two people—the groom and his friend—who are hashing out this momentous choice, albeit it at the eleventh hour.
"These are two people who really know each other, talking about how do you come to make this kind of choice."
JITTERS TRAILER from JITTERS film on Vimeo.
"I think even having this film center on a black man, you have this idea that black men should be strong and don't emote about anything whatsoever," Abit says. "But then I think a black man's one thing, but the idea of just a man in general, you always think about them at this moment before marriage, drinking in the back and sort of stumbling down the aisle. But what about the groom thinking, 'Although I think I know I'm ready, give me five minutes and let me get everything out right now before I walk down that aisle.' That's what this story is trying to highlight."
Jitters benefits immensely from Abit's skill not only as an actor but with the other actors in the cast, who include the bride, Angelic Zambrana, Johnny Beauchamp, Walker Hare, and, perhaps surprisingly to many, veteran actor Jason Patric. Patric's involvement came about from his time working on the Broadway play That Championship Season, which Abit was an assistant director on. The cast included Patric, Kiefer Sutherland, Chris Noth, Brian Cox, and Jim Gaffigan.
"They took a liking to me because I took the words very, very seriously," Abit says. "While I was backstage and the actors were performing, I was envious, I wanted to be on stage on Broadway, so I started to create my own stories. I think when you're around other artists, you start to become inspired."
Jason Patric called me while I was in Savannah to talk about what he was inspired by Abit and wanted to help him.
"I think storytelling was an interest for him that became a calling," Patric says, reflecting on their time together on That Championship Season. "He would run lines eight times a week, with Gaffigan, with Kiefer, with Noth, and there was a point where Otoja knew every single word of dialogue in the entire three-act play. That kind of passion and interest in the sort of classical structures, that's what I wanted to lead him towards. To have that sort of structure, that can translate into anything modern."
"Jitters is almost like a metaphor for myself as a filmmaker because it could be marriage, but it could also be about me trusting myself that I could do this," Abit says. "To have other people's support, like Jason and Kiefer Sutherland, they're able to say, 'Trust yourself, you've got this.' I'm nervous. It's a lot to say, 'Yeah, I'm an actor, but I'm going to create a film.' But with their support, and the idea that I belong here, I did it."
Featured image: Otoja Abit and Angelic Zambrana in Jitters. Courtesy Otoja Abit.