Oscar Watch: La La Land's Director Damien Chazelle & Star Emma Stone on Their Moving Musical
Oscar-nominated writer/director Damien Chazelle set out to make a genre film with La La Land. Inspired by classic song-and-dance movies such as Singin' in the Rain and Swing Time, he wanted to create an old-fashioned musical but "keep it grounded" in realism and contemporary Los Angeles.
"It was about trying to use real locations, use a lot of real spaces, then try to dress them up and make them feel a little more magical," Chazelle told The Credits. "But the whole idea was to make sure we never lost sight of that kind of realistic setting where it did still feel like the city we knew. Once you put this kind of music on any kind of LA freeway, it does do something. We also wanted to make sure the camera work had a certain lyricism to it, the color palette was really saturated and rich, those kind of details."
He also noted that everyone on set — from the actors to everyone behind the camera — had to be conscious of the balance they were trying to set between the "realistic and the fantastical."
"That was the biggest concern, because we're at a dinner table and then sort of floating into space," actress Emma Stone told The Credits. "It was a lot of rehearsal, learning the dance and singing to the point where you sort of let it go and try to be as present as possible."
Elsewhere, Chazelle has said that he believes the musical conceit of someone bursting into song works because "your emotions can actually upend logic." And La La Land is a movie full of emotion. There were many tears from the audience at the Denver Film Festival screening, where the movie premiered this month after it earned raves at the Toronto and Venice film festivals. Already earning Oscar buzz, the movie might make singing sensations of its stars Stone and Ryan Gosling.
Chazelle wrote the screenplay before he made last year's Oscar-winning Whiplash. He said at the time he wrote it, he was so far outside the industry he never expected Stone and Gosling to star in it. "Any door that Whiplash opened would be doors I would use for this," he knew when Whiplash started gaining steam in 2015.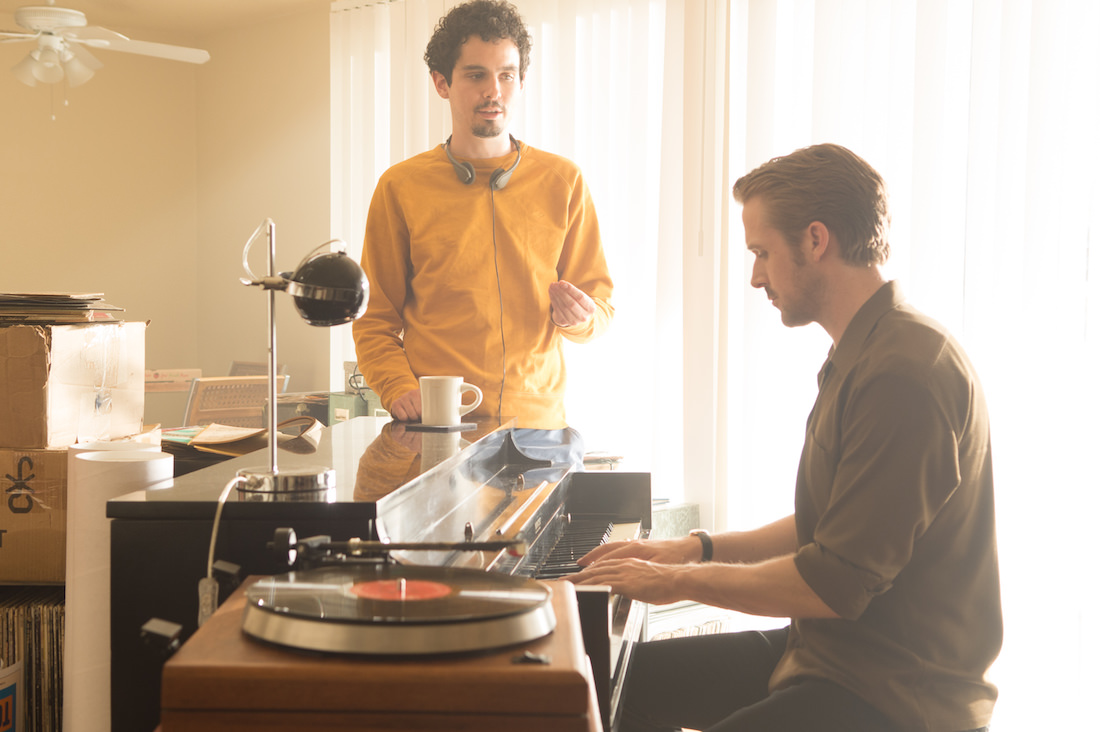 Director Damien Chazelle (left) and Ryan Gosling (right) on the set of LA LA LAND. Photo Credit: Dale Robinette
Chazelle started as a "one-note kid" making films in his backyard. "I was definitely in that group of people that gets very angry when people break into song [on film]," he admitted. But because he was passionate about both film and music, eventually he married the two on the page.
"I realized those movies were avant-garde and very audacious within the confined of the genre," he told the crowd at the Denver premiere.
Stone was not immediately convinced by the concept of La La Land. "Damien had a lot of patience with me," she said. As part of his pitch, the actress heard the score that is now earwigging the movie's audience. "In one way, [this movie] could be the most beautiful fantasia and in the other it could be a true disaster," Stone laughed.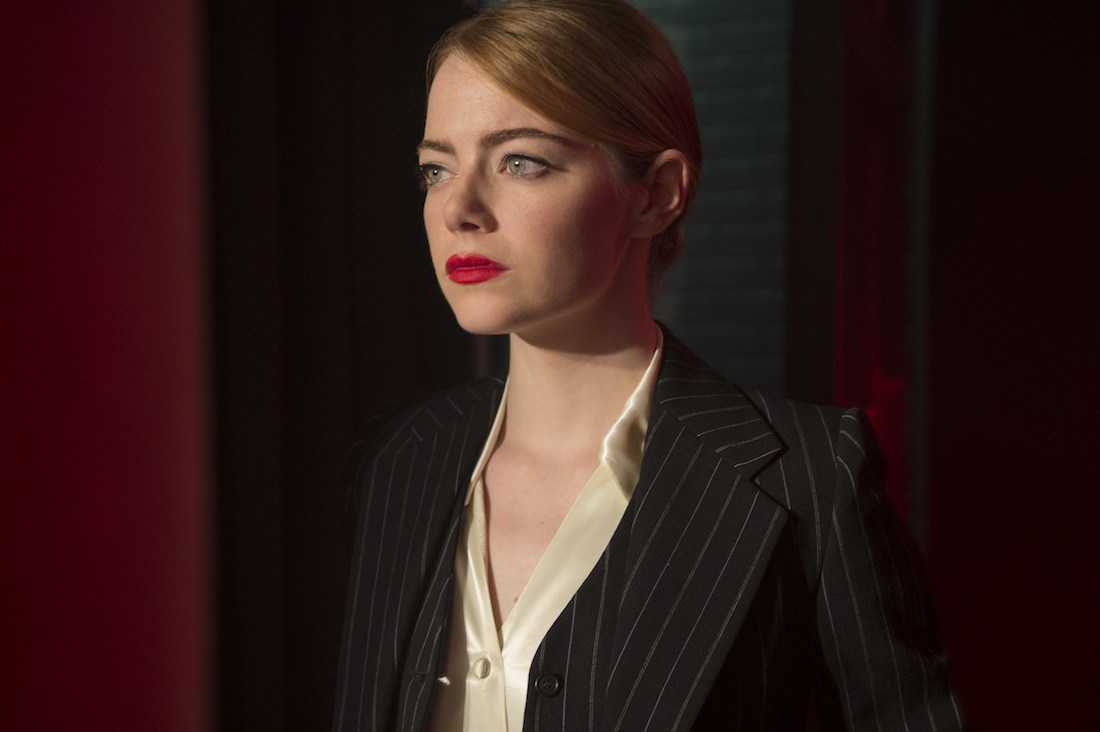 Emma Stone stars as 'Mia' in La La Land. Photo Credit: Dale Robinette
Audiences are calling it for the fantasia side. The film has more than a 90 percent rating on Rotten Tomatoes.
And Stone, who was Oscar nominated in 2014 for Birdman, might just be up for another golden statue next year. Chazelle cast her because she reminds him of a '40s actress who just might have been expected to break into song. "She has an effortless presence on screen that is really rare these days," he said.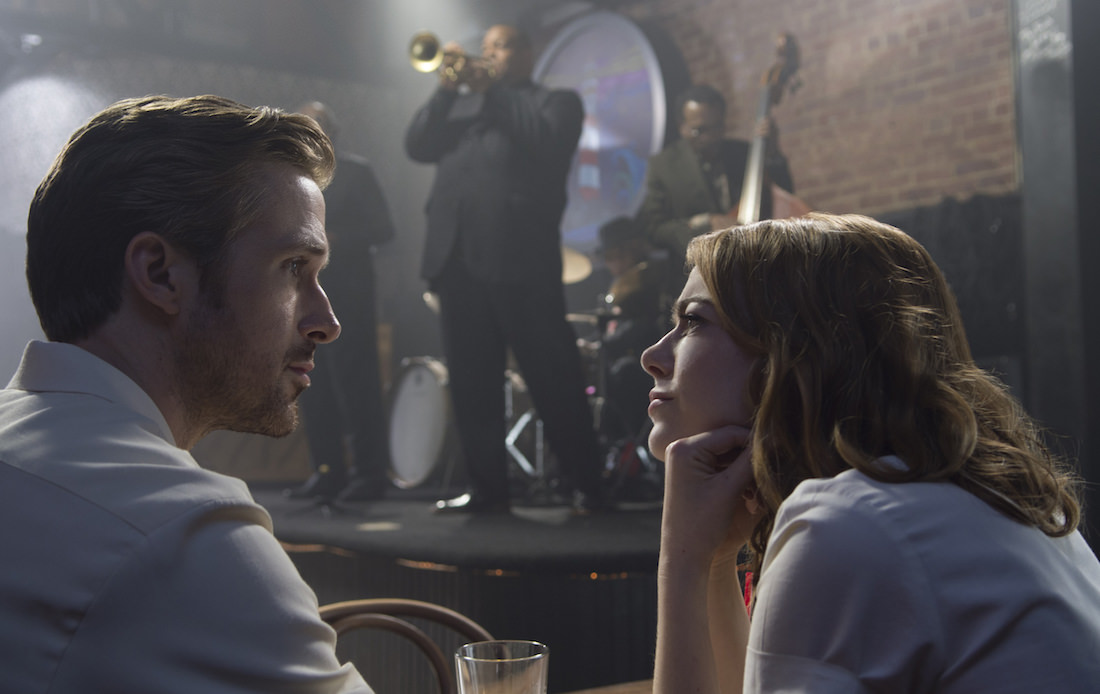 Sebastian (Ryan Gosling) and Mia (Emma Stone) in LA LA LAND. Photo Credit: Dale Robinette
Stone isn't the only unexpected aspect of the movie. "It's not what you expect from movies right now, with musicals going out of fashion 30-40 years ago," Chazelle acknowledged. He thinks that might be part of the appeal.
And as for Stone, she just "hopes" the movie made her a better dancer.
"I hope so. I surely hope so," she laughed when asked. "Probably not but I hope."
Featured image: Sebastian (Ryan Gosling) and Mia (Emma Stone) in LA LA LAND. Photo credit: Dale Robinette​