How The Irishman's Oscar-Nominated Production Designer Crafted Scorsese's Mob Epic
Central to Martin Scorsese's The Irishman is retired hitman Frank Sheeran's (Robert De Niro) fifty-year oral history of his time with the mob, culminating in his murder of Teamster boss Jimmy Hoffa (Al Pacino). The three-and-a-half-hour epic spans from 1949 to 2000, with most of the 295 different sets and locations made up to look like Philadelphia and environs between the 1950s and the 1970s. Designing the look of the film was a huge undertaking for the art department—"you're reading the script and you're thinking, wow, we're in a different place every third of a page," said Bob Shaw, The Irishman's Oscar-nominated production designer. Less obvious was how that effort needed to render a surprisingly understated world.
"During the first conversations with Scorsese, his comment was, well, this should really look like nothing," Shaw said. "He explained that it should not look out of the ordinary. It's not exotic, it's not fancy, and these were very regular Joes." In a departure from the director's earlier work about the mob, like Goodfellas, Casino, and Boardwalk Empire, Scorsese traded the gritty splendor of New York City, the flash of Las Vegas and the old fashioned charm of Atlantic City for the very everyday life of Sheeran, a Philly-based mafia foot soldier. "I find it all kind of interesting, because these people lived a highly compromised and sort of dangerous life," said Shaw. "They lived that risk, and the risk that they were going to go to prison, and in exchange, they got a house in the suburbs of Philadelphia." Having spent his early childhood in the city, Shaw's first point of research was his own family photo albums. "Marty loves telling details," he said, which meant that elements as specific as the production designer's memory of Philadelphia house numbers, painted diagonally right on the brick in black and gold, made it into the film.
Shaw was also able to plumb his own memories in order to build a more cinematic version of the Villa di Roma, the red-sauce Italian joint where Sheeran first meets mob boss Russell Bufalino (Joe Pesci), his second wife Irene (Stephanie Kurtzuba), and where a whos-who of local mafia glitterati cut deals in the restaurant's deep-cushioned booths. "It's funny, I'd say my two favorite sets were the ones where we ignored the historical reference and did what we thought was more cinematic and a little more evocative," explained Shaw. The real Villa di Roma occupied a plain, rectangular, brick-walled space, so the designer put together "a greatest hits of Italian restaurants I've been in in the city over the years," referencing details like wall murals and worn tiled ceilings from historic restaurants around New York's Little Italy and Carroll Gardens neighborhoods.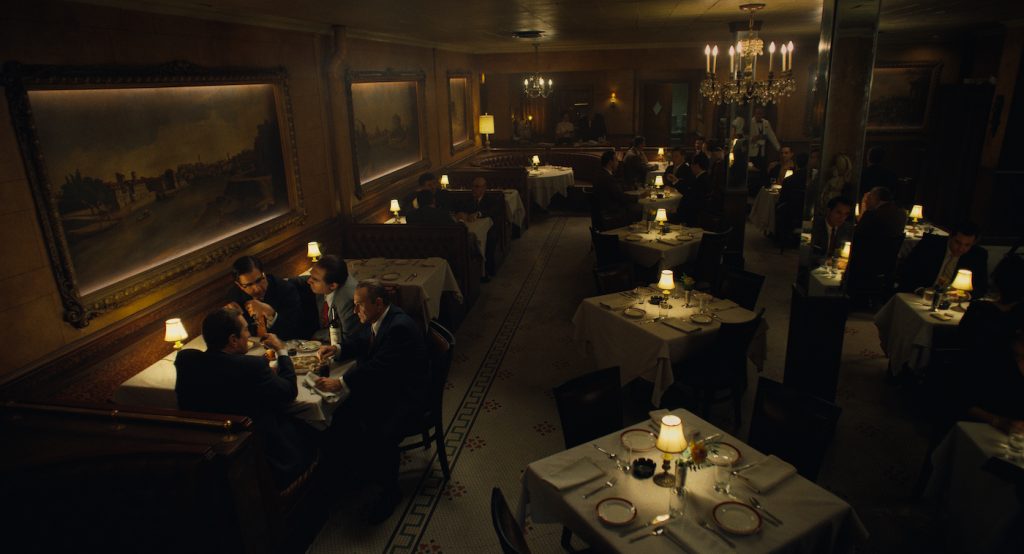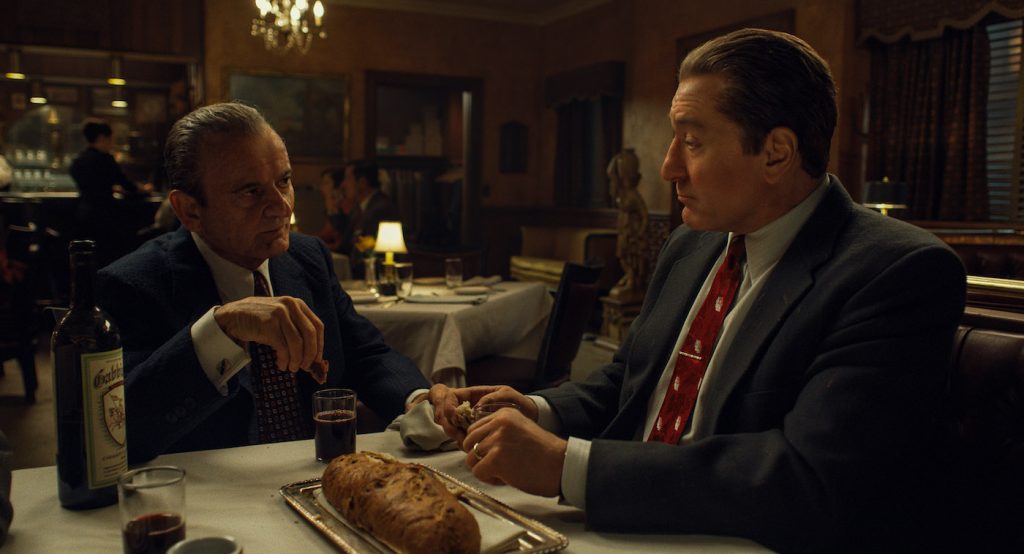 For one of the film's most distinct locations, historical reality was imperative. To film the Howard Johnson's where Frank, Russell, and their wives stay in the course of a road trip that serves as the crux for much of the film's plot, Shaw and his team were able to locate one of the franchise's remaining hotels, though "it had fallen on hard times," he noted. "The pool at this Howard Johnson's hadn't been used in years. There was no water in it, but there was still a cover on it, and there was just enough water in the cover for flocks of geese to reside there." Hotel employees had also used the fenced-off pool area as a dumping ground for broken furniture. "People were looking at me like I was crazy when I was saying, 'and the women will be sitting here,' and there's a pile of old mattresses. 'And Frank will come from here,' and there's a bunch of discarded entertainment centers," Shaw joked. The designer credited Netflix for the freedom he had to achieve this level of a before-and-after project. "Too often, we spend half of our time sort of stating a case for why we need to do our job, why we need the resources to do our job, or why something is going to cost a certain amount of money," he said. "We had really great support from Netflix on this, we were really able to do what we needed to do."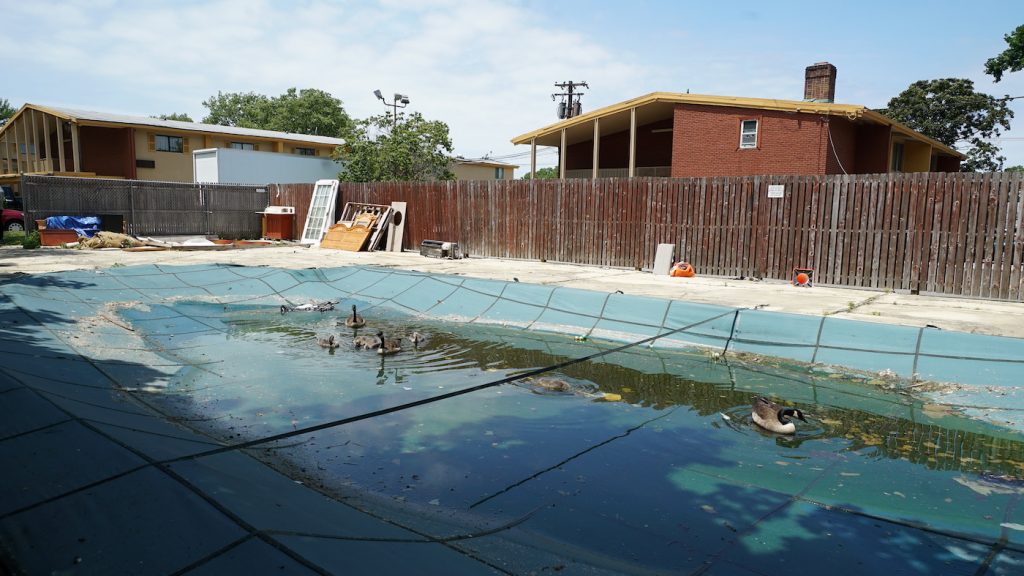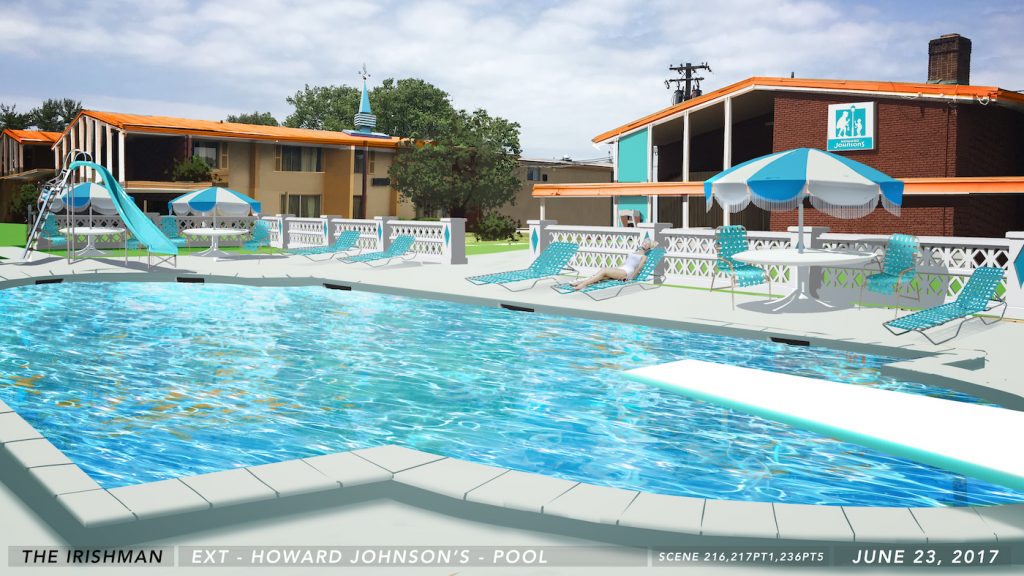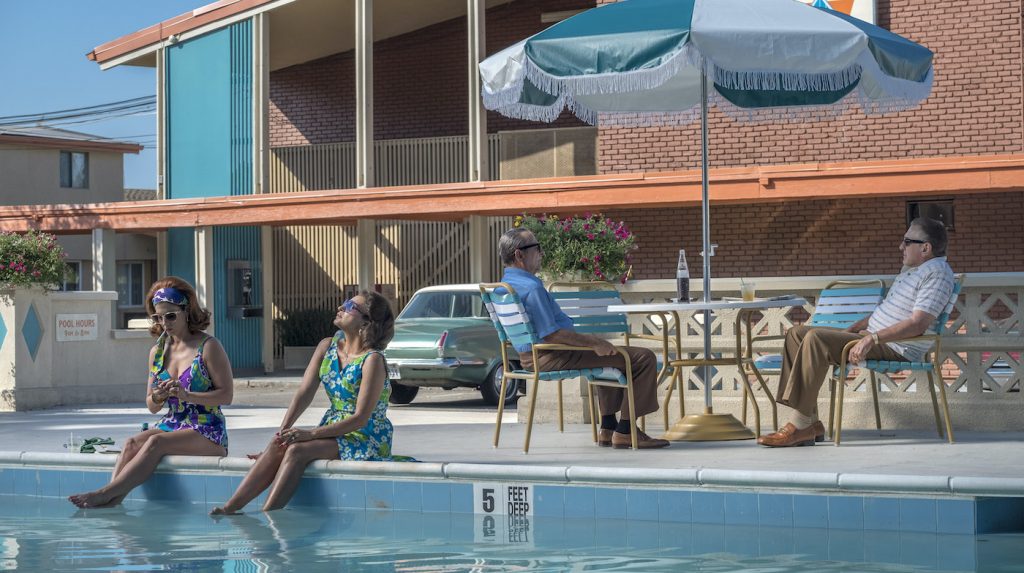 Shaw's first conversations with Scorsese about The Irishman took place two and a half years before shooting even began, and a good deal of his team's historical research stemmed from scouring newsreel footage and documentaries sent by Maryanne Bower, the director's researcher, for bits of color, in order to intuit a palette they could build on. Nevertheless, Shaw described the entire project as a blast. "It was one of the harder jobs, but it wasn't stressful, and it wasn't taxing," he said. "At the end of production, I said to the art department, savor this moment. Who knows when or if we'll ever get to do anything like this ever again."
Featured image: Howard Johnson's Pool in 'The Irishman.' Courtesy Bob Shaw/Netflix.
For more on The Irishman, check out the following interviews:
The Irishman's Oscar-Nominated Editor Thelma Schoonmaker on her 53-year Collaboration with Martin Scorsese
Casting Faces New and Old for Hundreds of Roles in The Irishman With Casting Director Ellen Lewis
The Irishman Cinematographer Rodrigo Prieto on Crafting Scorsese's Masterpiece
Super Producer Emma Tillinger Koskoff on Pulling Off The Irishman and Joker
De-Aging the Iconic Actors of Martin Scorsese's The Irishman
How Robert De Niro's Makeup Team Traversed 50-Years in The Irishman
Sandy Powell & Christopher Peterson on Dressing De Niro (and More) in The Irishman