Super Producer Emma Tillinger Koskoff on Pulling Off The Irishman and Joker
As a producer, Emma Tillinger Koskoff is eminently searchable, or IMDB-able, with her name affixed on projects ranging from The Departed (as an associate producer) to Hugo, to executive producer on HBO's Vinyl, and upcoming projects like Roosevelt.
A glance reveals a particularly impressive autumn-into-winter, as she has producer credits on two of the season's most anticipated films: Martin Scorsese's The Irishman, and the already controversial and Oscar-touted Joker. And if that wasn't enough to end 2019 on multiple strong notes, she's one of the executive producers on the Adam Sandler-starring (and also Oscar-touted) Uncut Gems, the frenetic, jewelry-biz set film from New York's indie-minded Safdie brothers, who may be having a breakout winter of their own.
For Koskoff, the high-profile busyness began when she "started working with Marty as his executive assistant in 2003," she recounts. "During that period I assisted on The Blues, The Aviator, and No Direction Home: Bob Dylan. In 2006, I became the President of Production for Marty's company, Sikelia Productions. Since then I've worked on all of Marty's narrative and documentary film features and television series in various producorial roles."
"Various" might even be an understatement, given how busy Scorsese remains not only as a director but as a producer in his own right, which is also what led Koskoff to her unlikely roll on Joker, which came about not simply because Robert DeNiro was co-starring along with Joaquin Phoenix as the titular Batman nemesis. "I was thrilled to work with Bob again," Koskoff says, "but that was not how I initially became involved. We met through Marty. Unfortunately, Marty couldn't stay on the project due to his schedule on The Irishman and Rolling Thunder (the latter being another Dylan doc).  Fortunately, my schedule allowed."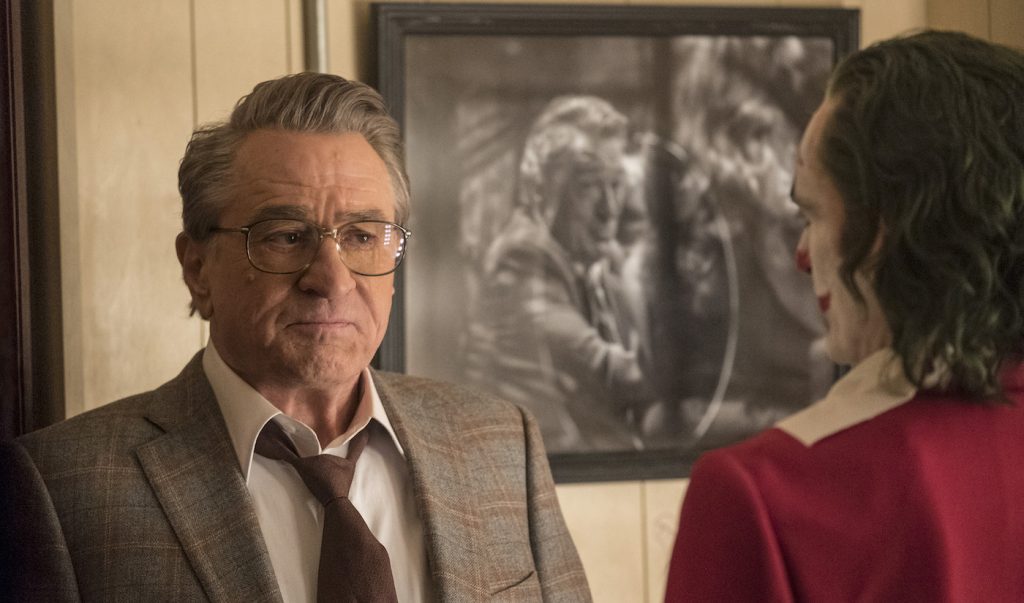 And according to Joker's director Todd Phillips, in a recent interview with IGN, she was specifically requested. Scorsese had "read the script," Phillips said, "and called me and we had a great 20-minute conversation about (it)…he told me what he loved about it. I don't necessarily want to talk about what we talked about, but it was amazing for me." Scorsese also mentioned his unavailability due to the Irishman shoot, so "Phillips then asked Scorsese if he could have Scorsese's longtime producer Emma Tillinger Koskoff, who Phillips called 'the queen of New York,' join the Joker production. 'She runs New York movies because she works for Marty and she has the best crews (and) relationships with the MTA [Metropolitan Transportation Authority]," Phillips mentioned—the latter being something particularly crucial for some of Joker's key sequences.
Koskoff said it was "terrific" working on the film. "There were more familiar faces than you would think. Luckily, a lot of my below the line folks were available for the project and I'd worked with several of the actors before as well."  Costume designer Mark Bridges had overseen the Vinyl pilot, for example, while Frances Conroy—Arthur Fleck (Joaquin Phoenix)'s mother—was in The Aviator, and of course, there was DeNiro taking what had been the Jerry Lewis role in King of Comedy. Never mind the additional thematic doffs of the hat to Taxi Driver, as well.
But Koskoff also adds that Joker "gave me the opportunity to bring on people whose work I've admired for a long time, so it was a really exciting production." At the same time, unlike the busily directing Scorsese, she was also involved with The Irishman.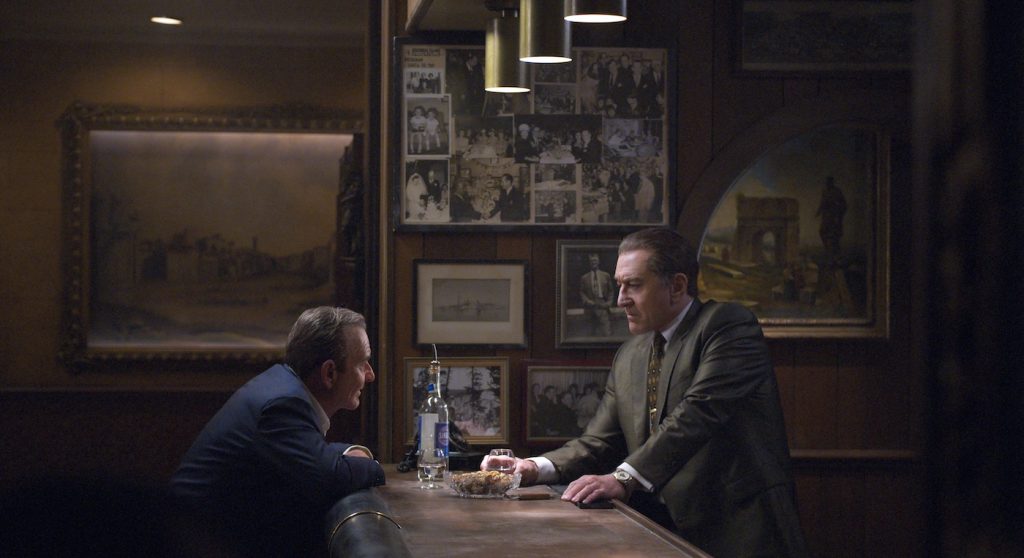 That film, she notes, "posed exciting challenges to us from telling a story that spanned many decades to utilizing ILM's new technology. We were using such cutting edge technology that continued to develop more from when we did our first screen test to when we shot the film. The actual shooting with the actors was seamless, but it involved moving more equipment around and some days we had two to three production moves."
But the most famous "moves" for the story were the ones through the decades, which was where ILM's de-aging technology came into play: The three main leads, DeNiro (also evidently pretty busy during this stretch), Al Pacino and Joe Pesci, star in a mobster magnum opus that starts around World War II, and heads to the most recent turn of the century.
Rather than cast different actors, Scorsese went with a more Benjamin Button-like solution and went with digital de-aging for his leads, a process also seen recently in films like Captain Marvel, and the Will Smith-starring Gemini Man.
According to his own recent comments on the A24 Podcast, the director was less worried about an "uncanny valley" effect on his actors' faces, than getting the eyes right: "Certain shots need more work on the eyes, need more work on why… the same eyes from the plate shot (now have) wrinkles and things have changed. Does it change the eyes at all? If that's the case, what was in the eyes that I liked? Was it intensity? Was it gravitas? Was it threat?"
As for any comments that pass between Scorsese and Koskoff, she acknowledges that after all this time, a kind of shorthand has developed between them: "Yes, definitely…Marty develops this with his actors and his department heads. The majority of this work is done in pre-production. It's extremely important for us to have lots of discussions prior to the shoot. This means by the time we get to set everyone is confident that they know their jobs and how to support Marty's vision."
Koskoff plans to keep busy supporting that vision—and those of her own—in the years ahead: Aside from the announced Teddy Roosevelt biopic with Leonardo DiCaprio in the cinematic bully pulpit, she'll also be executive producing a film called Bully, in this case, a thriller from Rodrigo Prieto, who will be stepping away from his cinematographer's role and into the director's chair. Prieto shot The Wolf of Wall Street, and The Irishman, so he and Koskoff have some established shorthand of their own, already.
Or as Koskoff tells it: "We've been so lucky to be able to work over and over again with many of our department heads. Our productions are big, we shoot a lot of scenes, and have to move quickly. This only works when you have an incredible team that you trust implicitly. It is, she adds, "an absolute joy to come to set and be surrounded by collaborators that are the best in their field."
In which case, jokers and mobsters aside, she has some joyful times still to come.
Featured image: Featured image: L-r: Joaquin Phoenix is Arthur Fleck in Joker. Courtesy Warner Bros. Ray Romano (Bill Bufalino) and Robert De Niro (Frank Sheeran) in 'The Irishman.' Courtesy Netflix.
For more of our Joker coverage, read our interviews with composer Hildur Guðnadóttir, costume designer Mark Bridges and makeup department head Nicki Lederman.