Sandy Powell & Christopher Peterson on Dressing De Niro (and More) in The Irishman
In Martin Scorsese's three and a half-hour Netflix gangster opus, The Irishman, Robert De Niro plays real-life Philadelphia mobster Frank Sheeran across five decades. The film's VFX team had their work cut out for them during Frank's early years, while hair and makeup were responsible for the much aged De Niro who directly addresses the camera from a nursing home at the beginning and close of the movie. Getting the wardrobe right for De Niro as well as a similarly de-aged Joe Pesci, as mob boss Russell Bufalino, and Al Pacino playing the Teamster leader Jimmy Hoffa, was a more analog endeavor than adjusting the men's faces, if just as tremendous in the breadth of the work.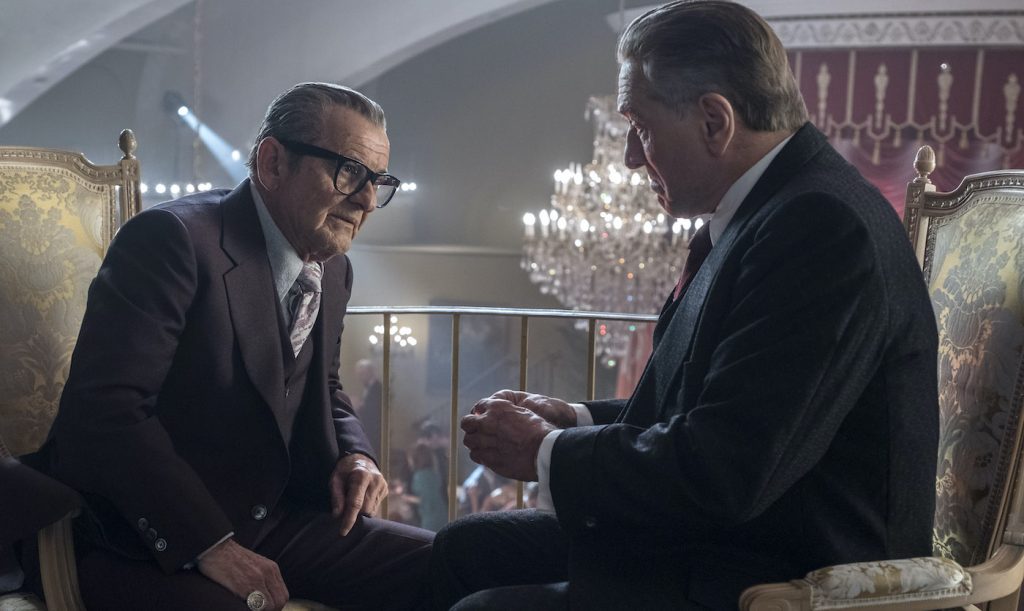 "We didn't do anything special with the clothes to make them look younger," said Sandy Powell, a long-time Scorsese collaborator who partnered with her former assistant, Christopher Peterson, to take on the scope of The Irishman. "We just dressed them in the clothes that somebody their age would have been wearing. And fortunately for us, it wasn't so extreme. It wasn't like nowadays when somebody who's 25 looks completely different from somebody who is 60." For the costume designers, the film's de-aging that has garnered so much buzz was limited in their work to part of the fitting process. "We wanted to make sure we had the right clothes on each of the men for the ages they were portraying," Peterson explained. He and Powell referenced photos of the principal actors in their younger days, and "when we were going through our fitting photos, we occasionally did some photoshopping just to help us with putting the face onto the costume."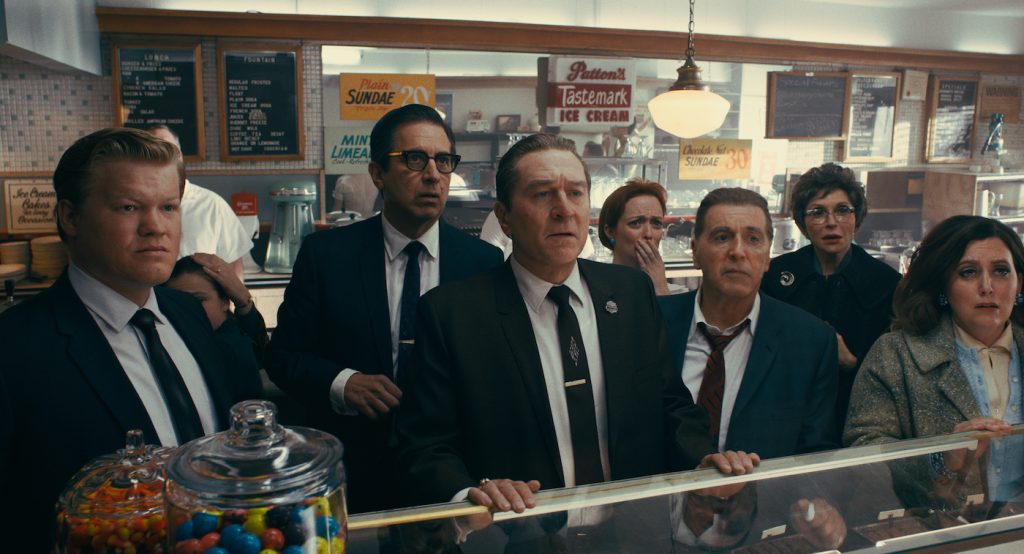 At first blush, what appears a harder task would be defining five different decades primarily through subdued menswear. Powell, however, was quick to correct this—the background characters, and there are tons of them, filling Teamster meetings and Philly's streets, are all meticulously dressed to the era. It's just easy to overlook when the screen is filled with a who's who roster of actors from every gangster movie of the past half-century. For Powell and Peterson, researching fifty years of fashion and then building up a stockpile of hundreds of garments was how they laid the groundwork for dressing De Niro, Pacino, Pesci, and the rest. "We're pulling men's and womenswear from all of those periods, and that provides the backbone to the story. That's what we dress all the crowd in, all the people you see who really do provide the backdrop of the period," Powell said. "Out of that, we start to pull things for our principals to wear."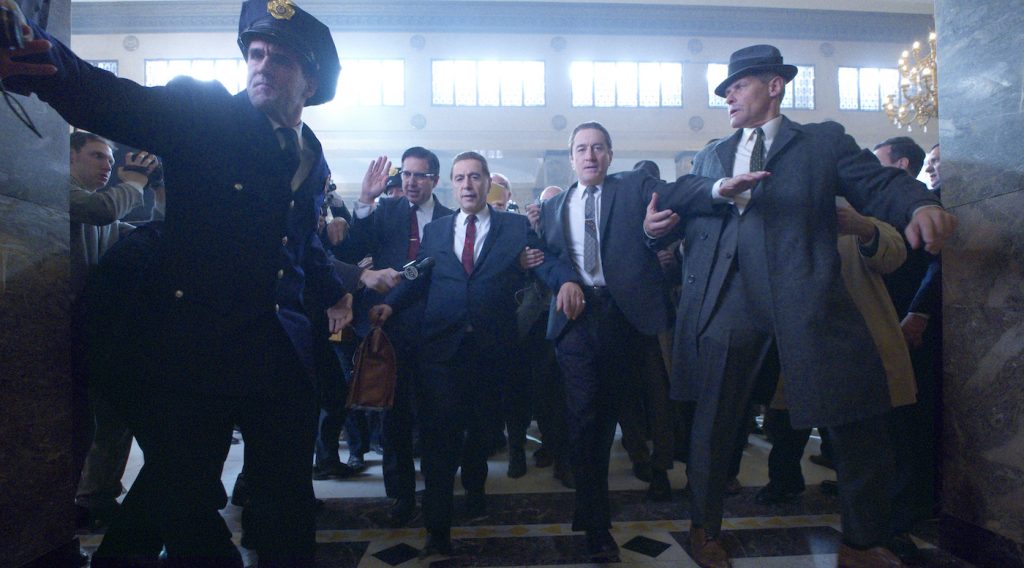 We see Frank climb the seemingly untouchable Bufalino's ranks in addition to becoming a bodyman for Jimmy Hoffa, who gives out backroom multi-million-dollar loans from the Teamster pension fund when he isn't leading rallies or serving a brief stint in jail. Yet despite the power these men wield, their garb is understated, unusually so for this corner of Scorsese turf. "That was a directive that came from Marty," Christopher said. "He's made a lot of movies about these kinds of men and for this one, this is a Philadelphia crime family. He wanted them to feel real and not to have the flash of some of his previous films, so that's what we set about doing."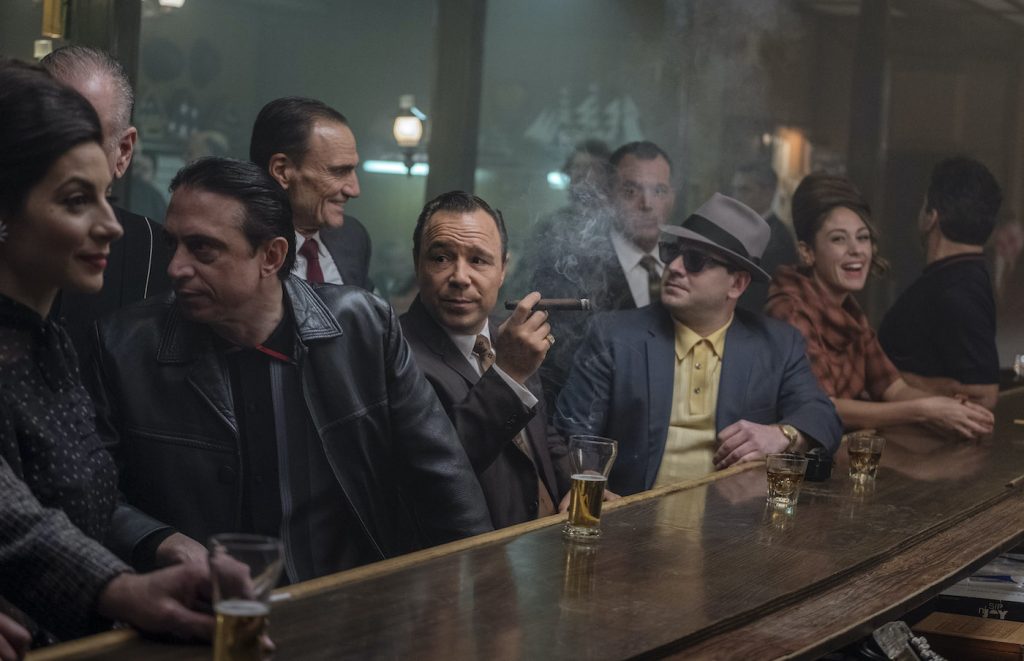 What gangster flash we do get comes from Sheeran and Bufalino's wives, Irene (Stephanie Kurtzuba) and Carrie (Kathrine Narducci). The two women smoke more than they talk, but their presence is pervasive, filling the backseat in crisp pastels during a road trip around which much of the movie is framed. "We dressed them as typical women of the period, so when we first see them in the mid-1970s, they're actually dressed a little bit back-dated, to the late 60s and early 70s, in the way that people tend to stick to one era once they've reached a certain age or found something that suits them," Powell said of the women's symmetrical looks, which were Pucci-inspired, rather than Pucci originals. The women aren't high-fashion, but they're nevertheless thoughtfully turned out, with Powell explaining that "they make sure they have the matching handbags and shoes and it's all very well accessorized with jewelry—well put-together and a credit to their husbands." (The accuracy of the jewelry was a particular stroke of luck, with a granddaughter of the real Frank and Irene Sheeran, Brittany Griffin, on the costume team. She brought in several of her grandmother's pieces for use in the film.)
Of the realistically slight passé nature of the women's costumes, Peterson said, "They're the real housewives of Philadelphia. So they don't shop at Bergdorf Goodman, they shop at the local department stores." Whether Frank Sheeran really murdered Jimmy Hoffa, as the actual gangster claimed he did, remains unsure. In this otherwise often historical odyssey, Scorsese unequivocally posits that he did—and with such a down-to-earth physical presentation of these crime families of a bygone era, it makes it just a bit easier to believe in his version of events.
Featured image: Jimmy Hoffa (Al Pacino) and Frank Sheeran (Robert De Niro) debate Hoffa's next move. © 2019 Netlfix US, LLC. All rights reserved.