"Winning Time" Production Designer Richard Toyon on Capturing the Lakers Highs & Lows in Season 2
A Los Angeles native and longtime Lakers fan, production designer Richard Toyon had a good idea of how the HBO series Winning Time: The Rise of the Lakers Dynasty should look. After all, he was there when it originally happened.
Opening in 1979, season 1 saw Jerry Buss (John C. Reilly) buying the Lakers and drafting rookie sensation Earvin "Magic" Johnson (Quincy Isaiah) in the quest for a championship. Season 2 covers the turbulent years following the 1980 win, delving into Magic's clash with coach Paul Westhead (Jason Segel), the growing rivalry between the Lakers and the Boston Celtics, and its rising star Larry Bird (Sean Patrick Small).
As the series wraps up this Sunday (September 17), The Credits chatted with Toyon to discuss design challenges, the secrets to capturing the 1980s, and the day Jeanie Buss visited the set.
What was your focus heading into season 2?
We knew that some sets had to evolve and enlarge. We knew Pickfair was on the horizon and going to be an endeavor. Fortunately, most of our department heads returned. There were many moving parts, but it was very satisfying to recreate that era. Even though you know the Lakers' record — who was going to win, who was going to lose —  the challenge was to immerse the viewer into that space.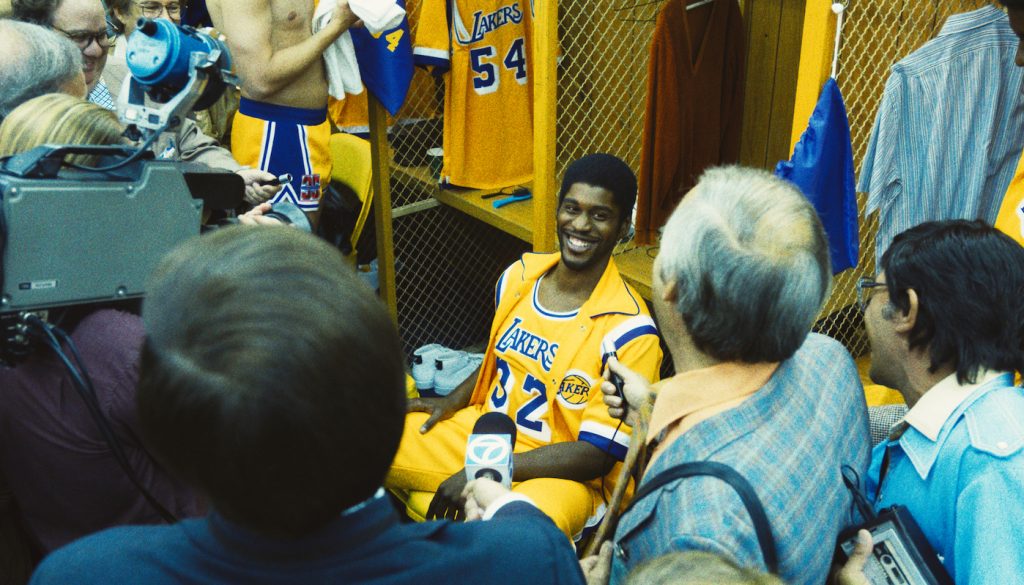 What adjustments were made? 
In the first season, the big question was how we were going to reproduce the Forum. We didn't have access. The stages available at Los Angeles Center Studios were all the same size. The question was, can one fit a natural NBA floor and have stands around it? My first order of business was to figure that out. You could — albeit not as big as you might want.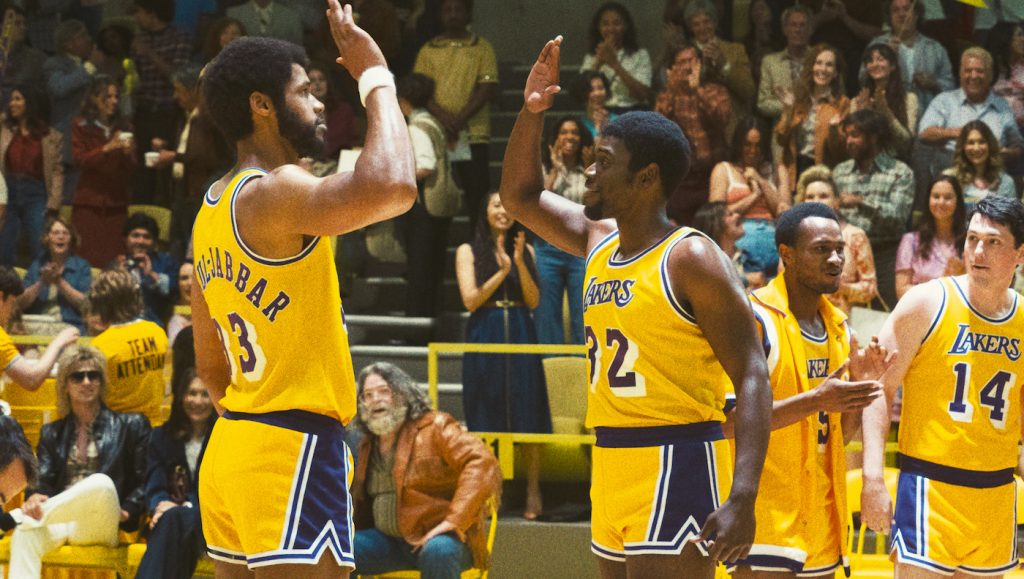 That changed in season 2?
We moved to Warner Bros. for season 2. The stage was maybe fifteen to twenty percent larger. It gave us the ability to curve stands around the sides and create a tunnel system with direct interaction with the court. That was key to making the basketball work for the directors.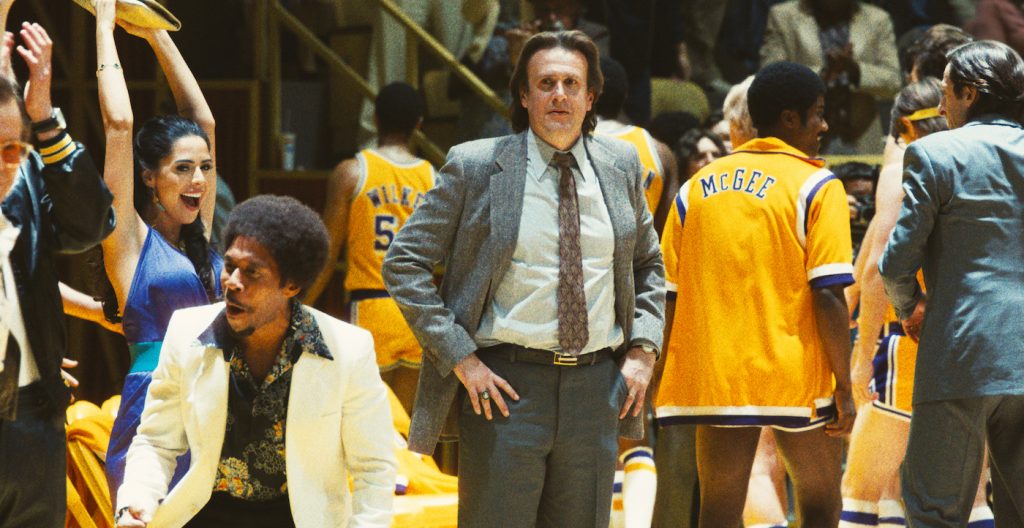 Did you make any other changes to how you built the court?
We used a company that specializes in creating NBA and NCAA floors. We graphically laid it out, and they built the floor. We had all the colors of the real Forum floor. But that's all we had. We had to build new stands, a whole new tunnel system, and all that surrounds it. It took about ninety days to construct.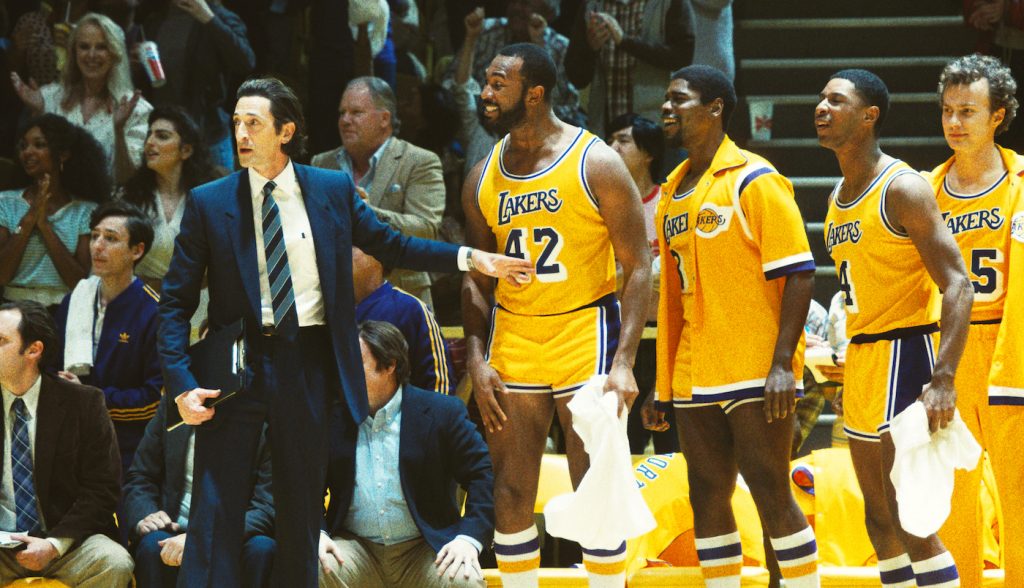 You mentioned Pickfair. (Jerry Buss bought the estate in 1980.) Talk about recreating that.
Pickfair was this fabled structure in Beverly Hills. It started as a hunting lodge, and then Douglas Fairbanks bought it for Mary Pickford after they married. They upgraded and renovated it. In all, it had about forty-three rooms. Obviously, we couldn't build forty-three rooms. I had to boil down the script's action and design the essence of Pickfair. I create a layout with a certain largeness that we'd be able to build. That was also at Warner Bros. It took a number of people a long time to create.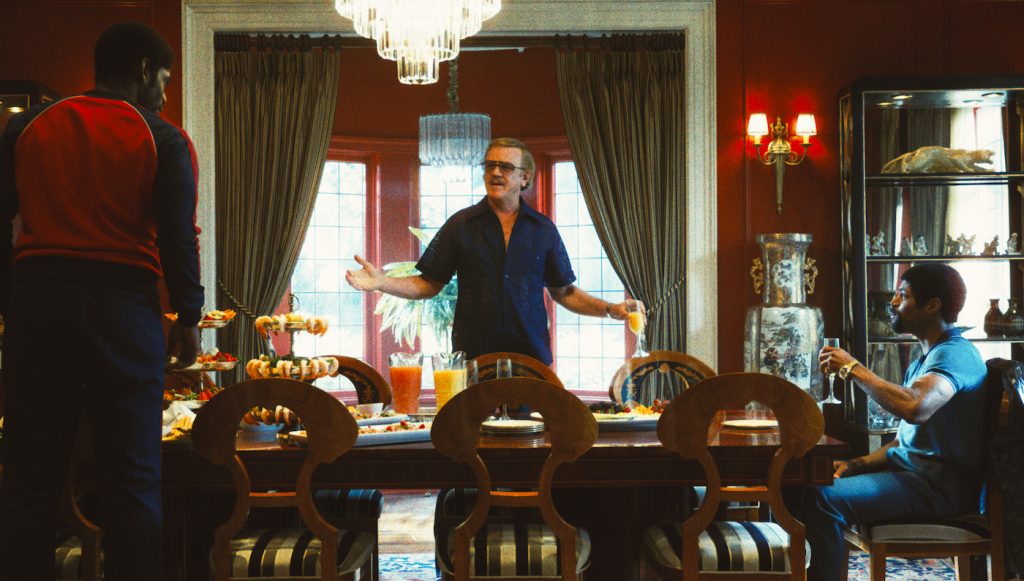 How did you set about recreating this legendary estate?
We went to a number of architectural archival sources and found maybe twenty to twenty-five photos. The architect of record who renovated Pickfair had created a white paper. Some of those photographs were available. But there were not a whole lot, and certainly none from the Buss era. Jerry Buss was all about stylizing himself as a second coming of Hugh Hefner. The Pickfair game room was a homage to his attempt to create that persona. But we only had a description and some video snippets of what it was like. From that, we created this masculine environment. We also built a living room, a dining room, and a kitchen. We had this long hallway. The stairway that led up to the bedrooms was very specific. Because we had such tall actors, the camera was always looking up. The ceilings became important. Whenever you're looking at the Pickfair scenes, you see a lot of ceilings. Thank goodness we paid attention to this.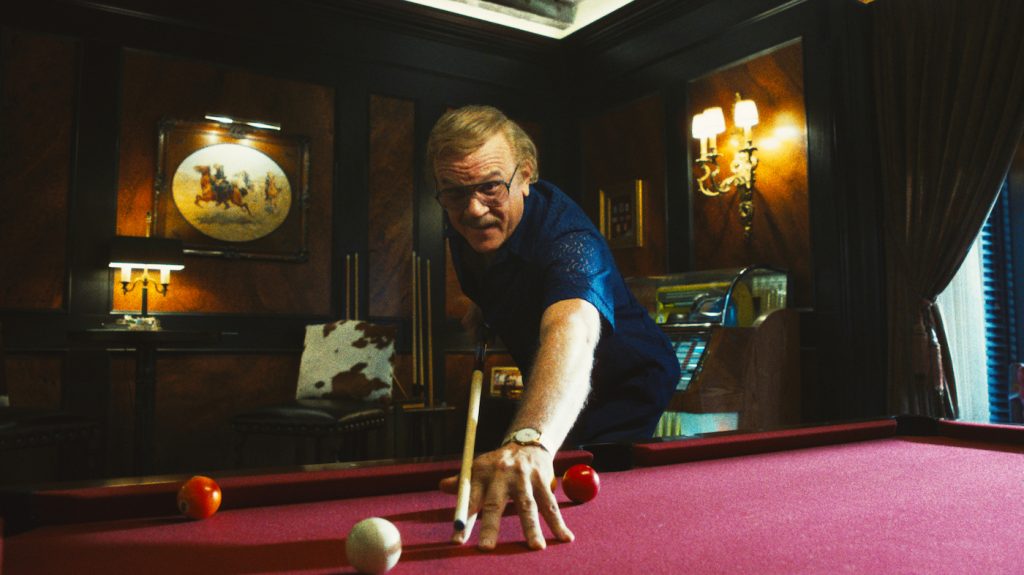 Did you consider filming at Pickfair?
Jerry Buss sold the estate to Pia Zadora and her husband. In short order, they ended up razing it. The only thing that's left is the gates. In episode four, Paul Westhead goes to meet Jack McKinney (Tracy Letts) at the Hamburger Hamlet. The restaurant used to have actors' photographs on the walls. We placed Pia Zadora's behind Jack McKinney. That's one of our Easter eggs.
How did you give season 2 that 1980s feel?
We go from 1980 to 1984. Los Angeles's design was changing so much. The 80s were always kind of searching for its true self. There were a lot of outlandish colors, a dissolution of graphic standards, and even a change in architecture to postmodernism. We wanted to make sure we didn't blow our wad in the first scene. You saw a progression – our colors becoming brighter, more Miami Vice — turquoise, peaches, magentas. We took into account what our costume designer (Emma Potter) was putting on our actors so they weren't contrasting with the background or falling into it. Light sources were important. I worked with the director of photography (Todd Banhazl) to figure that out. When you see the Forum Club for the last time, it's completely changed. That set has all built-in lighting. In season two, we were able to expand the design — really push things. You see Chasen's restaurant in the first season. That was the last gasp of the red leather restaurant, where you would get a good steak and a stiff drink. The 80s began pulling that idea apart. Those longtime institutions were going away. New things were coming on. In season two, we went to a roller rink.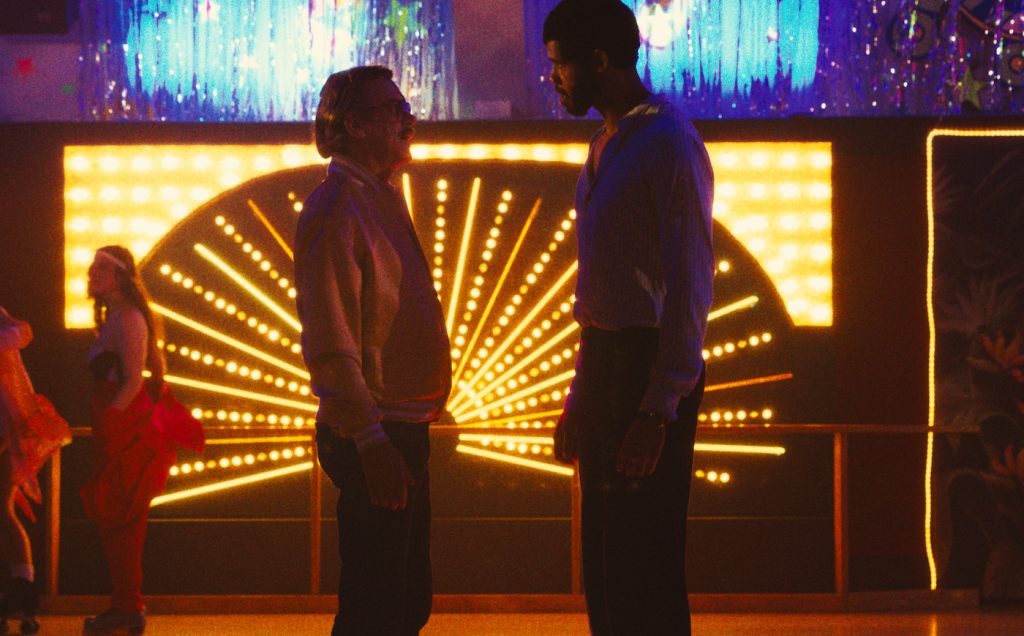 What stands out most about your Winning Time efforts?
We have a great team. We knew season one would be difficult. All the department heads were talking to each other, collaborating to create this world. In season two, it felt like we were firing on all eight cylinders —  costume, props, production design, cinematography — all working together. You felt it.  There's an old saying that a designer's job is to hold up every frame of film, and the second your fingertips go into the frame, you've done too much. When I'm watching Winning Time, I feel we stayed just below the frame.
Is there an ethos to the way the show is constructed? You're capturing these larger-than-life figures, many of whom are still alive.
The entire series is done with great reverence towards that period of time, the team, those players, and Jerry Buss. It was never intended to deride anybody. It's intended to tell the story. It's a pivotal time in the NBA and in Los Angeles. I get comments on Instagram and Facebook like, "Man, this show is fantastic, and I'm not even a Lakers fan," which is great because this is who you want to hook. To see that they are coming along on this journey is really gratifying. In the beginning, we didn't have the Lakers support. Eventually, they came around, and Jeanie Buss herself visited our Pickfair set. She choked up as she walked through. She said the game room furnishings were exactly how her dad had it. She thought the stairway was lovely. She told us, "I sat at the bottom of that stairway many times, waiting for my dad to talk to him." That, I think, was my favorite moment. It was validation.
For more on Winning Time, check out these stories:
"Winning Time" Costume Designer Emma Potter on Bringing Magic and Larry Bird Into the 1980s
"Winning Time" Co-Creator Jim Hecht on His Love Letter to the Lakers
"Winning Time" Writer Rodney Barnes on Scripting HBO's Fast-Breaking Lakers Series
Featured image: John C. Reilly and Quincy Isaiah. Photograph by Warrick Page/HBO