"Winning Time" Costume Designer Emma Potter on Bringing Magic and Larry Bird Into the 1980s
In all their gold and purple splendor, the Lakers are back for a second season of HBO's Winning Time, which tracks the rise of the team's path to glory during the late 1970s and early 1980s. The show's first season focused on Magic Johnson's (Quincy Isaiah) rookie season and the team's unlikely title win. This time around, the returning champs get off to a rocky start, with Magic out with a knee injury, tension between coaches Paul Westhead (Jason Segal) and Pat Riley (Adrien Brody), and a general sense that Magic, Kareem Abdul-Jabbar (Solomon Hughes), Norm Nixon (DeVaughn Nixon), and the rest of the players need to rediscover their footing as a team.
It's a time of transition — for Riley, as he emerges as a dominant coaching force, for Jerry Buss's (John C. Reilly) offspring, gifted with sports franchises of their own, and for the season's wardrobe. "One of the things I was most excited about with this season was how we were going to transition more into the eighties," said costume designer Emma Potter (True Detective, Perry Mason). "I had started talking early on with our DP Todd [Banhazl] about what we could do in terms of color and shine and texture." Potter and her core team of 30 to 35 people (plus many more for arena shoots when the costume design department was tasked with dressing up to 1200 people) subtly bring the team and their coaches, girlfriends, cheerleaders, plus owner Buss and his family, into the next decade, outfitting them between late seventies pieces with hints of the eighties to come. "Those moments, where people are trying to figure out how to transition themselves, were super interesting to me," Potter says.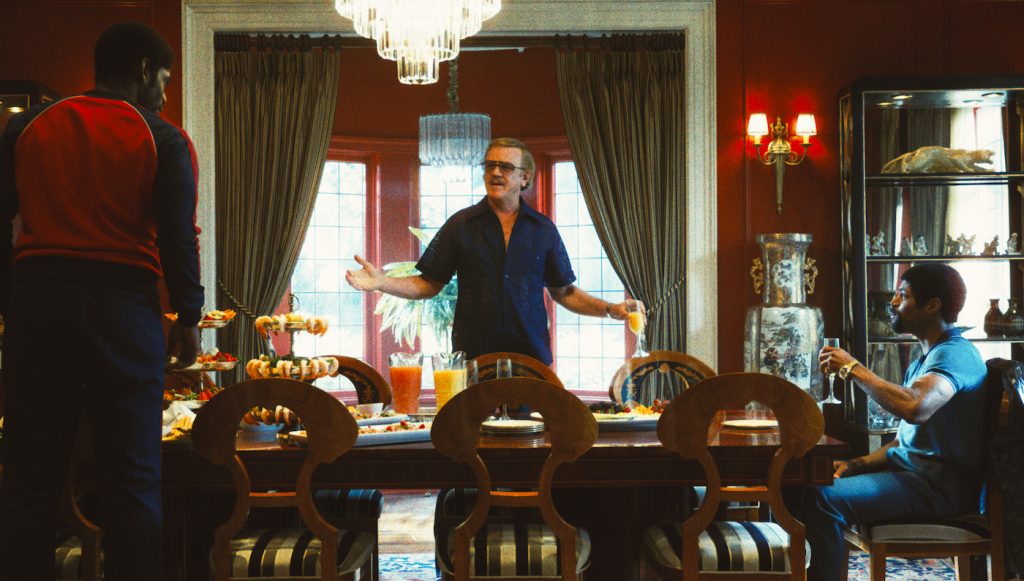 Among the costume designer's stand-out characters to dress this season were Pat Riley, who we get to see in the Armani suits the real coach donned starting in the mid-eighties, and Jerry Buss's daughter Jeanie (Hadley Robinson), who finds her footing as a sports franchise owner in her own right. "She's the first woman who comes in wearing pants in the space — everybody else is still in their suits or dresses," says Potter. However, the costume designer works by developing a rapport with all of the shows' primary actors on how they should be dressed. We spoke with Potter about her one-on-one approach, building vintage Lakers uniforms and leaning into the series' unusual cinematography to moor the characters' wardrobes in another time.
Can you tell us about your approach to working closely with the actors on how to dress their characters?
I start each project and each season with a big visual library for each person. I'll write a lot in there about what I imagine will happen to them and how it will be reflected in their costumes. It's a way for me to open the door and talk. John C. Reilly and I were able to sit down, look at those images, start to see where things were shifting as he moved into the eighties, and discuss how we imagined he might push that even further. I like being able to bounce ideas off each other because, at this point in the second season, they're inhabiting that character themselves. They've been able to ruminate on what they think these people should look like as they move through the time period. In those discussions, something unusual always comes out of it, and I think it allows more depth to be able to collaborate.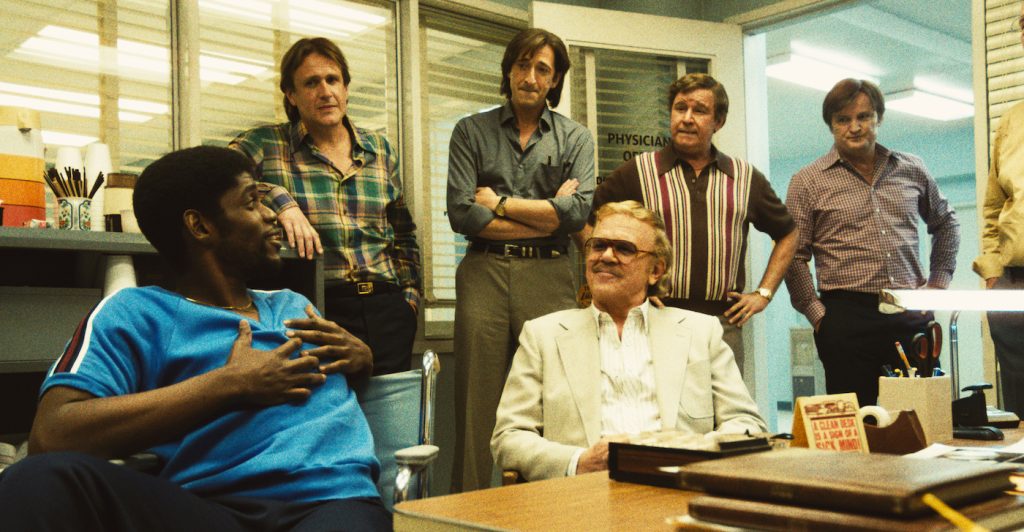 What's a particular look that arose out of these ongoing conversations?
I think a big one would be John and the tracksuits. We talked about this idea that when [Buss] got a new love interest, maybe he dived a little more into the eighties. We talked about the idea of athletic wear coming into everyday clothing and the exercise fads that were going around. Out of that came that shiny gold polyester tracksuit that we get to see him wearing when he's having his Happy Meal with Magic. And that was not a direction I thought we'd go in, but through those conversations, it really started to feel right for the character. I loved the juxtaposition of beautiful, old Pickfair surroundings and this modern tracksuit that he's wearing.
This season, we also get a sense of Larry Bird's roots, down to playing in front of a college recruiter while wearing jeans.
I loved that detail. That was something that was in the script that had come out of the research that Max [Borenstein, co-creator] and the writing team had done. There's an amazing documentary about Magic and Bird, and you find a couple of fantastic photographs from when these people were very young, and between all of it, you can put together a picture of what it might have been. That episode was eye-opening in a way; it gave a lot of humanity to that character.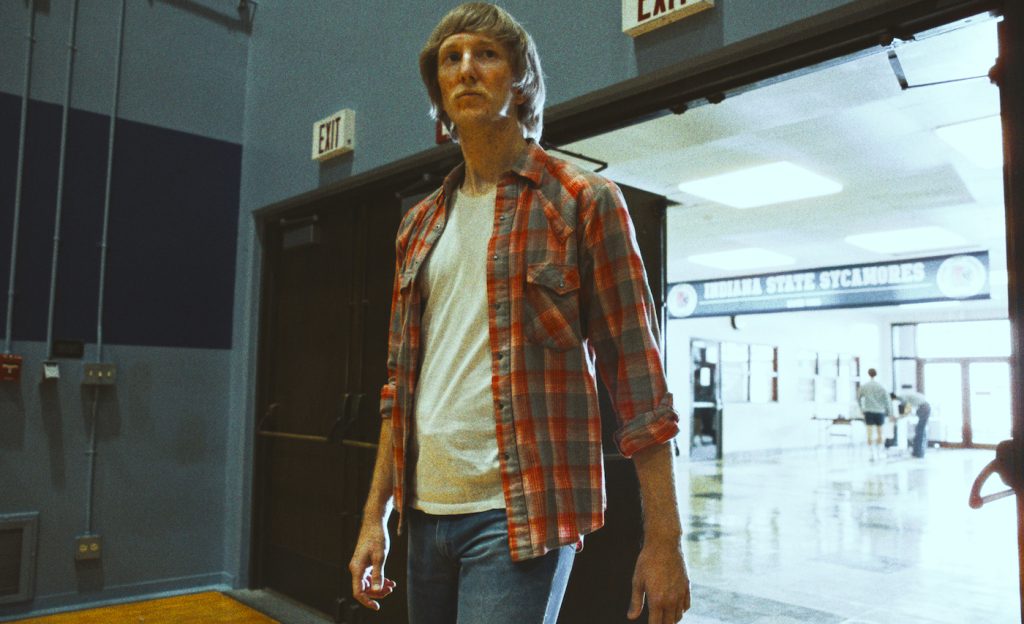 Were the 'Magic is Back' t-shirts, which so upset his character, based on a real moment?
They had made pins. In our script, it had these t-shirts, as well as the pins, to expand upon it. So that was a t-shirt I had custom-made.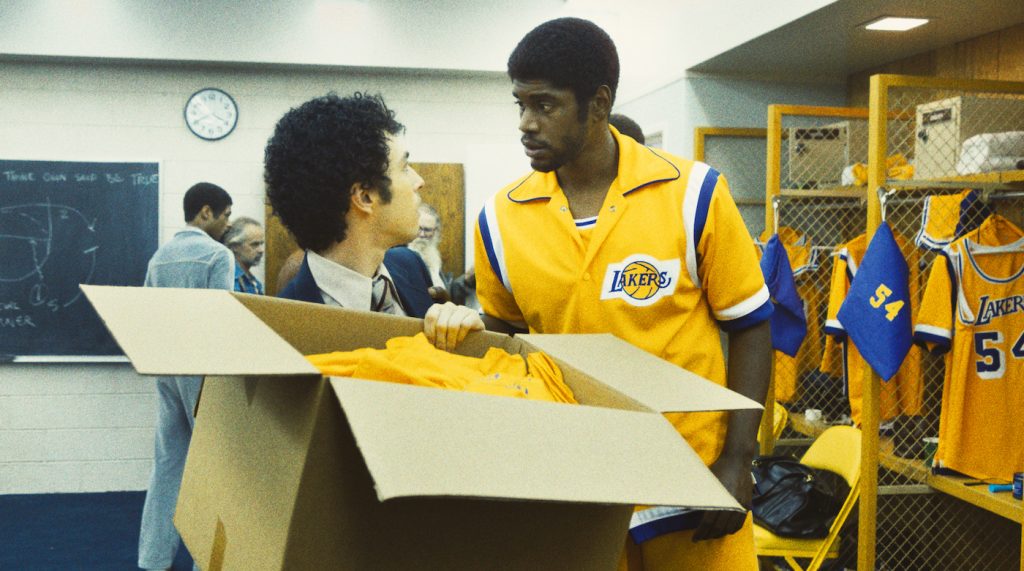 What else did you have to build?
All the uniforms are built from scratch, and even some of the fabrics were made for us to be able to build the uniforms from scratch. All of the Laker Girls were built from scratch as well, and then for characters like Dr. Buss, Kareem, and Magic, everything was pretty much is custom-made, except for Dr. Buss's jeans, which were vintage. Then there are characters like Pat Riley or Jerry West, where it's a nice combination of custom-made suiting and shirting mixed with vintage knits or vintage accessories. Then, a lot of the women are sourced vintage clothing from the era.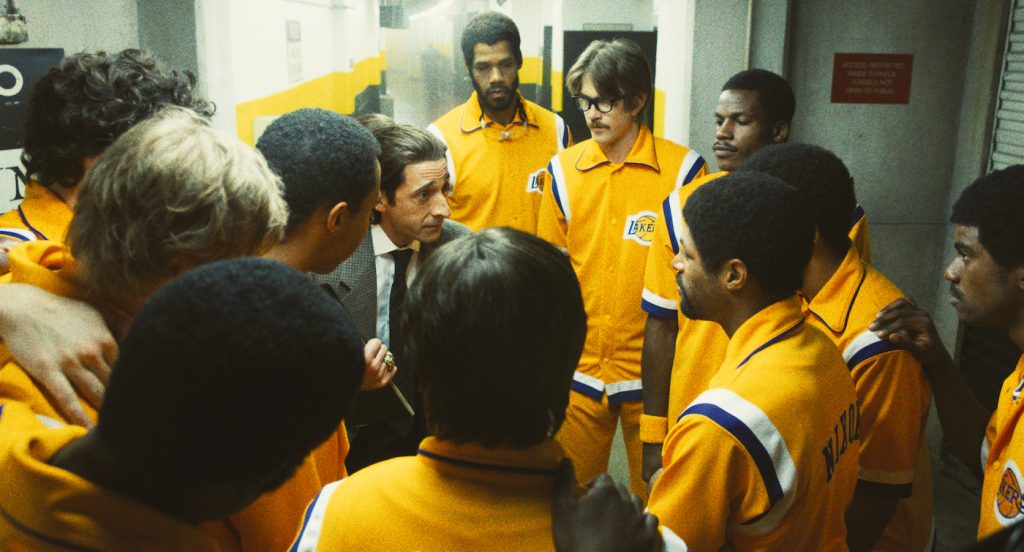 I've heard sourcing clothing from that era can be difficult, as it hasn't often held up well.
It's a huge process that we start months before we shoot, and we're still continually doing it throughout the shoot. You have to find the thing that's right for the character, it has to be in the right size, and then it has to be in good enough condition that it looks like it was pretty new when they bought it. There are a couple of upcoming knits that Jerry West has that I found in New York months before we even started the project. They were in perfect condition, they were going to fit him perfectly, and it's just kind of wild to still be able to find that stuff. Then you mix that with your custom-made clothing, which adds such a nice layer to the characters.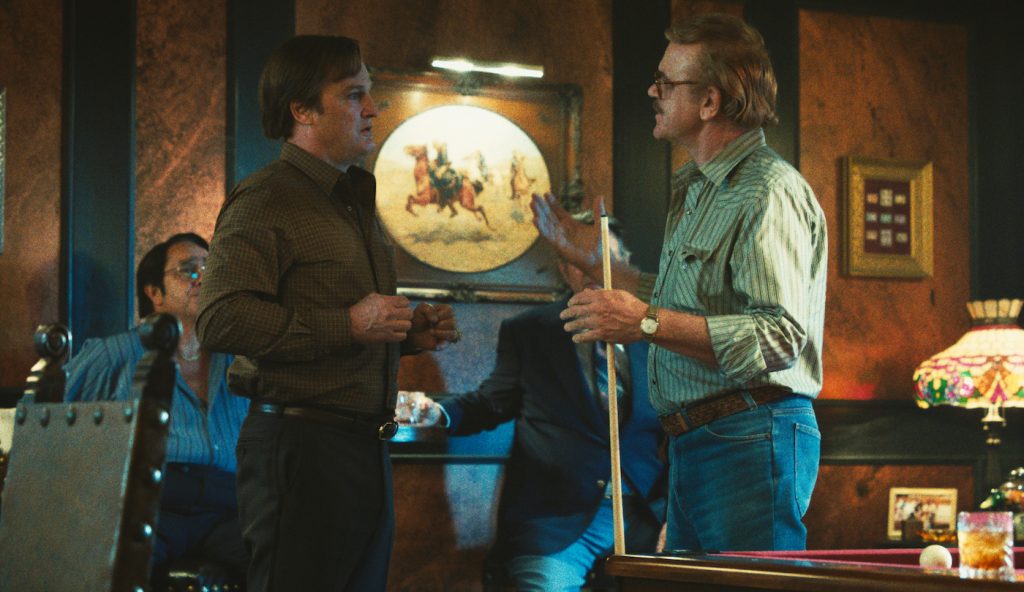 The show's cinematography has a distinct vintage look. Does that affect your process?
I think working with Todd has been one of my favorite collaborations. I would often take fabrics to him to shoot and see what would work. I learned very quickly that certain colors render differently, or patterns get lost, and the details I'm seeing might not come through. It was an ongoing process to make sure what we were making or leaning into would be seen on-screen in the way that I imagined it. You know when you see these old videos of the games, and there are these sports commentators, and some part of their outfit is vibrating on-camera because the patterns are too tight? That was something we decided to lean into. So there were moments for Chick Hearn [played by Spencer Garrett] and some of the other commentators where we intentionally wanted to do that, which was fun and unusual to me, but it meant taking a lot of fabrics over and checking, is this moiré-ing? Does this make him look crazy?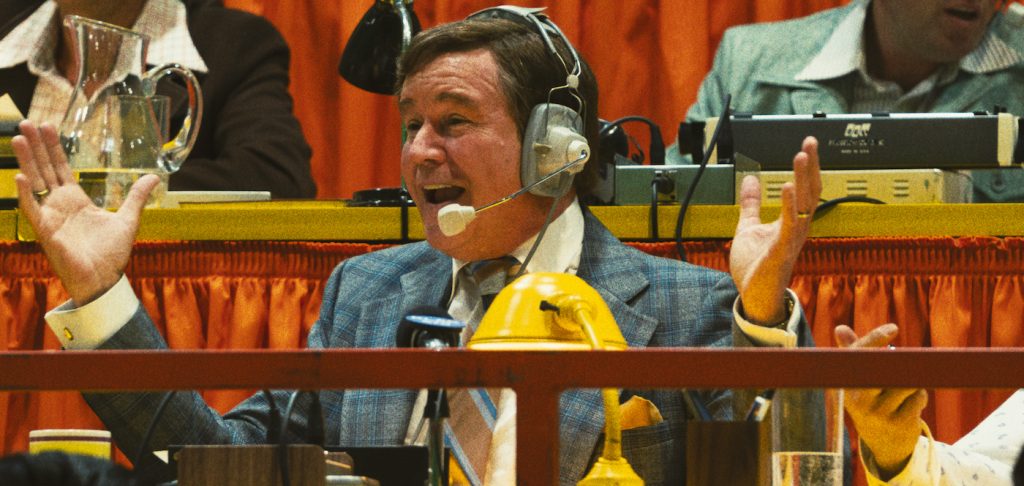 Those arena moments sound like a massive undertaking, even if they're only a small part of the show.
It's always interesting to step back and realize what a team of people it takes to achieve all of that. There's an entirely separate team within my team that makes all of the uniforms happen. There's a team within my team that's responsible just for getting the Laker Girls put together. When you're seeing those arena moments, and it's cut so quickly, and it's such an energetic scene, you're just getting these flashes, so all of that work becomes texture on the screen. But I can sit back and remember how much detail we paid to each little piece that's within that. I think it all adds to the dynamic energy of the show.
For more on Winning Time: The Rise of the Lakers Dynasty, check out these stories:
It's Magic vs. Larry in "Winning Time" Season 2 Teaser
"Winning Time" Costume Designer Emma Potter on Making Magic With the Lakers
"Winning Time" Co-Creator Jim Hecht on His Love Letter to the Lakers
"Winning Time" Writer Rodney Barnes on Scripting HBO's Fast-Breaking Lakers Series
Featured image: WINNING TIME: THE RISE OF THE LAKERS DYNASTY. Courtesy Max.