"Winning Time" Writer Rodney Barnes on Scripting HBO's Fast-Breaking Lakers Series
It's pretty much a slam dunk that Winning Time: The Rise of the Lakers Dynasty will appeal to basketball fans. After all, it tells the story of one of the most pivotal moments in NBA history and features some of the game's most notable figures — Magic Johnson, Kareem Abdul-Jabbar, Jerry West, and Pat Riley. 
But Rodney Barnes, who shares scripting duties with Max Borenstein and Jim Hecht, and serves as an Executive Producer on the 10-episode HBO series that debuted March 6, believes the show offers something for everyone.
"I'm old enough to have seen a lot of sports-themed movies and TV shows. And more often than not, the players are relegated to a one-dimensional idea," says Barnes during a recent Zoom conversation. "That's the funny one. That's the bad one. That's the surly one. And the narrative is about the coach, the owner, or a particular player. Here, we got an opportunity to really get into the nuance of the human part of being a professional athlete."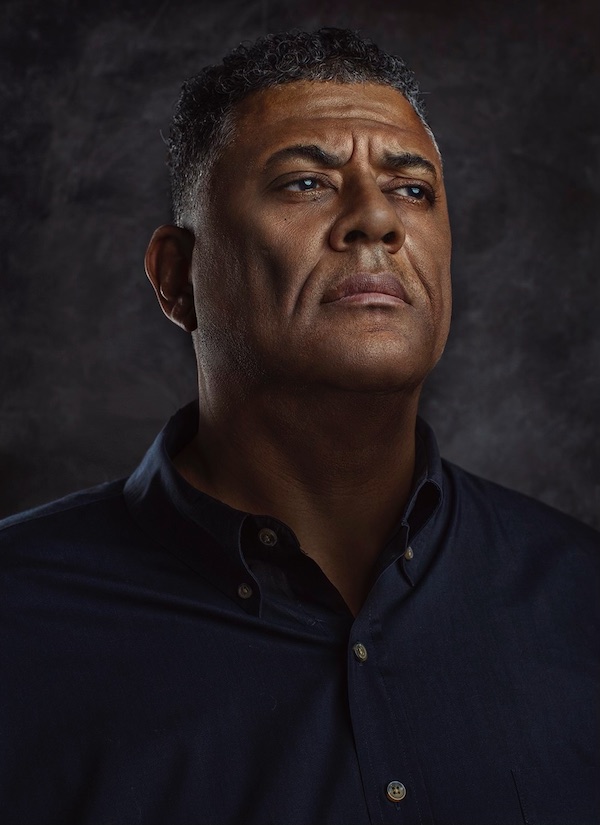 Based on Jeff Pearlman's 2014 book "Showtime: Magic, Kareem, Riley, and the Los Angeles Lakers Dynasty of the 1980s," Winning Time opens in the summer of 1979 during a period of upheaval for the Los Angeles Lakers. Dr. Jerry Buss (John C. Reilly), a flashy real estate mogul, is looking to shake up professional basketball by buying the team. He wants to make the game more exciting by making it more entertaining. One way he hopes to do that is by drafting Earvin Johnson (Quincy Isaiah), a Michigan State all-star whose moves on the court earned him the nickname "Magic." Current coach Jerry West (Jason Clarke) is against the idea. He believes Johnson is too stocky to play point guard, Johnson's position in college. Veteran center Kareem Abdul-Jabbar (Solomon Hughes) is also skeptical, reluctant to change his style of play for Johnson. And then there's Norm Nixon (DeVaughn Nixon — Nixon's real-life son), the team's current point guard. He's worried Johnson will take his job. Lurking in the background is Pat Riley (Adrien Brody), a former player so anxious to get back in the game, he's willing to kowtow to Chick Hearn (Spencer Garrett) in hopes of landing a broadcast job as a color analyst.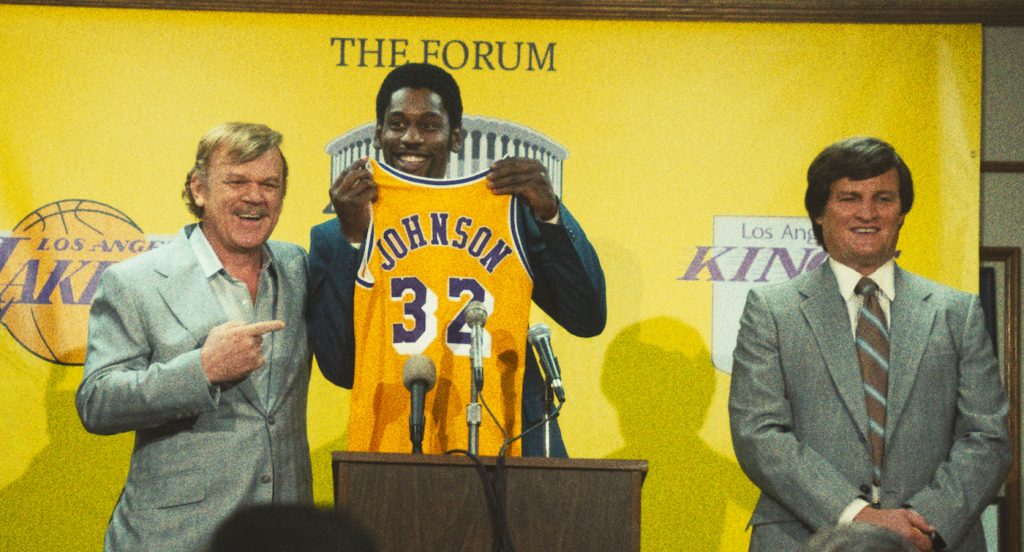 Barnes was brought onto Winning Time by Borenstein, his longtime writing partner, who serves as the series showrunner. A lifelong basketball fan, Barnes quickly said yes. "Loving basketball the way that I do, having lived in the period where the show begins and, remembering it fondly, it checked a lot of boxes that made me want to be a part of it," adds Barnes.
Calling Pearlman's book "a foundation," Barnes read anything and everything he could find about the Lakers — books, newspaper articles, magazine profiles. He scoured YouTube for clips of the players. Though he thought he was familiar with the story, Barnes quickly learned how much he didn't know — a world of complex characters, warts and all.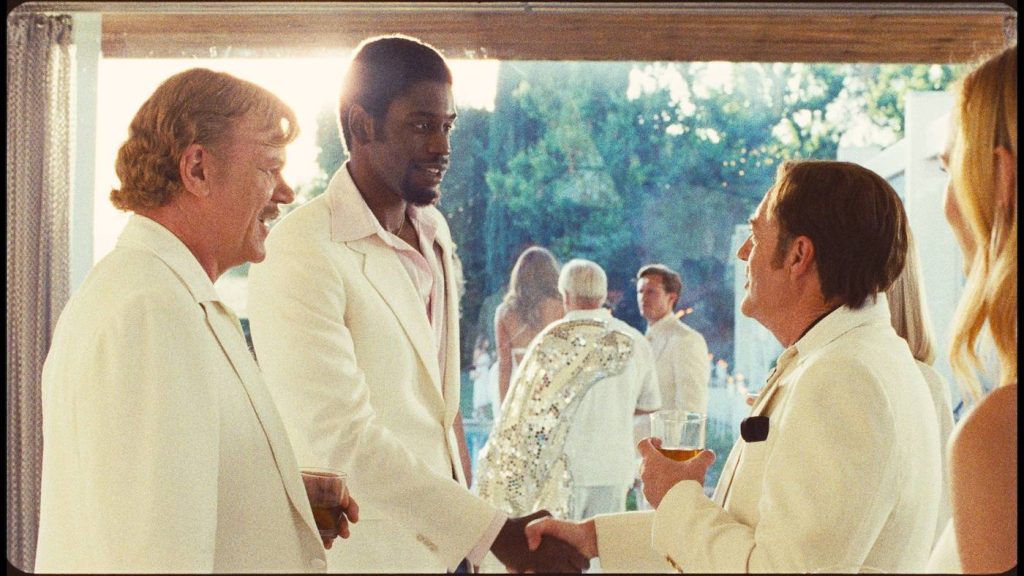 Buss is a fast-talking wheeler-dealer, building his dream on a financial house of cards that is threatening to collapse at any minute. But he's relentless in realizing a vision that could elevate pro basketball to new heights of popularity — and, more importantly, deliver him a championship team. 
A hotshot hoopster, Johnson's ego is as big as his talent. But going from collegiate superstar to lowly NBA rookie takes some getting used to and he struggles to inject his brand of basketball into the Lakers. One of his main roadblocks is Abdul-Jabbar. As introverted as Johnson is outgoing, the 7'2" center grapples with trying to balance professional fame with his Muslim faith. He's haunted by the feeling that he should be doing something more important than putting a ball in a basket.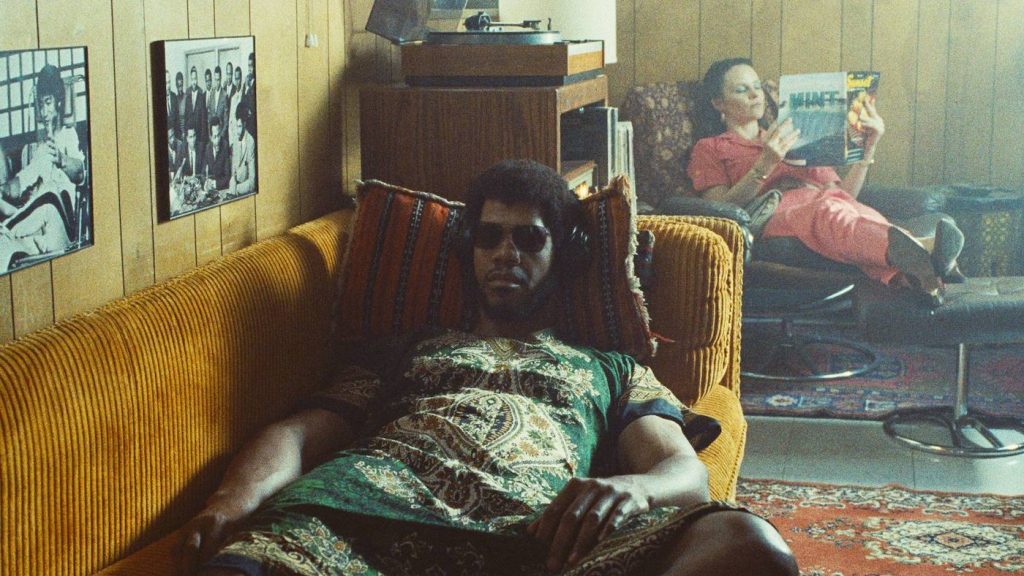 Full of disenchantment, West is furious that he can't channel his achievements on the court into coaching. Riley is a lost soul, searching for his place in a game that, at this point, considers him an afterthought.
Also in the mix are Jeanie Buss (Hadley Robinson), the boss' daughter who, though just a lowly intern, is determined to help her dad transform the fan experience; Jack McKinney (Tracy Letts), an analytics-obsessed coach Buss reluctantly brings in to lead the Lakers; Claire Rothman (Gaby Hoffmann)), the club's event coordinator tasked with figuring out how to elevate a night of basketball into a party; and Earvin Johnson Sr. (Rob Morgan), Magic's sage father who guides his son on the path to realizing his full potential. 
The roster was rich with potential. The challenge was keeping it real. "Any time you have facts as your boundaries, humanizing those facts in such a way so they support one another to create a moving narrative is never easy," explains Barnes. "You're already confined by reality. You can't just go anywhere like in fiction."
At the same time, the writers were careful not to do a disservice to some of basketball's biggest stars. "We're fans of these guys. We appreciate what they accomplished," continues Barnes. "You're trying to make this a love letter —  a show of appreciation more so than anything else. So it's a delicate balance of storytelling, while still being true to the times and respectful at all times."
Barnes explains that he started by creating an outline together with Borenstein and Hecht. After each writer individually drafted his designated segments, Barnes and Borenstein would reunite and revise until they arrived at a shooting script. Each had his own story specialties.  
"I dealt with the players, their lives, their ongoing narrative," explains Barnes. "It's like anything. Once you get to know these characters, start to live with them, you become attached to the rhythm of the dialogue, the way they communicate."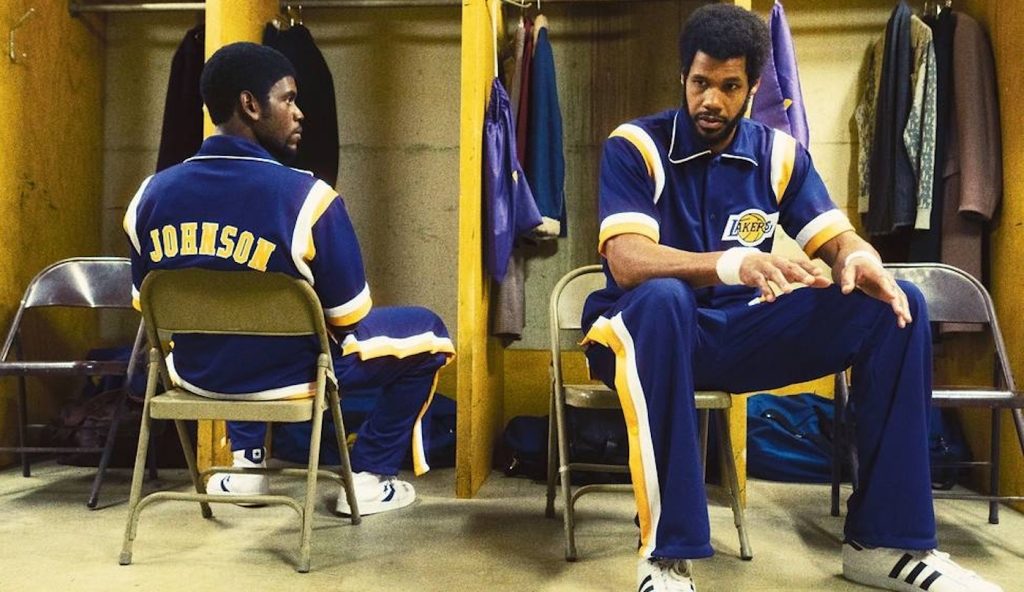 YouTube came in handy to get the speech patterns just right. "We were able to go back and see interviews —  Magic Johnson on Soul Train —  just a lot of different things to get an idea beyond words," he adds. "Going from the flatness that comes from books and articles to getting to hear the cadence of how a human being talks."
And who was the most fun to write? Without hesitation, Barnes names Johnson and Abdul-Jabbar. "Those two guys stick out for me because they're so different," he explains. "One is introspective —  sort of an introvert. The other is outgoing. So it's two different ways to create dialogue. I just enjoyed it and I love both those guys."
Barnes also takes pride in how Winning Time offers both a sports and cultural perspective of the era. At the time, the ABA was merging into the NBA. The series shows how this radically impacted the style of play. "A lot of what we see in modern basketball today started with the Lakers in the showtime offense," he observes.
And then there is the societal impact. Before 1979, owners ruled and players kept their opinions to themselves. There were exceptions – Bill Russell, Spencer Haywood, Abdul-Jabbar — but, by and large, pros avoided discussing race and cultural issues. Citing today's players' strong support of the Black Lives Matter movement and their outrage when George Floyd was killed, Barnes believes Winning Time shows the seeds being planted. "Jerry Buss narrowed that boundary through a personal relationship with the players," he says. "That was the beginning— the bridge to players being able to have a voice en masse and the way the NBA operates today."  
Winning Time airs on Sunday nights on HBO and HBO Max at 9pm.
For more on Warner Bros., HBO, and HBO Max, check out these stories:
Keanu Reeves is Batman in New "DC League of Super-Pets" Trailer
"The Batman" Soars to Epic Opening Weekend
The Batman" Prepared to Join "Spider-Man: No Way Home" With an Epic Opening
Featured image: L-r: Quincy Isaiah, Solomon Hughes. Photograph by Warrick Page/HBO