"Winning Time" Co-Creator Jim Hecht on His Love Letter to the Lakers
Jim Hecht's road to co-creating Winning Time: The Rise of the Lakers began in 2014. Hecht was, by his own admission, at a low point, and he was looking for a project that really spoke to him. During his daily meditation, which he admitted with the qualifier "this sounds very LA," he had a thought: "You gotta stop writing sh*t that you think other people would want to see and start writing the show that you would want to watch." Hecht, a longtime feature film and TV screenwriter, naturally had film quote handy to sum up his inspiration about no longer writing stuff he merely liked. "As Jerry Maguire said, it's a 'soul-sucking, pride-swallowing siege," to write that way.
The story about how Hecht ended up as the co-creator, writer, and executive producer of Winning Time, a sensationally entertaining, surprisingly moving look at not just the rise of the storied Showtime-era Lakers, but the men and women who made that era possible, began at a bookstore, Book Soup, in West Hollywood. Eight years later, Hecht, his fellow Winning Time co-creator and showrunner Max Borenstein, writer Rodney Barnes, and the rest of the Winning Time writer's room are now at work on season two.
Season one is focused on 1979 and 1980 when Jerry Buss (John C. Reilly) buys the Lakers from the loathsome Jack Kent Cooke (Michael O'Keefe) and sets about changing the franchise from a perennial punching bag for the Boston Celtics into a dazzling, dominating force. The first big move that Buss is intent on making is drafting a 19-year old phenom from Lansing, Michigan by the name of Earvin "Magic" Johnson (Quincy Isaiah). Despite Magic's obvious talent, Buss has to fight to get him on the team, and there are more than enough personalities, including volatile Lakers legend and tormented head coach Jerry West (Jason Clarke), the team's star and captain, Kareem Abdul-Jabbar (Solomon Hughes), and a slew of other issues (including a mob hit) that make Magic's arrival a stormy affair.
We spoke to Hecht, a lifelong Lakers fan, about how he ended up launching a fascinating ensemble character study as dazzling as a mid-80s Lakers fast break.
Taking me back to the beginning, when you got hold of a copy of Jeff Pearlman's book "Winning Time"?
I was listening to ESPN radio in Los Angeles, and Max Kellerman was talking about how Jeff Pearlman has this new book coming out about the Showtime-era Lakers. I'm from Orange County, I met Magic at the Westminster Mall when I was 6, the Lakers were the team for me. So I went to Book Soup when it opened the next morning at around 9 am and I bought Jeff's book and I think I was done by 11 am. I called my agent and told him that this is what I wanted to do.
How did you originally imagine adapting "Winning Time" into a series?
I happened to be watching the first season of True Detective. I didn't have the language of a limited series, but I said to my agent, 'I want to do this, but with the Lakers in the 80s.' He said, 'Jim, this is the thing that's going to be written on your gravestone.' So I flew to New York to meet with Jeff, it was Easter Sunday, 2014. I took the train up to New Rochelle, I went to the market and bought a tomato, a block of chocolate, and a bottle of non-alcoholic wine. I showed up at his door. Jeff, by that point, had already had a lot of stuff optioned, but nothing ever happened with it. So I walk in, and my whole track record is talking animal movies, and he was just like, 'Well, nothing's going to happen with it anyway, so okay, fine, take a flier on it.' I just had a birthday party recently, and Jeff brought me a tomato, a block of chocolate, and a bottle of non-alcoholic wine. It was kind of profound, when I opened that gift I immediately cried. It was a full-circle moment.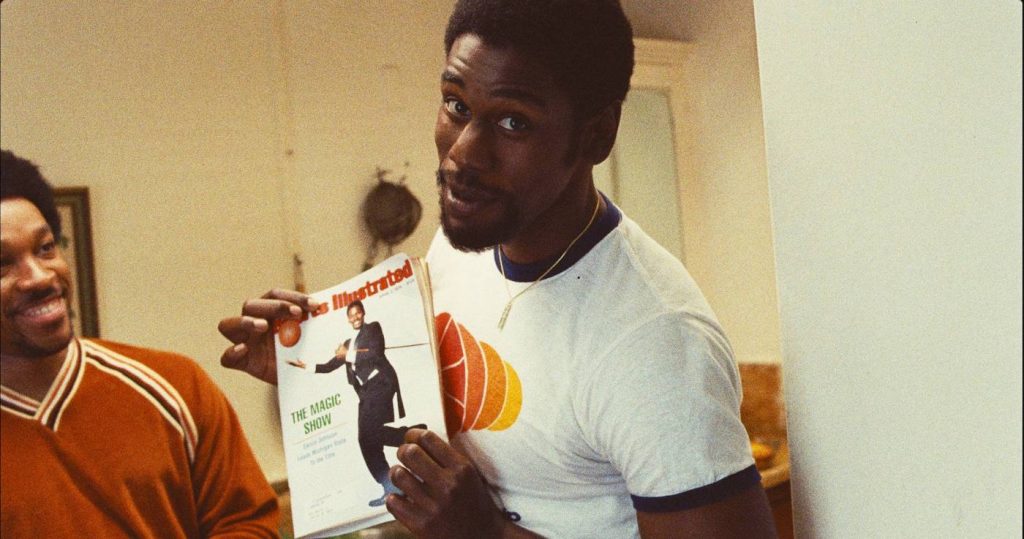 How did you decode the adaptation, turning this deeply researched book into a dramatic narrative arc befitting a prestige HBO series?
Well, the key piece was obviously Max Borenstein. We really only met with one showrunner, when I sat down with him I was like, 'This is the guy.' He grew up in the Valley. Max and I still have season tickets together—not in our names so they can't kick us out yet—and when you talk to Max, he's brilliant. That's the key. Many times, Max saved me from my worst impulses. He has this big track record in drama, so it's been like graduate school with him and [writer] Rodney Barnes. As Rodney says, 'It's really hard to make anything good,' and Max just has that tenacity and perfectionism to get it there.
What were some of those impulses that you had that Max steered you away from?
I think creatively I would have steered it more towards it being a Wikipedia page, closer to a documentary, and Max, to his credit, saw the value in the personal. He really taught me how to dig into the personal struggles between the characters. What makes our show great isn't that it's just the Lakers in the 1980s, or that it has that Adam McKay flare and talent, but that it's the deep dramatic Shakespearean arc that is really going to move you about these people. As we say, not all of it happened, but all of the craziest sh*t happened. Max is just in another world when it comes to digging in and finding those moments between people. And not just in the writing, but all the way through to the last edit. He just knows the moment.
How did you decide where the diving line would be between what really happened and what you had to invent to move the story along?
We always felt a need to be true to the kinds of people we were talking about and the story we were telling. We're grounded in fact. There's no metric that measures this, but along the lines of [Adam McKay]'s Big Short or Vice. We don't take wild swings. We do have Dr. Buss's mom, Jessie Buss [Sally Field] in it, but really she'd passed away a couple of years before our story. The truth of it is she was a hugely important figure in his life, and the things we're exploring with his character are true to the man and the relationship they had. Even though there was a transformation of what was happening by maybe two years, I think the essence of it we feel pretty good about.
What was that like to get inside these iconic people's heads when many of them are still alive and well and, in Magic's case, are on TV all the time?
Magic's obviously important to me, you're talking about my hero. These are people we really look up to. When you research these people as deeply we have, watch hundreds of hours of footage, then they start to live in your mind. Then I think the conception you have of them starts to speak through you. But it's always a challenge. You have to constantly be conscious of this. Magic came out on TMZ and made a statement about it. You could be bummed about it, but the way it hit me was, 'Magic Johnson's talking about us!' To me, that whole thing is kind of cool.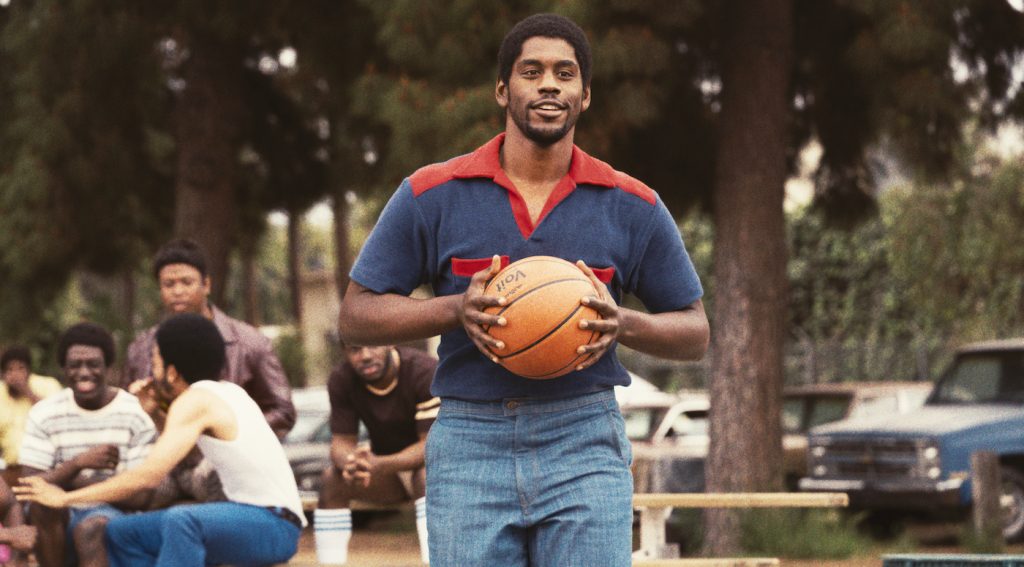 How are you taking the response, not just as a creator, but as a lifelong Lakers fan?
To be honest, the show coming out has been my least favorite part of the whole thing [laughs]. We're working. Season one is over for us, so we're trying to figure out what we do next. We're busy, and that's really fortunate because it keeps me from tripping out on everything that's going on. And it keeps you present. That other stuff isn't real, what's real is we're working, we're writing.
Take me inside the writer's room for season one.
Max is super tenacious and methodical. The blessing of HBO is they've given us a lot of time to figure out the important parts of the story before we have to dive in and start working on scripts. I imagine that's why HBO's stuff is so good, they really give their writers the time to come up with something great. So it was a small writer's room. At first, there were mainly three of us, me, Max, and Rodney. Then we brought in Ben Klein and Rebecca Bertuch, who is a superstar in her 20s, she's exceptional. Because of the pandemic, we were supposed to shoot a lot earlier. The pilot was shot a year before the rest of the series, so we've been together every day, for long hours, for years now. I've never been in a writer's room because I come from the feature world, and it's what I always thought it could be, with ideas flying back and forth. I see why TV is so good right now because it's all these people sitting around and these ideas escalate and become something better than I could have come up with myself. Max is not only a brilliant writer, but a brilliant Socratic method person, he forces you to dig deeper and pushes you, and it's super uncomfortable in the moment, but my writing has become a completely different thing through that process. Then Rodney comes in and he's challenging you, too, and he's brilliant, so there's this clash, but the end result is all these breakthroughs. I've learned so much from those two guys. I'm over 45, I thought, 'I'm done learning, I'm done growing,' and the great thing about life is there are always more of those challenges that are going to push you to go deeper than you thought you could. 
What was the most challenging aspect of breaking out this story from season one?
The relationship between Dr. Buss and his mom was a tough nut to crack. How to handle those moments between them. The other tough one was the Boston Celtics of it all. You think about the 80s and Showtime, you think Magic and Larry. But there's only so much Magic and Larry that really happened, so how do you be true to what really happened in that competitive relationship, but keep that rivalry alive? Because it's alive in both of their minds, they're always thinking about each other, so how do you do that for the audience and make it a driving force in the background? The Celtics are, for the Lakers, the shark that's eventually going to come back and eat everything.
In a perfect world, you'd have three seasons? More?
In a perfect world, it would be 20 seasons. If you look at Yellowstone, you could go in a lot of different directions, the answer is I don't know, it's wide open, we're going to see where the story takes us.
Winning Time: The Rise of the Lakers is streaming on HBO Max. New episodes air on Sunday night at 9 pm EST.
For more on Winning Time, check out these stories:
"Winning Time" Writer Rodney Barnes on Scripting HBO's Fast-Breaking Lakers Series
"Winning Time" Costume Designer Emma Potter on Making Magic With the Lakers
"Winning Time" Trailer Reveals Adam McKay's Lakers Series for HBO Max
Featured image: Quincy Isaiah, Solomon Hughes. Photograph by Warrick Page/HBO