"John Wick: Chapter 4" Stunt Coordinators on How They Crafted the Craziest "Wick" Yet
Editor's Note: Leading up to the release of John Wick: Chapter 4 on March 24, 2023, The Credits is publishing a "Wick Week" of content, weaving stories about the film's fighting style, and cinematography, along with an interview with director Chad Stahelski. Some mild spoilers follow.
"No one department works by themselves," says Scott Rogers, stunt coordinator and 2nd unit director, about the exceedingly thrilling action sequences in John Wick: Chapter 4. "When [director] Chad Stahelski comes to you with an idea, you're talking to an entire team." The team Rogers alludes to includes stunt coordinator Stephen Dunlevy, fight coordinator Jeremy Marinas, cinematographer Dan Laustsen, and others, like stunt performers, props, and visual effects. Together, they pulled off fourteen delectable and brutal set pieces –all unique in performance and artistry.
JW4 bleeds grandiose action, but a culminating story picks up where John Wick: Chapter 3 — Parabellum left off. Wick (Keanu Reeves) still carries a bounty on his head via The High Table but has no thoughts on stopping to finish the mysterious all-controlling council. Standing in his way this time around is The High Table's frontman Marquis (Bill Skarsgård) and a new crop of killer assassins played by Donnie Yen, Shamier Anderson, and Scott Adkins. Wick fights foes in Japan at the Osaka Continental Hotel, a Berlin nightclub, and through the streets of France leading up to an epic showdown on the Rue Foyatier, a giant 222-step stairway that leads to the Basilica of the Sacred Heart of Paris.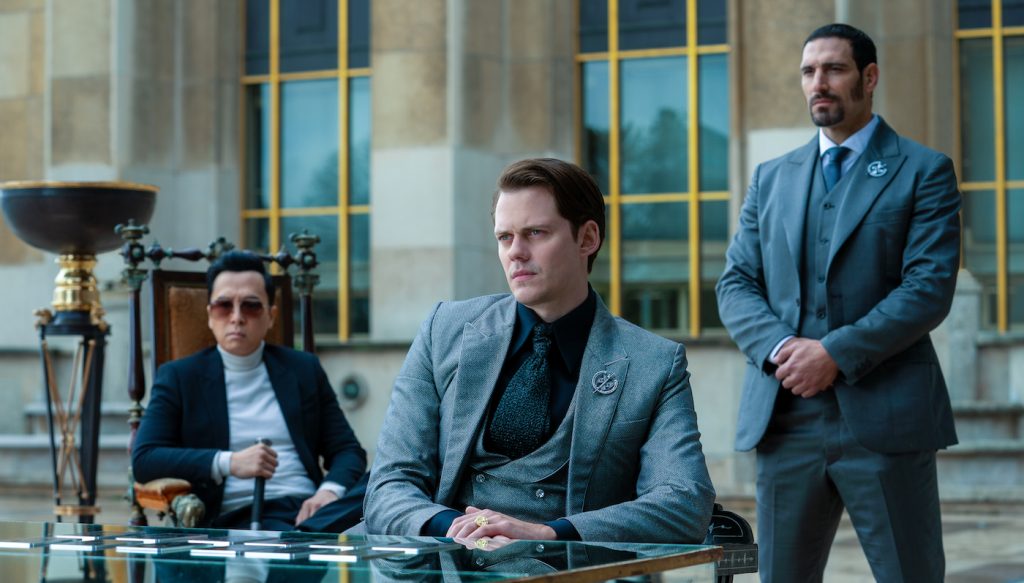 One epic moment takes place in the middle of France's Arc de Triomphe, where Wick dodges speeding cars and bullets as an onslaught of henchmen fights to bring him down. Prep for the scene started in late 2020, with Reeves connecting with pro racer and stunt driver Tanner Foust to learn how to drive, drift, and slide the hot rod appearing in the scene.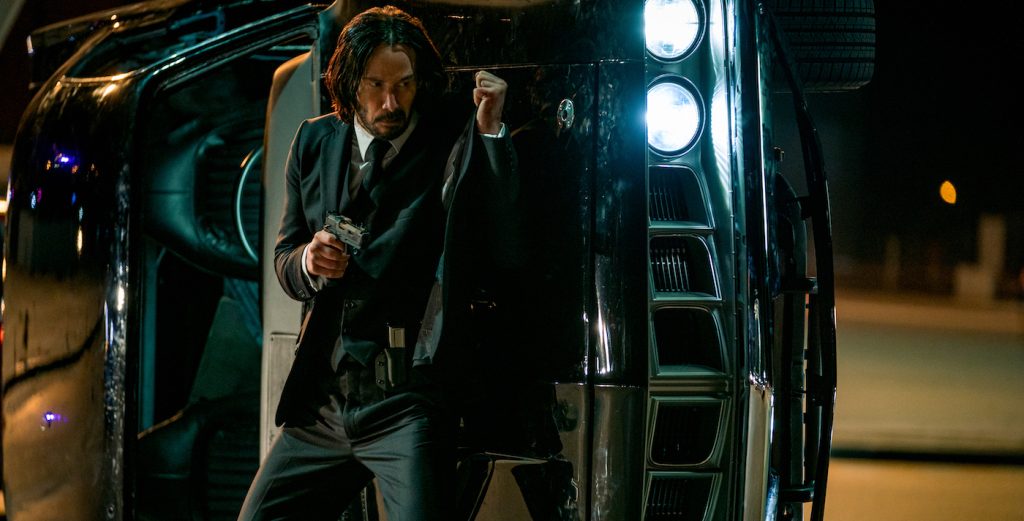 "Originally, it was not going to be at the Arc de Triomphe but near the Louvre," Rogers says. "We scouted Paris in 2021, and when we got to the Arc, we said we had to do it there," notes Rogers. Training for the intense action, which has cars crashing, bullets flying, and, of course, Wick kicking butt, took Reeves nearly nine months. Rogers and the team recorded the training sessions, editing the footage to develop the sequence. A big part in finishing the sequence was an assist from visual effects, led by Jonathan Rothbart and Janelle Croshaw. Since production was only permitted at the Arc de Triomphe for a few hours, a number of locations stood in for the final product. Visual effects did some lifting to bring all the pieces together. An element in the camera work was the use of a drone which provided an intimate, up-close frame of the performances and car crashes while giving the director longer takes in the cutting room.
Reeves elevated his fighting craft for the hand-to-hand combat scenes by connecting with Dave Camarillo, a judo and Brazilian jiu-jitsu black belt. This proved handy for scenes with Donnie Yen, who plays Caine, a blind assassin. For the Osaka hotel sequence, Reeves learned how to fight with nunchucks. The challenge was making the hits look believable. To do so, stunt performers wearing tactical suits play the henchmen that Wick thrashes. The suits distinguish who's who in larger fight scenes and provide padding for practical hits to the body and face. The prop departments tied it together, preparing different nunchucks to look like the real thing but were soft to the touch.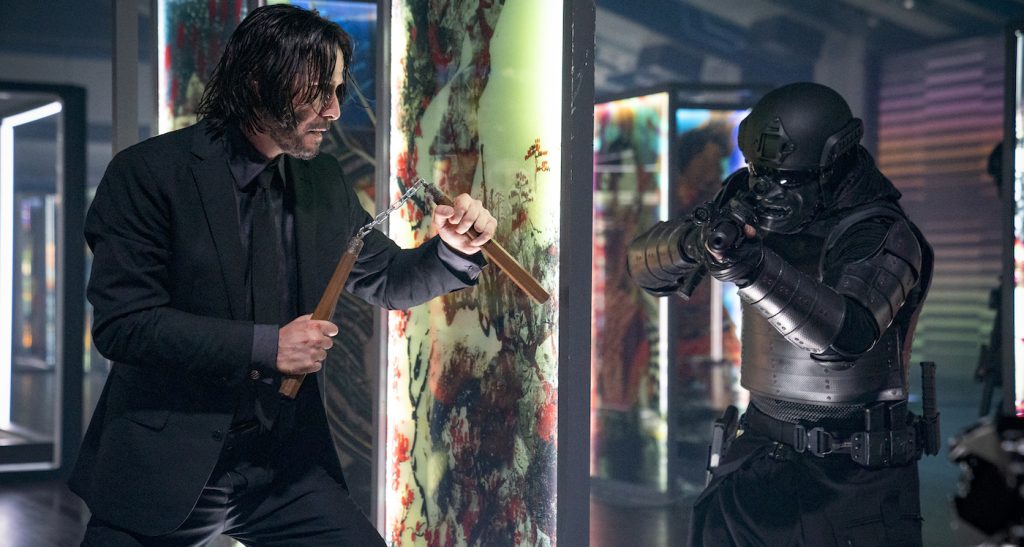 A big part of the Wick world is the arsenal of guns and how Wick seemingly moves from hand-to-hand combat to shooting someone at close range. It's an effortless dance that Dunlevy says starts with Stahelski. "Chad is one of the greatest fight coordinators of our time. When developing the script, he's developing the fighting styles for different characters and sequences," Dunlevy notes. "All the guns on the John Wick set are what we call plug-guns, so they will eject a cartridge, but the barrel is completely blocked. Nothing can physically come out of the barrels, so it allows us to do close contact shooting." Visual effects also play a part in the action, allowing production to avoid using blood packs for kills and adding the gunfire flash to the muzzle. "For the number of people John Wick shoots, using blood packs, we would only be able to get less than half the work done," laughs Dunelvy. "To facilitate the amount we get in any given day, we walk visual effects through the entire sequence so they can do their scans and passes to get the information they need. We are all working as a team."
In making the movie Rogers says, "The reason John Wick is such an extraordinary franchise that gets better and better is because Chad is making the movie in front of him. He's fighting as hard as he can. He's not working to make this a good movie. He's working as hard as he can to make this the best movie. He has a different level of intensity than any other director I have worked with. And he again has topped himself." 
Tomorrow we will uncover the cinematography of John Wick: Chapter 4 with Dan Laustsen.
For more on the John Wick franchise, check out these stories:
"John Wick: Chapter 4" Fight Coordinator Jeremy Marinas on Building Balletic Mayhem With Keanu Reeves & Co.
"John Wick: Chapter 4" Review Round-Up: Bigger, Badder, Bolder
Keanu Reeves to Return as John Wick in Ana de Armas-led Spinoff "Ballerina"
John Wick 3 Costume Designer Conjures Elegance Amid the Carnage
Featured image: Keanu Reeves as John Wick and Donnie Yen as Caine in John Wick 4. Photo Credit: Murray Close