"John Wick: Chapter 4" Director Chad Stahelski on Why Wick's a Villain Trying to Do Right
Editor's Note: Leading up to the release of John Wick: Chapter 4 on March 24, 2023, The Credits is publishing a "Wick Week" of content, weaving stories about the film's fighting style, stunts, and cinematography, along with an interview with director Chad Stahelski. Some mild spoilers follow.
Chad Stahelski didn't set out to make a blockbuster franchise, let alone a four-part saga that fervently entertains while reinventing the boundaries of American action films. The stunt performer turned director and a founder of 87eleven – the stunt production company behind the action in Deadpool 2, Wolverine, and The Expendables – was unsure if the first John Wick could be a success. "We both took second unit jobs as soon as we were done with post," he admits. "We thought they were going to castrate us for killing a puppy and shooting eighty-six people in the head."
The "we" Stahelski speaks of is co-director David Leitch (Atomic Blonde, Deadpool 2, Bullet Train), though the Directors Guild of America ruled out giving co-directing credit. Leitch served as producer. The close-knit duo has been creating action together for over 25 years and are the "Godfathers of fight-vis," the technique of filming intricate fight choreography and stunts prior to production. The process is akin to the previs stage in visual effects.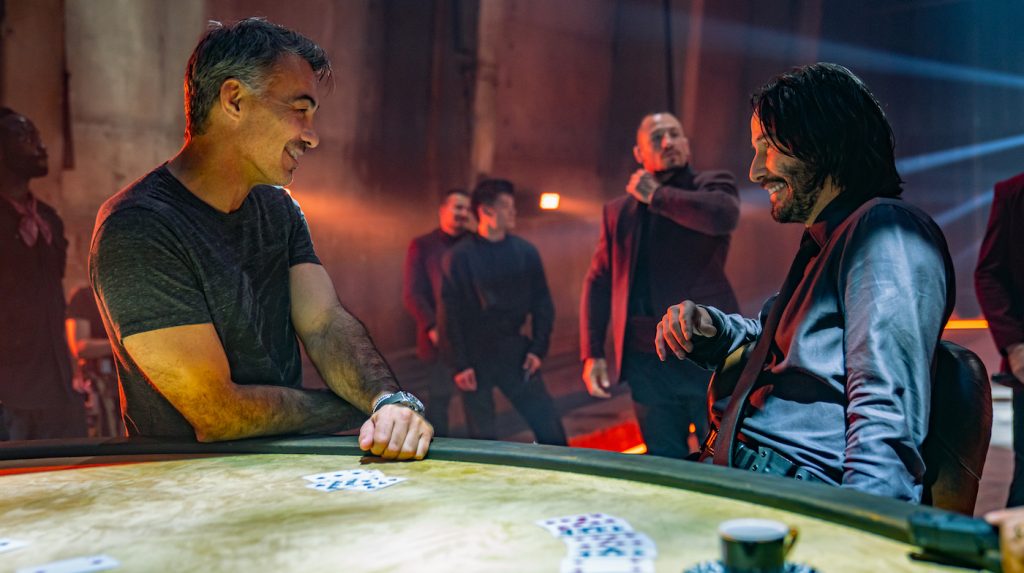 When John Wick did become a breakout hit, Leitch went on to direct the Charlize Theron-driven Atomic Blonde, and Stahelski heard from Keanu Reeves about an idea for a sequel. "Where we cracked it is having a Continental Hotel in every city, and this thing called The High Table," says Stahelski. "We sat down with Derrick Kolstad [writer John Wick, John Wick: Chapter 2], and that was our first glimpse into doing more than following an assassin. We can build a world."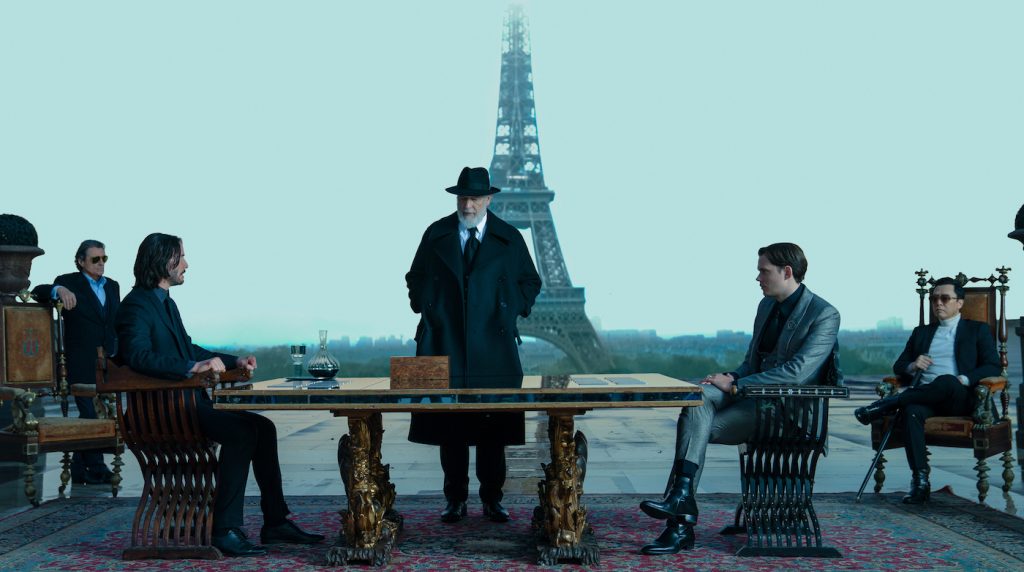 Chapter 2 brings the fight to Rome, while Chapter 3 takes Wick to Morocco. Both follow-ups introduce new characters and deadly assassins played by Common, Ruby Rose, Asia Kate Dillon, and Mark Dacascos. The sequels also reunited Reeves with Matrix co-star Laurence Fishburne as the Bowery King, an omniscient confidant who runs the cities' underbelly. In John Wick: Chapter 4, the plot becomes even more international, intertwining Japan, Berlin, and France, where Wick faces an lethal batch of foes, including a character played by legendary mix martial artist Donnie Yen.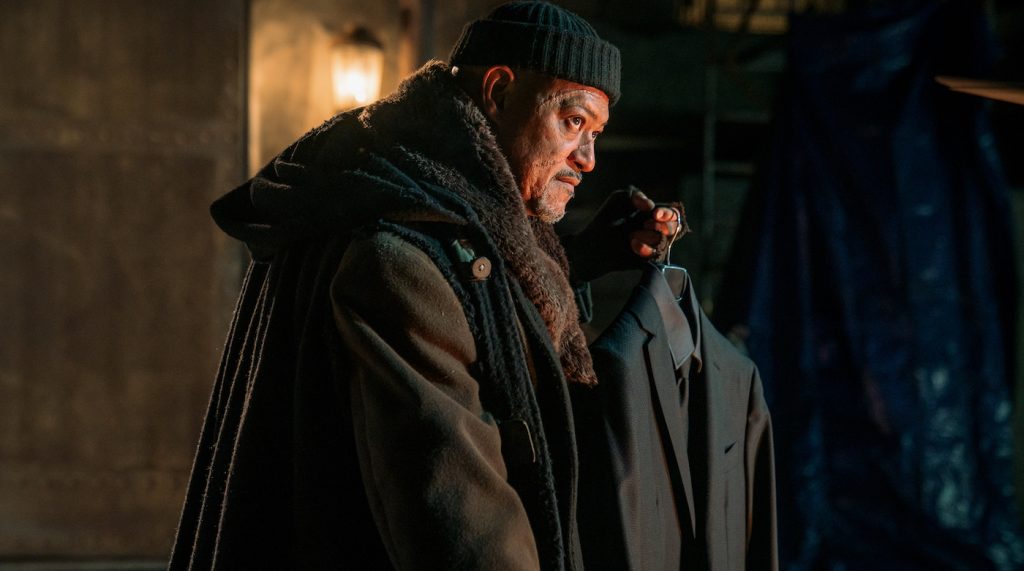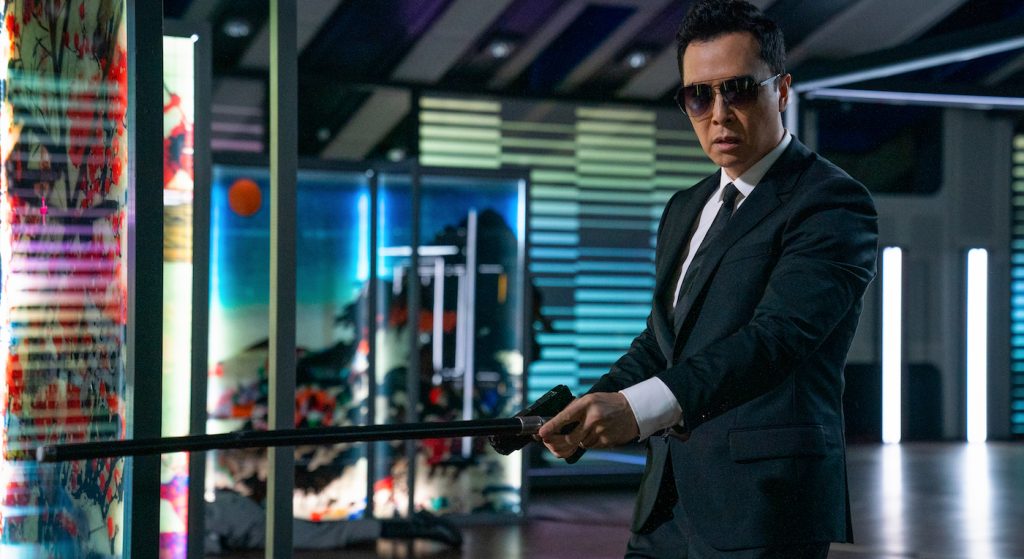 Though the tasty batter to the John Wick series is its pulsating fight scenes, epic stunts, and prismatic cinematography, the underlying ingredient is the rooted symbolism. "I am a big Tolkien (Lord of the Rings) and Greek mythology fan, so you'll see that in John Wick films," says Stahelski. "We are doing our modern-day version of Tolkien or the Iliad where we came up with these gods, this institution of The High Table, and built out different sub-characters and different levels. That's when we fell in love with the world."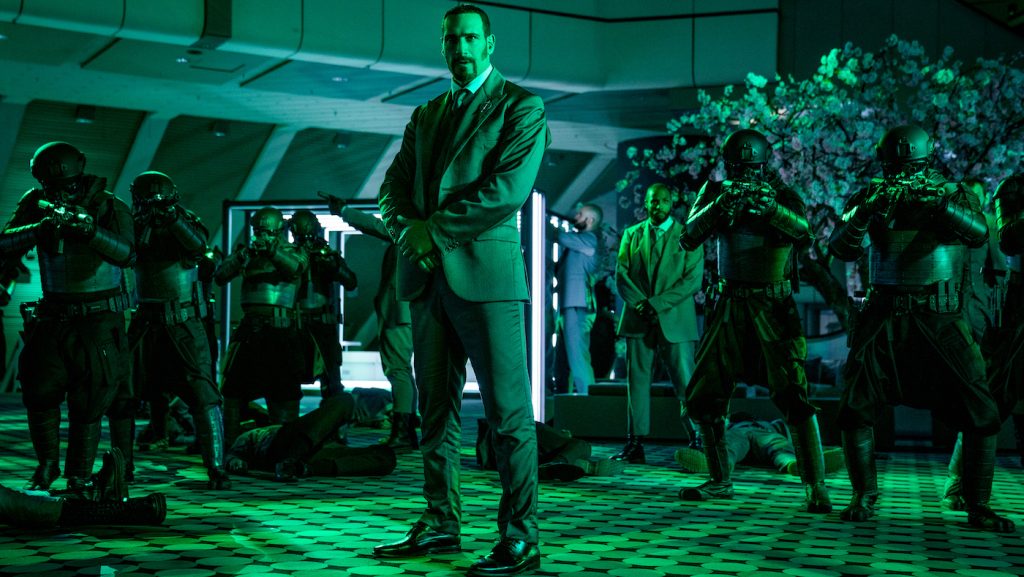 Even with each movie grossing more than the next – $584 million worldwide thus far through the trilogy – Stahelski never looked beyond the film in front of him. "There was no Venn diagram or flowchart about the multiverse of John Wick. It's been one-offs each time," he says. "You don't ever want to lead the audience on or try to string things out." It wasn't until several months after Chapter 3 that triggered the "why" there was a need for Chapter 4.
"Keanu and I were talking about it once a week, and we ended up going to Japan together. I was reading this text called Hagakure, which is like the samurai book of ethics. It's about the way of dying and how the samurai prepare mentally. And how two soldiers would understand each other in a way no other two humans could because they've been through war together, even if they were on the same or different sides. We thought that was a fascinating concept," says the director. "We thought to take this concept of Hagakure, or friendship bonding through a similar thing where only assassins can relate. Put all that together and tie it with the positivity of brotherhood."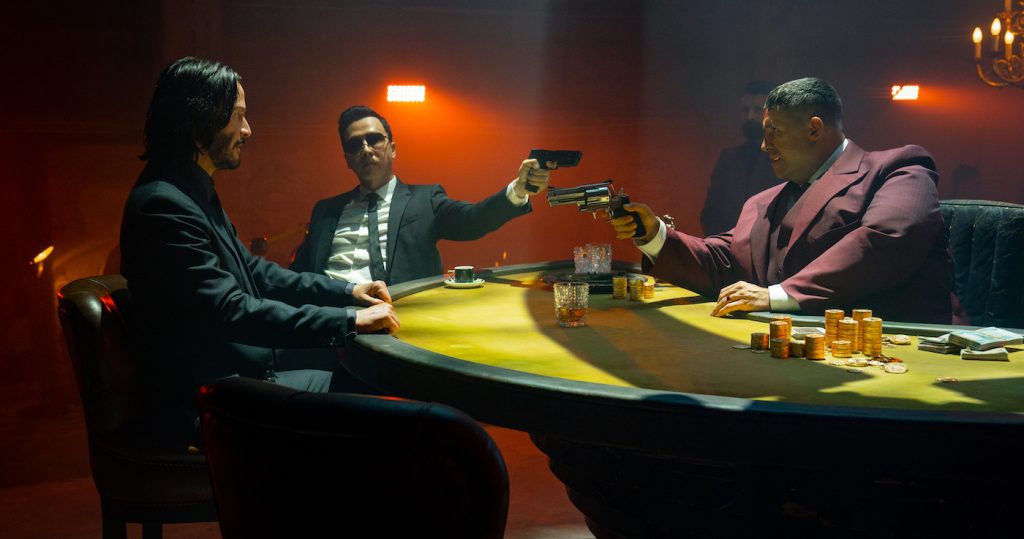 Symbolism is very much part of the John Wick franchise, none more prevalent than hands being stabbed. "Hands are the first thing that touches, the first thing that loves, the first thing that can kill. We're always fascinated with taking away assassins' hands," Stahelski points out. In Chapter 3, Wick cuts off his finger to show his loyalty to The High Table, but there's more to it. "He's not taking a finger. It's taking away the ability to symbolize union or love," notes Stahelski. In Chapter 4, a rising and setting sun becomes a running metaphor for the end of things.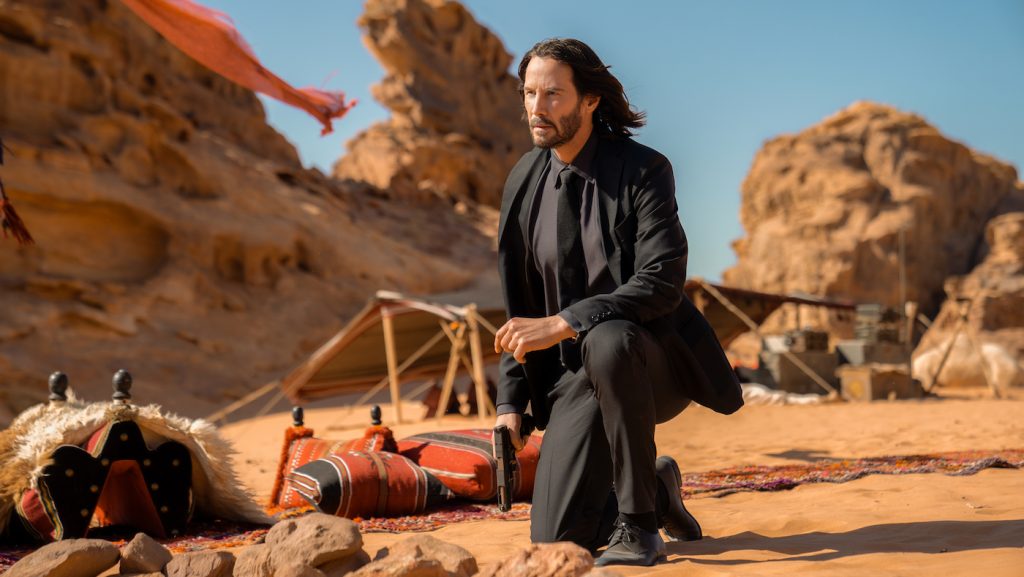 "I'm a huge Wong Kar-wai fan, and when you watch In the Mood for Love (2000) or The Grandmaster (2013), it's not just a kung fu movie; he's so symbolic that you can't help but fall in love with his filmmaking. Ours was this Trojan Horse where we have these ideas and symbols, but you want people to enjoy it. You can't be artsy and say look at my genius. You have to have fun too. So if you layer it with symbolism, beautiful shots, and color, and get people involved in different ways of storytelling, I think that's the magic."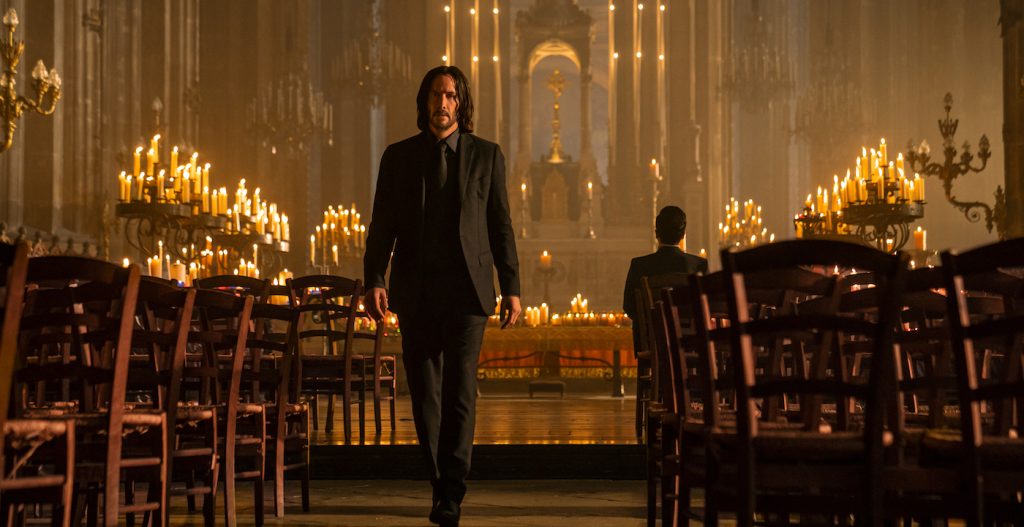 Symbolism aside, it was important for Stahelski to tie everything together, and he did so with precision and panache. "People keep saying we are a revenge movie. It had nothing to do with revenge. It had to do with grief and how one person overreacts to it," Stahelski says. "John is in the wrong for four movies. He's a villain but realizes he's a bad guy and makes peace by doing the right thing."
 John Wick: Chapter 4 is in theaters March 24, 2023.
For more on John Wick: Chapter 4, check out these stories:
"John Wick: Chapter 4" Fight Coordinator Jeremy Marinas on Building Balletic Mayhem With Keanu Reeves & Co.
"John Wick: Chapter 4" Stunt Coordinators on How They Crafted the Craziest "Wick" Yet
"John Wick: Chapter 4" Cinematographer Dan Laustsen on the Beautiful Brutality of Lensing Wick's World
Featured image: Ian McShane as Winston, Keanu Reeves as John Wick, and Chad Stahelski – Director in John Wick: Chapter 4. Photo Credit: Murray Close