"John Wick: Chapter 4" Fight Coordinator Jeremy Marinas on Building Balletic Mayhem With Keanu Reeves & Co.
Editor's Note: Leading up to the release of John Wick: Chapter 4 on March 24, 2023, The Credits is publishing a "Wick Week" of content, weaving stories about the film's stunts, and cinematography, along with an interview with director Chad Stahelski. Some mild spoilers follow.
Jeremy Marinas knows how to fight. And for John Wick: Chapter 4, the fight choreographer and stunt performer brought every ounce of experience from the 60+ films and television shows he's worked on to the table.
Director Chad Stahelski is behind the entertaining franchise, and with the fourth installment, Wick (Keanu Reeves) globe-trots across multiple continents to possibly, maybe defeat The High Table – the shadowy council who's had a bounty on his head since the original John Wick film (2014). Stahelski does a delicious job expanding the Wick world as the story moves away from New York and our dog-loving assassin finds himself in Jordan, Japan, Germany, and France. As one might hope, the action is even more relentless, with over a dozen large set pieces that have Wick kicking, punching, stabbing, and shooting anyone in his way. There are a number of new characters who enter the fold where Stahelski, Marinas, and the stunt team had to devise their fighting styles and choreography – none more thrilling than mixed martial artist and actor Donnie Yen.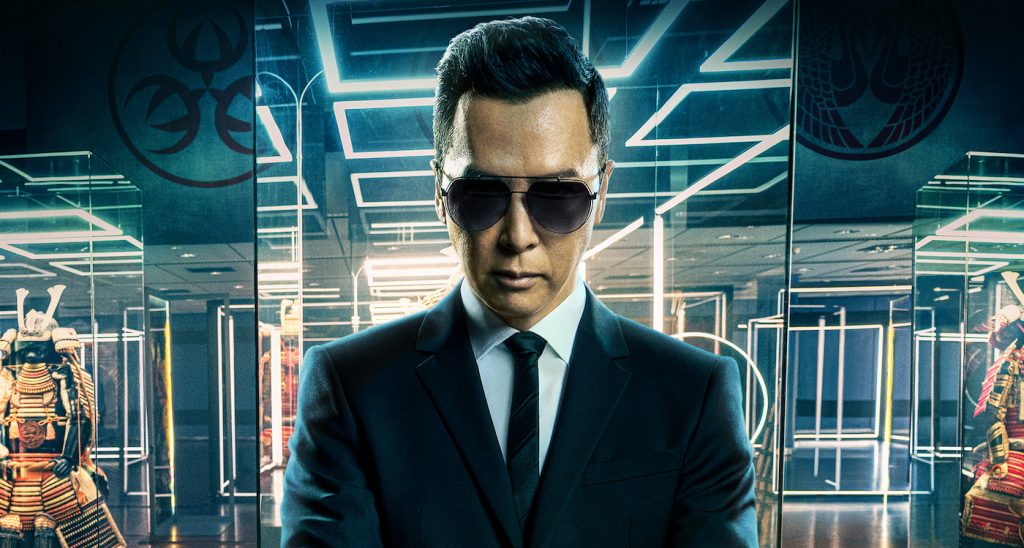 Films like Iron Monkey, Hero, Mulan, Raging Monkey, and the IP Man franchise have made Yen an icon in the industry, standing alongside legends Jackie Chan, Jet Li, and Bruce Lee. In JW4, Yen plays Caine, a punctilious and lethal foe who lacks sight, a characteristic that gave the actor pause, having played Chirrut (also blind) in Rogue One: A Star Wars Story. Stahelski, Yen and the team flushed out the character, discussing how the attribute might affect his behavior and fighting style. Marinas shares that Yen found a "comic and light vibe" to Caine, a result that feels like a mix of Steve McQueen and Bruce Lee with a dash of Zatoichi, a blind swordsman created by novelist Kan Shimozawa.
The storyline paints Caine as having a similar background to Wick, even hinting they're best friends. But The High Table has Caine under its thumb – threatening the livelihood of his daughter if he rejects their request, which, of course, is to kill John Wick. Separating the two assassins is their prowess. Wick blends judo and jujitsu while using everything near him to defeat an enemy. If his gun runs out of bullets, he'll throw it. If there is a katana nearby, he'll grab it. Caine, on the other hand, moves on screen as if watching a ballet, a Swan Lake of effortless kicks, punches, and counters that are graceful yet powerful enough to put Wick on the ground.
"Donnie is a proud Chinese martial artist, so we knew he would want to stick to his Chinese roots when it came to Caine's fighting style," says Marinas. "But we also wanted to tie the two characters [Caine and Wick] together and show that they had a history of training together. We made sure to weave in glimpses of Caine doing jujitsu. This shows that they are brothers from a long time ago and know how each other thinks and moves within a fight."  
The efforts are on full display during a sequence that takes place at the Osaka Continental Hotel, a neutral territory for hired killers. It's akin to the New York Continental Hotel owned by Winston (Ian McShane), who returns in this film along with the hotel's concierge Charon, played by Lance Reddick, who tragically passed away on March 17. Keanu and Stahelski released a statement mourning his loss. "We are deeply saddened and heartbroken at the loss of our beloved friend and colleague Lance Reddick. He was the consummate professional and a joy to work with. Our love and prayers are with his wife, Stephanie, his children, family, and friends. We dedicate the film to his loving memory. We will miss him dearly."
The proprietor of Osaka is Hiroyuki Sanada (Bullet Train, Army of the Dead) as Shimazu, a friend of Wick, and his daughter Akira (musical artist Rina Sawayama) as the concierge. When The High Table strongmen demand to search the premises for Wick, who is indeed hiding out, it turns into an epic bloodbath. It's here we witness the greatness (and cleverness) of Caine. [Spoiler alert]. In one thrilling moment, Caine takes out a number of men using motion detectors he's placed around a room. As the men walk past, a beeping sound alerts Caine who then springs into action, cutting them down to the ground.
"We came up with the idea that Caine would use something almost like echolocation," notes Marinas. "I worked on the television series See [starring Jason Momoa, Apple TV], where they did a lot of tapping on the ground. We thought any blind action star is always using their cane to tap, so we wanted to extend his walking stick into Caine's hearing to free up his hands to shoot and fight as he needs to."
Not going unnoticed were the fighting styles of the father-daughter duo Shimazu and Akira. "We had a huge pop star in Rina who could dance, so we wanted to lean in on that strength. Then there's this idea that she may have learned all her fundamentals from her father, but her father is a lot older and more efficient when he moves. He shows that experience level," explains Marinas. "She picks up the slack in youth and grittiness and he keeps his head a little more straight, navigating with an experience that doesn't take as many steps as she does."
The Osaka sequence is stocked with intense fighting, moving through different levels of the hotel. It's an all-out battle with fists, guns, blades, and bows and arrows. There's a showdown between Caine and Shimazu in the hotel garden and an epic fight with Caine and Wick in an exhibition room filled with glass display cases containing all kinds of weapons. Fight choreographer Koji Kawamoto was also part of the team of over 50 stunt performers from Japan, Germany, and the U.S. that were needed to pull off the scene, which took nearly a month to film.
Another large set piece takes place at a Berlin nightclub where Wick clashes with a thuggish, card-playing gangster named Killla (Scott Adkins).  In playing the character, Adkins wears prosthetics and a fat suit which adds to his unassuming fighting style. "He is a bruiser with nice high kicks, and he can hold his own against John Wick," says Marinas. The two beat the daylights out of each other, fighting through massive amounts of water and falling from one club level to the next. "It is not easy to do what Scott did in the water, especially in a fat suit, and be able to project that much personality through all those prosthetics," notes Marinas. "It was cool to watch Chad develop that with him."
In one climactic scene, Wick races up a long staircase fighting off dozens of assassins who are trying to stop him from reaching the top before sunrise. The action sequence became a "playground" for Marinas and the stunt team to string together an insane combat sequence that somehow tops every action scene going back to the original film. "Chad always wants to give a disadvantage to the hero, and the big prize is at the top of the stairs, so John Wick has to make it up there," says Marinas. "When you look at it at face value, there are no barricades and it is a big gunfight, but people forget how hard it is to walk up or down stairs eating a churro, let alone a guy shooting at you moving side to side. It was a whole new playing field for us."
The team lined up an array of ideas and chose concepts that would have the most impact as Wick fights his way up. "If anything didn't fit with the story or purpose, we didn't put it in. That's why I think the flow of the scene ultimately works," says Marinas. 
He also wanted to make sure the spotlight was properly shared with the incredible Chapter 4 stunt team.
"I want to give a shout-out to the other stunt teams involved, the Japanese team with choreographer Koji Kawamoto, Laurant Demianoff, the French coordinator and his team, and all the German, Bulgarian, and Jordanian teams that made the action in this movie come alive."
Check back tomorrow when we detail the prolific stunts of John Wick: Chapter 4.
For more on the John Wick franchise, check out these stories:
"John Wick: Chapter 4" Review Round-Up: Bigger, Badder, Bolder
"John Wick: Chapter 4" Trailer Finds Keanu Reeves Back in Black
Keanu Reeves to Return as John Wick in Ana de Armas-led Spinoff "Ballerina"
John Wick 3 Costume Designer Conjures Elegance Amid the Carnage
Featured image: Keanu Reeves as John Wick in John Wick 4. Photo Credit: Murray Close