John Wick 3 Costume Designer Conjures Elegance Amid the Carnage
Italian-born costumer Luca Mosca pulled off a major sartorial coup in 2014 when he designed the instantly iconic suit worn by Keanu Reeves in John Wick. The elegant silhouette impacted pop culture to the point where Amazon now sells $139 "John Wick Suit" knock-offs. But to see the real deal, action fans have been flocking to director Chad Stahelski's John Wick: Chapter 3 – Parabellum, which toppled Avengers: Endgame last weekend. Lionsgate has already ordered a new sequel tracking further adventures of the immaculately dressed assassin.
How did Mosca come up with such a singular look? "I wanted to convey that this pour soul John Wick was so grief-stricken, so depleted of joy and desire to live, that there was no room for color," says Mosca. "That's why you will never even see any blue on John Wick. It's always very dark charcoal, or maybe a point lighter, or maybe black, with a gray shirt or black shirts or white shirts. That's it. We wanted the clothes to complement the sadness of this character."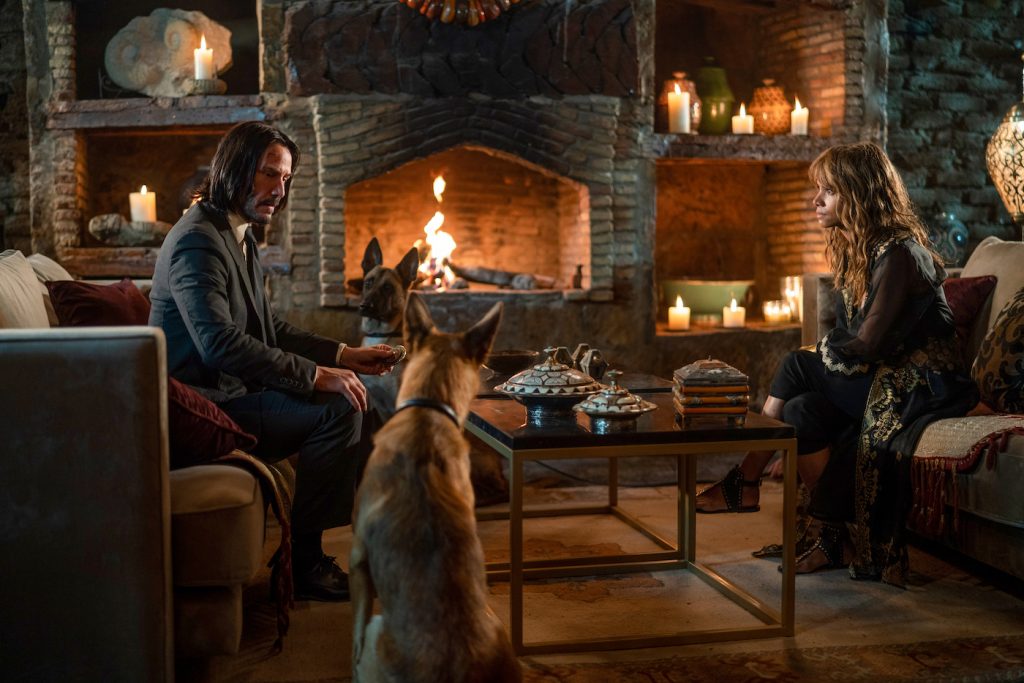 In the five years since Wick first stepped onto the screen, he and his wardrobe have survived a gauntlet of assaults from elegantly dressed antagonists and a raft of turban-clad Moroccan assassins. "We tried to be as authentic as possible in our research of Arabic traditions in terms of shape and layering. I learned there's not just one way to wrap a turban, with more on one side or the other depending on the fabric."
Speaking from his Manhattan home, Mosca says "The trick is being able to really define a character with just one or two pieces." Here, the costume designer breaks down the Assassin Couture created for Reeves, co-stars Halle Berry, Ian McShane, Asia Kate Dillon, and Angelica Huston.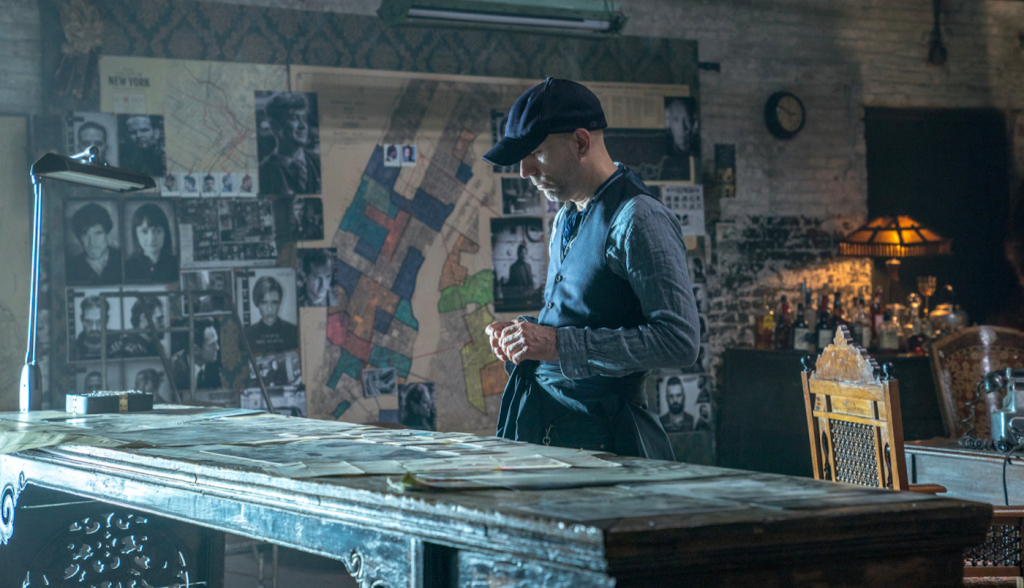 John Wick's Well-Worn Suit.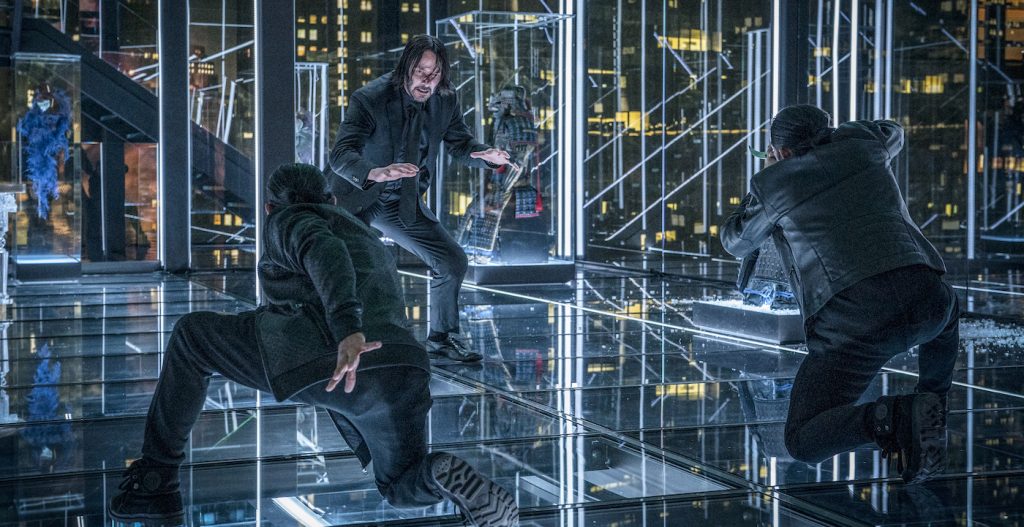 "In this movie, the shirts and suits are all custom-made for Keanu but in terms of the design, it's exactly the same cut from before, because we pick up with him running through the streets like a minute after the end of John Wick: Chapter 2," Mosca says. The big challenge came in documenting the suit's deterioration over time. "It may look like the same suit from beginning to end, but behind the scenes, we're creating completely different costumes. We're talking about multiples in the hundreds with different stages of distress. You have a tear, you have some blood, you have a puncture, a scratch, a slash. The suit looks clean until John Wick gets stabbed in the New York Public Library, and that becomes another costume. Or let's say he falls on his knee and tear the pants, we need to re-do that tear in the same way in all the other suits that follow, which means you need very skilled textile artists to keep track of all that. It's a very elaborate fascinating process."
To prep the slim-fitting suit for action scenes, Mosca combines high-tech stretchable wool with old-school tailoring tricks. "We use 'gussets,' which are like little crescents of fabric, which we put under the sleeve of the armhole or the crotch of the pants or along the side of the jacket. That enables Keanu to raise his arms fully or make lunges for the brief duration of an action scene."
Halle Berry, Swathed in Organza as Sofia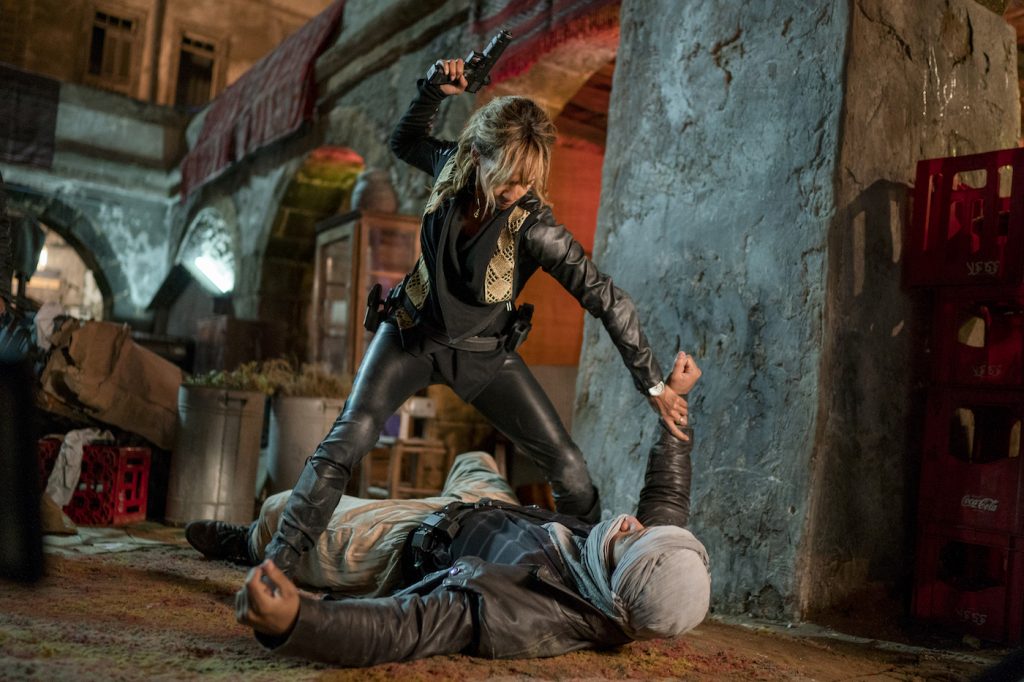 Describing Halle Berry's scenes, which were filmed in Morocco, Mosca says "A lot of research went into Halle's costumes. For Sofia, the common motif is golden embroidery on black background. You see it when she's lounging in her palatial home wearing this beautiful ornate organza robe. And then when Halle's in action, it's pants and jacket, but they're also embroidered. This rich gold and black helped us define Sofia as a mysterious, powerful character."
Asia Kate Dillon as Intimidating "Adjudicator"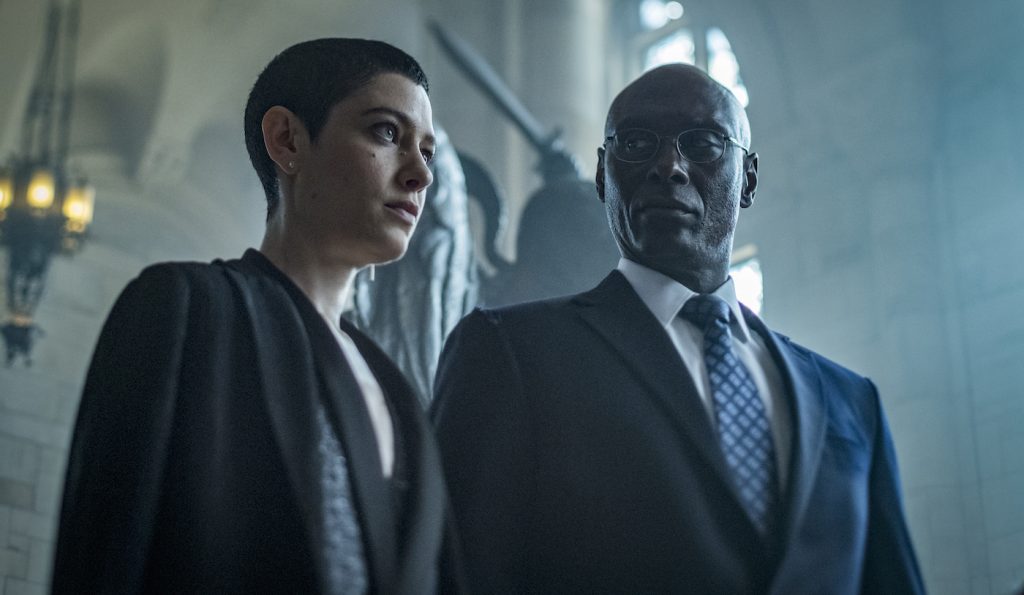 Mosca devised a relatively subdued palette for Asia Kate Dillon in the role of "The Adjudicator." "Asia's costume is 180 degrees from Sofia," Mosca says. "It's about the purity and cleanliness of the line to give her this very authoritative, mysterious. I used very rare vintage pieces by [French fashion designer] Thierry Mugler, including a vintage green plaid windowpane jacket, which Asia wore together with a beautiful pair of jodhpurs built out of gabardine twill. It's a very strong fabric consistent with a strong body."
Ian McShane's Dandy Criminal Winston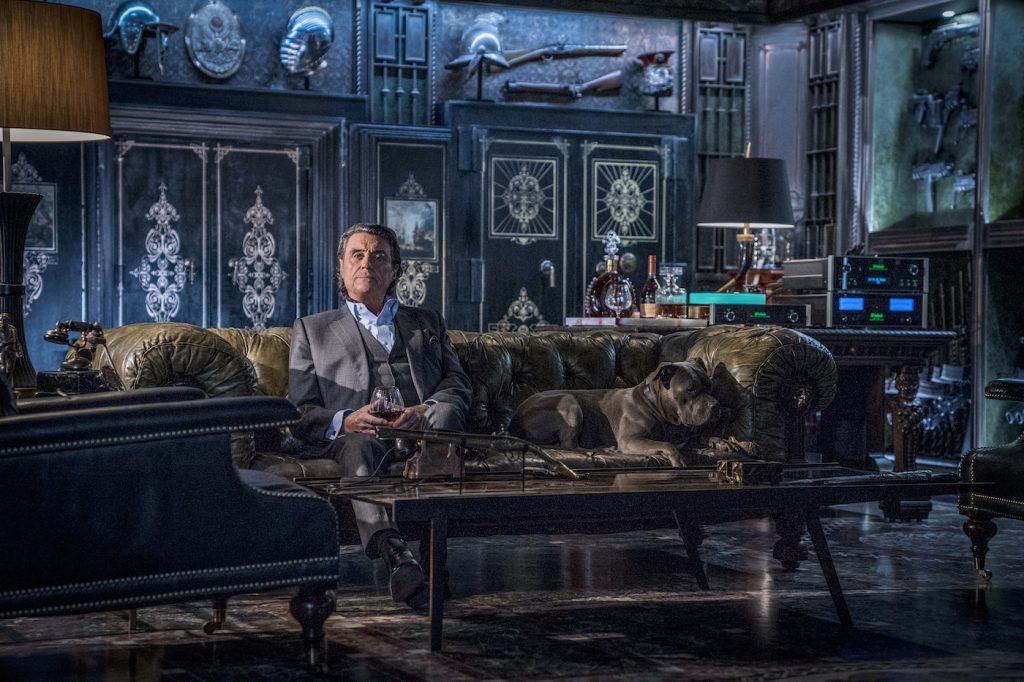 As the suave mastermind overseeing "The Continental" network of assassins, Ian McShane's Winston sports the kind of luxe wardrobe only big money can buy. Mosca explains, "Ian McShane's character is a dandy—well, maybe not a dandy but Winston is very elegant, so we had his suits custom-made on Saville Road in London," Mosca says. "It was quite an operation. We have Ian wearing an open shirt with a cravat, which was also custom made. It was an important part of the concept to pair the cravat with Winston's pocket square so they wouldn't be a mismatch."
Gypsy Intrigue from Angelica Huston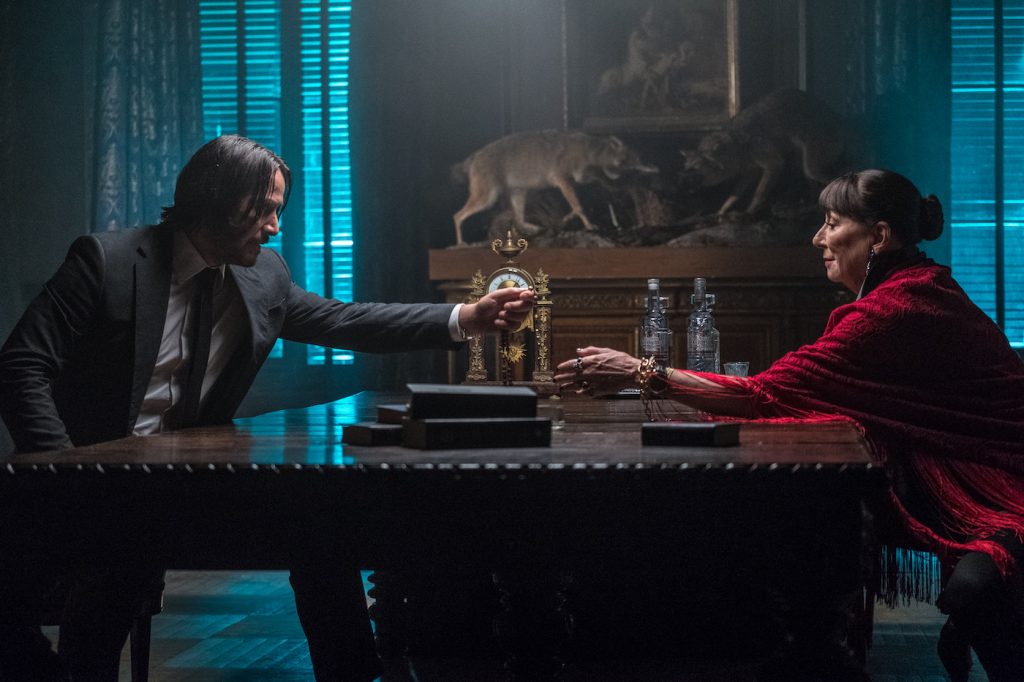 Portraying The Educator" in charge of the "sambo" school where John Wick learned martial arts, Huston needed to radiate Old World gravitas co-mingled with her character's Gypsy heritage. Mosca says, "I grew up in Italy, which has a very big Roma presence, so the visuals were not foreign to me, although of course, I had to romanticize the clothes we put in front of the camera. So for Angelica, I made this huge lace shawl with matching fringes and actually sewed that costume myself. I went shopping one weekend and found the perfect fabric. I was too anxious to wait for the following workday so I cut the fabric, sewed the fringes onto the shawl, did the whole thing." For Mosca, the end result suggested a near-mythic presence. "It's beautiful when you see Angelica in the light with the black pants, shiny shirt, elaborate jewelry and then this shawl. It's almost like she has blood-red wings, like a gryphon or maybe a phoenix. I love how Angelica turned out."
An Italian's Affinity for Elegance
Mosca, who studied pharmaceutical science before pursuing his true passion full time, half-jokes that his ability to craft persona-perfect ensembles for the John Wick franchise comes with the territory: he's a native of Milan. "When you grow up in Italy, everybody dresses with a heightened sense of fashion without even trying," he says. "It's just there. People praise my good taste but I don't think I'm doing anything out of the ordinary. For me, designing the clothes for John Wick has been fairly simple because I just do what any Italian would do. Maybe I under-estimate myself, but that's how I truly feel."
Featured image: Keanu Reeves stars as 'John Wick' in JOHN WICK: CHAPTER 3 – PARABELLUM. Photo by Niko Tavernise. Courtesy Lionsgate.