John Wick: Chapter 3 – Parabellum Director on the Film's Epic Stunts & Real Dogs
Chad Stahelski started out as a kick-boxer, served as Keanu Reeve's stunt double in The Matrix and rose through the ranks as a stunt choreographer with his own 87eleven Action Design before co-launching the John Wick franchise in 2014. Directing Reeves as an indomitable assassin, Stahelski has staged most of the 54-year-old actor's action sequences "in camera," minimizing digital effects in favor of physical performance. The old school approach has wowed fans to the tune of $261 million in world wide box office, and with John Wick: Chapter 3 – Parabellum, co-starring Halle Berry, action connoisseurs can expect another round of expertly-executed mayhem. 
Stahelski models his what-you-see-is-what-you approach on action classics from the '60s and '70s. "I grew up watching Bullitt, Clint Eastwood, World War II movies like The Great Escape, The Dirty Dozen, Guns of Navarone, Battle of the Bulge," he says. "The level of practical effects was mind-boggling in these movies because the action felt so organic and raw. Tie that together with my background in martial arts, doing things practically has really become my aesthetic."
To prep his actors, Stahelski organizes intensive martial arts and weaponry training regimens. "It's easier and more controllable to do face replacement and digit-doubles on the back end as opposed to working with actors upfront in pre-production," he says. "Asking an actor to train six hours a day, six days a week for six months ahead of principal photography—that's a massive commitment." But Reeves, Mark Dacascos (Brotherhood of the Wolf) and Berry, who trained with stunt woman Heidi Moneymaker, agreed to put in the time. "Instead of turning stunt men into actors, we turn actors into stuntmen and train them as we would any of our professionals."
When stars put their own bodies on the line to perform stunts, audiences pick up on a level of visceral authenticity that CGI sleight-of-hand just can't buy, Stahelski observes. "You can watch all the visual effects they want, but with the YouTube generation, some of these 'fail' videos of people falling off skateboards and stuff will get millions of hits. People still love to see reality."
In collaboration with second unit Darrin Prescott, fight choreographer Jonathan Eusebio (Black Panther) and stunt coordinator Scott Rogers (The Bourne Ultimatum), Stahelski expects crew members to attend run-throughs of the action sequences. He explains, "I don't want my cinematographer and cameramen coming to the set for a big action scene when they've never seen the fight before, going 'Well we can't do a wide shot because we can't get the lights in there.' My entire crew—wardrobe, hair, makeup, my wonderful cinematographer Dan Laustsen—come to stunt rehearsals so everyone knows where the wire work is going and where the camera needs to go. That's how we're able to work so efficiently and get a ten-day sequence done in five days: everyone's on the same page."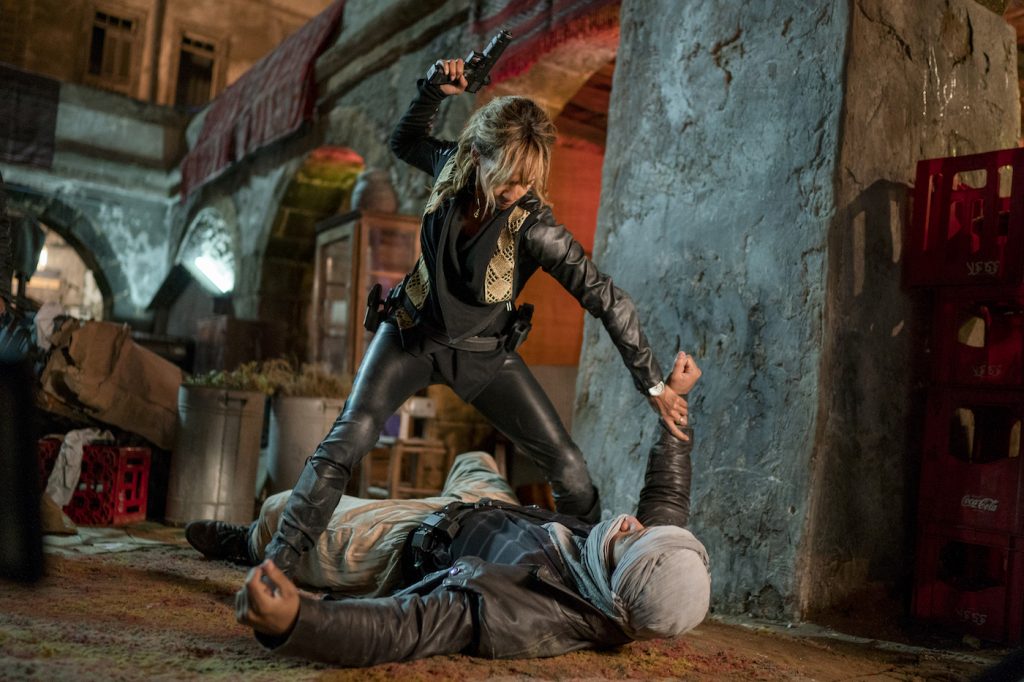 And then there are the dogs. In the first movie, Wick came out of retirement to avenge the death of his beloved beagle Daisy. In John Wick: Chapter 3, the canines keep coming. Stahelski's team spent seven months training five Belgian Malinois shepherds so they could hit their marks on cue. "Some filmmakers might use digital dogs, but we wanted our dogs to interact with cast and stunt members," Stahelski says. "There are moments you don't anticipate where the dog will maybe stick out his tongue in a way you don't expect. I'm a bit of a control freak and I like to micro-manage everything when I visualize [fight] choreography, but I also recognize these little moments that happen with the dogs, in vehicular chases, in explosions, in an actor's performance. If you did everything digitally, it could get in the way of these little moments you never could have anticipated."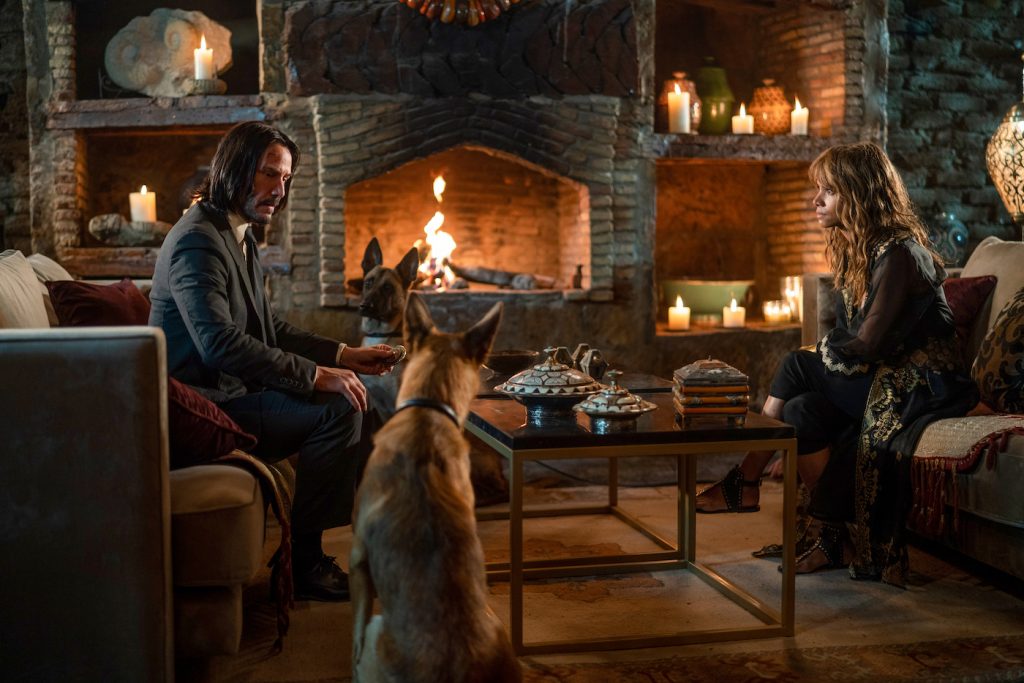 To make sure the force of live performance comes through on-screen, Stahelski, who filmed John Wick: Chapter 3 on location in Morocco, New York City, and Montreal avoids fancy camera moves, citing Sergio Leone and the Wachowskis as role models. He says, "I love blocking with the camera, as opposed to swooshing around five cameras with tight lenses and making lots of cuts every few seconds," Stahelski says. "I'll start with a wide shot and dolly in for a close-up, which keeps you in the shot. If you believe Keanu Reeves can do it, then you believe John Wick can do it. That's why we stay on long takes and try not to over-edit. I want to suck the audience into our world."
Featured image: Keanu Reeves stars as 'John Wick' in 'John Wick: Parabellum.' Photo by Niko Tavernise. Courtesy Lionsgate.