"John Wick: Chapter 4" Cinematographer Dan Laustsen on the Beautiful Brutality of Lensing Wick's World
Editor's Note: Leading up to the release of John Wick: Chapter 4 on March 24, 2023, The Credits is publishing a "Wick Week" of content, weaving stories about the film's fighting style, stunts, along with an interview with director Chad Stahelski. Some mild spoilers follow.
Cinematographer Dan Laustsen has a way with color. From the vivid steel blues and greens found in Mimic (1997) and The Shape of Water (2017) to the deep shadows, monochromatic tones, and silky ambers that paint Nightmare Alley (2021) – all Guillermo del Toro collabs –  Laustsen has a profound (and welcoming) habit connecting story with pulsing palettes that energize the screen. Those efforts have carried over to the John Wick franchise, which Laustsen began lensing back in Chapter 2, with an atmospheric vigor that punctuates the onslaught of action through an ethereal and deliberate touch.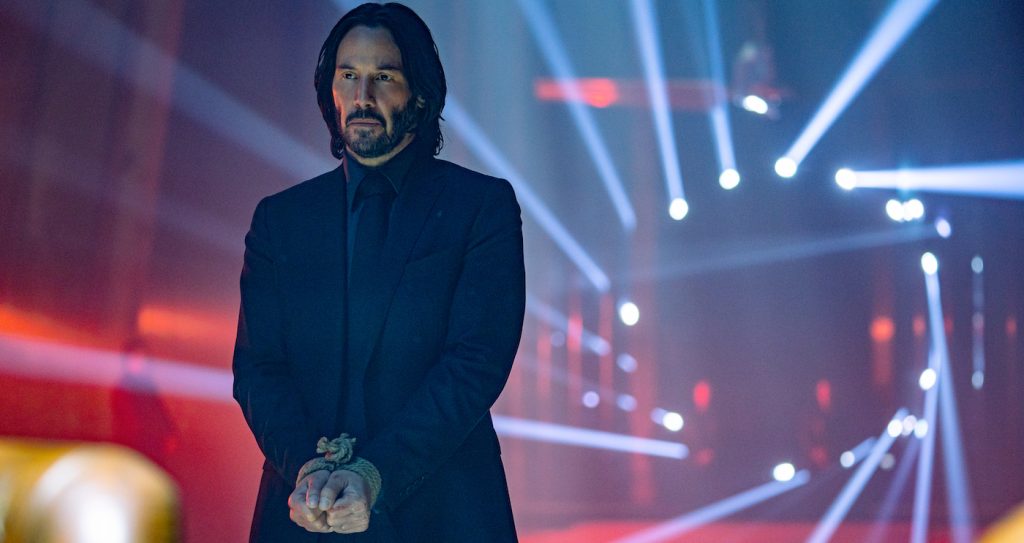 For director Chad Stahelski's John Wick: Chapter 4, Laustsen says that the creative team's eyes were on making the latest installment "bigger, crazier, and more beautiful." "We wanted to make more powerful images of the characters, especially Keanu," Laustsen says. To pull off the next-level visuals, the camera package moved from shooting Super 35 to ARRI Large Format (LF), pairing ALFA anamorphic lenses to widen the Wick world while giving the cinematographer portrait-esque close-ups of the characters.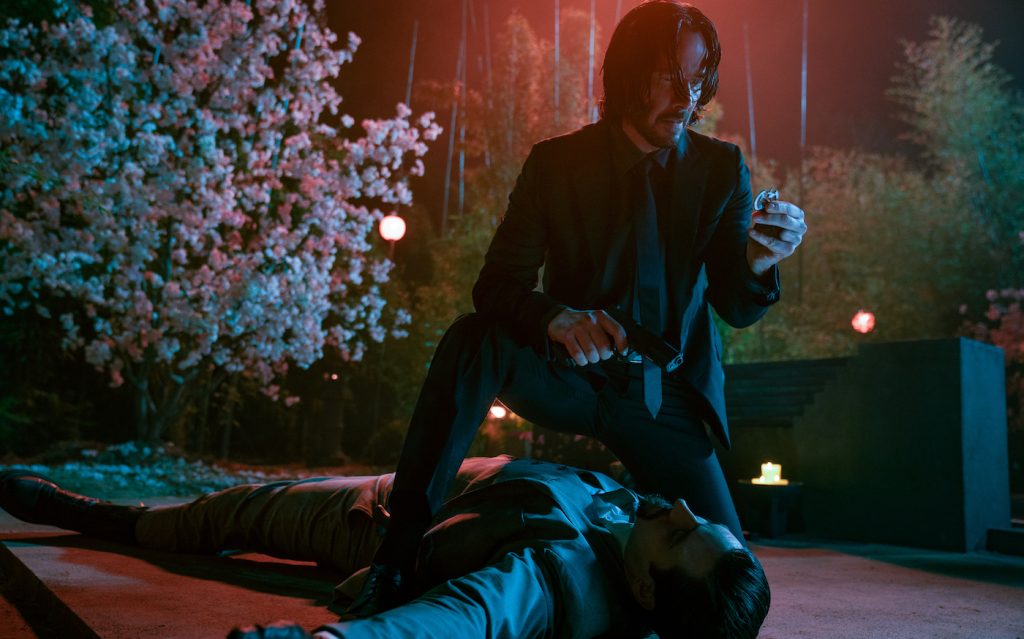 Color palettes found ground through collaborative efforts with production designer Kevin Kavanaugh (The Dark Knight Rises, Nightcrawler), who also has been on the series since Chapter 2. Distinct environments were established for its Jordan, Japan, Berlin, and Paris locations, with inspiration from the cities, photo references, and a mixture of styles.
Jordan punctuated the sun's natural light and bright blue sky with the yellows from the sand. In one scene, Wick is chasing down enemies on horseback, his black suit creating a surrealist contrast in the saturated desert environment.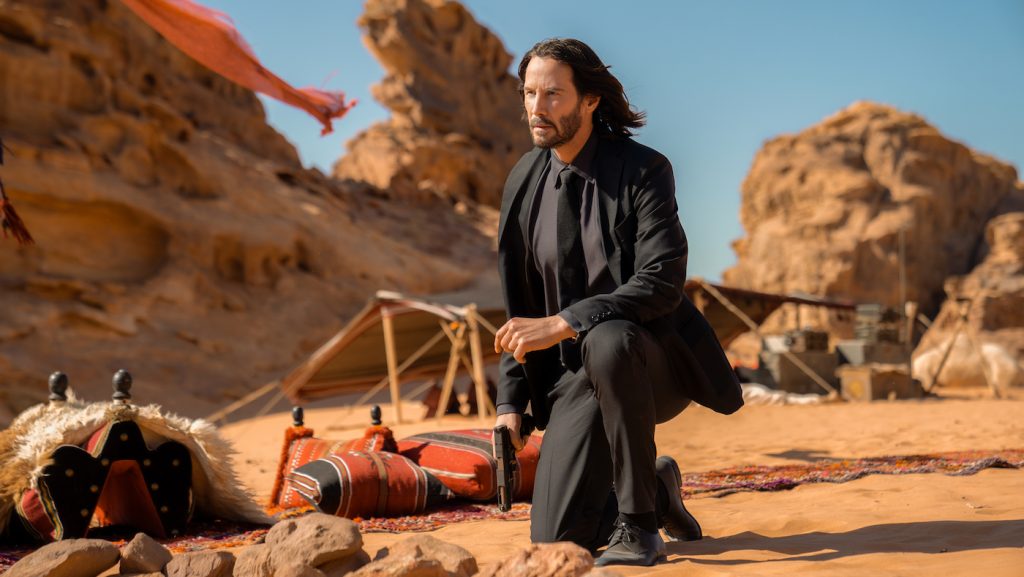 Japan puts the Osaka Continental Hotel center stage – the assassin safe haven akin to the Moroccan Continental in Chapter 3 and New York Continental from the first two films. Kavanaugh blended a traditional Samurai way of life with contemporary flavors. Shades of muted pinks, reds, blues, and grays blot the screen – cherry blossoms add life. In one epic fight sequence between Wick and actor Donnie Yen, who plays a sightless assassin named Caine, color takes on a more monochromatic feel with dark shadows and hints of blue filling an exhibition room of weapons.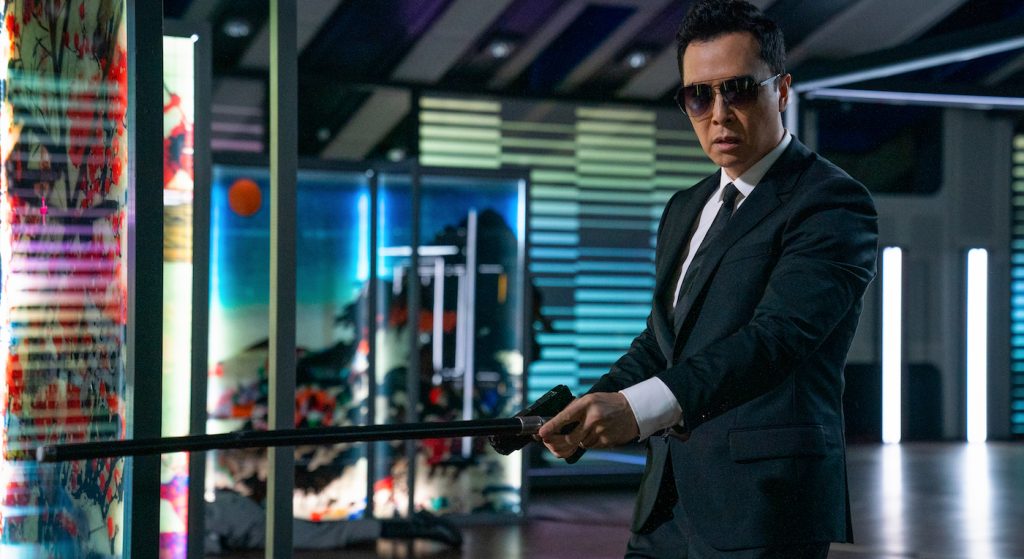 For Berlin, water fixtures became a running theme for a glowing nightclub sequence that sees Wick fighting the weighty assassin Killa (Scott Adkins) to return in the good graces of his adoptive family, the Ruska Roma, which banned him from returning in Chapter 3.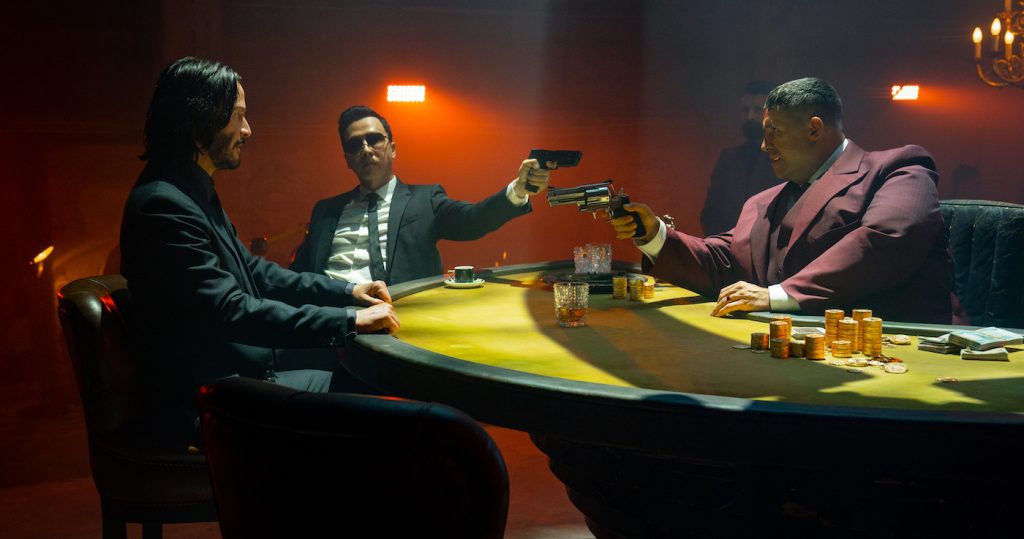 In Paris, a miscellany of colors was inspired by the decadence of its historic locations, including the Eiffel Tower, Arc de Triomphe, and Saint-Eustache Church, to name a few. Greens and ambers subliminally connected each location in the story.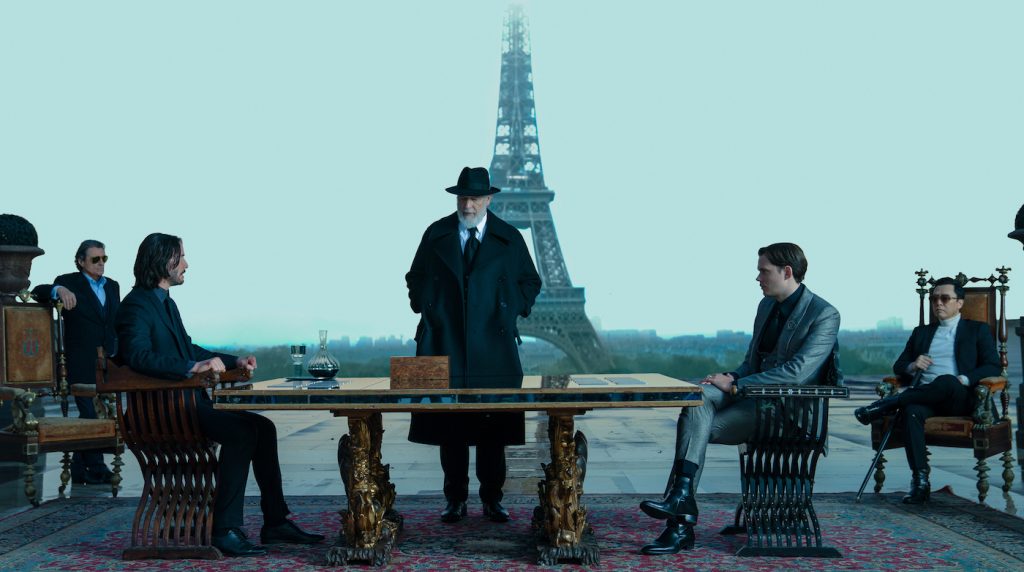 Laustsen says action scenes were "played as wide as they could" with dolly, crane, and Steadicam framing the bulk of the imagery while handheld was used sparingly. Fighting sequences were planned in prep, with Stahelski leading the way. The choreography is detailed with fight coordinators, stunt coordinators, and stunt performers, along with Laustsen and Steadicam operators, including James Frater. In prep, fights would be rehearsed at half speed allowing the team to adjust shots and light scenes. Then on production days, Laustsen could fine-tune the sequence so that performers could land in specific light or shadows.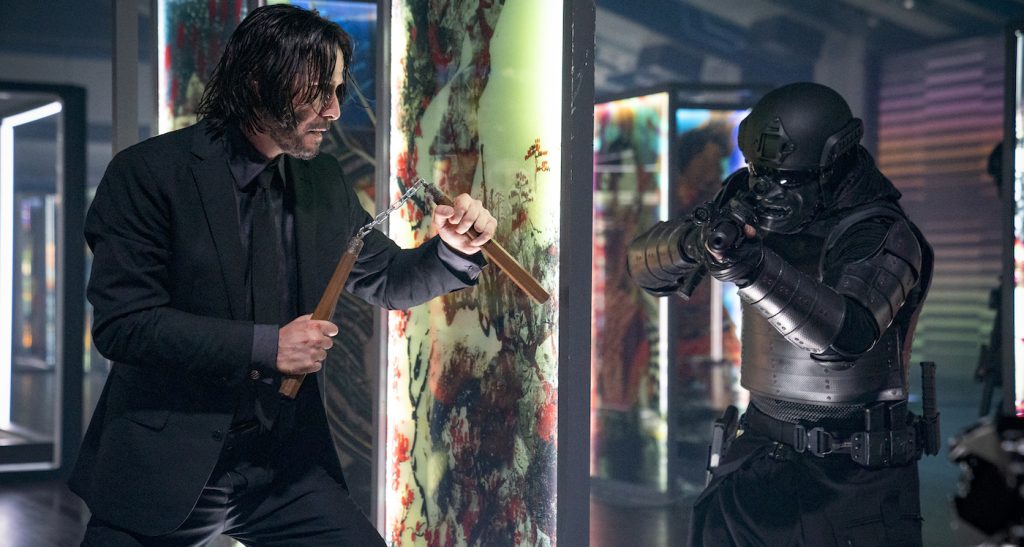 For a large set piece that plays out in a French apartment building, the cinematographer created the feel of a one-shot through dramatic overhead framing that showed Wick in an extended gunfight. In capturing the action, a Spidercam was deployed, and lighting was mapped out to shoot 360 degrees. "There were a lot of discussions about how we could do that scene," says Laustsen. "Lighting big sets from above is a challenge, and Chad wanted the biggest set possible, so all the lights ended up being squeezed outside the set." A number of practical fixtures placed throughout the apartment helped in lighting the scene.
"I think that scene works so fantastic. It was Chad's idea, and it was up to me and Kevin [Kavanaugh] to wonder how we were going to do it. We have a fantastic triangle, and it's so much fun working with those two guys and Keanu. When you have a leading actor who says let's go for it, it's such a help."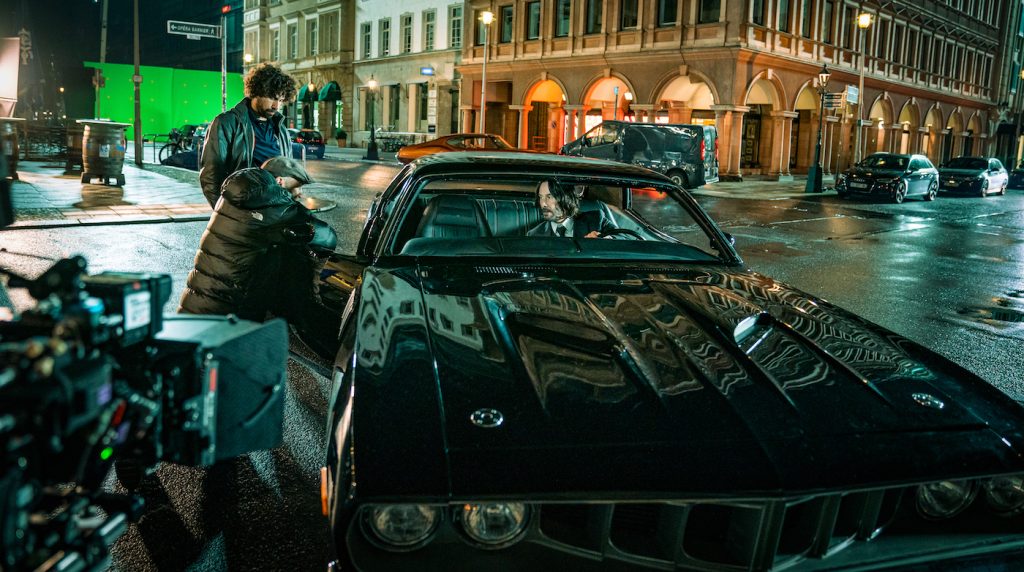 Thematically tying John Wick's character arc to the simmering story is light from the sun, which starts and ends the movie. "Wick wants to walk away into the sunshine," mentions Laustsen. "As a story point, it looks so beautiful. He goes from the darkness into the sunrise in the desert at the beginning of the movie and then into the sunshine at the end of the movie. He's walking into his future."
Check back tomorrow with an interview with director Chad Stahelski.
 For more on John Wick: Chapter 4, check out these stories:
"John Wick: Chapter 4" Fight Coordinator Jeremy Marinas on Building Balletic Mayhem With Keanu Reeves & Co.
"John Wick: Chapter 4" Stunt Coordinator Scott Rogers on How They Crafted the Craziest "Wick" Yet
Featured image: Keanu Reeves as John Wick in John Wick: Chapter 4. Photo Credit: Murray Close