"Nightmare Alley" Cinematographer & VFX Supervisor on Creating Guillermo del Toro's Carnival Noir
Most of the films coming out now – whether award contenders, tent poles, or any combination thereof – share similar stories apart from whatever genre the movie itself belongs to: namely, the story of the Covid delay, and how it affected production.
So it was for Guillermo del Toro's version of Nightmare Alley, another rendering of the novel by the ill-fated William Lindsay Graham, whose work originally inspired Tyrone Power's memorable, and decidedly unromantic turn in the noir-classic original.
Now it's Bradley Cooper playing the carny-spawned "mentalist," who takes advantage of desperate marks, and later – smoothing his act – some very upscale ones, until he meets his predatory match in Cate Blanchett's psychotherapist.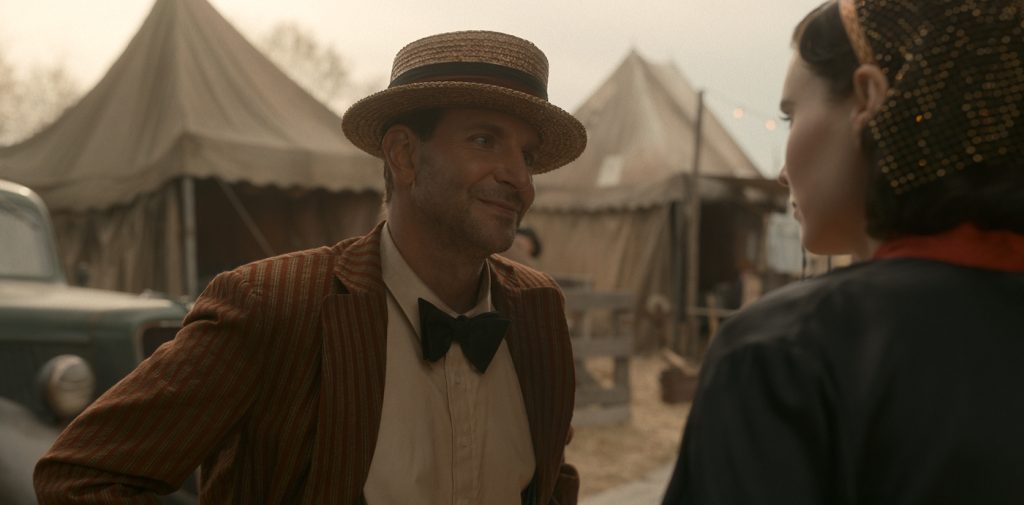 As for our recent plague years, which the earlier production never had to contend with, "this Covid is a nightmare – it's just not fun," says cinematographer Dan Laustsen. "We got shut down in March and came back in August. We just picked it up more or less." Perhaps literally, as they found that about half of the tents for the re-created carnival, on the plains of Ontario, had blown away in the meanwhile and needed to be recovered.
"We were actually in the middle of a scene," Laustsen says of the shutdown. At a panel after the premiere, del Toro noted the unintended break actually gave co-star Mara Rooney the time to deliver a baby amidst her culminating scene with Cooper.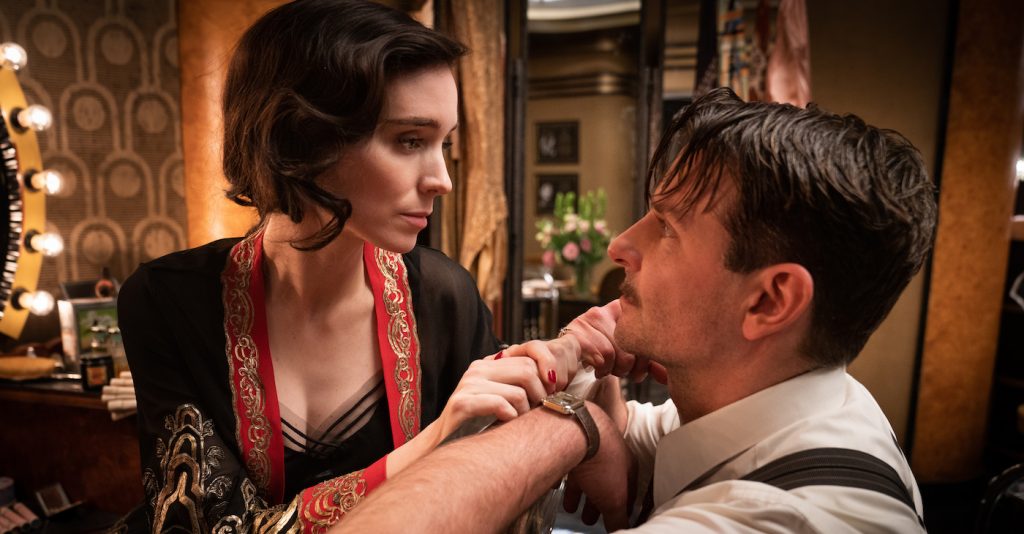 For his part, Laustsen notes he's been in the middle of many scenes with del Toro, as this was their "number four movie together," including Crimson Peak, his Oscar-nominated turn on The Shape of Water, and the late-90s' Mimic, which featured a plague of actual bugs.
For this collaboration, the director sent him the script, and already had "some strong ideas about the color palette for the scenes."
Among them was that "skin tones should always be a little brighter than the walls," with the director using visuals – "where do we want to go color-wise?" – to chart the unfolding story.
Cooper's Stanton Carlisle begins his journey – or descent – under stormy skies as he arrives at the carnival, where, Laustsen says, "we had this idea to have a lot of smoke. We split between steam and smoke – steam is a little slower," and hence, easier to capture.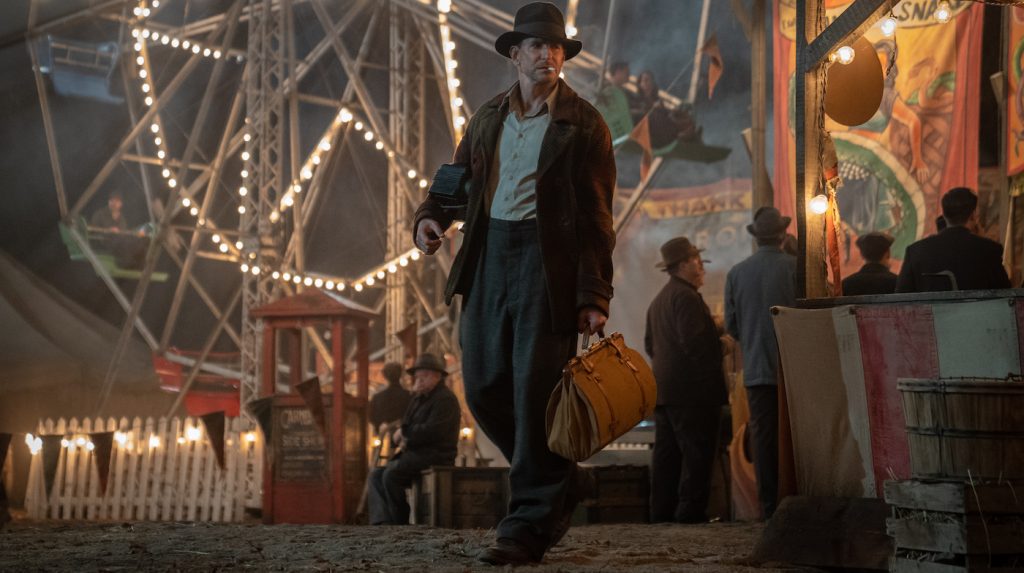 One thing that wasn't slow was the pace of VFX shots used in the film, particularly in the opening sequences when Carlisle arrives. Visual effects supervisor Dennis Berardi – who himself is a veteran of previous del Toro productions, including Shape of Water and TV fare like The Strain – says that actually, this noir story was more effects-driven than the director's previous, Oscar-winning fantasy.
"There are over 900 visual effects shots in the film – more than Shape of Water," Berardi says. From the very moment Carlisle steps into the carnival, the skies go dark and heavy with clouds and the weirdness of carnival life takes hold. "We replace the skies with storms. We have a carnival geek biting the head off an animated chicken. Already in the first five minutes, there are sixty or so animated shots. The film isn't effects-driven, but the visual effects are a visual component of the film."
They also became another way to regroup after the pandemic shutdown. "When we came back in September, we were under Covid protocols, (so) we ended up doing some of the crowds digitally," Berardi says. "We had a couple of instances where some extras forgot to take off their masks." And since this wasn't set during the earlier flu pandemic, those, of course, had to be digitally removed.
Sometimes though, thespians could also be added: "We were photogrammetrically scanning the key actors (in addition to extras), so we could have a library of (them)," Berardi adds. The VFX team also helped create period-accurate vehicles, especially for the second half of the film, which moves to a snowy, smoky Buffalo.  "On a Guillermo movie I want to be ready to replace anything, replicate anything, or do a photo-real version of every actor, every prop, and every set," he says, particularly because the director's "editing room is really quite exploratory. We worked really hard to replicate elements completely digitally, including the textures in the lighting."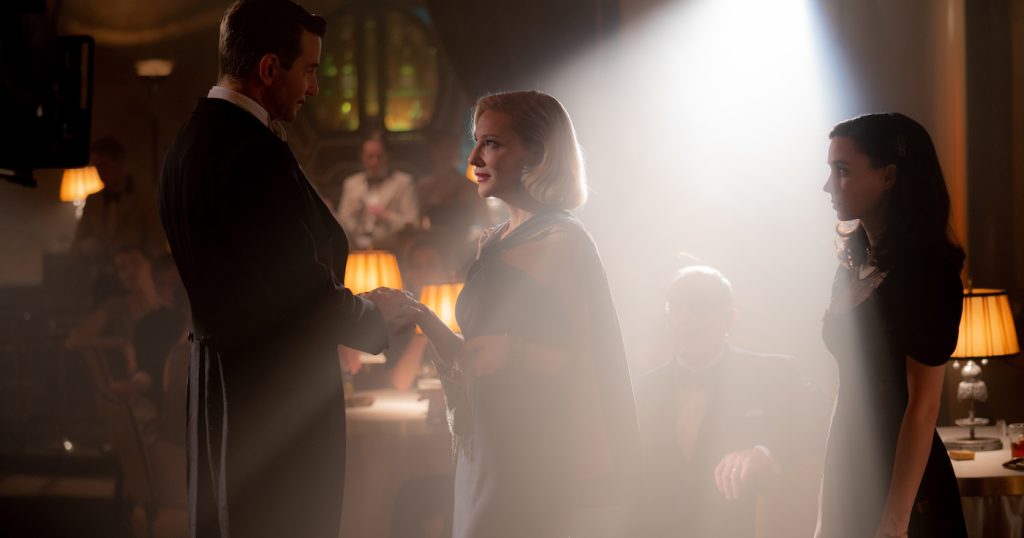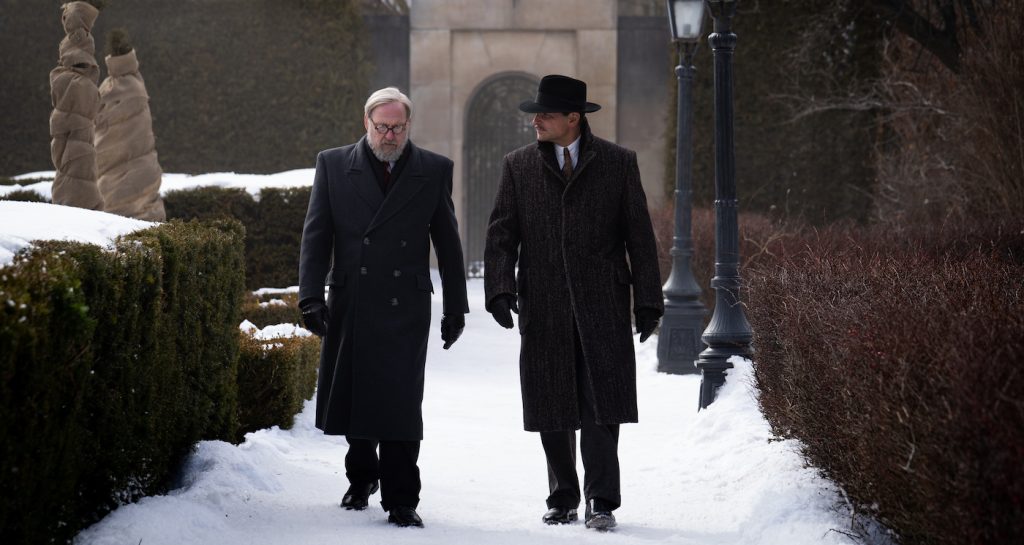 Back in the cinematographer's realm, Laustsen doesn't like to leave much to chance.  "I like lenses," he says. "We want to be in 100% control (and we) want lenses to do what I'm expecting them to do." To fulfill those expectations, he used ARRI Signature Prime Lenses on an ALEXA 65 but didn't want to put that camera on a Steadicam, so when it needed to move, it would be on cranes and dollies. An ALEXA Mini LF did wind up on the Steadicam, and of large format in general, Laustsen says "it's even better for the close-ups."
None of which, close-ups or wide shots, were actually inspired by the earlier film, as Laustsen deliberately stayed away from it. Berardi, on the other hand, "did look at it – I felt I needed to have it as a visual artist." But still, this version ultimately becomes "Guillermo's vision. Like it does on every film. Our job is to plug into the vision."
Even – or perhaps especially – when it involves flaming prairies, redolent Tarot decks, bolts of lightning coursing through the bodies of performers, or the haunting blood and feathers from the bit-off head of a chicken.
Nightmare Alley is in theaters now.
For more on Nightmare Alley, check out these stories:
"Nightmare Alley" Production Designer Tamara Deverell on Creating a Carnival of Creepy Delights
"Nightmare Alley" Early Reactions: Guillermo del Toro's Luminously Dark Noir Shines
Featured image: Bradley Cooper in the film NIGHTMARE ALLEY. Photo by Kerry Hayes. © 2021 20th Century Studios All Rights Reserved