"Nightmare Alley" Production Designer Tamara Deverell on Creating a Carnival of Creepy Delights
Director Guillermo del Toro pulls back the curtain of a 1930s traveling carnival in a love story that gets downright creepy in Nightmare Alley.
Bradley Cooper is Stanton Carlisle, a quiet drifter who finds himself working for a carnival to make ends meet. After falling for a fellow carny, Molly (Rooney Mara), who quite literally electrifies the crowd, he transforms himself into one of the greatest mind-readers, an act that he takes on the road with Molly. Now performing in front of the upper-crust of society, the two cross paths with Lilith Ritter (Cate Blanchett), a psychiatrist and doubter of magic who ends up changing their fate.
Teaming with the director to bring the period piece together was production designer Tamara Deverell, who's worked with Del Toro on The Strain. Deverell sits down to talk with The Credits to share how it all came together.
The film really takes you back, did you and Guillermo del Toro talk about referencing any specific time era.
We talked a lot about the exact date of 1939. We even created a newspaper for when Hitler invades Poland to that specific date. We also were talking about the depression era, which would have been earlier so it wasn't working for our timeline.
Yes. You get to see that newspaper in the film at one point.
You do. I even worked on a timeline map for the journey of Stan for when he leaves at the beginning, where he comes from, and where he's going. Then we sort of ignored it [laughs] cause we were not making a historical documentary.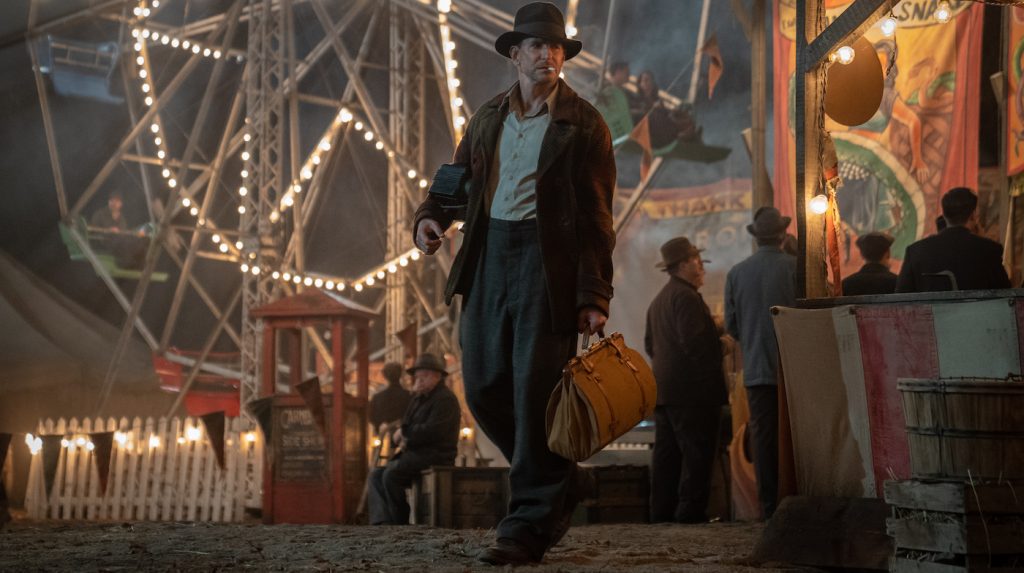 You may not have been making a historical doc but the designs resonate with the era, especially the carnival. How did those sets come together?
For the tents we had a company called Armbruster Manufacturing, a long-standing family company going back to the 1870s, build them. We first modeled the whole carnival and did a VR [virtual reality] walk-through so we could tour everything before we started building it.
The tents take time so we had to order the fabric and then dye all the fabrics before sending them to Armbruster to build it all because it's a particular architecture. They then sent them back to us with these guys who showed us how to assemble the tents.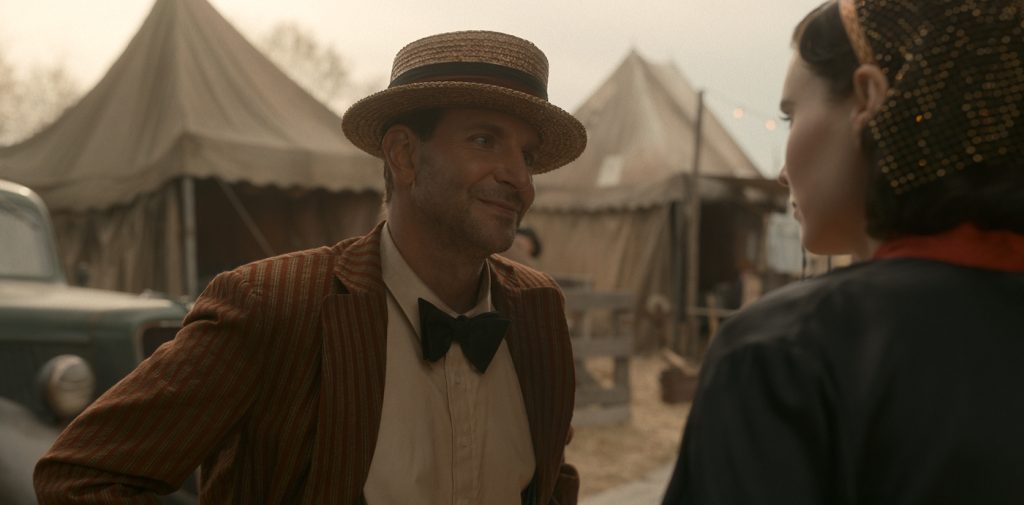 We also found this 1930 carousel that we carefully repainted by hand and this Ferris wheel from the 1930s that was still in operation. We had to do a little work to it, like add some lighting, but it was the real deal. The funhouse was built from the top down and sculpted, and the interior of that was on a stage.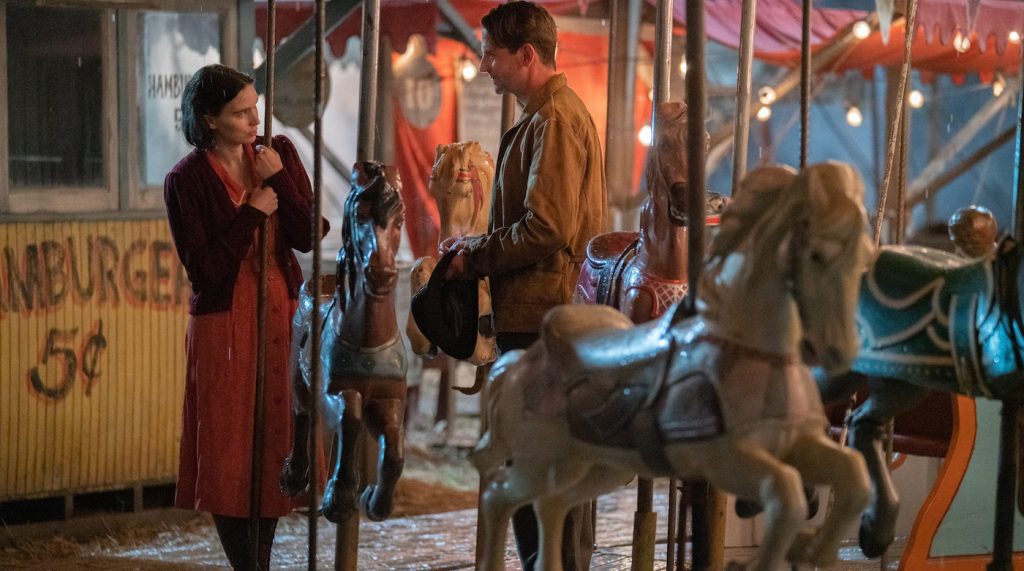 Did you have a similar outlet for all the carnival banners that bring the place to life?
One of our graphics guys found the Picasso of the banner world. This guy named Fred Johnson. We ordered some of his banners and handed them over to the art department so we could really get into it. His banners are a little later period than ours, but we really wanted to develop that style. We had one guy, Andy Tsang, who is amazing with banners and it took him about three weeks to get the hang of it then he was a carny. We were all carnies.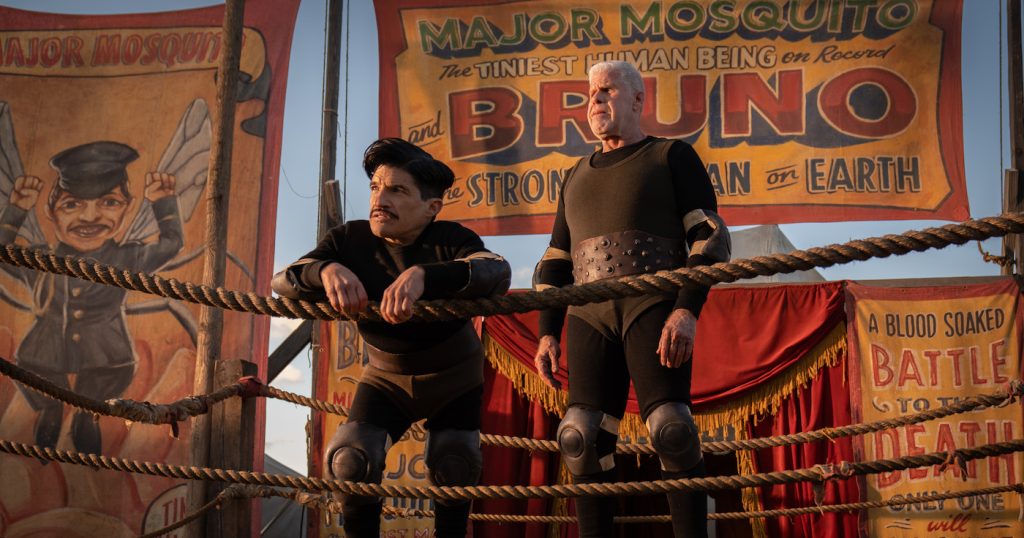 Was there any specific process that went into making the banners?
We needed to get the exact levels of aging right, so when we did the banners we would digitally draw them, print them, and then paint over them. And then age them and then paint over them again. It was a real process to do all of that.
Color is one thing that shows up in Del Toro's films. Was that something you thought about as you read the script?
Guillermo is very much into color. We actually talked about doing a film with Dan Laustsen, the DP, in black and white. Guillermo told me he made a cut in black and white that he wants to show me at some point, but at the same time, Guillermo said he didn't want to be obsessed with making a film noir and going black and white. He wanted to be free of that, and I think the studio also didn't want to see it in black and white. Then we wouldn't have all the color of the carnival that had these rich strong palettes.
Were there any colors used for specific sets?
Guillermo is very particular in how he uses color. Red is a very symbolic gesture in many instances and there's this very particular red we use for the geek pit that is this blood red. It's not just any blood red but it's a pigeon black blood red from the Chinese dynasty. With Zeena, we wanted to use yellow and blues for her tent. And then later on we are in the Art Deco of the 1940s with Lilith.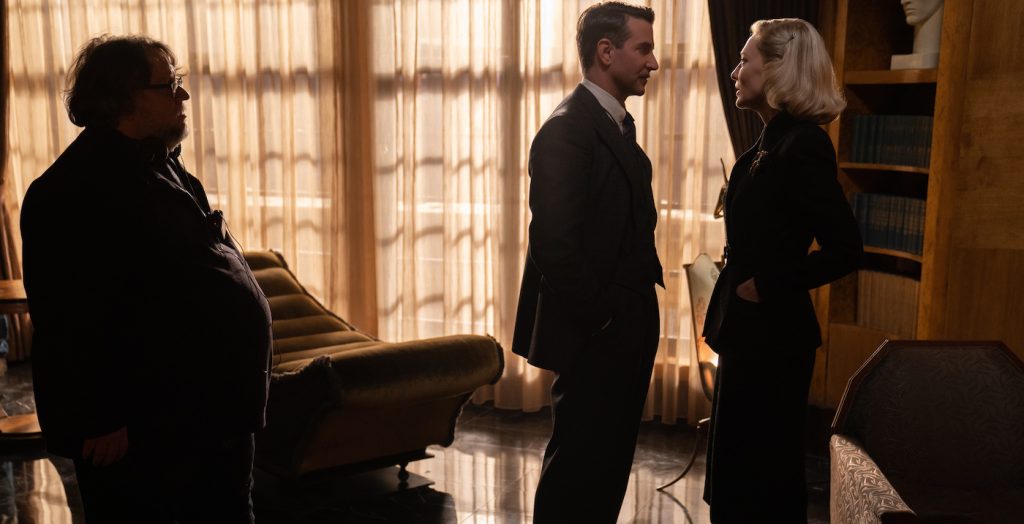 Glad you brought up Cate Blanchett's character. The production design has a big shift with her introduction. Did you reference anything in creating her iconic office?
There is a place in the Brooklyn Museum, a little study called the Weil-Worgelt study. It has all this wood veneer and inlay. It's a very European style and I showed it to Guillermo and he said, 'that's our room.' We wanted wood and warmth and a little bit of femininity but still powerful. We spoke to the museum about how it was actually built and recreated it on stage. It had nods to Frank Lloyd Write in the stained glass windows, abstract lacquer panels in the Art Deco style, built-in secret back doors, doors that slide. It combined all my favorite 1940s era moments and people in a very complex build.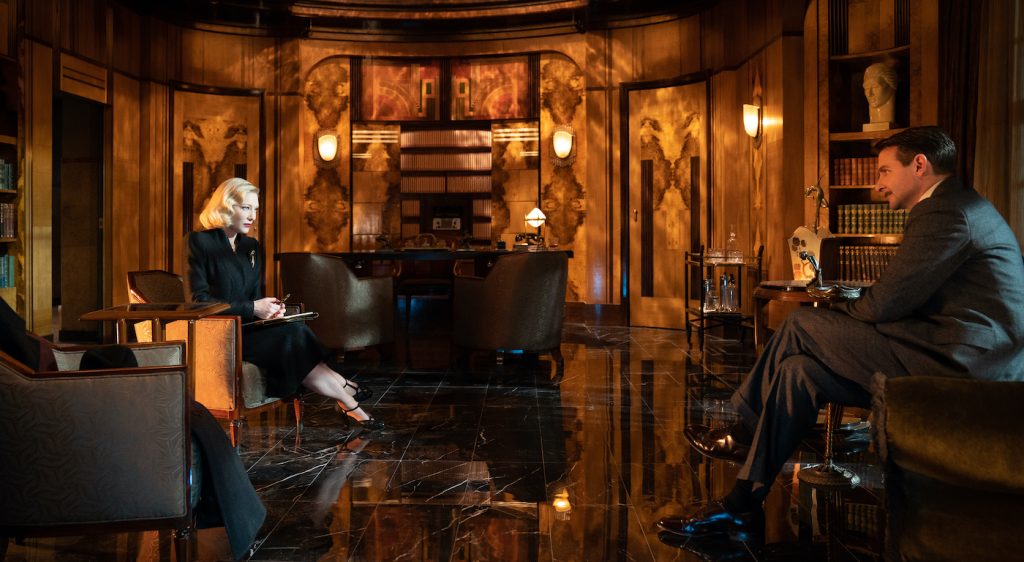 It obviously sounds like this was a great project to be part of. Do you have any fun anecdotes from the set you can share?
Guillermo brings a lot to the table in terms of what he wants and his vision. I have a shorthand with him but I'm always learning new stuff with him. He pushes his department heads to achieve excellence. We worked really hard thinking about Cate's character, and one day she walked by me in the hall with her red lipstick and grabbed me and said something like, 'you are amazing'. I was tongue-tied. I consider Cate to be one of the most amazing actors. It was a really nice moment.
Nightmare Alley is in theaters on December 17.
Featured image: Bradley Cooper in the film NIGHTMARE ALLEY. Photo by Kerry Hayes. © 2021 20th Century Studios All Rights Reserved