"Bullet Train" Director David Leitch on His Breathless Brad Pitt-Led Action-Comedy
When suggesting to Bullet Train director David Leitch that he should be known as one of the "Godfathers of fight-vis," a technique where complex fight sequences are filmed to visualize the action prior to shooting the real thing, he modestly said he'd take the credit. "Chad and I were definitely on the forefront of something that now every stunt team on the planet does." The Chad he's referring to is Chad Stahelski, who Leitch co-directed the original John Wick with.
Before helming Atomic Blonde (2017), Deadpool 2 (2018), and Hobbs & Shaw (2019), Leitch had a decades-long career as a stunt performer, fight choreographer, and stunt coordinator. He and Stahelski were innovators in the craft, filming elaborate sequences as a way to pitch studios to land second unit or coordinator jobs. "We would choreograph something, then shoot, edit and present it. It became something everyone wanted from us. And then it became people saying that it's an effective tool to get your ideas across, so other stunt performers began to do it." 
Fight-vis is now commonplace and still very much part of Leitch's workflow. On Bullet Train, he tapped second unit director Greg Rementer and fight coordinator Kirk Jenkins to put together action sequences that heighten the drama and stakes without losing sight of the characters or story. 
Leitch attributes his approach, in part, to his working with Hong Kong director Ringo Lam, who's known for City on Fire (1987) and directing a number of Jean-Claude Van Damme movies like Maximum Risk (1997) and Replicant (2001) before his passing in 2018. 
"I was directing second unit for him, and it was my first second unit job [In Hell (2003), Van Damme's character is sent to prison after avenging his wife's death]. He was like, 'You always worry about where to put the camera. But what you need to worry about is performance. Because truth in front of the lens is all that matters. If it's funny, it's funny. If it's dramatic, it's dramatic. If the action works, the action works. You can't control it. You can't manipulate it. You need to be aware of what's happening to make sure you're getting the truth."
"He was screaming at me with a cigarette in his mouth, and I think I was just shooting an insert of a knot breaking," Leitch says with a laugh. "It's not completely true, but it's absolutely true in the sense that truth in action is the same as the truth in comedy and truth in drama. If you see something that's compelling and it speaks to you viscerally, you check the gate on that." (Checking the gate refers to a director reviewing the footage of a scene). 
With Bullet Train, Leitch navigated an ensemble cast of protagonists and anti-heroes, including reuniting with Brad Pitt, who he stunt-doubled for on several occasions, including Fight Club (1999) and Troy (2004). Pitt plays Ladybug, an assassin with a streak of bad luck that's been given an assignment to retrieve a briefcase on a high-speed train heading from Tokyo to Kyoto. (Locals refer to the train as the Shinkansen). But the snatch and grab doesn't go as planned. Standing in his way are six unruly killers: the "twins" Tangerine (Aaron Taylor-Johnson) and Lemon (Brian Tyree Henry), the seemingly innocent Prince (Joey King), Hornet (Zazie Beetz), who is a master of disguise, the lovesick Wolf (Bad Bunny) and the revenge-driven Kimura (Andrew Koji). 
Even with the rag-tag group, Leitch instantly gives a sense of who they are and where they've come from as their backstory is cleverly plotted through punchy vignettes that serve as side dishes to the main course. Nuanced themes of distrust, luck, fate, and karma emerge as the journey unfolds and, in part, what drove Leitch to the script to begin with.
"It wasn't the comedy or the action, but this meditation on fate and this big existential question was at the center of it. I felt that was so subversive and irreverent in a big bombastic assassin movie," he says. Zak [Olkewicz, screenwriter] did a really good, big screen version of adapting those themes. (Bullet Train is based on a novel by Kōtarō Isaka of the same name.)
The production was one of the first out of the gate post-pandemic. Production designer David Scheunemann built two full-sized train cars on the Sony Lot along with a train station set that could be redressed for each stop to Kyoto, while the Los Angeles Convention Center stood in for the Tokyo Station. Outside the windows, large LEDs walls surrounded the train cars which displayed images captured by a Japan unit that filmed routes similar to the trip. 
Inside, teams re-decorated the train cars depending on the scene. There was a lounge car, café car, a quiet car that Tangerine and Lemon travel in, and a Momomon-themed family car, which is the film's version of a mascot similar to Japan's Domo-kun, but instead of a cute teethy brown rectangle, she's a cuddly looking cat with big, pointy pinkish ears.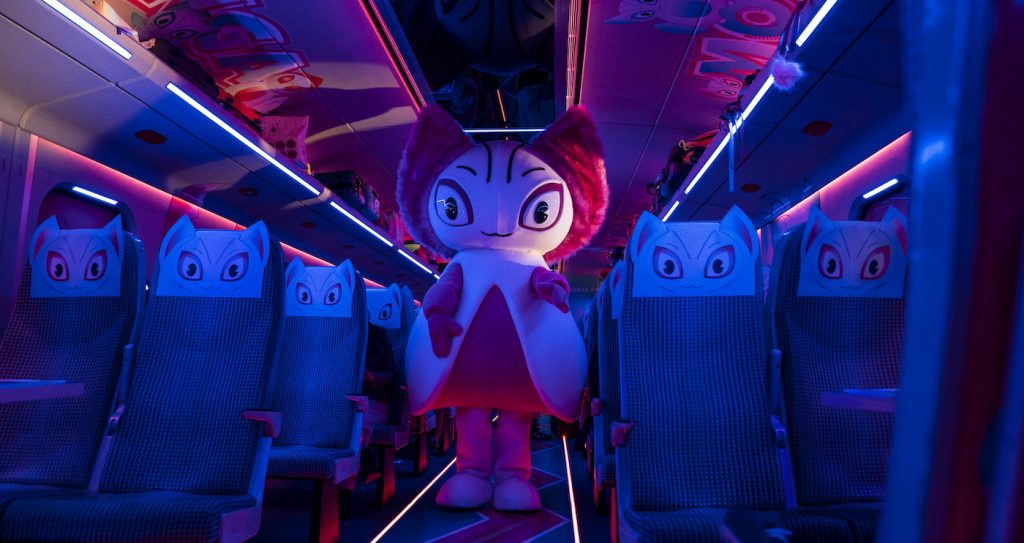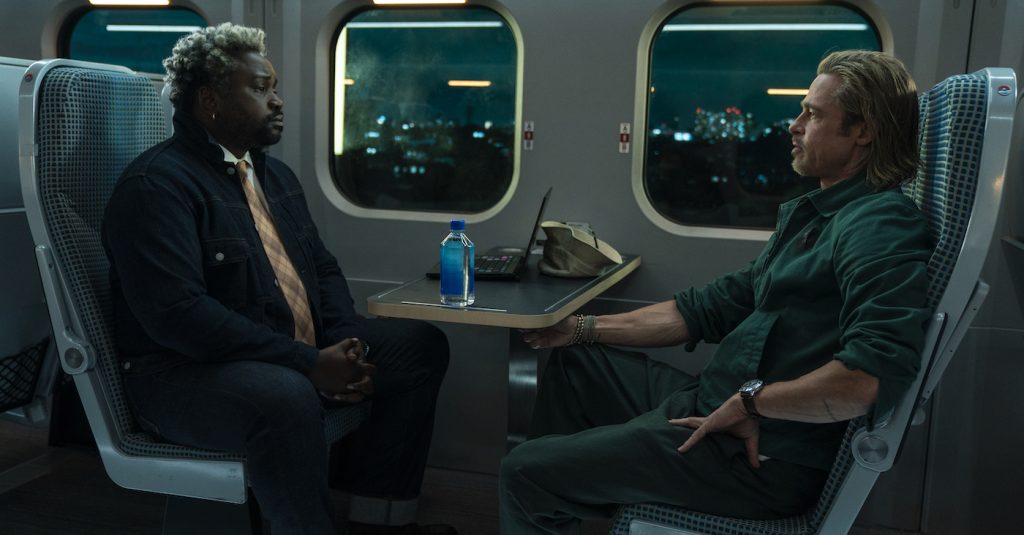 The hurdle for the director was giving scope within the tight sets. With cinematographer Jonathan Sela, who has worked on each blockbuster Leitch directed, they relentlessly shot-listed an ambitious action movie that connects us to the emotional beats while giving us genuinely laugh-out-loud (and jaw-dropping) moments. 
"We were in such confined spaces that it lent us to do two or three moves and then cut, or two to three moves and change the camera angle. And that heightens the physical comedy in the fights," says the director. "It all had precise timing for the comedic beats."   
Though the fight scenes were undoubtedly entertaining and fun, stealing the show was the dynamic relationship between Tangerine and Lemon. "Normally, I wouldn't ask somebody like Aaron [Taylor-Johnson] to read, but he wanted to read for the part of Tangerine. Thirty seconds in, I was like, 'He is perfect," says Leitch. "He brought this West Ham, East End [of London] thug to life in a fun, irreverent, and witty way."
With Brian Tyree Henry as Lemon, the director admits he was a huge fan of his work from the start. "I knew a lot of his abilities, but I had no idea until we got on set for a rehearsal day. I was like, "Oh my god, we have lightning in a bottle." he says. "First of all, these guys love each other. They're great at improv, understand each other's characters, and are both giving actors, so they're setting each other up for payoffs. It was a masterclass in improv and just beautiful to watch." 
You can see who gets away with the briefcase today—Bullet Trains is in theaters now.
For more on Bullet Train, check out these stories:
New "Bullet Train" Clip & First Reactions Hype Hilarious, Hardcore Action-Comedy Led by Brad Pitt
Official "Bullet Train" Trailer Takes Brad Pitt on a Wild Ride
First "Bullet Train" Trailer Reveals Brad Pitt in Upcoming Action Thriller
Featured image: Aaron Taylor-Johnson and Brad Pitt star in "Bullet Train." Courtesy Sony Pictures.