"Harlem" Costume Designer Deirdra Elizabeth Govan on Season Two's Evolving Looks
Costume designer Deirdra Elizabeth Govan has been working in the film industry for decades but really made a name for herself with Boots Riley's brilliant 2018 film Sorry to Bother You. Since then, she's worked on high profile films, including 2019's The Sun is Also A Star and last year's Devotion, and projects on the small screen like The L Word: Generation Q and First Wives Club. Most recently, she's the costume designer for Prime Video's hit series Harlem, which just started airing season two, and her work will be shown in Boots Riley's latest project, I'm A Virgo, which premieres at SXSW next month. 
Harlem, from writer Tracy Oliver (Girls Trip) tells the story of four stylish twenty-something Black women navigating life, love, and careers in New York City's iconic neighborhood. Starring Meagan Good as Camille, Grace Byers as Quinn, Shoniqua Shandai as Angie, and Jerrie Johnson as Tye, the second season has a 100% rating on Rotten Tomatoes, advancing the final four percent from its 96% it garnered for season one. Harlem has been lauded for centering sisterhood and Black joy in playful and authentic ways rarely seen onscreen. It also looks ravishing, thanks in large part to Govan's inimitable eye for just the right detail.
The Credits spoke to Govan about her work on the show, including how she's articulated changes in each lead character, and one design that she's particularly proud of for how it celebrates New York City.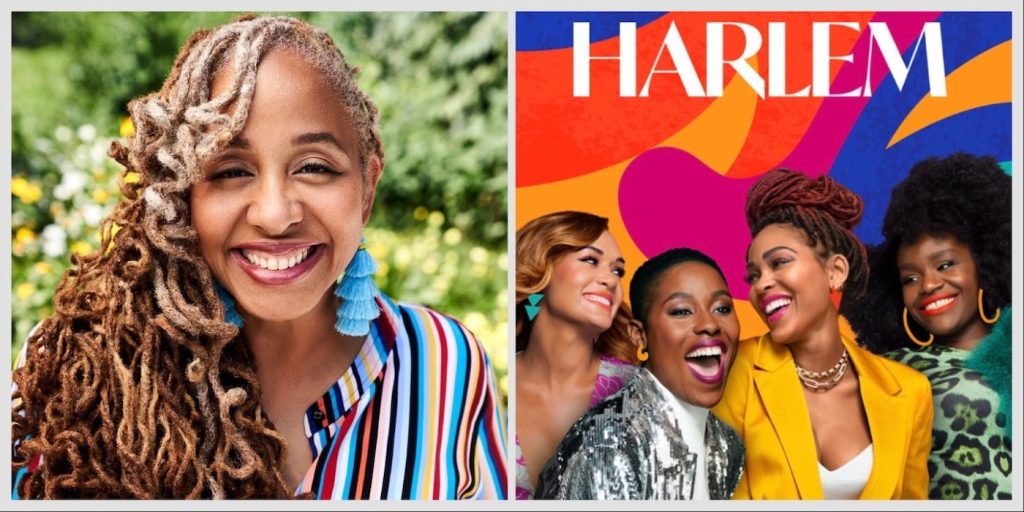 In Harlem, you occasionally highlight some wonderful Black designers while also featuring costumes that are built from the ground up. What determines which pieces you do which way? 
I always like to share that it's on the page. For any costume designer, any work that we do, be it a film or a series, it's on the page. With Harlem, I have a track record and long working relationship with Tracy Oliver, I understood how she writes, and I know how she wants to see these characters. So I knew I wanted to incorporate designers of color. I wanted to show the world that these women were women who had a very broad style reach, and that they can wear anything by anyone in any given point in time. There are a few designers that, when I looked at their collections, that I said, "Oh my God, that's perfect. That's it; I want that." It wasn't a concerted decision for me to put this character in this designer because we're finding looks from everywhere.
And for the custom creations?
This season, in episode 3, there's a build for Quinn's 73 questions for Vogue. That's out of my brain, but it's in the ethos and the ecosystem of who Quinn is and how she dresses. That look, to me, was quintessential New York City woman. It's style and elegance. It was inspired by art deco, the Chrysler building, all the different iron work, the latticework, and the glass. But what I loved about that so much is that it was reminiscent of Fortuny meets Mary McFadden and everything that Quinn is now. It showed her depth. It showed her love and sorrow all together. That look just clearly defines Quinn. The bustle on the back, the pleated fabric, the deep blue raw silk jumpsuit. I love it. It's beautiful.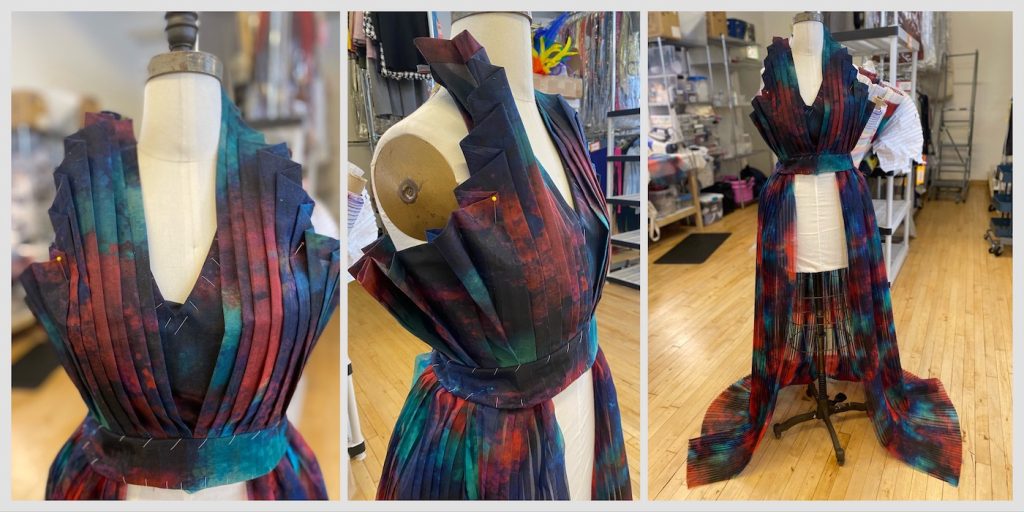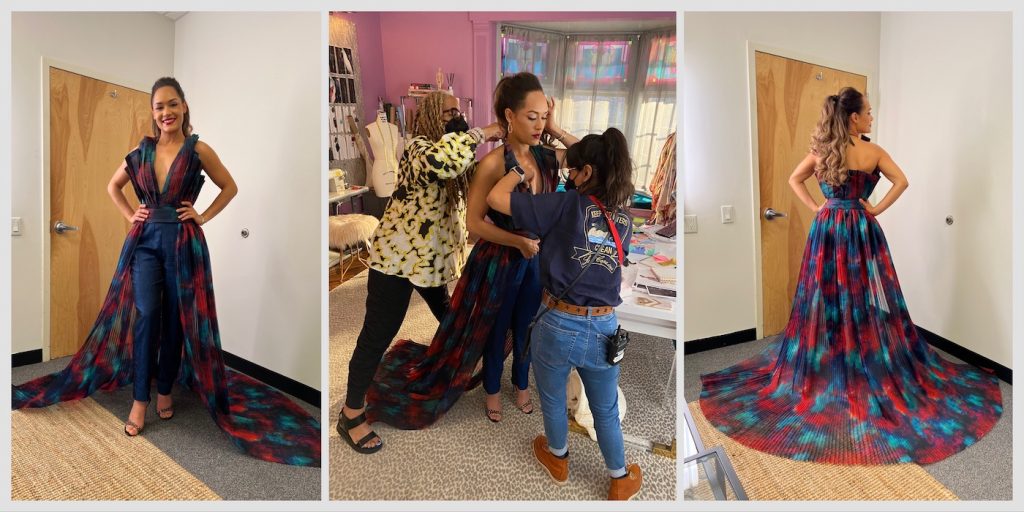 It's connected to how she dressed in the first season, but it's also a shift. 
Yes. It also informs her transition because the season is all about transitions. So for me, when I'm looking at designers, even designers of color, the first thing I'm looking at is, does the look service the story? Does it make sense? It's not a happenstance. It's a completely curated look that I'm doing. I am trying to convey what's happening to that character, in that moment, within that storyline. That is my primary focus. 
Let's break down the way you speak to the evolution of these characters through costume. How about Camille? 
For Camille, we don't really see her in the classroom that much this season. So I needed to really create a through-line to, "what is her out-of-school life?" She's still stylish. She's still fun. I call her Mahogany meets Annie Hall. There's a mash up. She has a sense of cultural sensitivity because she is an anthropologist, so her looks are more global. They are curated in a way to where you could find something in a vintage boutique one moment that she's put on, and the next, something out of Bergdorf's. So I do like mixing with her. That's the exciting part about creating Camille for me.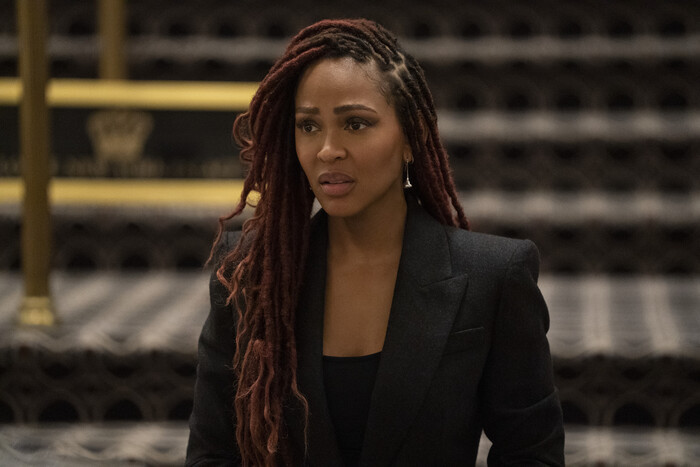 Quinn is going through some changes, too. 
There's definitely a departure from her coy, coquettish kind of aesthetic. She's evolved. She's fallen in love hard with a woman. In the first season, she was finding love in all the wrong places. Now she's finally found it. I am completely hypersensitive to tropes on any runway. I try to go the other direction. And I wanted her to still feel, for herself, feminine, but I wanted a sexiness. I wanted an edge, so I've introduced accents of black and accents that are more refined, in an elegant way, as opposed to all the lace. There's a very revealing sexiness that we're playing with. Because that is her confidence. She's fallen in love, so now what happens after that? What's the aftermath?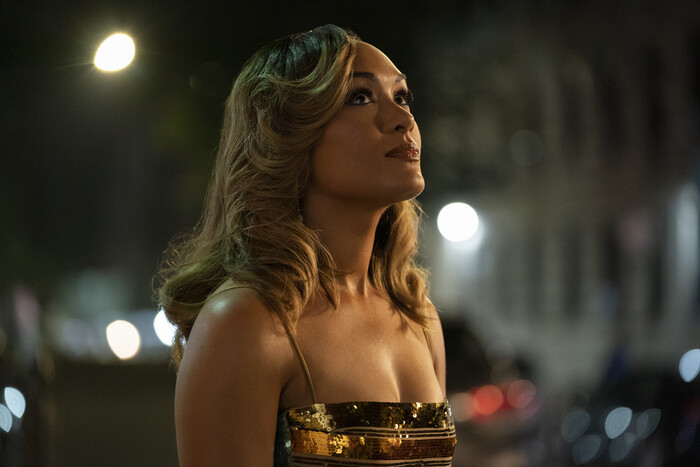 Angie is just as wonderful and surprising. She's consistently flamboyant, so how did you make shifts for her in terms of her costume? 
For Angie, definitely, there were some things that we were experimenting with in the first season. For Season two, I wanted to try and create a through-line that was more cohesive with her. She's still over-the-top wildchild-fabulous; the colors are still bright and rich.  Anything goes. But I really wanted Angie to find her center, because she is becoming a more evolved woman who really recognizes she doesn't need every single man. She's finding someone who really gets her. I wanted to ground her a bit. We really have a baseline where we're going with her, and her falling in love was a really big indicator of how I wanted to move.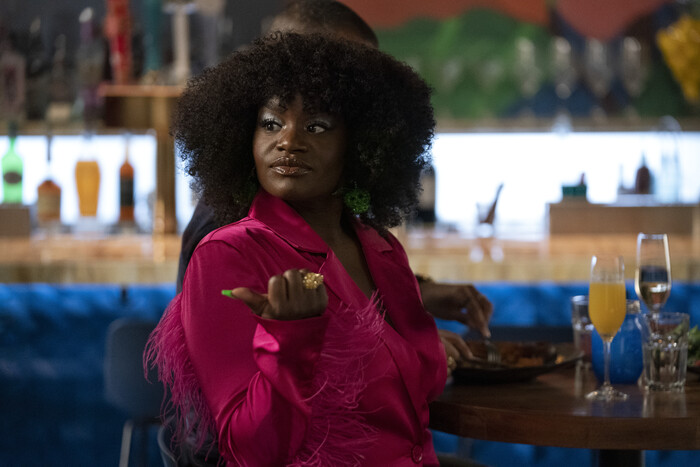 And Tye? 
Tye is my heart. Really, being in the LGBTQ space is very important with how I create these characters. I was hypersensitive to it because I did the first season of The L Word generation Q, when The L Word came back, and those are several stories of my life, my girlfriends and my personal relationships. So I am very sensitive to Tye. I did not want Tye to come across as someone that was not authentically who she was.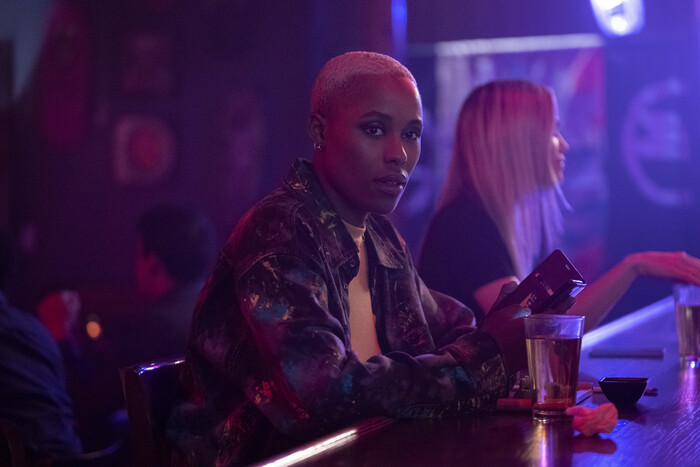 No doubt Jerrie Johnson provides inspiration for that.
Absolutely. Jerry likes to play. She can wear dresses one moment and looks super feminine, and the next, she's rocking jeans and a tank top. And she's a dapper queer, I mean fire, all the way. So with her, the tracksuits, to me, are very much her vibe.  What is her daily style? She's not rocking blazers; she's rocking a tracksuit. This season, too, you'll see an Afro-chic, Afro-punk kind of vibe, just risky and edgy. And it gets edgier. I really did not want to play into what people always assumed that a Black queer woman is supposed to look like. I just don't subscribe to that.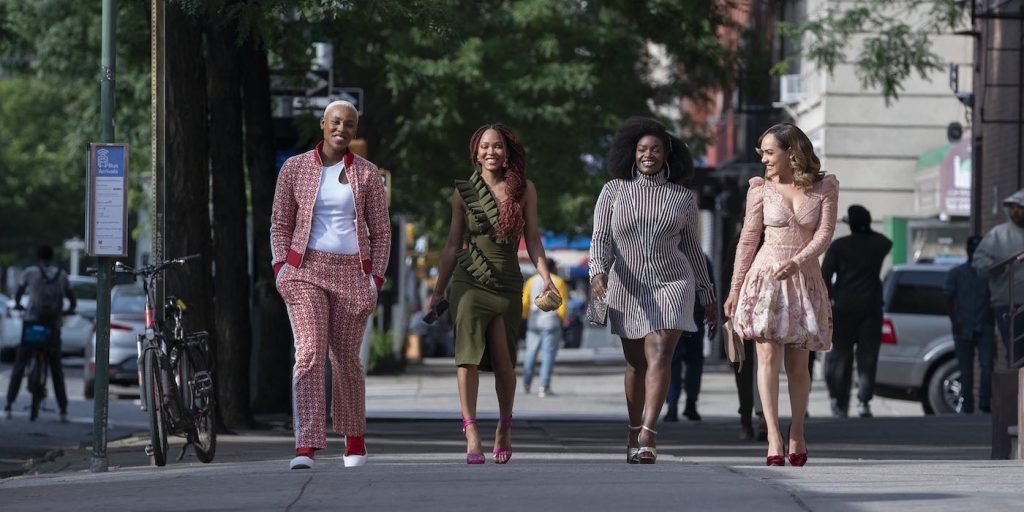 What are some of the biggest challenges you find working as a costume designer in the current climate in Hollywood? 
I have two undergraduate degrees; I went to Pratt and Parsons. Then I have a Master's in interior architecture and design, with a focus on exhibition design and set design, because I love creating worlds. That's my passion. This business is, for me, so creatively rewarding. It's hyper collaborative, but can be extremely abusive, and if you do not have a grounded footing on who you are, you will lose yourself. But there is this momentum that is very exciting for me that I've never experienced, and that is of costume designers really standing together and wanting to make change happen. 
It sounds like it's key to know what you want, be flexible, and trust your own passion. 
I grew up in a world that was extremely diverse, and my parents made a very clear point of making sure that I could fit anywhere and do anything. So when I choose projects, I really try to choose interesting projects that mean something, and have some substance and really push something creatively forward. It's a challenge to be a designer and be a woman, and you add being a designer of color on top of it; it is a very weighty thing. But I don't lead with that; I lead with my talent, my art, what I've been blessed with, and the purpose that I'm trying to leave on this earth.
New episodes of Harlem Season 2 are released every Friday on Prime Video.
For more on Amazon Prime Video, check out these stories:
"Spider-Man Noir" Live-Action Series Coming to Amazon
Ben Affleck & Matt Damon Chase Michael Jordan for Nike in First "Air" Trailer
"The Consultant" Teaser Introduces Christoph Waltz's as a Corporate Hatchet Man
Scarlett Johansson Will Executive Produce & Star in TV Debut For Amazon
Featured image: L-r: Meagan Good (Camille), Shoniqua Shandai (Angie), Grace Byers (Quinn), Jerrie Johnson (Tye). CR: Emily V Aragones/ Amazon Prime